Years after she shot her last jump shot and grabbed her last rebound in Reynolds Gym, former women's basketball player LaChina Robinson ('02) is still having an impact on the game she loves. VICE Sports has described Robinson, a basketball analyst for ESPN and Fox Sports South, "as one of the most prominent voices in women's basketball."
Robinson returns to ESPN for her eighth season covering women's college basketball starting with the UConn-DePaul game on Dec. 8. She also hosts espnW's "Around the Rim" podcast and provides color commentary for the WNBA's Atlanta Dream.
Robinson, 37, is committed to using her high-profile platform to support student-athletes and pay back what she learned on and off the court at Wake Forest. "I have a passion for student-athletes because my experience was so impactful," said Robinson, who was on campus in October to speak to the women's basketball team. "Wake changed the trajectory of my life. I want to be a part of that experience for the student-athletes coming behind me."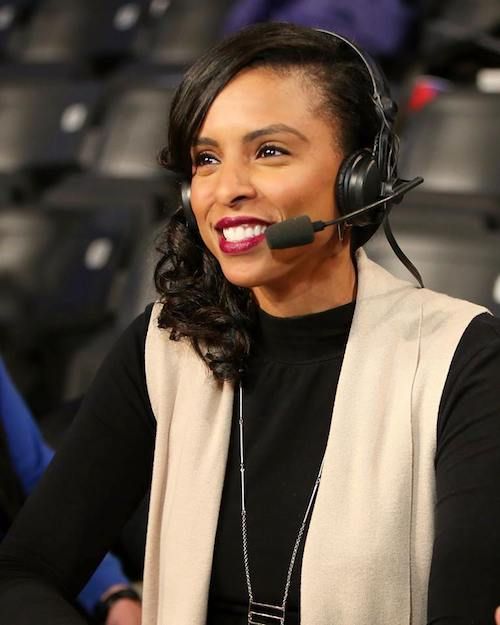 Robinson lives in Atlanta when she's not traveling around the country covering women's basketball games or speaking at NCAA leadership and development forums. She also has her own consulting business called Stretch Beyond, which works with athletic departments to help student-athletes focus on career, community and character development.
"My motto is 'live to inspire,' and in whatever form I can do that, especially for women and minorities, I want to do so," she said. "We all have a job, but this really goes back to my purpose, to impact the lives of others in a positive way."
ESPN's Tina Thornton ('93), who hired Robinson for her first TV gig in 2010, said Robinson has been successful because of her passion for women's basketball and her engaging personality. "I call her a connector. She connects with the coaches, with the players (because) they look up to her and want to be her, with her fellow broadcasters (because) she is a kind and thoughtful person, and with the fans (because) she wants to share all her knowledge about this great sport."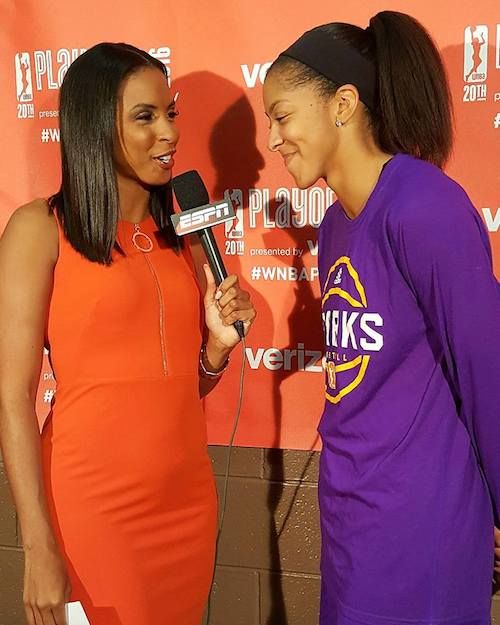 A native of Alexandria, Virginia, Robinson was raised by her mom, a single parent. She was a 6' tall cheerleader in middle school. (She's 6' 4" now.) She started playing basketball in high school after a coach convinced her mother that basketball could be her ticket to college. She was a four-year starting center at Wake Forest and finished her career third in school history in blocked shots and 15th in rebounds. She was named to the ACC All-Freshman team her first year and to the Academic All-ACC team her senior year.
Off the court, she majored in sociology and found mentors in former sociology professors Angela Hattery and Earl Smith. She still remembers the formative night she spent with Hattery and classmates in a Winston-Salem homeless shelter.
When Wake Forest asked alumni in November to tweet "who made your WFU days a little brighter," Robinson tweeted: "No question I was SO grateful for @AngelaHattery and @smithea1! I'm still grateful for them today. They increased my level of awareness & educated me on LIFE including race, culture, sports, politics, & just society. They sparked my desire to LEARN!"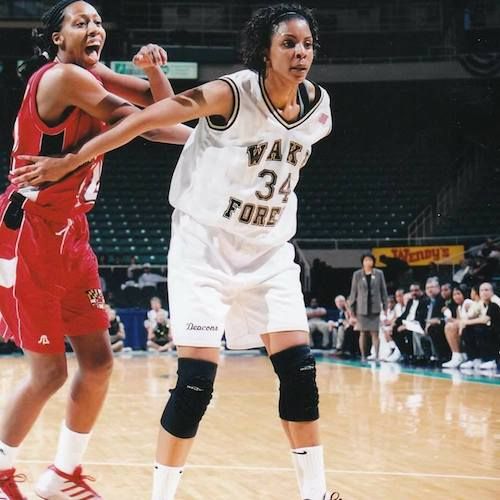 After graduating, Robinson landed an internship at the ACC office in Greensboro before heading to Georgia Tech, where she served in administrative roles with the women's basketball team. She picked up a microphone for the first time when she filled in as a radio analyst for the Yellow Jackets, and she was hooked.
She got her television break when she scored an interview with Thornton, who was then coordinating producer for women's basketball at ESPN and, as it turned out, a fellow Deacon. Robinson and Thornton, a former student worker in Wake Forest's Sports Information Office, bonded over sports and Wake Forest.
Thornton, now a senior vice president for production and multimedia sponsorships at ESPN, remembers being impressed with Robinson from the start. "She had a drive and a determination to really make a difference in women's basketball, and I wanted to take a chance on her."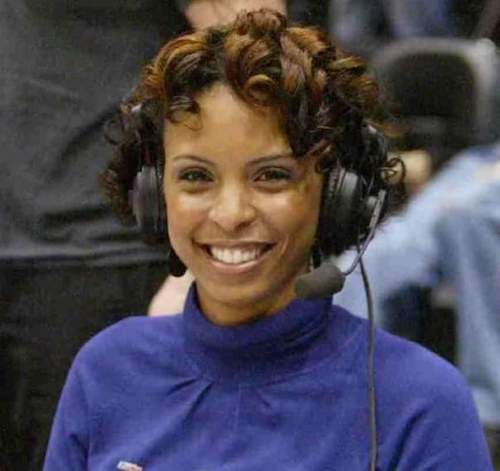 Thornton said Robinson has turned down opportunities to cover men's basketball games or perhaps even NFL games. "The fascinating thing about LaChina is she really, really wants to make an impact on the women's game. She's made choices against other opportunities because she felt a calling to women's basketball. Maybe that meant she wasn't going to be as well-known as some, but that (women's basketball) is her mission."
Robinson's rise up the broadcasting ranks is somewhat unusual. She wasn't a well-known athlete, and she didn't play at a powerhouse school or for a famous coach. But what she lacked in name recognition, she's made up for with hard work and preparation. She remembers sleeping in her car one night, because she couldn't afford a hotel room, to attend the SEC's media day early in her career.
"It was a lot of what I learned at Wake about the work ethic that it takes to establish yourself in any career, the kind of work that you have to put in if you want to be the best," she said, "and how you interact with people who come from different places and different cultures and different races. Making connections was really rooted in what I learned at Wake and what I saw modeled there."