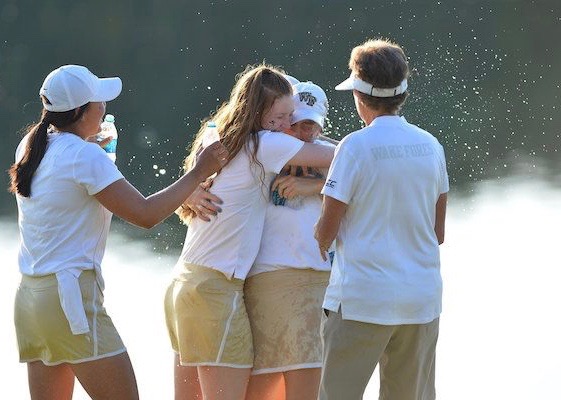 Wake Forest Magazine spoke with the golf and tennis champs, who revealed their secrets to success.
Jennifer Kupcho: "I had a lot of confidence and was excited to have my team at nationals with me for the first time. Our team didn't have any drama this year; we all got along really well. We knew this was going to be my year, and I just needed to keep fighting. When I turned onto the back 9 and made a birdie on (No.) 11, my team was out there following. I was looser hearing them yell and scream, and they were making me smile. My team cheering me on and the experience of knowing I can't give up after something goes wrong that I learned the year before at nationals really helped me."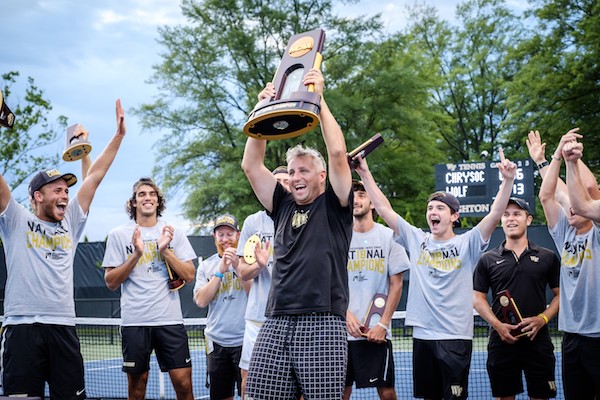 Petros Chrysochos: "The consistency and team chemistry we had throughout the year helped us so much. Great teams are born inside the locker room, not on the court. Before the (singles) final I was walking on the court with Borna, it was kind of a strange feeling – playing with your friend seems like practice, but it was one of the most important matches of my college career."
Borna Gojo: "Those two weeks we played at home were probably the best weeks of my life. It was unbelievable how many people came out and supported all of us. We were like a family, and the atmosphere was great in the locker room. That was a big key for me because when I feel good and confident in my team I can be more relaxed on my court. I'm always competitive; I always want to win, but it was amazing to go out in a national championship final with your friend that you played throughout the year and who helped me surpass some tough moments."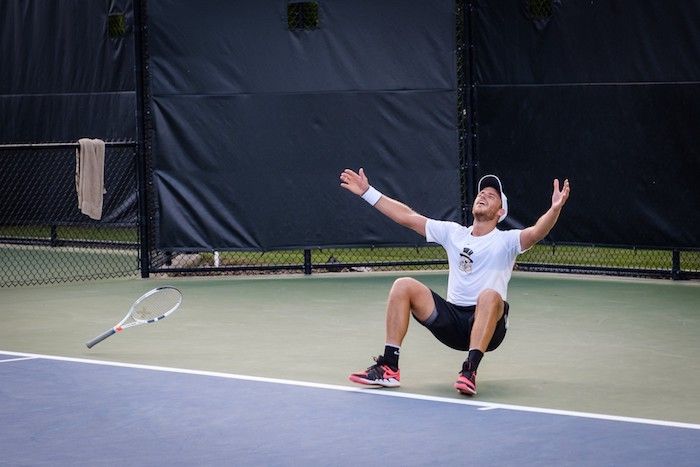 Bar Botzer ('21) won the decisive match to clinch the men's tennis team title: "Pressure either makes you play better or makes you play worse. I felt confident that I could deal with the pressure better than my opponent. When I saw it was coming down to me, my assistant coach said, 'I could see in your eyes that something had changed. You were really focused on what you had to do, didn't complain or talk too much, just focused on how to win.' "
Skander Mansouri ('18) finished his career with the most career singles and doubles wins in program history: "We did such a better job at being more professional than previous years. We focused a lot on recoveries, and we tried to treat every match the same no matter who we were playing. We did the same things on every match day: we're getting there, we're hitting, then taking care of recovery and pre-match hydration. We tried to have a ritual, every time the same thing, so when there's more pressure we didn't feel it as much."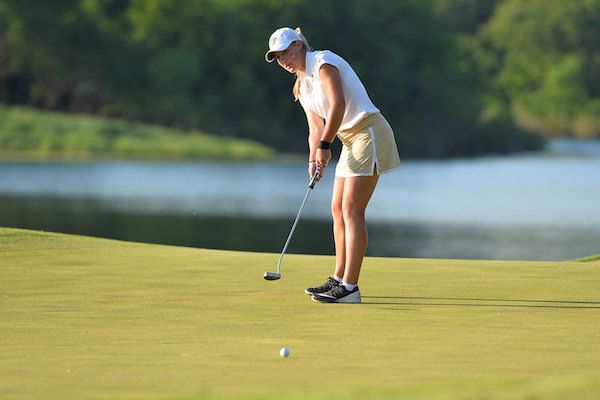 ---
CAMPUS REACTION
Kupcho: "Everyone has been really supportive and congratulating me because they see how hard I work and knew I finally did it. I got emails from professors, and that was awesome. I have friends that live in Winston-Salem, and they've all been really encouraging. Our athletic director contacted me. Both men's golf coaches gave me a phone call to say congrats."
Chrysochos: "The day after the final with Borna, I had class at 9 a.m. for the Summer Management Program. They dedicated a slide in the orientation for the whole team. I'm still getting emails from professors and alumni that used to play on the team. I never thought coming from Cyprus that I would ever make it to the White House. I hope we can do it again next year, so we get invited again."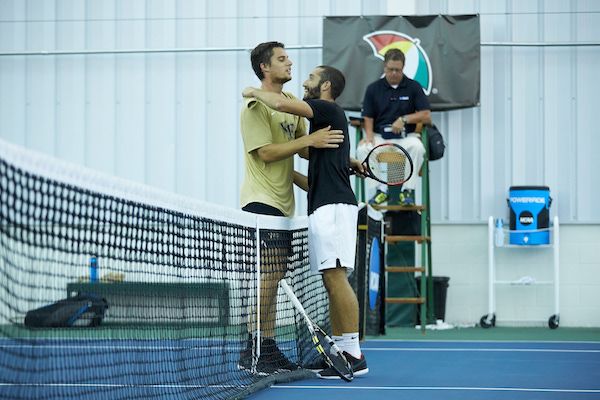 Gojo: "When we won it, I kind of felt relief because I expected us to win it, and it's not as easy as you think it is even if you're the No. 1 seed. After we won, we were at Panera getting breakfast and people started clapping for us. I never saw anything like it."
Botzer: "Everyone was singing in the middle of campus. Every time someone saw us, they congratulated us and were really nice and saying how proud they are and they were really happy. We play and we work hard for these moments."
Mansouri: "It was incredible to see how many people cared about the win, and it felt like a real family. I know I was far away from home [Tunisia], but it became another home and that's thanks to the people and community at Wake Forest, so I'm really grateful."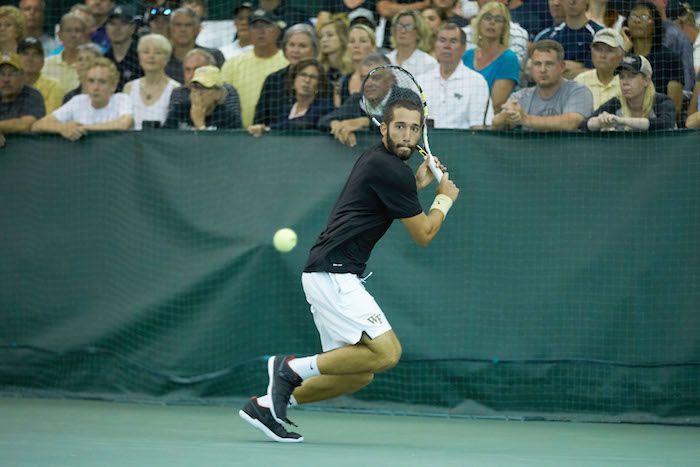 ---
THE KEYS TO WELL-ROUNDED CHAMPIONS
Chrysochos: "I've never seen a friendlier campus or faculty. Wake Forest is a perfect place to be able to combine both athletics and academics. We don't just care about athletics; it happens we're really good at athletics, but I care about academics, too, and that's why I try really hard."
Botzer: "Every class, whether calculus or dancing, I'm trying to get an A. I'm trying to be the best I can, so that requires a lot of time management and effort. Professors, the athletic department, my coaches gave me the best platform to succeed, so all I had to do was work really hard. I was kind of lost during that time before I came to Wake and (my coaches) opened the door for me to a whole new world. I'm loving playing tennis, and I love to represent the school."
Gojo: "I came to Wake and suddenly it became so much bigger than me. All the people, coaches, other students, so many great experiences that at the end of the day helped me grow as a person and tennis player and realize it's not always so personal, there are bigger things in life than winning for yourself."
Caroline Stetler ('03) is a writer and grant consultant in Miami. She previously worked at Golf Digest and the Investigative Reporting Workshop.