Floods and flash floods kill more people in the United States each year than hurricanes, tornados and lightning. As many as two-thirds of those deaths occur in vehicles when motorists find themselves trapped on flooded roads. It's an especially dangerous problem in the summer when heavy downpours from thunderstorms can quickly swamp a road.
Mark Schnably ('92), a science teacher in Winston-Salem, may have the solution. Schnably and his eighth-grade students at Thomas Jefferson Middle School designed and built a floodgate that could save lives by keeping motorists off flooded roads.
The idea was so innovative that Jefferson Middle won national recognition and $150,000 in Samsung technology in the 2018 Samsung Solve for Tomorrow competition. The annual competition encourages students in grades six through 12 to use STEAM (science, technology, engineering, art and math) to develop a project to help their community.
Last April, Schnably and some of his students traveled to New York, where the students demonstrated a prototype of the gate system to a panel of judges. The winning schools — Jefferson Middle and schools in Kentucky and New Jersey — were announced live on ABC's "Good Morning America."
---
Watch the students present the floodgate idea on "Good Morning America."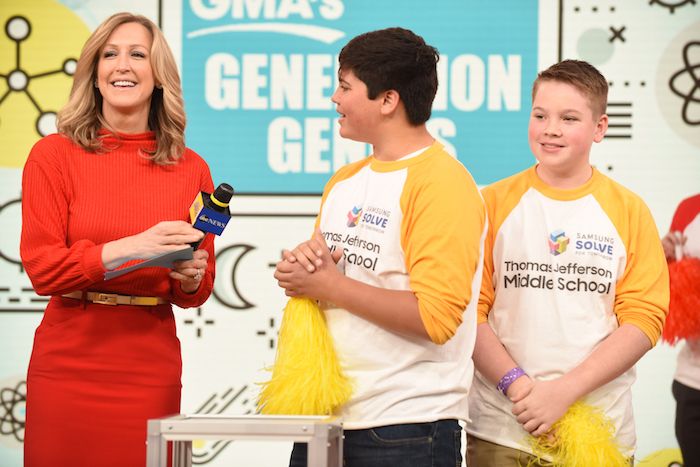 The students also presented the idea to Winston-Salem fire and emergency-management officials, including assistant fire chief Tad Byrum ('91), Schnably's Wake Forest roommate. Officials were so impressed that they plan to test the gate on a greenway or bike trail prone to flooding. "It has the potential to save many lives," said Leigha Cordell, logistics officer with the Winston-Salem/Forsyth County Office of Emergency Management.
The F.A.S.S.T. device (Flood Alert Samsung Sensor Technology) works like this. A sensor would detect when water on a road reaches a depth of 6 inches and would close a gate, similar to a railroad-crossing gate. The sensor would also send an alert to law enforcement officers and to mobile apps to warn drivers. When the water level drops, the gate would swing open and reopen the road.
"By using these gates, public safety would be greatly improved by eliminating potentially flooded cars and freeing first responders to assist the public elsewhere," Schnably said.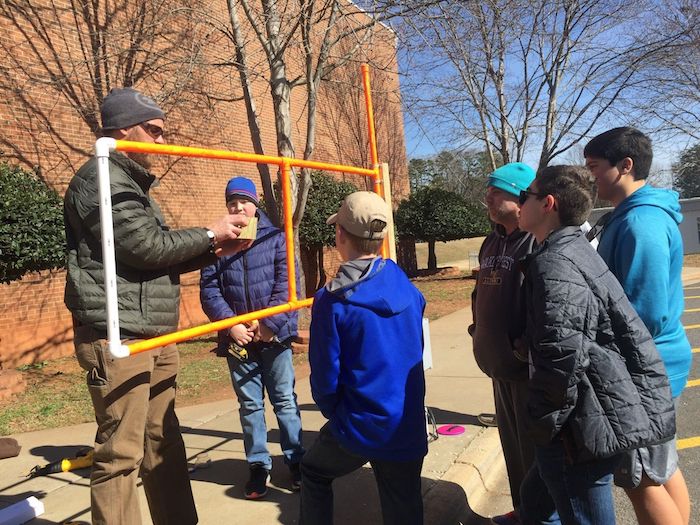 Schnably has entered the Samsung competition for several years, but this is the first time his students have advanced to the finals. Jefferson Middle won $50,000 when it was named one of the 10 national finalists and $100,000 as one of the three national winners. The school is using the money to provide every student with a Samsung Chromebook computer beginning this fall.
A biology major, Schnably started his teaching career as a marine-biology instructor in Florida. The idea for a floodgate came to him last summer as he watched news reports of flash floods from hurricanes and thunderstorms flooding roads, putting motorists and first responders at risk. There's got to be a way to block flooded roads, he thought. "This is not just a coastal issue; it's not just a North Carolina issue; it's everywhere," he said.
After researching the dangers of flash floods, Schnably's students designed and built a full-size prototype of the floodgate device with PVC pipe and a sensor and a smaller model that they took to New York.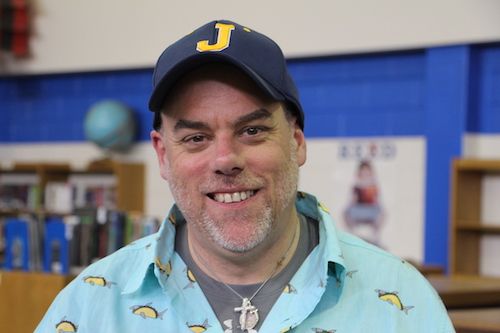 About 100 people in the U.S. die in floods every year, according to the National Weather Service. The Weather Channel estimates that two of every three flood deaths from 1995 to 2010, excluding fatalities from Hurricane Katrina, occurred in vehicles. Most flooding occurs not from hurricanes, but from summer thunderstorms.
"The single worst decision you can make in a flash flood is driving your vehicle into floodwaters of unknown depth," The Weather Channel cautions. Some motorists ignore warnings. Others, especially at night, may drive onto a flooded road not knowing that it's flooded or how deep the floodwaters are.
The F.A.S.S.T. system is designed to deploy automatically when floodwaters reach a dangerous level: 6 inches of fast-moving floodwater can knock over an adult; 12 inches of rushing water can carry away a small car, according to the NWS' "Turn Around Don't Drown" public-awareness campaign.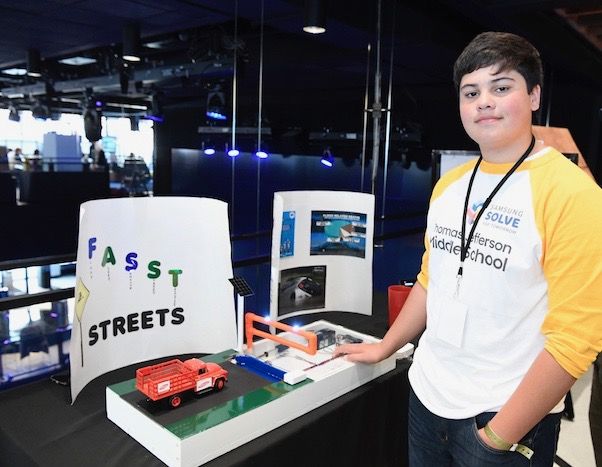 Schnably grew up in Florida and Pennsylvania, but his family moved to Winston-Salem when his older sister, Patricia Schnably Shields ('90), was at Wake Forest. He followed her and majored in biology under mentors Ron Dimock (P '91) and Herman Eure (Ph.D. '74). His wife, Jane Harrison Schnably, graduated in 1993.
After graduating, Schnably moved to Florida and taught middle-school students at the Newfound Harbor Marine Institute. He returned to North Carolina to earn his teaching certificate from the University of North Carolina at Greensboro and started teaching at Jefferson Middle, off Robinhood Road not far from campus, in 1999. He led the school's girls' basketball team to four county championships during a decade as the team's coach and now coaches the school's robotics team, the Mad Minutemen.
His classroom is decorated with Wake Forest memorabilia including a poster autographed by Tim Duncan ('97), a poster from the 2006 Orange Bowl football season, an Orange Bowl ticket, a football helmet and a football autographed by former coach Jim Grobe.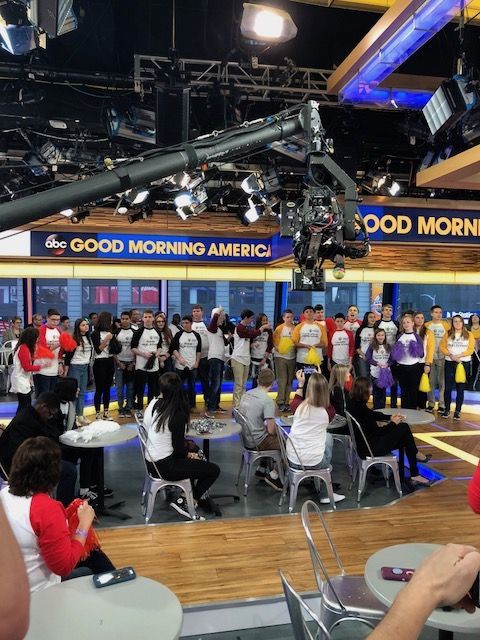 Schnably is forming a company called MarMic Shield LLC and applying for a patent on the floodgate. His partners include his brother-in-law, Aidan Shields, and the father of one of his students, Michael Gruver. Gruver, an electrician with the city of Winston-Salem, helped with the project.
He's already thinking about another STEAM project for this school year, perhaps something to enhance school security. He credits his teaching style to his biology professor, Herman Eure.
"He made class enjoyable, and I like to think I incorporate that approach into my teaching," he said. "The kids know it's going to be hard work, but we're going to enjoy the process of learning."