Curt Beech ('94) has taken a few thrill rides with film director Spike Lee.
As the production designer for Lee's new movie "BlacKkKlansman" and his Netflix series "She's Gotta Have It," Beech learned early on that he would have to move fast to keep up. Most directors shoot four to five pages of a script per day, Beech said in a phone interview from New York City. Lee tends to shoot double or triple that.
During the Netflix show's first season, the production crew had the first location ready for a 6 a.m. call. "So Spike calls me at 8 a.m. and he's like, 'We're ready to move.' And I said, 'Uhhhh, Spike, we're not ready for you."
The team couldn't even access the next set location until 9 a.m.; Beech told Lee he needed until 10 a.m. "He went and sat in his office for a while and waited for the call from us, and we powered through and got it all ready."
Beech, with experience as an art director on movies such as "Lincoln" and "Star Trek," thought perhaps Lee's pace would slow down for a feature film like "BlacKkKlansman."
"I was wrong," Beech said with a laugh. "You have a unique problem with Spike Lee. It's exhilarating and terrifying."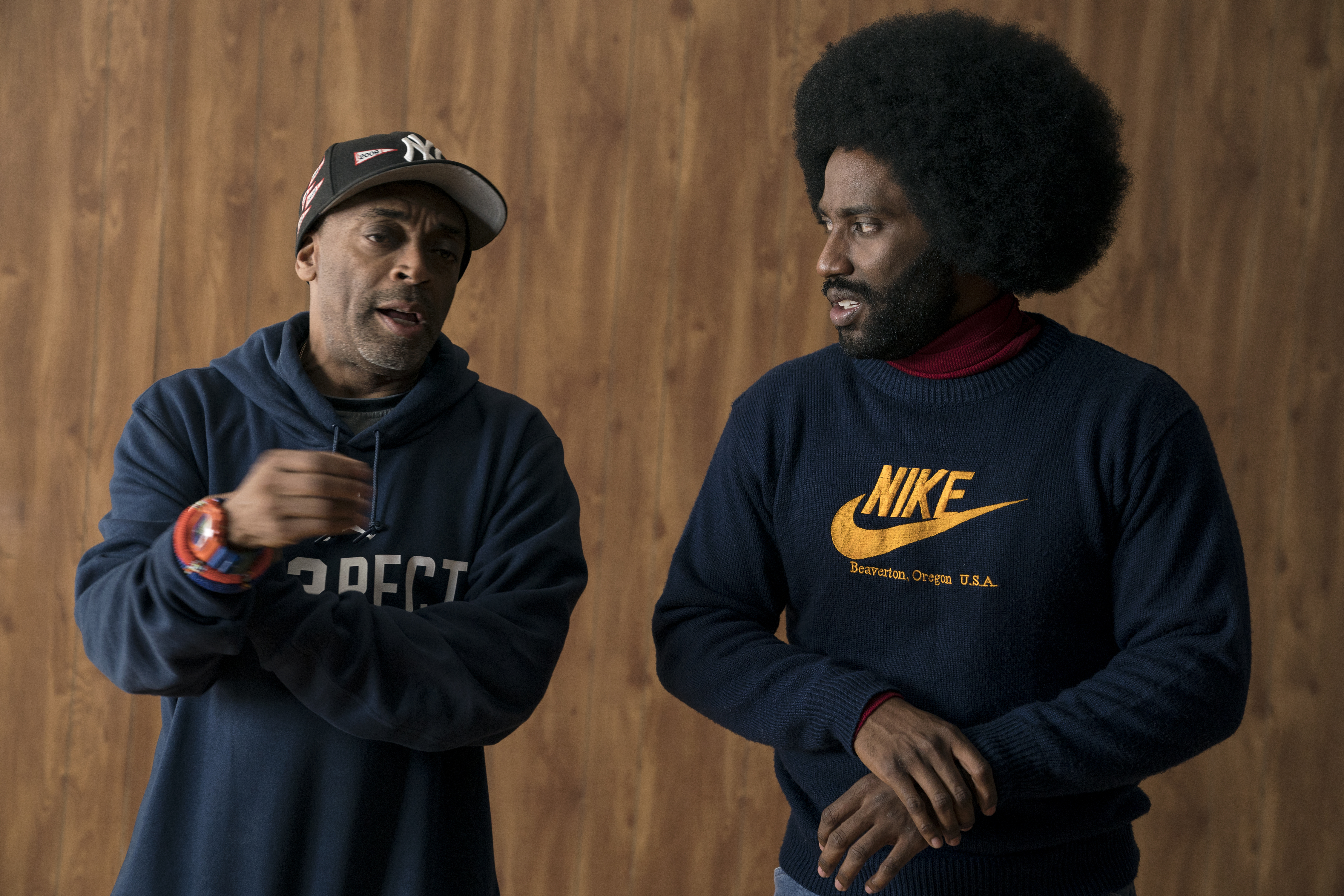 Nevertheless, Beech says working with Lee is a pleasure. Beech just wrapped up the second season of "She's Gotta Have It," based on Lee's 1986 film about an artist juggling three lovers.
"It's nice to be able to work with one director multiple times, and it's so unusual these days because there are so many projects swirling around, and Nexflix's $12 billion purse is making content like gangbusters," Beech said.
Lee moves quickly because he knows when he's captured exactly what he envisioned, while new directors tend to shoot more to have options in the editing room, Beech said. Studios love Lee because shaving a few days off a schedule can save hundreds of thousands of dollars, and that also can translate into a bit more for the art department, Beech says. On the Netflix series, it meant Beech could afford, for example, to add authenticity to certain scenes with the costly licensing and printing for original artwork by Kehinde Wiley, who painted the official portrait of former President Barack Obama.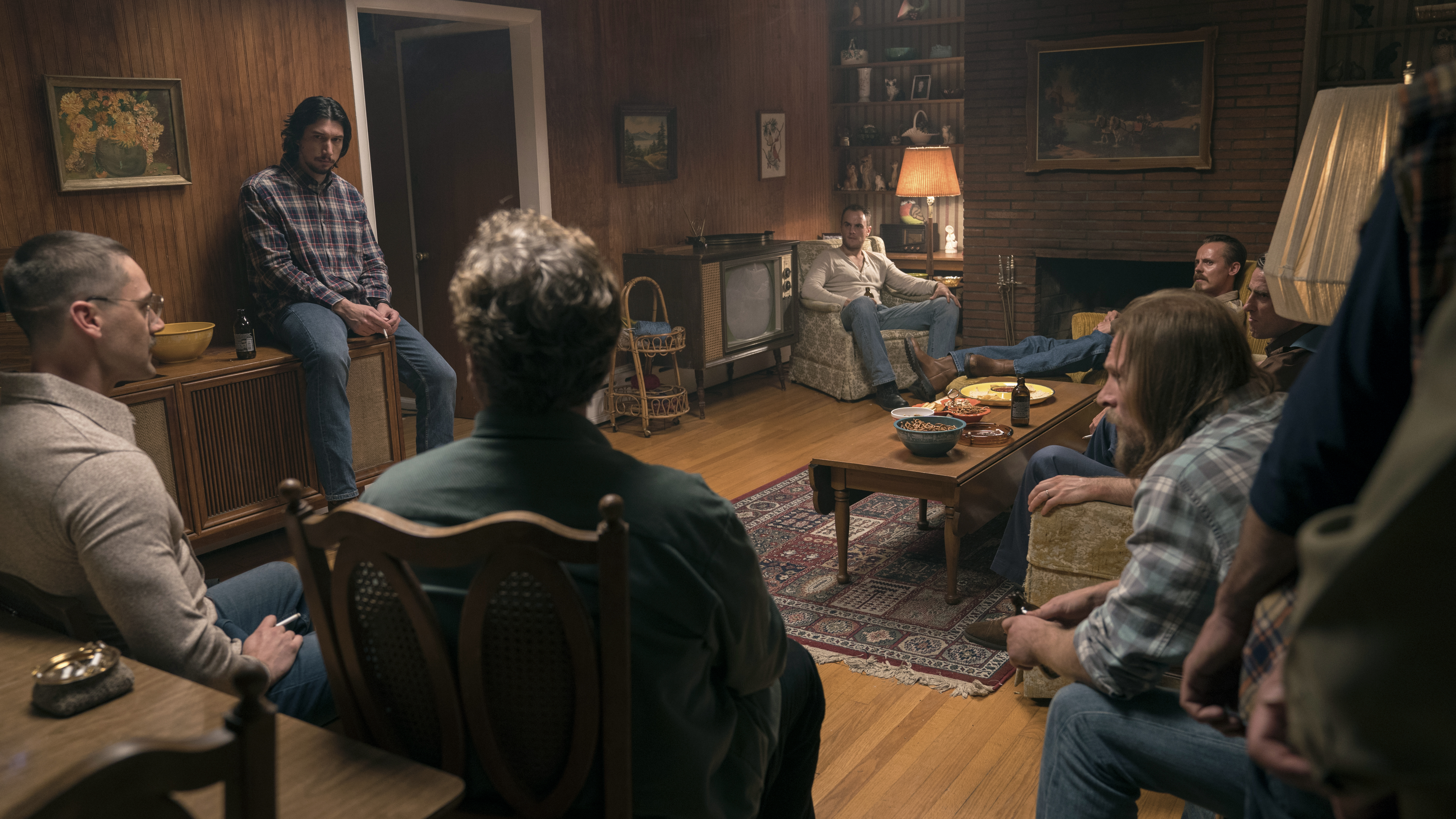 Beech, an English major with a minor in theatre, wanted to be an actor but discovered set design in a work-study job at Wake Forest. He went on to get an MFA in scenic and lighting design for theatre at UCLA in 2003. He says his Wake Forest theatre experience helped him launch his successful film design career. "It's luck and timing is what it boils down to. I've been able to choose some good projects, which has been really nice."
The evidence suggests he's being a bit humble. He was one of three art directors for "Lincoln," which won the 2012 Oscar in production design for Rick Carter, Beech's boss on the film, and set decorator Jim Erickson. (Daniel-Day Lewis won best actor.) Beech was art director on "The Social Network" in 2010, and he was one of five art directors on "Star Trek" in 2009. "Bigger shows have multiple art directors to handle the volume of sets and complexity," he notes.
He credits his wife, Mary Renner Beech ('94), with smoothing his path. "Mary has a steady job so I don't have to work every second of every day. I can take a breath in between things and wait for the right thing to come along. That makes a huge difference."
Mary, a history and speech communication double major, has distinguished herself in marketing, formerly with Disney and now as chief marketing officer and executive vice president for Kate Spade New York. They live in Brooklyn with their daughters, 12 and 14.
Moving up from art director to production designer super-charged Beech's responsibilities. He describes the position as the architect of how a film will look.
"The joke version of what the production designer is responsible for is pretty much everything that's out of focus," Beech said. "Literally everything you see is the production designer's responsibility and how it all looks and how it all hangs together and makes sense."
His team includes the art director, who deals with the nuts and bolts of getting the vision from "the page to the stage." A set decorator comes up with every item, from furniture to pencils and mail on the table. The set should tell a story of its own, Beech says. "Every set has history, even if it's a new apartment. … So it's very important." With the director of photography, he tries to light the set as completely as possible before filming so the photo team can spend its (expensive) time shooting.
Beech says his role model is Carter, the "Lincoln" designer who also won an Oscar with Robert Stromberg for "Avatar." Beech tells the story of walking Carter through the telegraph room in "Lincoln" to explain the set Beech had designed. Carter predicted that director Steven Spielberg would go to a specific corner and try to get up high. "I said, 'OK, how does he know this?'" Beech recalled.
When Spielberg arrived, he asked how a telegraph system worked. Spielberg walked immediately to the corner Carter had identified and asked for a 12-foot ladder. "And they put the camera on top of the ladder and started the scene that way," Beech said. "So you have to know what the sweet spot is in the set. … He actually followed the path of the wires coming into the room and down into the room, which became this interesting tracking story of what the telegraph room does."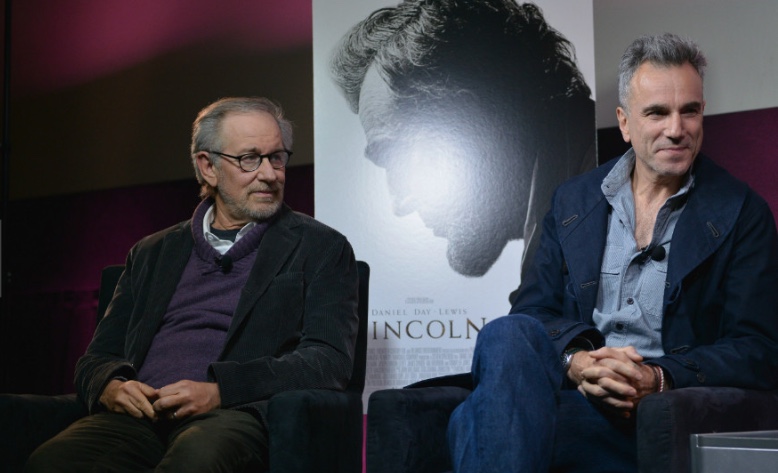 Beech said he used those lessons in creating the police precinct in "BlacKkKlansman," based on the true 1970s story of the first African-American police detective in Colorado Springs, Colorado, who teamed up with a white detective to infiltrate the white supremacist Klan.
Three concepts guided Beech's design. Ron, the black officer, is an enlightened man in an ignorant world. His Klan nemesis is an ignorant man in a world that is changing. And the precinct is an old building where hiring a black officer is a big deal. Painters and set decorators built a new, clean set, then had to "age it down" to feel tired and worn. "That's the story we're trying to tell with the precinct — in need of a facelift, and Ron is that facelift they're trying to implement."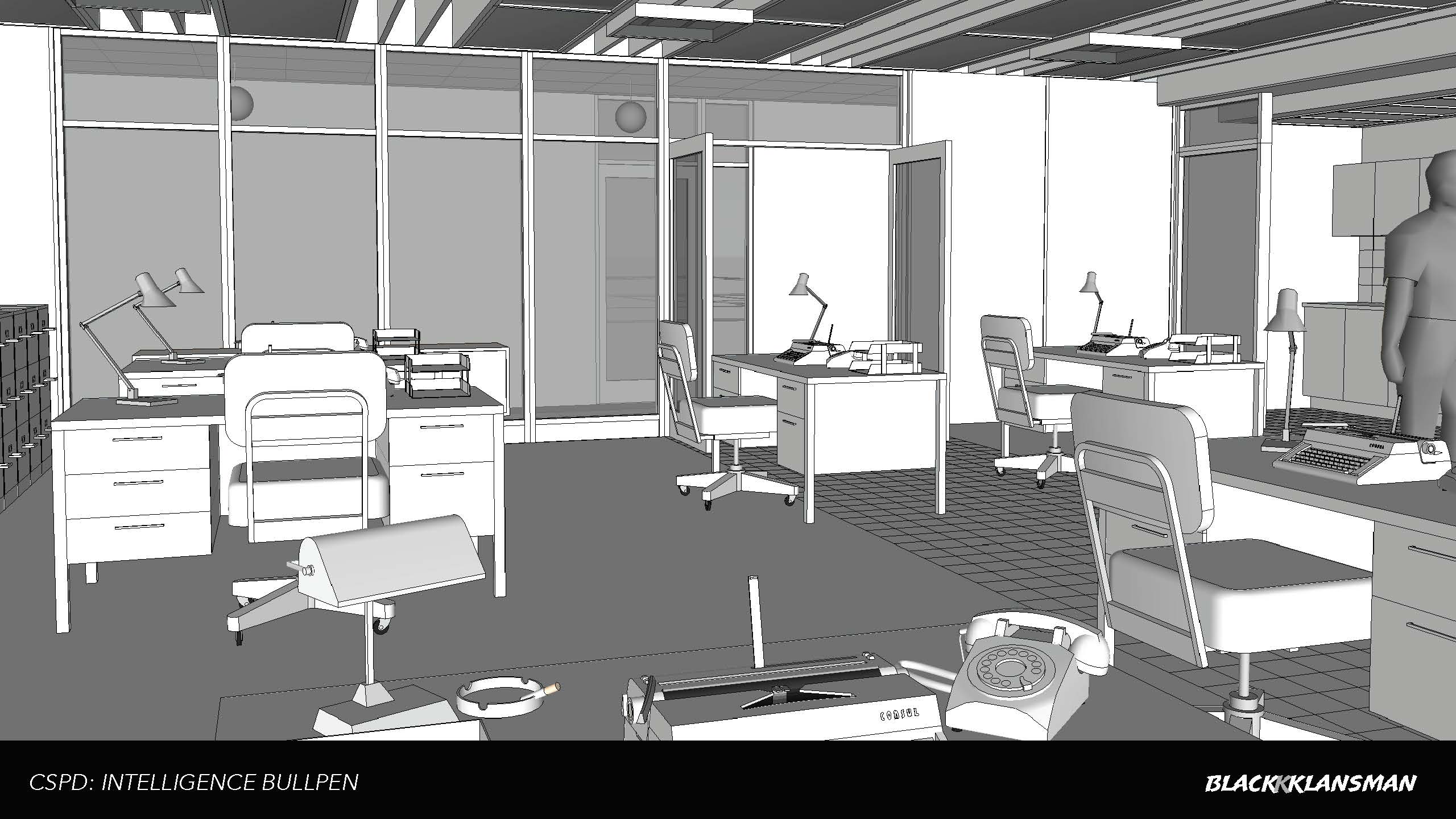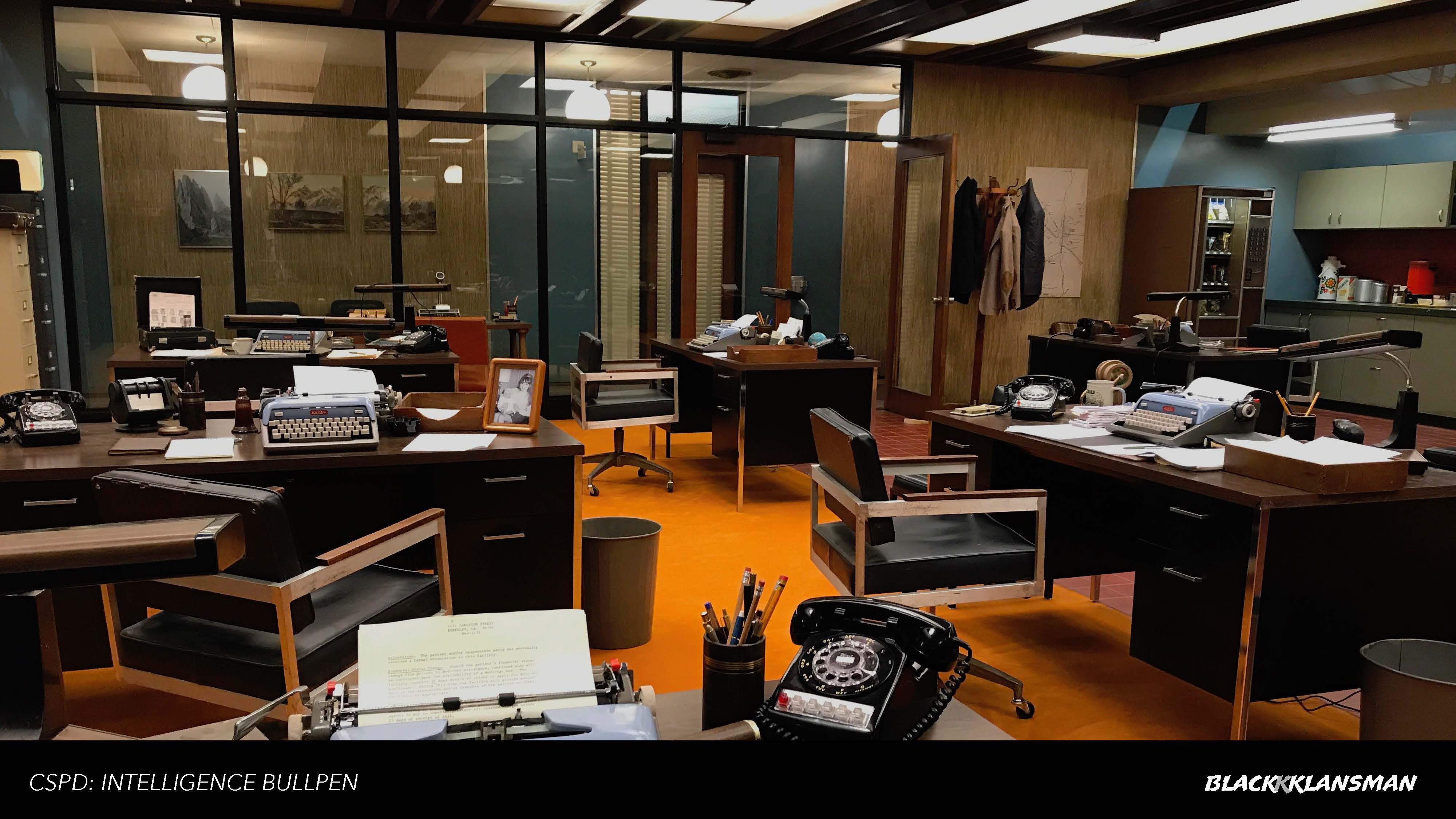 Beech designed his first set in a Wake Forest class. "It was a big moment for me to look behind the scenes and start to think about the theatre in a different way," Beech said.
Theatre taught him how to collaborate and quickly find solutions with impact inside a tight budget. That's important in film because it moves "so, so fast," he said. "In my art departments, I always gravitate toward people with theatre backgrounds, and I know lots of other designers do, because they're better problem solvers."
Harold Tedford (P '83, '85, '90), professor emeritus of theatre who was director of Wake Forest Theatre, has watched both Curt and Mary Renner Beech's careers with pride. He took both as students on theatre trips to New York City.
"Curtis was very crisp and very exacting about his work," Tedford said. "He came across as very cheerful. He's very talented."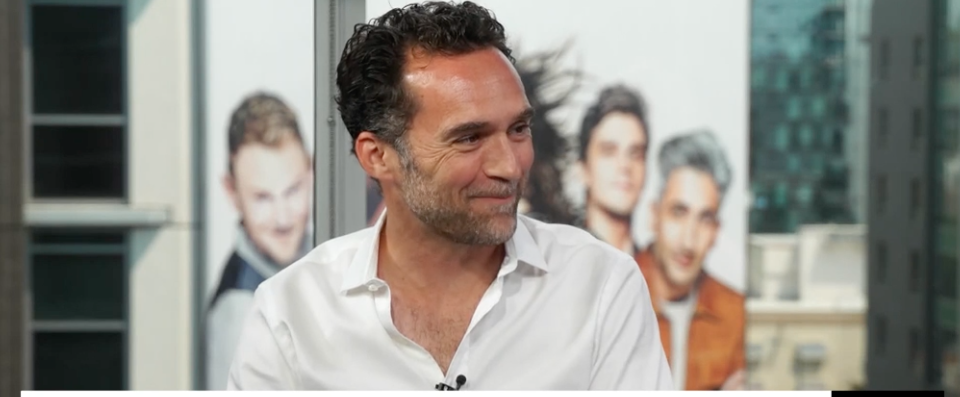 Beech taught theatre for five years at a prep school in New York City and found that students responded best to harder material, which he says Wake Forest always has pursued. "You give them something that challenges them, and they will step up."
His advice to students or graduates who want to go into film is to take advantage of alumni.
"There have been enough people who have come out of Wake Forest and gone into the film industry now that they're really aware, and there's a network building there, for sure. I'm always really happy to talk to anyone who has questions and pass them on to other people."
See video of Curt Beech's interview with Cheddar, a news and entertainment website, about his design of "BlacKkKlansman."
Read a 2012 story about Curt Beech in Wake Forest Magazine.
Highlights of Curt Beech's Filmography
Production designer
Movies: BlacKkKlansman (2018); November Criminals (2017); Carrie Pilby (2016); Scruples (2012); The Man Who Shook the Hand of Vicente Fernandez (2012). TV series: The Dangerous Book for Boys (2018); Instinct pilot (2018); She's Gotta Have it (2017-18); Good Behavior (2016-17); Wayward Pines (2015)
Art director
Movies: Lincoln (2012); The Help (2011); A Mann's World (2011); The Social Network (2010); Greenberg (2010); Couples Retreat (2009); Star Trek (2009) TV series: Miss Guided (2008)
Assistant art director
Movies: Transformers: Revenge of the Fallen (2009); Get Smart (2008); Ocean's Thirteen (2007); Mission: Impossible III (2006); Failure to Launch (2006); War of the Worlds (2005); The Chumscrubber (2005)
Source: IMDb.com