Grace Goldman ('22) of Fort Worth, Texas, knew when she was a sophomore in high school that she wanted to go to a small, suburban, "private-ish" four-year college.
When she put those filters on the College Board search engine, Wake Forest came up near the end of the alphabetical list. She knew nothing about it, but the campus photos struck her as beautiful. She liked "the little admissions caricatures — the snowboarding, sculpting rocket scientist or something like that. I was like, 'Yes, that's who I want to be.'"
That was Nail No. 1.
When Grace and her father made an East Coast road trip before her junior year to look at universities, her father told a business partner south of Charlotte that they would be in the area. That was nail No. 2.
Traci (Cherry) Cockerham ('06) was excited to give them a tour. She's vice president of Carolina Made Inc. sportswear, which distributes goods made by Grace's dad. Traci's husband, periodontist Bobby "Tripp" Lee Cockerham III ('06, MAM '07), is a double Deac. Traci says she loves Wake Forest so much that she once drove from Kentucky, where they spent three years during her husband's residency, to show off the campus to her CEO's daughter.
"Once you go there, it's like taking somebody home to meet your parents," Traci says. "You want them to see the Quad when it's packed. It was a dreary summer day. There was nothing brag-worthy. All the things I love about Wake Forest weren't in play."
Hold that hammer. No nail there.
Grace says they went into the gym while it was still under construction. "We were looking around like we didn't know what we were doing, and two students were on the balcony, and said, 'Hi, are you lost? You need help finding somewhere?' We were like, 'No, we're just looking around; it's all good.'"
Hammer in play again.
Traci says Scales Fine Arts Center was closed. "We weren't even supposed to be in there." But they slipped in as someone left because Grace, who draws and paints, wanted to see Hanes Art Gallery. As they were peering in the windows of the locked gallery, they got the same helpful "Are you lost? Can I help you?" but this time it came from a big bear of a custodian with an enthusiasm for Wake Forest that wouldn't quit.
"He went into this huge spiel about how the great the school is — you won't find a better school like this, you won't find better people like this," Grace says. "He looked me directly in the eye and said, 'Make sure you get all As if you want to get in here.' He was very impassioned about it. It was very touching."
He told her to come see him when she arrived on campus.
Grace had attended a K-12 school and understood the warmth of community. "I would walk by someone in the mail room, and it would be like, 'Hey, what's up?' And colleges were always perceived by me to be these big scary places where you don't get to know a lot of people, so coming into Wake on an unofficial visit with no pretense — no one was being paid to say, 'Hey, you should come here' — it was very touching to have that experience here, and it was definitely a very pivotal moment for me moving forward in my college search because I'd always think back to … that experience with him."
The final nail was in. This fall, Grace became a freshman Deac. She recently told her story to Jim Coffey, the director of landscaping, at an event, but she didn't know the custodian's name. Coffey immediately knew who it was.
Just as a story makes its way around a family, Coffey told Julie Hatch, the president's wife, who told Maria Henson, the editor of this magazine. We arranged for Grace to reconnect with the one-person recruiting team of Ernie Johnson.
Ernie has been part of the Wake Forest family for seven years. He wanted a custodial job in athletics, but only Scales had an opening. He reluctantly accepted.
"Let me tell you what happened," Ernie says. "I met the finest people in Scales that I've ever met in my life. That is the honest truth."
When his current supervisor, Alan Winkler, the director of Waste Reduction and Surplus Services, told him that the magazine was looking for him and that emails with his name in them were flying around, Ernie didn't know what to think. He didn't remember Grace because, he says, he does the same thing with everyone he meets.
On Oct. 16, the one-year anniversary of starting his current gig in recycling, he walked into Scales in front of Hanes Art Gallery. It was open this time. As Grace tells him her story, their conversation of more than two years earlier gradually comes back to him.
"So you just got here," Ernie says and gives her a big bear hug.
As they talk, Ernie's status at Scales is clear. Lynn Book, a teaching professor in theatre (performance art, interdisciplinary arts, new media and creativity), rushes up and hugs him. "I'm engaged. We bought a new house!"
"I can't believe somebody took you off the market," Ernie tells her. "I knew it was a glow about you that was kind of different."
She says Ernie is one of a kind. "Ernie has come and done special things in my class and for my classes, my First-Year Seminar, really wonderful encounters, which we miss," she says.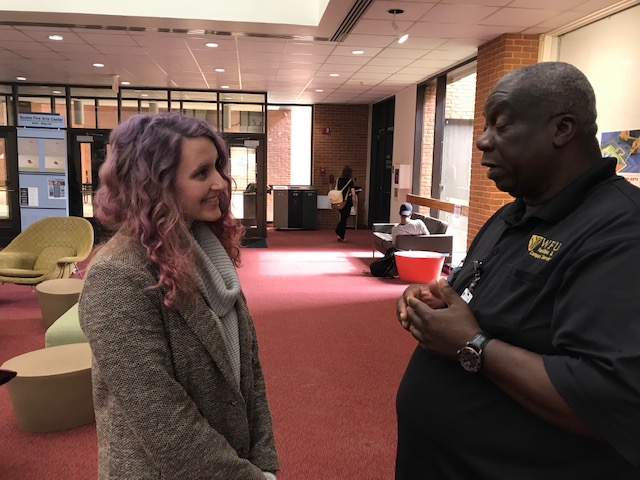 A few minutes later, Ernie shouts across the lobby to David Finn, art professor and acting chair.
"This is the mad professor. I've gotta introduce you to him," Ernie says.
"They're doing a story on you?" Finn says. "That makes so much sense to me."
Ernie tells about a student who wanted her art project to be displayed outdoors, but Finn insisted on keeping it in the lobby.
"Her project was a cocoon that was hanging. She convinced a male student to crawl in it," Ernie says. "The tricky part is what was in it. In this cocoon, she brought crickets. …
The crickets got out. And I think there were, how many, 500?"
"They were everywhere," Finn says.
The next day, Ernie heard girls screaming in the ladies' room. "So I rush in. 'What's going on, what's going on?' They said, 'Look at these bugs all over the place!' The floor was FULL of crickets. (The art student) told me they were only supposed to last 24 hours or something, but they kind of hung around for a month. … (Finn) really lets the students express themselves."
Finn laughs. "That was so interesting because one of the themes of her project was biblical plagues."
The conversation feels like the stuff of Thanksgiving dinners.
Ernie tells Grace that the folks in Scales were always like that to him.
"These people here are wonderful, and they treated me with the utmost respect, and I just gave them my heart, and it didn't matter who came through the door, whether it was you or anyone else, I'd do the same thing," Ernie says. "I am so glad that you opened up, because without that, this wouldn't be possible."
He says he'll certainly spot her around campus, given that she's dyed her hair a light shade of purple. "If you see a truck all of a sudden stop and say hey, it'll be me."
Grace says, "I'll keep an eye out for you."
And as they walk out of Scales and Ernie points out his truck to Grace, there's no doubt that the Wake Forest family has just gotten bigger by at least one freshman.