The Wake Forest Sports Hall of Fame now has seven new members, ranging from golf champions to gridiron greats. The class of 2018-19 was recently honored at a dinner on Friday, Feb. 15, at Bridger Field House. They were formally inducted the following day during halftime ceremonies at Wake Forest's basketball game with North Carolina.
All told, the inductees combined for 18 first-team All-ACC selections and seven first-team All-America honors. The group includes (in order of class year):
• Field hockey star Claire Laubach ('09), a 2012 Olympian who was a member of three national title teams at Wake Forest.
• Golfer Webb Simpson ('08), the former ACC Player of the Year who went on to win the 2012 U.S. Open.
• Football star Steve Justice ('07), a former All-American center who later played in the NFL.
• Tennis great Todd Paul ('07), the first two-time All-American in the history of Wake Forest tennis.
• Football star Tyson Clabo ('04), an offensive lineman who went on to have a successful 11-year career in the NFL.
• Baseball pitcher Kyle Sleeth ('01), a member of the 2002 USA National Baseball team and the #3 pick in the 2003 MLB Draft.
• John Zeglinski ('79), who starred in both football and baseball for the Deacs.
The inductees were recently profiled on GoDeacs.com, the official site of Wake Forest Athletics.  We've compiled all seven profiles below as they appeared on the site. Keep reading to see how each of the athletes made a lasting impact at Wake — and where their careers have taken them.
---
---
Claire Laubach ('09) – Field Hockey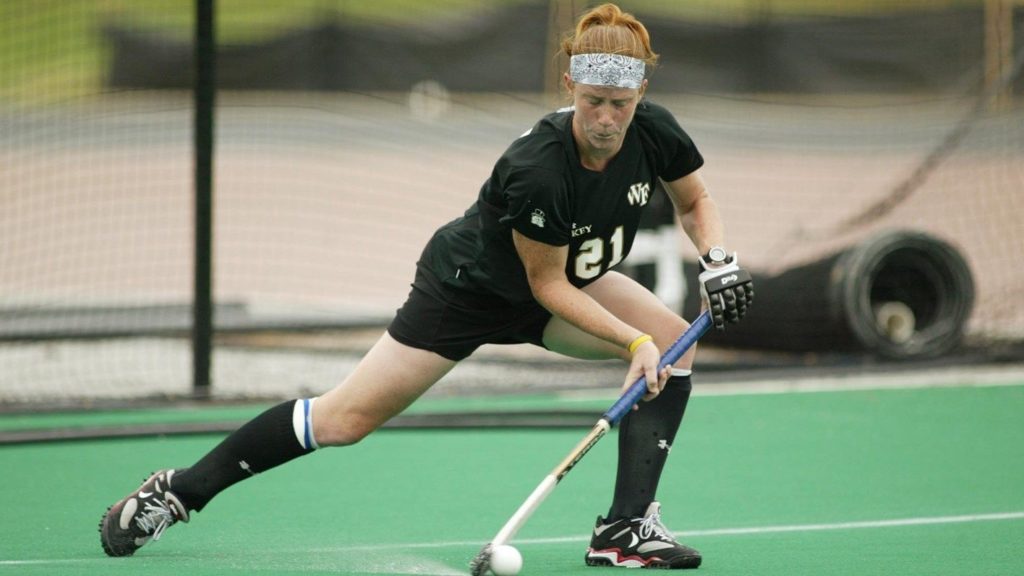 Hoisting an NCAA Championship trophy during one's time as a student athlete is rare. It's what athletes dream of accomplishing after years of pouring blood, sweat and tears into a craft. Winning three national championships is nearly unheard of.  Add the Pan-American Games and the Olympics and an athlete's measure of success is nearly off the charts. Claire Laubach accomplished all of this, plus much more. However, her success on the field was not without obstacles. …
Laubach didn't pick up a field hockey stick until she was 16, but behind great teammates and coaching from Wake Forest legend Jen Averill, Laubach's athletic accomplishments piled up quickly. After years of playing soccer, her future with the sport seemed shallow. But her athleticism and raw talent on the field could not be wasted, so she made the transition into field hockey and Averill took notice.
"Coming out of high school I wasn't highly recruited. I had been playing in the USA system, and they had a camp, but me and a few of my friends didn't want to go to it, so my mom suggested going to the Wake Forest camp. So, we went and that's when I met Jen (Averill) and Jen got to know me. Our relationship just grew from there. That camp was one of the best camps I had ever been to. Jen's whole mantra felt very comfortable and in that moment, it felt like everything belonged."
Laubach was a member of the Wake Forest field hockey team from 2001-04. Not only was she one of the few to win back-to-back-to-back national championships, but she helped write history for Wake Forest athletics. The 2002 hockey team was the first women's sport at Wake Forest to capture a national championship. Field Hockey remains the only sport at Wake Forest to three-peat.
Laubach and her teammates laid the foundation for Wake Forest to become a field hockey powerhouse, competing alongside the best in UConn, Old Dominion, North Carolina and Maryland.
"We always just exuded this sense of confidence. We weren't cocky, we weren't overly assured, we just had the mindset of 'We got this. We are going to walk on the field and win. That's just how it's going to go.' That was the start of it, especially after losing in overtime at the final four during my freshman year. We weren't afraid, but at the same time, we always knew we had work to do, so we were going to do it."
That confidence earned Wake Forest field hockey its first-ever national championship, but that was just the beginning. Laubach knew there was much more work to be done, but she had no doubt Wake Forest had the talent and mindset to get it done. Each year, new leaders emerged and the program reached new heights.
"That's pretty much the same attitude that we had the next two years as well. I always looked up to the classes above me, and then my class took that on when it was our turn to be the leaders. But the great thing was, even the freshman class coming in that year, just bought right into it. My junior year was the year we were the most dominant. We all just bought into it and it carried into my senior year."
After two national championships, it was clear that Wake Forest was building a field hockey dynasty. As a senior, Laubach wasn't going to let her collegiate career end with anything but a three-peat. But this time, the pressure was higher than ever before.
"My senior year was one of the harder years because we all felt the pressure, we all felt the target on our backs because we were the team to beat. We still had that 'We got this' mentality, but that all started at the top with Jen. I've never had a coach as motivating as she is. Her pregame speeches I will never forget- that feeling of walking out of the locker room, it was like nothing mattered and we were going to win no matter what. It was just a matter of the team coming together and leaving it all on the field."
And that's just what they did. Led by Laubach and the rest of the senior class, Wake Forest field hockey finished the 2004 season with a 20-3 record and lifted its third national championship trophy in as many years after topping Duke 3-0.
It didn't take long for her accomplishments at Wake Forest to translate to an international stage. Months before she walked across the stage for graduation, she knew what her future held. While most college students spend spring break vacationing at the beach, Laubach and a few other teammates drove to Virginia Beach to try out for the US National Team. She got the call.
Even for a three-time national champion, the transition onto a new team had many challenges. After being so team-motivated, Laubach had to learn to look after herself.
"I was on the national team for about eight years. It was a bit of a learning curve. Jen was always so motivating and Wake was always an entire team effort. When I got to the national team it became more individual just because we had to look out for ourselves. We had to be able to compete and do what you needed to do, and you have a bunch of people from different colleges with different experiences trying to do the same thing. You have to standout so you make the teams, but you also have to be able to play as a team at the same time. For me, it was a hard transition- I was super arrogant at that time. It took me about four years to humble myself. Those first four years when we were gearing up to go to Beijing for the Olympics were tough."
In 2008, Team USA made the trip to Beijing, but Laubach didn't make the final roster.
"I got cut from the team before the 2008 Olympics, but I was still on the developmental squad. That's when it hit me and I knew I had to work my butt off to prove to everyone that I was a great player. I earned my way back on the team and into a starting position in time for the London Olympics."
Team USA qualified for the 2012 London Olympics following a first-place finish at the Pan American games in 2011. Laubach trained hard and became a powerhouse on penalty corners featuring an impressive drag-flick.
The US National Team left London without a medal after a 12th place finish. But for Laubach, earning back a starting position on the team was what she set out to do.
Laubach retired from professional field hockey in 2013. Her next adventure- culinary school. To many, field hockey and culinary school seem to be on opposite ends of the spectrum. But it was as a professional athlete where Laubach discovered her love for food and cooking. She even gets to incorporate her education from Wake as a studio art major.
"I liked to eat. When I was on the national team, you learn how to cook because you want to eat the food that's good for you, but you also want it to taste good. So I taught myself a lot of things during that time, and then I decided to go ahead and try to make it a career. The art background also helps because I get to build a plate and design something. I can be creative when I'm combining flavors and it all just works together."
While she doesn't get to experience much field hockey as a chef in California, Laubach potentially sees a future as a hockey coach if she returns to the East Coast.
---
---
Webb Simpson ('08) – Men's Golf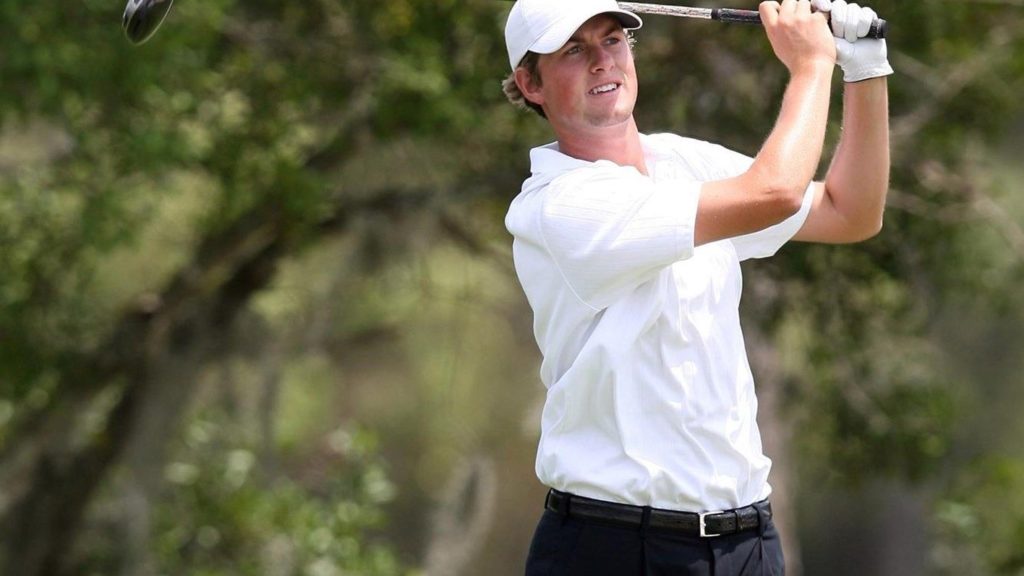 Before Webb Simpson was a PGA Tour star, a US Open Champion or a United States Ryder Cup player, he was a Wake Forest Demon Deacon. And before he was a Demon Deacon, he was a junior golfer with big dreams.
Nearly 20 years ago, Simpson was a young golfer in Raleigh trying to plan out his future. He was so eager to play collegiate golf, that he got a jump start on his search. Luckily for Wake Forest, Simpson looked west down I-40 and found exactly what he wanted in Winston-Salem.
"I feel like I had a pretty unusual recruiting experience because I started considering things so early," said Simpson. "Between my freshman and sophomore years in high school, I was really thinking about where I wanted to go play. I took a few unofficial visits, one to Wake and one to Georgia Tech. I loved both of them and I knew I didn't want to go too far from home because my swing coach was in Raleigh. When I visited Wake, I hit it off with Jerry (Haas). He told me how he could help me develop as a player and I believed in him. He had played on tour for a few years and knew what it took to get to the next level." …
From his arrival in the fall of 2004 to his graduation in the spring of 2008, Simpson had an extraordinary career in Old Gold and Black. A four-time All-ACC selection, he went from ACC Freshman of the Year in 2005 to ACC Player of the Year in 2008. Simpson earned All-America honors all four years, highlighted by first team recognition as a senior. It was a career that earned him a place in the Wake Forest Sports Hall of Fame.
Simpson made his mark early in his career, posting the first of his of 14 career top-5 finishes in his collegiate debut. A 5-under third-place finish showed his skill, not the nerves he had as he finally made his long-awaited collegiate debut.
"I remember my first event, at East Tennessee State, just being incredibly nervous," said Simpson. "Coach Haas helped us prepare, so I knew I was ready. Although I was nervous, I knew that I had put in five to six weeks of work with Coach to improve and this was my chance to show what I could do in competition."
Over the next four years, Simpson put on a show on the course. He helped the Deacs to six team titles, including three victories at NCAA Regionals, and a third place finish at the 2006 NCAA Championship. His 71.92 career scoring average ranks fourth in program history. He won three individual titles as a senior, including the 2008 ACC Championship. Yet when he looks back at his time at Wake Forest now, the first thing to come to his mind aren't the titles and records, it is the camaraderie of those teams.
"The road trips stand out to me," said Simpson. "We would watch movies in the van and Coach knew every line and would be saying them just as they were on the screen. We were a team that laughed a lot and I remember those laughs. The thing I miss about college golf, specifically being at Wake, was how close we were. We would be on campus, in class all morning, then go play a round at Old Town or Bermuda (Run) or Forsyth (Country Club) in the afternoon and then have dinner together afterward. We were a close team and had a coach who enjoyed being part of that group. He competed against us and still beat a lot of the guys. He beat me a lot, which made it fun to be part of a program where a coach is that involved."
Now in his 11th year on the PGA Tour, Simpson has made a name for himself on the game's biggest stage. He has won five times on tour, highlighted by the 2012 U.S. Open and, in 2018, The Player's Championship. His career earnings are over $30 million and he has represented his country five times in international play at the Ryder Cup or Presidents Cup.
"Wake Forest prepared me more than I ever dreamed it would," said Simpson. "I learned so much from Jerry about being ready and being organized. Those are the basics of life and also the basics of being a good golfer. I learned so much on-course strategy, the intangibles you can only learn through experience. How to navigate a golf course, when to take a risk and when not to, the idea of keeping your head down and playing a round one hole at a time and one shot a time; that I could never have taught myself. That is learned from Coach Haas and I'm grateful for it."
Simpson will return to Winston-Salem this week to be enshrined in the Wake Forest Sports Hall of Fame. Although he and his family have not been strangers to campus, this visit will be extra sweet.
"I was so excited (to learn of the selection) because not only has the golf team meant so much to me, but the school has too," said Simpson. "I met my wife (Dowd) there on my second day at Wake. Coach Haas is a big fan of my wife and my wife is a big fan of Coach Haas. All those pieces of my college career are special to me. I love keeping in touch with the Wake alumni and the program. I practiced a few weeks ago with Kyle Reifers, who I have stayed in touch with. Those sort of things, I don't think happen as often at bigger schools, but at Wake it is a family and a tight-knit community. Every tournament I play, I hear 'Go Deacs' as I am walking the fairway. That part is really cool and I am grateful to be going into the Hall of Fame to join all the greats that have come before me."
Simpson is the 20th member of the men's golf program to be inducted in the Wake Forest Sports Hall of Fame. Three of those inductees, Arnold Palmer, Curtis Strange and Lanny Wadkins, are also enshrined in the World Golf Hall of Fame. Three others, Scott Hoch, Jay Haas and Bill Haas have won at least five times on the PGA Tour, just like Simpson.
"That is a special group," said Simpson. "As I look at those names, they have a lot of wins and a lot of career money on the PGA Tour. It is a bit surreal. Before I got to Wake, I looked at those guys as distant figures who had done so much in golf. Now, by going to Wake I have gotten to know them and have a bond with them. The little boy inside of me, that 15-year old Webb that verbally committed to Wake, is just really excited to think about being in the Hall of Fame next to them and how our careers have all connected."
---
---
Steve Justice ('07) – Football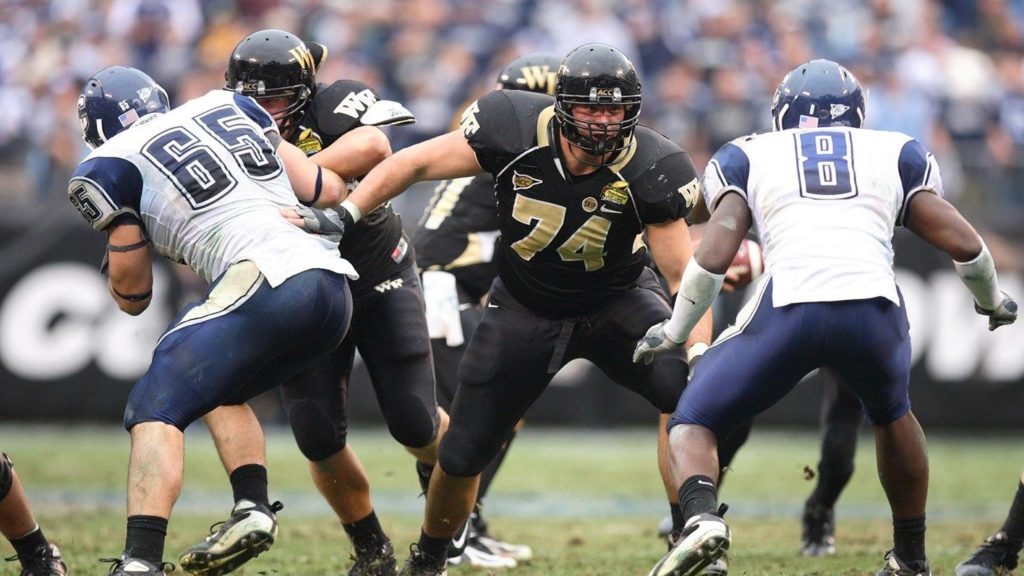 Great teams usually have a great lineage.  The Yankees' Joe DiMaggio finished his career in 1951, the same year that 19-year old Mickey Mantle broke into the Major Leagues.  Just enough time for the departing great to show the youngster a few tricks of the trade.
A certain lineage can be found among Wake Forest offensive linemen.  Tyson Clabo started for three years along the Demon Deacon offensive line from 2001 through 2003.  Steve Vallos started alongside Clabo in 2003 and held his starting spot through the ACC Championship season in 2006.  Vallos was joined on the offensive line by Steve Justice who started for three seasons from 2005 through 2007.  Between 2001 and 2007, every single Wake Forest football game included either Clabo, Vallos or Justice as a starter on the offensive line.
That lineage not only produced great offensive lines at Wake Forest but also landed all three of those linemen in the Wake Forest Sports Hall of Fame.  While Vallos was inducted in 2018, both Clabo and Justice will take their places in the shrine this weekend. …
While offensive linemen are frequently among the least-recognized football players with the glory going to quarterbacks, running backs and wide receivers, there is something to be said that the Wake Forest Sports Hall of Fame will have inducted three linemen and just one running back (Chris Barclay) over the last two years.
Like most offensive linemen, Steve Justice couldn't be more humble.  Not just a three-year starter, Justice is the most decorated center in school history.  A consensus All-American as a senior in 2007, he was a first team selection by the Associated Press, ESPN, the American Football Coaches Association and CBS.  He became just the eighth Demon Deacon to win the Jacobs Blocking Trophy as the top blocker in the Atlantic Coast Conference.  Justice was the runner-up as a senior for the Rimington Trophy, given annually to the nation's top college center.  A sixth round pick by the Indianapolis Colts, he spent three seasons playing professional football, finishing up with the Carolina Panthers.
The call to join the Hall of Fame was completely unexpected to Justice.
"Honestly, I was really surprised," Justice said.  "You have so many amazing players at Wake Forest.  I blocked for Chris Barclay and he was an amazing player.  You have tons of great football players.  I guess (the Hall of Fame committee) looked at the stuff we did off the field.  You look at offensive linemen and there's really no stats to go off of so you have to go off of how the guys carried themselves on and off the field."
The call informing Justice of his impending induction highlighted his personal intersection of life and football.
"I was at Lowe's with my son," said Steve when he got the call.  "I was in line checking out when the phone rang.  It was Jody Puckett.  He said he was calling from the Hall of Fame and I said 'I hate to do this but I'm standing in line with my one-year old son.  I knew (my son) wouldn't let me get through the line.  I said can I call you back?"
As any coach will tell you, winning the war in the trenches is the first step toward winning the football game.
"It all starts with the offensive line," said Justice.  "There's so many guys that I owe so much credit.  Even though I had the success that I had and won the awards that I did, if I didn't have the down blocks from my guards, Arby Jones and Louis Frazier and Matt Brim, I wouldn't be able to pull, I wouldn't have been able to double team.  We wouldn't have been able to have the success we had as a unit.  Honestly, it was the five guys we had at the time making the plays that made us so successful.  Honestly we're just really lucky that myself, Vallos and Clabo had the recognition that we had.  Everyone together should be getting these awards."
The lineage of Wake Forest's offensive line is strong.  While Clabo and Justice never played together, Clabo served as the student host when Justice made his visit to campus.  The bond between Justice, Vallos and Frazier is even stronger as Vallos and Frazier were members of Justice's wedding party.
That was a big wedding.  And it was a Wake Forest wedding.  Justice's wife, Lindsey, was a member of the Demon Deacon women's soccer team.
"Obviously, my wife really drove me a lot when I was at Wake," Justice said.  "She made me work hard."
And that hard work on Lindsey's part helped pave the way for Justice's current career as a personal trainer.  He runs Justice Fitness in the SouthPark section of Charlotte.
"My wife started (as a personal trainer) in 2009 when I was in the NFL," Justice said.  "This was before we had kids so she trained on the side.  As I fumbled through life after football and didn't know what I was going to do, I just helped her do it.  I've had some really cool opportunities."
His coaches and his strength and conditioning regimen while at Wake Forest helped forge his career path.
"It gave me such a foundation for fitness in general," said Justice.  "When I was at Wake we would have all the off-season workout stuff.  I look back and I'd remember really enjoying it, the training aspect of it.  Some days it was harder to get up for it than other days but most days, I really enjoyed the weight room.  I would stay both summer sessions and just work out, trying to improve my game.  It always intrigued me.  After I was done I didn't think I could have a future in a business with it, I always thought personal training was something you did on the side.  But I met some really great people, some really great clients and things started coming together.
"I look back and see that God's plan was to go this route.  It's been really interesting because you see what you want to do when you graduate from college and the dreams that you have and then you kind of look back and think 'wow, it's a really cool journey He's had me on from the beginning' because of the people I met through Wake Forest or in Charlotte."
After finishing his playing career at 315 pounds,  Justice has shown that he practices what he preaches.  Today he weighs in at just 210 pounds.
Among Steve's fondest memories from his playing days were, of course, the 2006 ACC Football Championship.  Second was running out of the tunnel for the 2007 FedEx Orange Bowl.  But it was a game at Nebraska in 2005 that brought to life the magnitude of the platform that is college football.
"I had never played on a stage like that," said Justice of the Deacons' trip to Lincoln.  "I was starting at center, my second game-ever, a little nervous.  There was just a sea of red.  I'm on offense and on the punt team.  We didn't get a first down on the first series so the punt team comes on.  Everyone runs off the field except me so I'm on the field waiting for the punt team.  I'm the only Wake Forest player on the field.  I just looked around and said "Holy cow, look at all these people.  It was a great place to play."
While being enshrined in the Hall of Fame is Justice's latest honor, he was also recognized as an ACC Legend at the ACC Championship game in Charlotte in December.
"I got to take my kids to (the championship game)," said Justice.  "It was really emotional and cool.  Kind of an out of body experience for me.  I know myself and I know I really shouldn't be there with Steve Spurrier, Bobby Bowden and Ed Reed.  I'm like, 'honestly?'  I remember walking up (to the gate) and I'd lost all my weight and they said 'are you one of the legends?' and I said 'I think so.'  I feel like I don't deserve it so it's just really neat for someone to include me on it.  I'm really honored.  Really happy."
All three of Justice's brothers, as well as his father, played college football.  Deciding where to attend college after his high school career concluded in New Smyrna Beach, Fla., was an easy decision.
"My older brother was actually playing football at Carolina," said Justice.  "At that time I was hard-core, wanted to be a Tar Heel.  Didn't know any better, obviously.  It was Coach (Troy) Calhoun who was my first initial contact and I loved Coach Calhoun.  And then he left to go to the Denver Broncos.  Coach Lobo (Steed Lobotzke) then took over and obviously Lobo is near and dear to my heart because he was my coach for so long.  We've been through so much.  I remember Coach Lobo coming to a wrestling match of mine in high school and it seemed like they were more interested in the person than just the player.  And that kind of grabbed me.  It proved that once you got there that Coach (Jim) Grobe was more interested in building character players and not just characters.  Seeing them graduate, seeing them evolve as men.
"And that's where it kind of changed for me.  Not only did I not have that many scholarship offers but it made it easier for me to choose.  I saw Wake as an opportunity to play earlier in my career and I loved the size of the school.  I loved the fact that it was a smaller-knit community.  More of a home feel for me."
As for the 2006 ACC Championship season, Justice credited the camaraderie of not just the offensive line but the entire team as a major factor in that season's 11-3 record.  And that bond began even before Chip Vaughn blocked a Duke field goal attempt in Week 2 that kept the Deacons undefeated at 2-0.
"I think you have to look at we lost (quarterback) Ben Mauk (in the opener), you have a blocked field goal and then it just put a lot of pressure on more players than just the quarterback to really step up and make plays," said Justice.  "I think it showed that we came around as a team and not just that we needed a couple players to make plays.  We could do this together and we could have each other's backs.  I think spirits could have been down and you don't know how the season would have gone (had we lost to Duke).  We felt like that was a close one but we've still got this."
Justice's list is long of folks he wishes to thank for his Hall of Fame induction, those Wake Forest people that helped shape his career both on and off the field.
"Coach Lobo is number one," said Justice.  "Coach Grobe was just an amazing coach.  Big Daddy (Coach Bill Faircloth), Miss Bonnie Rae.  She was a second mom to every single player who goes through that campus.  Miss Bonnie's amazing.  Matt Brim, Arby Jones, Steve Vallos.  Louis Frazier who was my roommate for a while.  He was one of my dearest friends.  Coach (Ethan) Reeves in the weight room.  (Athletic trainers) Don Steelman and Chris Ina.  Hunter Willard in academics.  And Joe Haynes (campus director for Athletes in Action)."
This weekend, Steve and Lindsey and their four children, Hannah (8), Hope (6), Hayden (2) and Hunter (10 months) will return to campus for a full slate of Hall of Fame activities.
"My wife and I met at Bostwick and Luter (dorms) and we'll go by there," said Steve.  "We'll go by McCreary Field House, I haven't seen it yet.  We'll take the kids by the soccer field because my wife played there a ton.  My two older daughters are starting to play soccer so it will be cool for them to see (Spry Stadium).  We'll probably walk around the Quad, show them the Chapel.  My parents and my brother and his wife will be there.  It will be nice on Saturday after the game to take a walk around when it's a little more mellow and we can enjoy the view.  The school was just always so beautiful with the brick and flowers.  You can go anywhere on campus and it was so gorgeous."
Lineage is important.  Not just on offensive lines but, more importantly, in families.
---
---
Todd Paul ('07) – Men's Tennis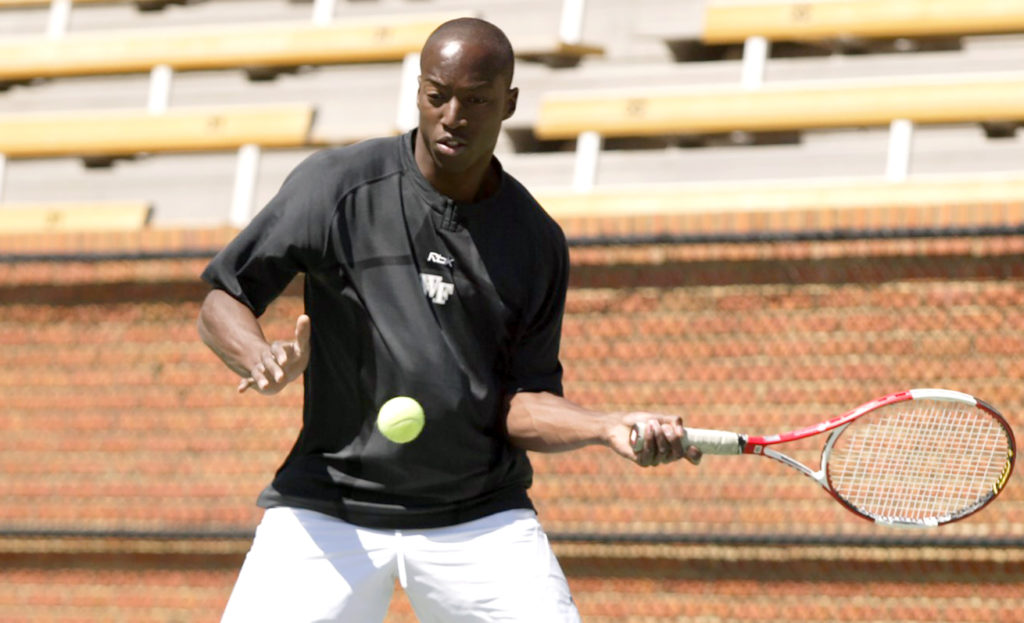 You can say that Todd Paul helped played a vital role in the Wake Forest men's tennis team's first-ever NCAA Championship this past May, but he won't say so himself.
"Maybe you could say I got the ball rolling for the program, but I don't want to take any credit away from the guys that were on the team and won those matches," said Paul. "It's cool to say I was part of the program and it was a very proud moment and a fun night."
But not recognizing Paul for what he accomplished would take credit away from one of the best players in program history and the tone he set for future teams.
When Paul joined the Demon Deacons in the fall of 2003, the men's tennis team typically hovered in the middle of the national rankings, and Paul himself felt the same about his own game.
"When I first looked up Wake Forest's rankings, they weren't that high. They were No. 42 or 44 (in the country) and had made a few NCAA Tournaments, but they weren't a perennial top-20 team or anything of the sort. I didn't think I was I was that good. I thought I was a solid junior player, so I thought the fit was pretty good."
Paul, who was pointed towards Wake Forest by someone from his hometown who had attended Wake Forest previously, got hot on the junior circuit at the right time and drew the attention of then head coach Jeff Zinn.
"I had good timing and had a really good summer in between my junior and senior years of high school so I ended up getting a lot of attention," Paul said. "That summer, Coach Zinn saw me play a bunch and that's how the connection formed. I took a tour of campus and loved everything about it, so things just fell in line. Wake Forest happened to be a really good fit and I took a visit and it looked like a country club. Everything is green, the campus is beautiful, and I knew some of the guys on the team through junior tennis so it worked out really well."
Despite not thinking he was that good of a tennis player, Paul exploded onto the collegiate scene his freshman season. A native of Stamford, Connecticut, Paul led the team with 28 singles wins during the 2003-04 season and would be tabbed as the ACC Freshman of the Year, just the second player in program history at the time to accomplish the feat. He would go on to earn All-ACC honors that season. Wake Forest would advance to the NCAA Tournament for just the fourth time in the 51-year history of the program during Paul's freshman campaign.
"The team really grew while I was there," said Todd. "I had a good teammate come in at the same time as me and he won a lot of matches. Coach Zinn was really good at focusing on the right ways for our team to win, so we focused a lot on doubles. When you're playing a team of similar caliber, the doubles point is huge. Coach Zinn was very good at teaching doubles and he was huge in my growth as a singles player."
"I think a few factors lined up really well for our team and it helps that I was able to win a lot of matches at the top of the lineup. Those matches are always 50-50 matches and I was winning close to 80% of them."
While Paul showed few signs of struggling in the transition from high school to college, that wasn't the case.
"It was so hard," he recalled. "The first semester was brutal. I can't imagine some of the guys who skip their fall and show up in the spring because it's such a massive transition. From doing laundry and getting up early for your classes, no one is waking you up. The time management and being able to plan your schedule so you allocate enough time for each thing, it was really difficult. It took me two to three months to figure it out and I wouldn't have been able to do it without all the support that the athletic department provides."
Specifically, Paul noted that current Compliance Director Sherry Long, who at the time worked in the athletic academic advising department, played a vital role in his transition to Wake Forest.
"Sherry was awesome. She took such great care of us in terms of helping us with selecting classes and what tutors we should have for the classes. She was making sure we were attending classes and if we happened to miss one she would call and check in on us. She was on top of us and made all the difference in the world."
With his feet solidly underneath him, Paul excelled once again in his sophomore year, being named All-ACC for the second year in a row and having the second-most singles wins (26) on the team. Paul's development took another step forward as a junior, as he qualified for his first-ever NCAA Singles Championship after being ranked as high as No. 10 nationally. He became just the fourth player in program history to qualify for the singles tournament while collecting his third consecutive All-ACC honor. During his sophomore and junior seasons, the Demon Deacons would qualify for two more NCAA Championships as a team, advancing to the second round each year.
As a senior, Paul took his game to the next level. He became the first, and remains as the only, player in program history to earn All-ACC accolades all four seasons. Paul posted a team-leading 32 singles wins, setting a new program record for career singles victories (107), and was named the ITA Carolina Regional Senior Player of the Year. As a team, Paul guided the 2006-07 Deacs to the program's first-ever appearance in the Round of 16 in the NCAA Championship after collecting victories over Charlotte and Clemson. Paul ended his career as a two-time singles All-American (2006 & 2007) and was a 2006 doubles All-American as well.
"We evolved from a so-so team to a team where no other school could overlook us. By the time I left we were ranked in the top 15 or top 20 so I thought we had made a big jump but knew that there's still a big difference between No. 15 and No. 5…or No. 1. I thought once Tony (Bresky) came to the school and saw how he recruited when he was at Cornell and knowing how good of a coach he was when we played against his teams at Virginia, I thought the program could reach a new level. But I don't know if it was going to be a No. 1, national championship level."
Fast-forward to the 2017-18 season and Paul was watching from afar in his home in Stamford, where he works as a tennis instructor. As the dream season began to unfold, a sense of pride washed over Paul.
"I was really proud to say that I went to Wake Forest and was on the team. They are a good representation of the school. Even when I got to visit and meet with the team, they were all super nice and great people."
With Wake Forest's 4-3 victory over Mississippi Sate in the semifinals of the NCAA Championship on Monday, May 21, Paul's phone began to blow up.
"It was pretty cool how it all happened," said Paul. "The team had clinched their spot in the championship really late in the night and Mike Piscetelli (Associate AD, Principal Gifts for the Deacon Club) sent a group chat to a bunch of former players asking who was coming to the championship match. My phone kept buzzing with guys saying that they had just booked flights and it was incredible to see.
"It ended up being about 10 guys that I personally knew that were able to fly back and be a part of the crowd. But it was cool because I was able to meet some of the guys that played on the team in the 80's and 90's. I had never met them before, but they were super nice and it was cool to hear their stories and their experiences."
With Paul and countless other alums of the program on hand, the Demon Deacons captured the program's first-ever NCAA Championship with a 4-2 victory over Ohio State.
As Paul looks back on his time at Wake Forest, it is those former teammates that he cheered alongside, and everyone else on campus, that encapsulates what he loved most about the university.
"Wake Forest is like a second family," said Paul. "I coach a lot of kids and when any of them who might go to Wake Forest get accepted I get to say, 'That's great. Now you're part of the family as well.' I think there's a unique bond in everyone that goes to Wake Forest. Maybe it's because of the size of the campus. After the first few months you've pretty much seen the faces of everyone on campus. It's a big family atmosphere and that's why everyone who leaves Wake Forest says they had a great time. I haven't heard one negative about the school."
While Paul is thankful for his time as a Demon Deacon, the Demon Deacons should be thankful for Todd Paul and what he helped build. The only issue is…he won't take credit for it.
---
---
Tyson Clabo ('04) – Football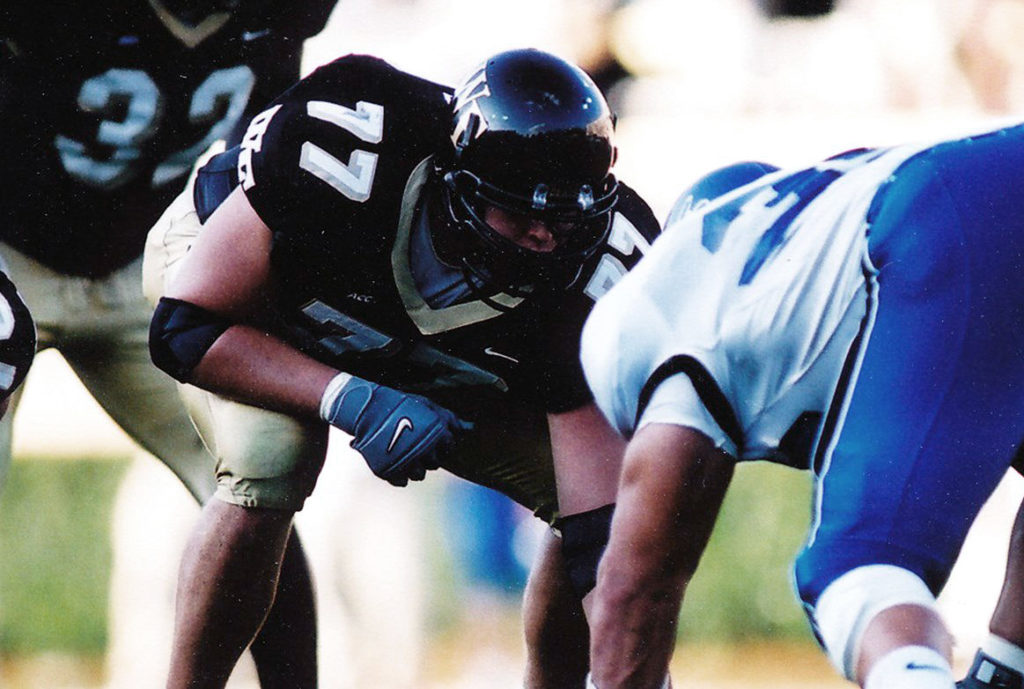 Among the seven inductees in the 2018-19 class of the Wake Forest Sports Hall of Fame, none enjoyed a longer professional playing career in a team sport than Tyson Clabo.  An offensive lineman, Clabo signed with the Demon Deacons in 2000 and was able to get on the field immediately when injuries depleted the offensive line.  He made his first career start against Virginia in 2000 and would go on to start every game over his final three seasons.  Clabo started all 11 games in 2001 at left tackle and spent the 2002 season at left guard.  His versatility and outstanding athletic ability allowed the staff to play him at left guard, left tackle and right tackle during his senior season in 2003.
At 6-7 and 300 pounds, Clabo's athletic ability allowed him to average a double-double with 18 points and 10 rebounds per game at Knoxville's Admiral Farragut High School.  That ability would serve him well at the college level.  An honorable mention all-ACC selection in 2002 as a junior, he earned first team All-ACC honors in 2003.  Wake Forest, behind Clabo and an outstanding offensive line, led the ACC in rushing each season from 2001 through 2003.
"I think the first time I thought I could play football in college was when I got my first letter from a school saying they were interested in recruiting me," recalled Clabo.  "I guess I was 15.  Then you start thinking 'maybe I could (play in college).'  You think you're really good and you get to college and you realize you've got a lot to learn.  I'm sure all these high school kids think they're really great then they get there and it's just like 'holy cow'.  Or you walk out (on the field) and go to practice for the first time . . . When I was there it was Nate Bolling and Calvin Pace and they were giving me the business every day.  Calvin was obviously an amazing player, first round draft pick, played in the league longer than I did.  You learn really quickly that you'd better get a lot better real fast or you'll be watching from the sideline."
That he wound up at Wake Forest in the first place was a surprise to many.  His father, Phil, had played football at Tennessee as did his uncle, Neil Clabo, who went on to punt for the Minnesota Vikings.
"I always liked Wake from the beginning," said Tyson.  "Mel Foels was the linebacker coach on Coach (Jim) Caldwell's staff.  He recruited me for the most part.  Got me to come over, meet Coach Caldwell, meet the offensive line coach, Eddie Williamson.  At the time, our facilities were terrible.  It's unbelievable what has happened.  Even when I was there we got the new locker room, they put the new meeting rooms upstairs.  That was a huge upgrade.  It definitely wasn't the facilities that lured me to the school (at the time).  The campus, the atmosphere, all those things are what won me over.  It really wasn't a difficult decision for me."
After playing as a true freshman, Clabo had to endure the coaching change from Jim Caldwell to Jim Grobe.  A transition that was not easy at the time for those on the field.
"It was hard.  Coach Grobe about ran us to death," said Clabo.  "It was not easy.  He obviously had an agenda and it was to find out who really wanted to be at Wake.   Some guys didn't make it through that.  It was more probably addition by subtraction.  He obviously knew what he was doing, he's a very good football coach, very successful.  And I couldn't think of anyone better to replace Coach Caldwell.  I hated to see Coach Caldwell go.  He was an amazing guy, an amazing coach and had a lot of success after his tenure at Wake.  Coach Grobe was a great football coach but an even better human being."
Among his two fondest memories of his playing days at Wake Forest are a 32-31 come-from-behind win at North Carolina, a game in which the Deacons trailed 24-0.  The other is the 45-17 win over Clemson in 2003 at BB&T Field.
"We beat the crud out of Clemson," said Clabo.  "I have a picture of the scoreboard somewhere.  Those were two big moments."
After playing in the East-West Shrine all-star game following his senior season, it was time for the NFL Draft.  Clabo was waiting for a call that never came.
"I thought I would be (drafted)," said Clabo.  "I saw a lot of names go across the screen that I thought I was comparable to.  But you never know why or what about all that stuff.  It's just one of those things.  They spend millions of dollars a year in scouting and they don't always get it right and they never will get it right.  It's a flawed science.  I would say it was probably a really good thing for me, it helped me develop."
Tyson's professional journey began as a free agent signee with the Denver Broncos.
"Once I got to camp, it was very eye-opening to see how good these guys were, how professional they were, how they handled their business, the way they studied," said Clabo.  "When I was in Denver, Tom Nalen was the center, a future Hall of Famer.  (Guard) Dan Neil is a future Hall of Famer.  There were all these guys there that were just professionals and I was just happy to see how they worked, how they operated and just how much I had to learn and to grow in order to be successful."
After being waived by the Broncos, Clabo spent time with the Giants and Chargers before re-joining the Broncos who sent him to play for the Hamburg Sea Devils in NFL Europe.  Immediately following his European gig, Clabo was signed by the Falcons and spent the next eight seasons in Atlanta.
"When I got to Denver I realized just how far away I was from being able to compete and play at that level," said Clabo.  "After you get the crap kicked out of you for a few months you realize you had better adapt and improve pretty quickly or you won't be employed very long.  Not getting drafted, being a free agent, ending up in Europe, doing all that stuff, was really important for me as far as my development as a player.  If I had gotten drafted, and kind of gotten babied a little bit, and pampered, it might not have happened the same way."
His run in Atlanta encompassed seven of the greatest seasons in franchise history.  After enduring Bobby Petrino's short stint with the Falcons in 2007, Atlanta hired Mike Smith as head coach for the 2008 season and drafted Boston College's Matt Ryan in the first round.  From 2008 through 2012, the Falcons twice won the NFC South and finished second three times, making four playoff runs.
"When I was in Atlanta we had a run of the greatest four or five seasons in Falcons' history," said Clabo.  "We were really good, we had an amazing locker room, an amazing group of guys.  There's nothing better than being in a locker room full of professionals who all have the same goals, who all get along, nobody cares about who gets the ball, nobody cares who gets the credit.  It was an incredible run when Coach Smith got there.  Matt (Ryan) and Coach Smith got there at the same time.  Matt is an incredible quarterback.  We had an incredible offensive line room.  Some of the best guys you'll ever be around.  I couldn't ask for a better place to play or a better group of men to play with.  I was very fortunate to end up in that situation."
Clabo was named to the Pro Bowl in 2010 after the Falcons had gone 13-3 and won the NFC South.  He would play his final two seasons with Miami in 2013 and Houston in 2014 but retiring.  Which turned out to be a blessing.  Clabo left the game not only in good spririts but in good health.
"I'm thrilled with (my retirement).  I feel like a million bucks.
"The best thing about being done with football is that I left football on my terms as opposed to a lot of people who leave football when they tell you you're done," said Clabo.  "I felt I wasn't as competitive as I was or should be and it was time for me to walk away.  We made our home in Mount Airy which is a fabulous place to live.  Really close to campus.  We should be there more often but we're so darn busy with kids and games and school and plays and performances and everything else we don't get there as often as we should."
Despite being just 37 years old and retired, Clabo remains busy as a husband and father of four along with running a farm in Mount Airy with 100 head of cattle.  He and his wife, Kendra, are parents to 12-year old Alissa, 11-year old Ethan, soon-to-be seven-year old Cameron and three-year old Madison.
Kendra and Tyson's courtship was not exactly a textbook romance at the beginning.
"We met when we were in college but we didn't get married until seven years later," said Tyson.  "It was a whirlwind.  We met the summer before my senior year then she went to Europe to study for a semester of her senior year.  Then when she got back, I left to go prepare for the combine.  Then I moved to Denver, then I moved to Europe, then I moved back to Denver, then I went to Atlanta.  There were a lot of moving parts there."
And for all of his success on the field, Tyson is quick to credit Kendra for the massive role she has played in their family's success.
"She has been instrumental in most of this," said Tyson.  "There isn't anybody in the world that I can think of that would have helped me stay grounded, and stay focused on what's important.  She helps me always understand that when I had to go and I had to work, to never question that or ever complain about having to stay home.  She was always supportive, always there, always a part of it, always instrumental in the whole process.  To be as patient as she was with a knucklehead like me, speaks a lot and obviously I wouldn't be anywhere near where I am if she hadn't come along."
Kendra's support, along with that of his parents, Phil and Leslie, have provided needed guidance to Tyson.
"I can't say enough about the work they put in to raise me and get me ready for life," said Tyson.
Also instrumental in Clabo's development, both personally and professionally, were his Wake Forest teammates, a number of whom are expected to be in attendance at the Hall of Fame dinner on February 15.  Among the teammates he is hoping to see are fellow offensive linemates Vince Azzolini, Marcus Kisner, Mike Moosbrugger, Jonathan Helms and former roommate Brian Woychik.
"It's obviously a huge honor," said Tyson of his induction.  "In 2000 when I was coming to Wake Forest, it was the farthest thing from my mind.  I didn't for a second think I would be a Hall of Fame caliber player or person.  I was just a young kid walking into something and I had no idea what I was doing.  The fact that my time at Wake, my experiences there, helped me to develop into that type of player, that type of person, I'm very grateful to the University.  I'm thankful to Coach Caldwell, Coach Grobe, Ron Wellman, Bonnie Rae.  Anybody that had any hand in helping me make it through, going to class, (and) passing.  (Academic advisors) Elizabeth Miller, Tom Kleinlein, all these people that made sure I got to throw my hat up in the air and walk across the stage.  I'm extremely thankful for them and just really humbled and honored that this happened."
As for those in attendance at his induction ceremony, Tyson is tremendously grateful.
"With kids, having jobs, it's hard to get away for the weekend," he said.  "There's a few guys who will be there Friday night with me and my family.  Having kids and all this stuff to do, you really appreciate how difficult it is for people to come, travel long distances, take a weekend and come and be with you at something like this.  I realize how much work it is to come.  I'm just really appreciative of them."
---
---
Kyle Sleeth ('01) – Baseball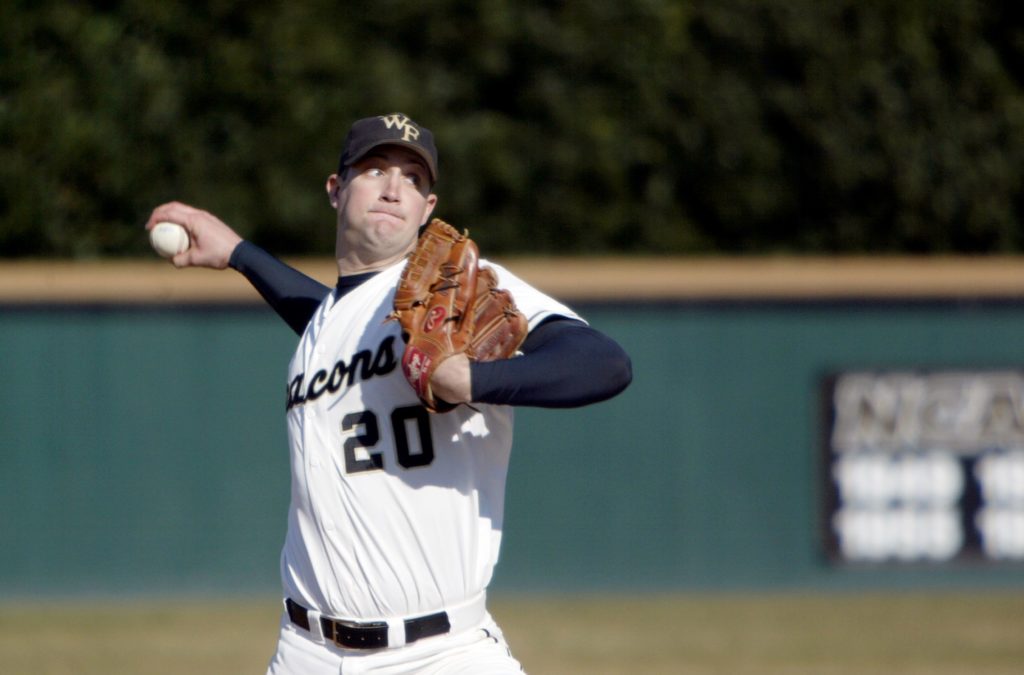 What became a Wake Forest Sports Hall of Fame career for Kyle Sleeth was perhaps just hours away from never even commencing.
Coming out of Northglenn High School in Colorado, Sleeth was a surprise 18th-round selection of the Baltimore Orioles. As the summer went on, the Orioles increased their signing bonus offer, eventually matching Sleeth's initial request.
"Coming up out of Colorado, being drafted was unfamiliar. My high school coach had told me there was a chance, I didn't really believe him at the time," Sleeth said. "Throughout that summer after my senior year I played really well and I was drafted by the Orioles. Towards the end of the summer they actually came up with what I was asking for. I was really close to signing at that point. I talked to my parents, I talked to coach Bobby Moranda who was the pitching coach at Wake, and luckily they convinced me otherwise. I was close to signing, but I'm really, really glad I didn't."
Sleeth made an immediate impact as a Demon Deacon. Though his 5.03 ERA wasn't quite what he wanted, he led the team in wins as he posted a 10-3 record en route to an ACC Championship.
"My first year, I threw right over the top, my fastball was really straight. I was trying to throw hard as opposed to pitch, and that's when I was throwing 88 to 91," Sleeth said. "But that year, one of the most fun experiences I remember was when we won the ACC Championship. That was a really cool feeling, being a part of a team that did so much."
He also played with a pair of upperclassmen who paved his path for success.
"We had a lot of success my freshman year. There were so many older players that I learned so much from, especially Cory Sullivan, Corey Slavik. Those guys were really great mentors and taught me how to stay grounded and stay focused at the same time."
That 2001 ACC title was Wake Forest's third in four seasons under head coach George Greer, capping off the most successful ACC run in program history.
"Playing for coach Greer was great," Sleeth added. "He was pretty intense, but he'd let you play the game. He wouldn't hold you back, which is one of the things I liked about him, and that's served him well in pro ball."
Greer has spent much of his post-Wake Forest career as a roving minor league hitting coordinator, before being bumped up to the big league hitting coach of the Cardinals last year.
"It was crazy seeing him in the Cardinals dugout," Sleeth said about his old skipper. "I texted him and told him congratulations, and he reached out to me after the Hall of Fame announcement. I'm just so used to seeing him in a WF hat and WF uniform that it looked odd seeing him in red, but I'm very happy for the success he's had."
For Sleeth, something clicked after the fall of 2001.
"I probably topped out at 92 during the fall of my sophomore year," he said. "I don't know what it was, but after I went home over Christmas break, my first three pitches when I got back were 96, 97, 98. It became different for me at that point, going from 88 to 95, I had to learn to pitch with that.
"It was after the first couple games my sophomore year when I started to see the success I was having. That's when I realized, 'this is something I might be able to run with here.'"
Sleeth parlayed that strong start into a dominant sophomore campaign. He finished the year with a 14-0 record – still the best in program history – and 2.97 ERA in 17 starts. In 118.1 innings, he struck out 113 batters, another mark which ranks in the top 10 in program history.
That season put Sleeth on the map nationally, as he started appearing on top prospect lists and was invited to participate with the USA Baseball Collegiate National Team the summer after that season. Representing the Red, White & Blue, Sleeth finished the summer with a team-leading 7-1 record and 1.44 ERA as he helped guide the U.S. to a 23-7 record.
His teammates on that team included big leaguers Dustin Pedroia, Huston Street, Phil Humber and Aaron Hill, among others. It played games in 10 different states, as well as spending almost two weeks in both the Netherlands and Italy and winning every series it played. He also befriended Justin Verlander, then a freshman at Old Dominion, who didn't make the cut with Team USA until the following year. The two became close when Verlander was also drafted by the Tigers the year after Sleeth.
"That was an awesome summer. We spent a lot of time in Europe playing, and played with a lot of guys who had a lot of success in the big leagues. I met some great people there who I still keep in touch with," Sleeth said.
"It was really cool to represent the U.S. It was the first time I learned how to live out of a suitcase. We never really had a home base, we were going from four days here to four days there over a month in Europe. It was really cool being able to see how a lot of other countries play the game and experience all the different cultures. It was a fun summer."
That summer parlayed into another successful season at Wake Forest, as Sleeth wrapped up his career with a junior season in which he went 7-3 with a 2.81 ERA and 102 strikeouts in 96.0 innings. He tied the NCAA record with 26 consecutive victories with a March 28 victory over Duke, a streak which spanned back to his freshman year.
All of his collegiate success placed him at the top of the 2003 MLB Draft boards.
"Draft day was a nerve-racking day," Sleeth reminisced. "Talking with my agent, I thought it would be somewhere between No. 2 and 5, but I really had no idea. Now, they actually have a live draft where the players are there at the draft. Back then, I was sitting in my parents' office with my mom and dad. A selection popped up every 30 or 40 seconds and we saw my name come up with the Tigers third overall, we just started screaming. It's a day I'll never forget."
This time, with a signing bonus of more than $3 million, beginning a pro career was a no-brainer.
Ranking as the No. 34 prospect in baseball according to Baseball America, the highlight of Sleeth's pro career was playing in the 2004 Futures Game at Minute Maid Park in Houston. Playing alongside future stars like Prince Fielder, BJ Upton, Rickie Weeks, David Wright, and against legends like Felix Hernandez, Robinson Cano and Justin Morneau, the event still stands out as a highlight of Sleeth's career.
"One of the coolest experiences I had was playing in the Futures Game. In the minor leagues, you play in front of a couple thousand people max. At the Futures Game you were playing in a big league stadium with a ton of people around, the atmosphere was pretty amazing."
Unfortunately, injuries derailed Sleeth's promising pro career. He underwent Tommy John surgery in 2005 and never returned to his prior form.
"It was definitely frustrating. My sophomore year I went from 92 to 97, in pro ball the reverse happened. All of a sudden I was throwing 88, 89. It was a completely different game pitching at those two speeds," he said. "The biggest word I can come up with is frustrating. I enjoyed every moment of it and I am glad I got to experience all of it. Do I wish things turned out differently? Sure. Where I was and where I was going, it just wasn't going where I wanted to. In 2008 when I retired, I wanted to finish school. I finished up at Rollins College. Now I'm at a place in my career and in my life where I'm happy I made that decision at that point and glad I moved on."
Sleeth's time at Wake Forest prepared him well for an earlier-than-anticipated life after baseball. He also met his wife, Sarah, at Wake Forest, and they knew they wanted to get into business.
"We met with as many people as we could and picked as many brains as we could," Sleeth said. "We met with a guy who did build-ups for franchises and we explained our situation and what we were looking for. He mentioned Floyd's 99 Barber Shop, a franchise out of Colorado. There are 120 or 130 franchises nationally now. It was exactly what we were looking for. It gives us the freedom to go into the shop and interact with people on a daily basis which was one of the things that was really important to us. As soon as we went out to Colorado and got to see the concept, we loved it and we ran with it."
Sleeth returned to Winston-Salem for the first time in around a decade to be inducted into the Wake Forest Sports Hall of Fame.
"It's funny, we just built a house here in Orlando and one of my wife's stipulations was that there would be a lot of Magnolia trees. One of the things I miss was walking the quad and seeing those huge Mags. When Wake won a big game and they'd roll the quad, that's one of the best memories I have when I think of the school."
---
---
John Zeglinski ('79) – Football / Baseball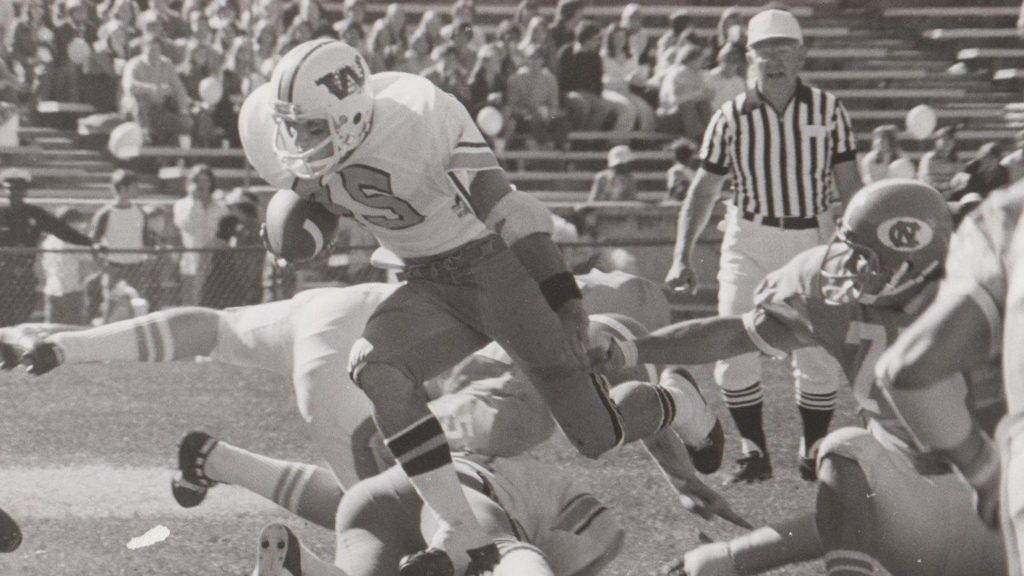 It was a non-descript baseball game on a non-descript Thursday in March of 1975.  The Wake Forest baseball team was losing to Guilford College by a lot as the ninth inning raced the setting sun.  Demon Deacon head coach Beattie Feathers had penciled in a freshman into the starting line-up.  And with the Deacons trailing big in the ninth, John Zeglinski stepped to the plate.
"It was my first game at Wake Forest, at Ernie Shore Field, it was the ninth inning and we were losing pretty bad," said Zeglinski.  "First pitch, I was looking fastball and I hit it to dead center.  I remember it was with a wooden bat.  First game in college, hitting a home run, that was pretty cool."
What many didn't realize was that home run was just one of the markers of what would become a Hall of Fame career for Zeglinski, a man who has been known his entire life simply as "Ziggy."
"I've been called Zig my whole life," said Zeglinski.  "Zig became Ziggy when I came to Wake Forest. I use the name all the time now.  If somebody calls me John now, it sounds odd to me."
Zeglinski, a native of Philadelphia, was part of a rare breed of Demon Deacons, a standout in multiple sports from 1974-78.  Zeglinski was inducted into the Hall of Fame as the "Heritage inductee," a category reserved for student-athletes who played 40 or more years ago.
"It's something I never thought would happen," said Zeglinski.  "Some of the athletes in that Hall of Fame are unbelievable.  To be in the same mention as those guys is an unbelievable honor.  What really struck me most when Dr. (Gene) Hooks called me, it was very emotional for me because of our relationship and what he's meant to Wake Forest baseball."
For Ziggy, the celebration of his induction started back in the fall when a group of his teammates gathered following Wake Forest's football game with Syracuse for a special recognition.
"I'm a pretty emotional guy as it is but I was really trying to hold back the tears when they brought me up there," said Ziggy.  His former football teammate, Lou Tilley, who has forged a career in sports media, put together a video highlighting Zeglinski's career.
"But what struck me was the genuine happiness of my teammates, both my football and baseball teammates, who I am still very close to today.  That's the coolest part.  How all these relationships . . . it's overwhelming to me how genuinely happy my teammates were that they were a part of it and they definitely are.  That's been the best part of being in the Hall of Fame to me.  I didn't even realize how overwhelmed I would be by the reaction of my teammates."
Had it not been for a couple of fortuitous turns in fate, Zeglinski might have been an Ohio State Buckeye.
"I was an option quarterback in high school and I committed to Ohio State as an option quarterback," recalled Ziggy.  "They were number one in the country, Woody Hayes was the coach.  In my meeting with Coach Hayes on my recruiting trip, he told me his quarterbacks don't play baseball.  I still committed to Ohio State.
"After I got back to Philadelphia, I went to a college night at a high school with some teammates just to check it out.  I walked into a room and (Wake Forest assistant football) Coach (Steve) Bernstein was there, and he recognized my name.  He told me I could play baseball at Wake Forest.  He told me my freshman year we were going to play Penn State and Oklahoma and at Michigan my junior year.  It was a big-time schedule, and I was going to get to play two sports.
"Before that, the only thing I knew about Wake Forest was Brian Piccolo," he adds. "For Coach Bernstein, I was probably one of the easiest recruits he signed because I walked into a room, he didn't have to recruit me.  Turned out to be the best decision I ever made.  I went down and visited the campus in February.  We saw a basketball game and they treated me wonderfully.  It was one of those great summer days in February.  I thought it was great because it was so warm.  That's what got me to Wake, it was by happenstance."
Once arriving on campus, Zeglinski made his presence felt almost immediately.  In his first collegiate football game in 1974, Zeglinski caught a two-point conversion pass from fellow freshman quarterback Mike McGlamry.  He finished his first football season with a respectable nine receptions for 137 yards.  During his first spring on campus, he was splitting time between spring football practices and baseball games leading to a prolonged batting slump that ended when Ziggy concentrated solely on baseball.
Few knew that greatness awaited.
Ziggy put together one of the finest sophomore football campaigns in school history.  He exploded on the gridiron, rushing for 591 yards and catching 27 passes for 354 yards and an ACC record eight touchdowns.  Ziggy also returned punts and kickoffs and set the school record for all-purpose yards in a season with 1,730.
By comparison, Wake Forest sophomore Greg Dortch posted 1,750 all-purpose yards in 2018 during a first team All-ACC season.
Zeglinski earned numerous honors in 1975 including leading the ACC and finishing fifth in the nation in all-purpose yards.  He was a Sophomore All-American by The Sporting News and was named one of the top nine running backs in the country by Detroit Sports Extra.
Perhaps Ziggy's finest moment during that 1975 season came during a 21-9 football victory at North Carolina.  Zeglinski scored all three of Wake Forest's touchdowns, scoring on two pass receptions from quarterback Jerry McManus and adding a 45-yard punt return as the Deacons dismantled the Tar Heels in Kenan Stadium.
"I get reminded of that game all the time," said Ziggy.  "I remember it very well.  It was great beating Carolina.  Wake fans still ask about the punt return."
Baseball in the spring allowed Zeglinski more than an opportunity to just skip spring football practice.  His star continued to rise, as both his fortunes, and those of the Diamond Deacs, were ascending.  He hit .300 in 1976 and improved that to .326 in 1977 while earning first team All-ACC honors in both seasons and graduating as Wake Forest's all-time leader in hits.
"My freshman year to my junior year there was a big difference in the (baseball) talent level," said Ziggy.  Athletic Director Dr. Gene Hooks hired Marvin "Skip" Crater as the head coach and Hooks took an active role in helping assemble the squad.
The transformation started to occur by getting football players like Al Zyskowski and Bob Hely, to add baseball to their schedule, and baseball's recruitment of players such as outfielder Kenny Baker, the ACC baseball Player of the Year in 1977, and Stan Johnson, a four-time All-ACC pick as a catcher.
Those changes led the Demon Deacon to win the ACC Baseball Championship in 1977 in commanding fashion.  Wake Forest moved into the ACC semifinals where they faced No. 1 Clemson at Clemson's home ballpark.  Down 4-3 in the ninth, Wake Forest rallied behind centerfielder Ken Gerrity who lofted a two out single to left.  Baker doubled to tie the game and Johnson drove in Baker for the winning run.  Facing the top-ranked Tigers again in the championship game the following day, the Deacons buried Clemson 22-9 as Ziggy, hitting lead-off, contributed a hit and a pair of runs scored.
"That was a very unique group of guys.  A very loosey-goosey team.  Skip Crater was our coach.  He treated us like men and I'm not sure that was a good idea, we liked to have a good time," said Zeglinski while laughing.  "I remember Coach Hooks got the program rolling again.  We owe a lot to him.  We started bringing in some baseball players and there was a big difference.
"(Beating Clemson in the 1977 ACC finals) was something special.  We weren't expected to do it.  It was an unbelievable experience.  Then with Kenny Baker on the team, for my teammates to pick me as team MVP, that was special.  We had a good team, we hit a lot of long balls, we played good defense and we enjoyed it.  The guys in the dugout were super.  It was a remarkable year.  We did a lot of laughing and we had a great atmosphere."
While most recent Wake Forest graduates never saw Zeglinski on the field, nearly all have some degree of awareness of his namesake bar, Ziggy's.  Contrary to myth, Zeglinski never owned the bar and music venue.  But it was indeed named after him.
"I played through a pulled hamstring my senior year in baseball," said Zeglinski.  "I signed with the (Texas) Rangers and tore my other hamstring my first year.  I came back to Winston and I needed some hours to graduate.  I was a graduate assistant for (football) Coach (John) Mackovic.  I was working at the Safari Room.  Pat Casey, the owner, asked if he could name a bar around the corner after me, called the White Horse.  I was a 21-year old kid, I was kind of embarrassed by it.  I said sure.  I actually signed a napkin saying I didn't want anything for it.  Then I ran Ziggy's the whole next year and I knew that lifestyle wasn't going to get me anywhere.  I just ran it for a year, had a great time, met some great people, made some great relationships, not just from sports but the townspeople were great.  After that, I came home (to Philadelphia) and stayed home and Ziggy's went on.  One of my fraternity brothers bought it and they invited me down for the 15thanniversary.   But I had no other connection other than that being a trivia question."
Be it on the baseball field, the football field or in the world of entertainment, Ziggy continues to be a legend.  And now, a member of the Wake Forest Sports Hall of Fame.