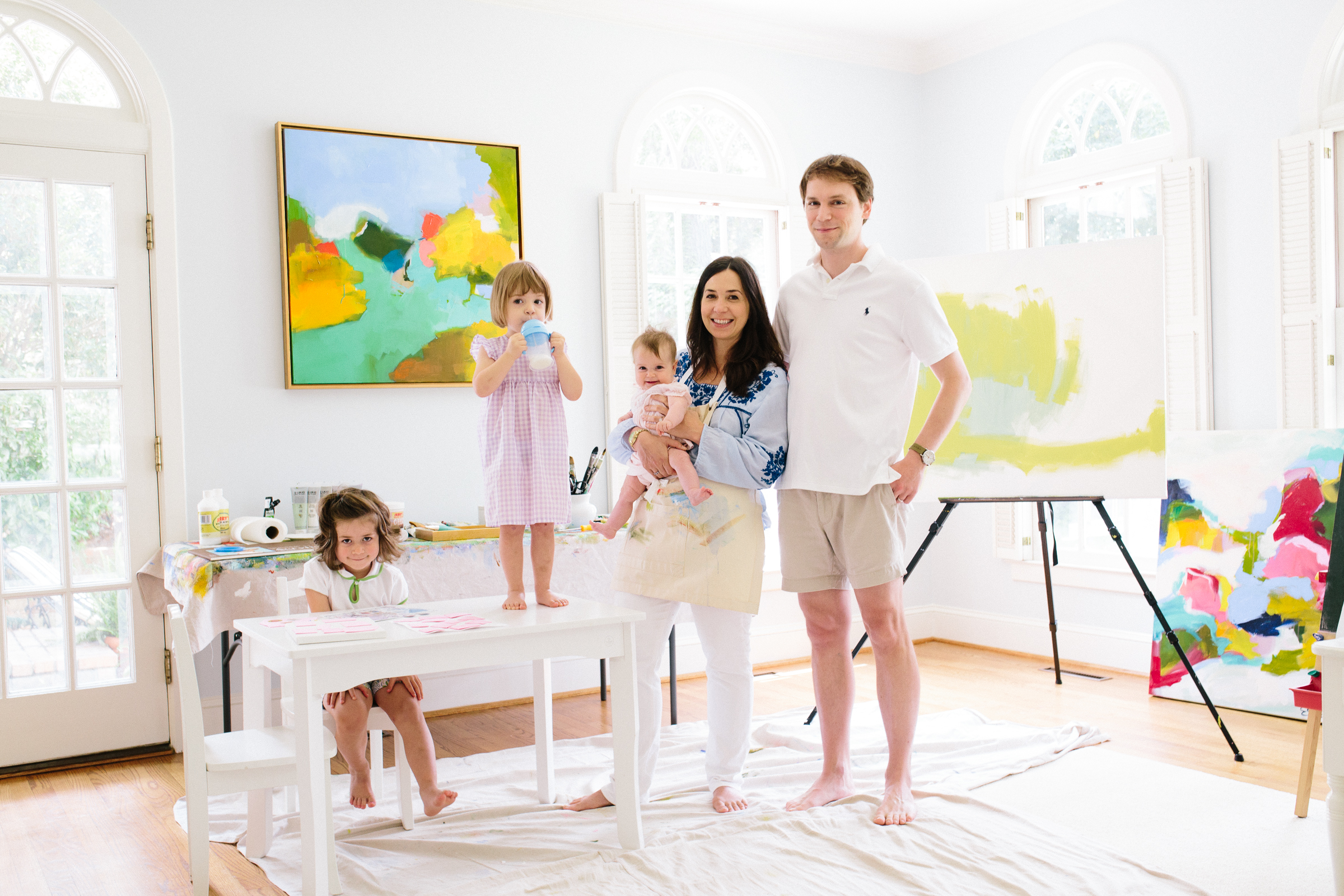 In a Raleigh neighborhood bursting with dogwoods and azaleas, Eleanor-Scott Best Davis ('05) guides us through her bright, airy, toy-filled home.
"Excuse all the baby gates," she says as we climb the wooden stairs to her equally bright, airy studio, equally filled with toys.
Besides having grownup paint and brushes and canvases, the studio features a child's easel where 5-year-old Avery and, occasionally, 3-year-old Julia paint alongside their mother, when they aren't on the bed with their books or watching TV or advising her on how to improve her artwork. Avery always calls for more pink, and Julia wants more purple, so their mother embeds a "secret pink" or "secret purple" for them to find in each painting, even though the color doesn't always stay there.
"They're very much a part of the process," she says. "It's really just as much about creating them as humans as it is creating the art that I'm working on."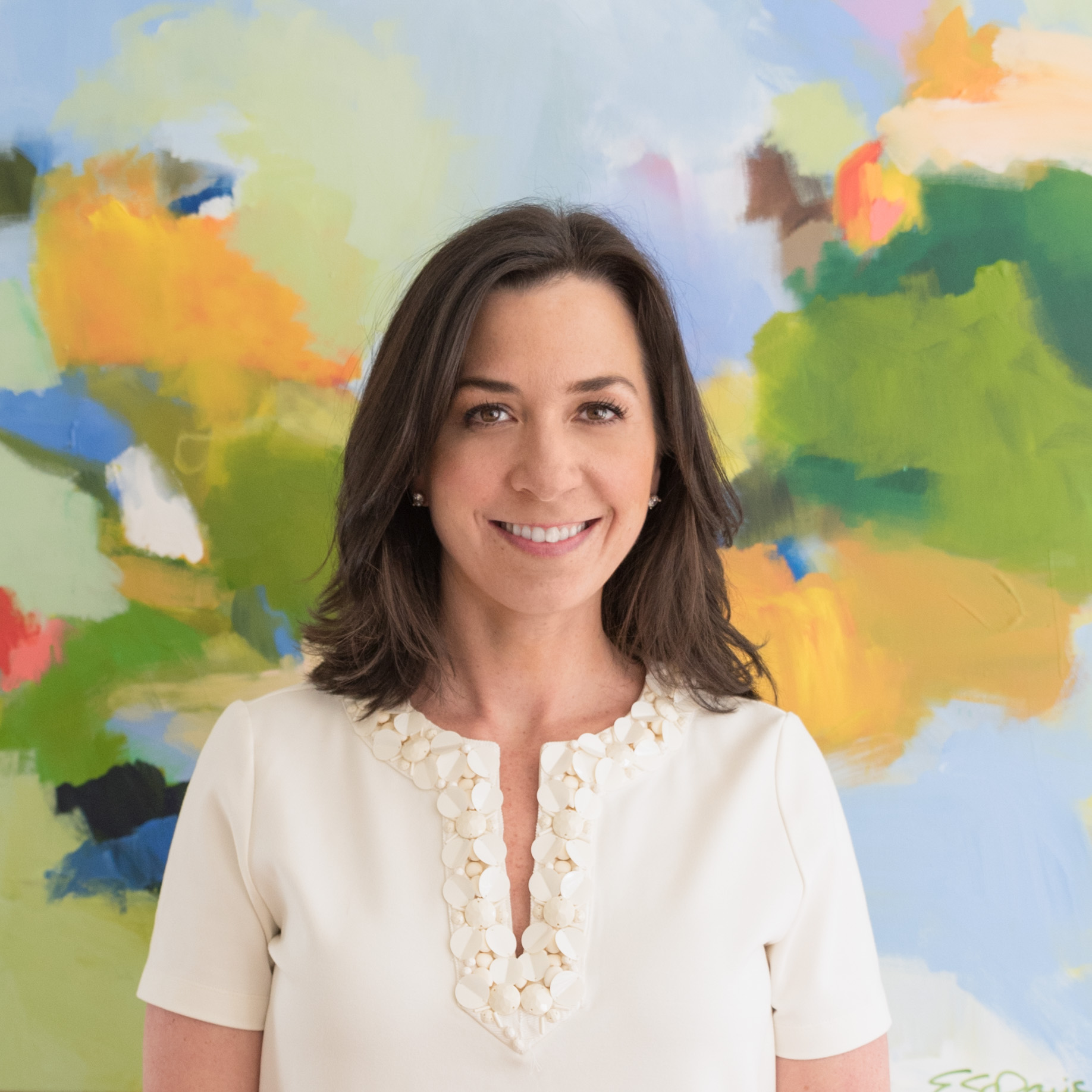 Eleanor-Scott has only recently made a joyous discovery — that she can juggle her world as a stay-at-home mom with her blooming new business as an artist, reinvigorating a love that infused her Wake Forest years and her study abroad in Florence, Italy, but took second place to young-adult demands of work and motherhood.
On this Saturday, her husband, Thomas "Hill" Davis III ('05, JD '08), takes Avery, Julia and their 1-year-old sister, Derby, for a walk while Eleanor-Scott talks about her journey.
"This one is titled 'Hanging by a Thread,'" she says of a bold abstract piece, "which is exactly what I feel my life is at most times."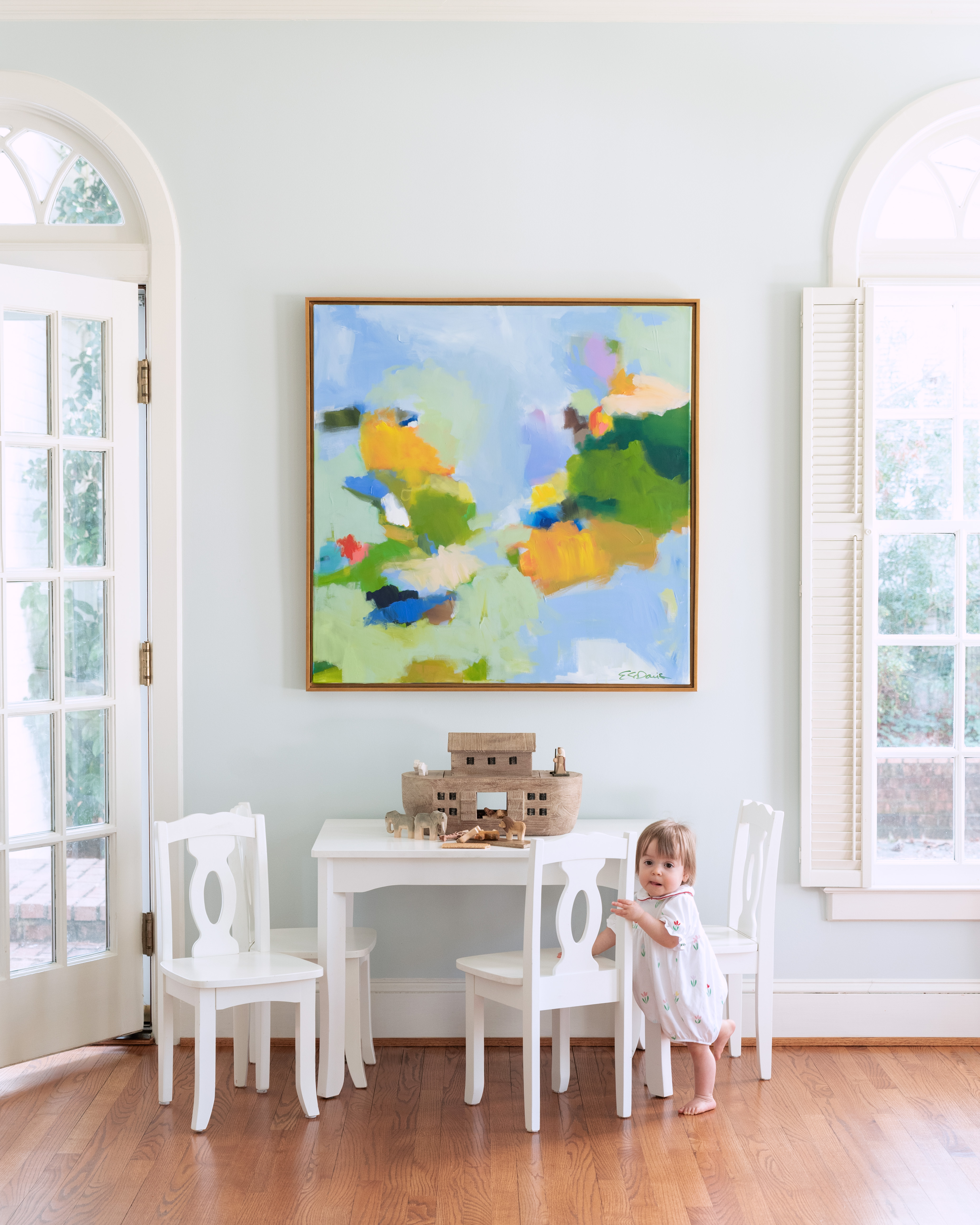 She points to another large piece in the collection of abstracts she is preparing to post later in the week online, where Instagram leads to about 90 percent of her sales. "This one's titled 'The Only Way Out is Through.'"
Her life is "a little bit crazy," she says. "A lot of the art I make is in stolen moments throughout the day, but I know that when I take the children to school (pre-school) or I have any time to myself, I try not to make appointments, I try not to go to the grocery store, I try to paint."
She's had to get comfortable with stopping to change a diaper or break up an argument. "I'm constantly pulled away from the work, but it's let me allow the work to breathe. … It keeps me focused because I know the baby's going to sleep for an hour and a half; I'll have an hour and a half to do this. … I don't dilly-dally … because when she wakes up, I have to put it down."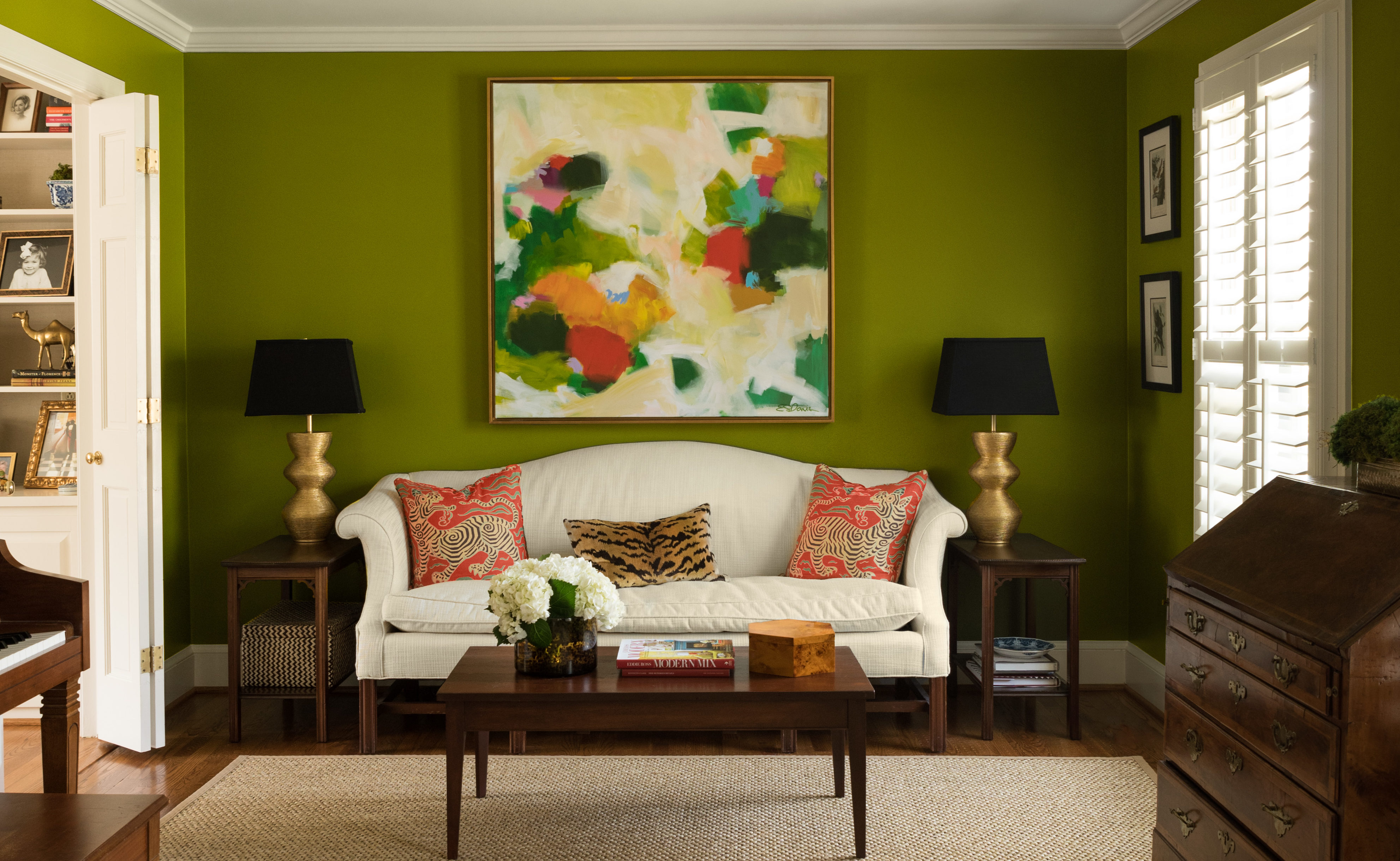 Her husband is an assistant attorney general in the North Carolina Department of Justice. His family is filled with Demon Deacons — his father, Thomas "Tom" Hill Davis Jr. (JD '76), his brothers, Alex ('08) and Hunter ('15), and his sister, Julia ('10). Eleanor-Scott was the first Wake Forester in her family. Many of her friends in her hometown of Goldsboro, North Carolina, were going to UNC-Chapel Hill, but she wanted a smaller university. Her private high school's graduating class consisted of only 12 students. Had she gone to a large university, she says, "I would have been swallowed alive."
Wake Forest was the right size and the perfect distance from Goldsboro. She could drive home by lunchtime, "but it was far enough away that I gained a little independence."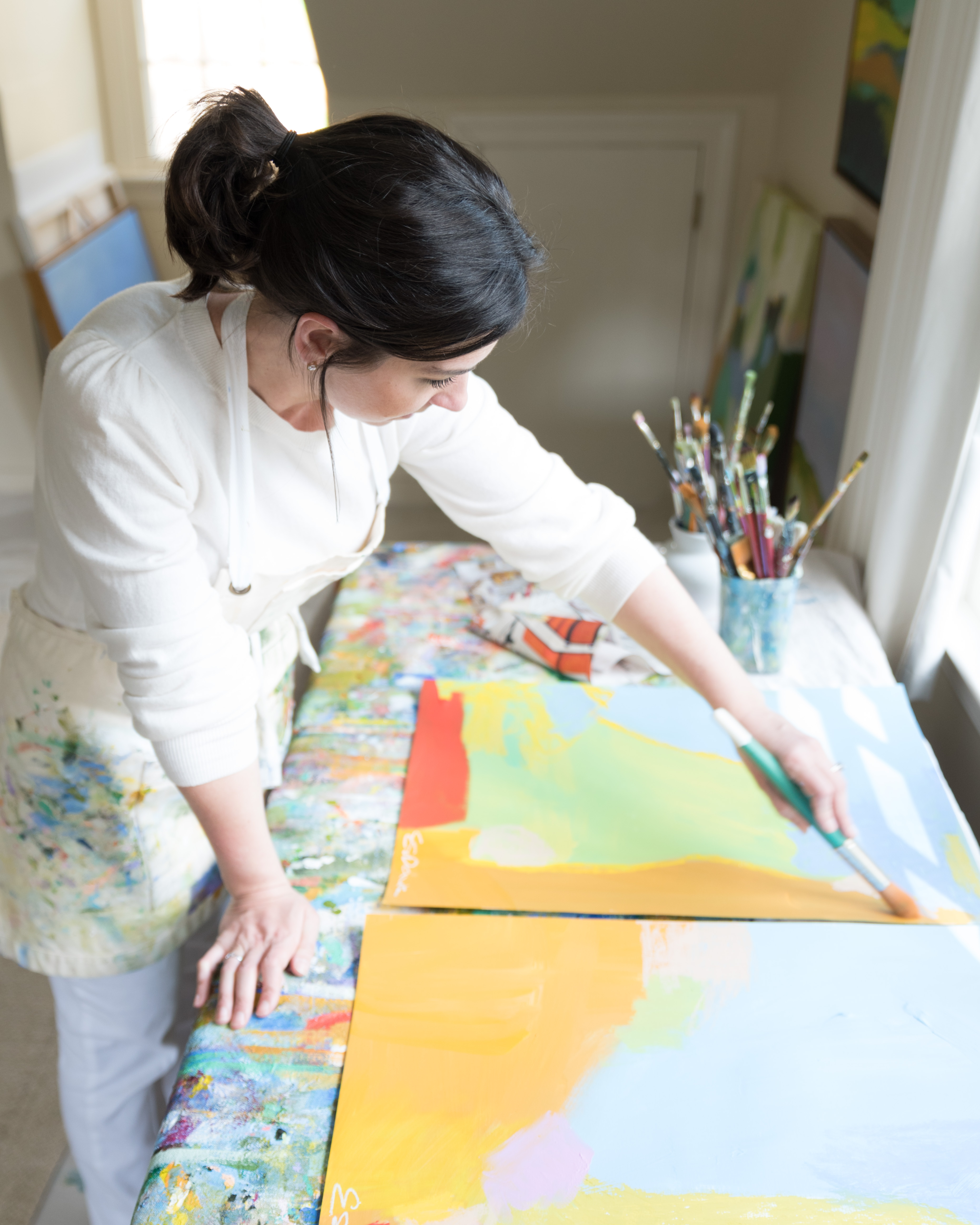 An English major with a minor in studio art, she met Hill, a history major, during a fraternity party. "He was a Deke (Delta Kappa Epsilon), and I was a Chi O (Chi Omega)," she says. They both studied in Florence during their junior year and fell in love there, "amidst some of the world's most beautiful art."
Eleanor-Scott wanted to become a poet but knew making a living would be a challenge. After graduation, she worked in ad sales at the Winston-Salem Journal while Hill was in law school. She took an editorial position at Skirt magazine in Charlotte while Hill clerked for a judge there. Hill eventually took a job in Winston-Salem, and Eleanor-Scott joined Piedmont Parent magazine. They loved their time in Winston-Salem and still visit often.
When Julia was born, putting two children in day care didn't make financial sense, so the couple decided Eleanor-Scott would stay at home. "I have a lot to say, I have a lot that I still want to do, but I have these children, and I also want to stay home with them," she says.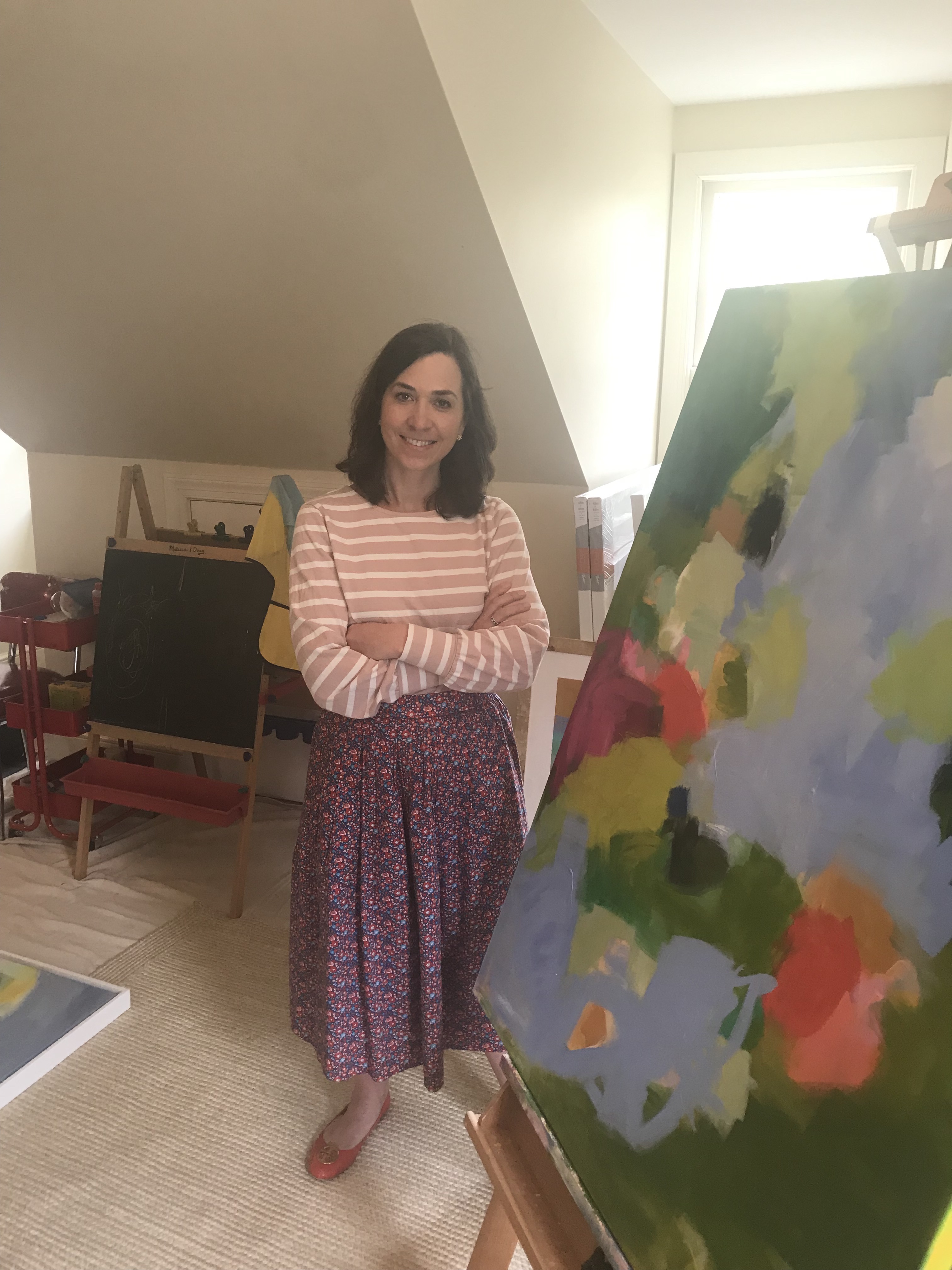 She had always painted, and when they bought their home in Raleigh, she began painting to fill the open wall space. She posted one painting on Instagram. "My sister said, 'Oh, I want one.' And so I painted one for her, and I posted a picture of it, and then I took a giant leap of faith, and I painted one and put it for sale, and it sold to a friend from Wake Forest. I continued to post, and they continued to sell, and here we are. I've really been doing this full time for maybe 2 ½ years."
She taught herself how to create her own website, eleanorscottdavis.com. Of the 31 paintings for sale on her website in the collection she posted earlier in April, 27 were already listed as sold this week.
When she was 8 ½ months pregnant with Derby, she had her biggest sale of artwork to that point — 10 paintings in one week. "Derby has grown with my business," she says. Derby also prompted her, she says, to ease up on her standards at home. With five people in the household and her full-time business, not everyone will be happy all the time, she says. "Sacrifices are going to be made, and the hardest part is just choosing who or what is going to suffer from those sacrifices, but if you can keep it all in balance, that's the goal."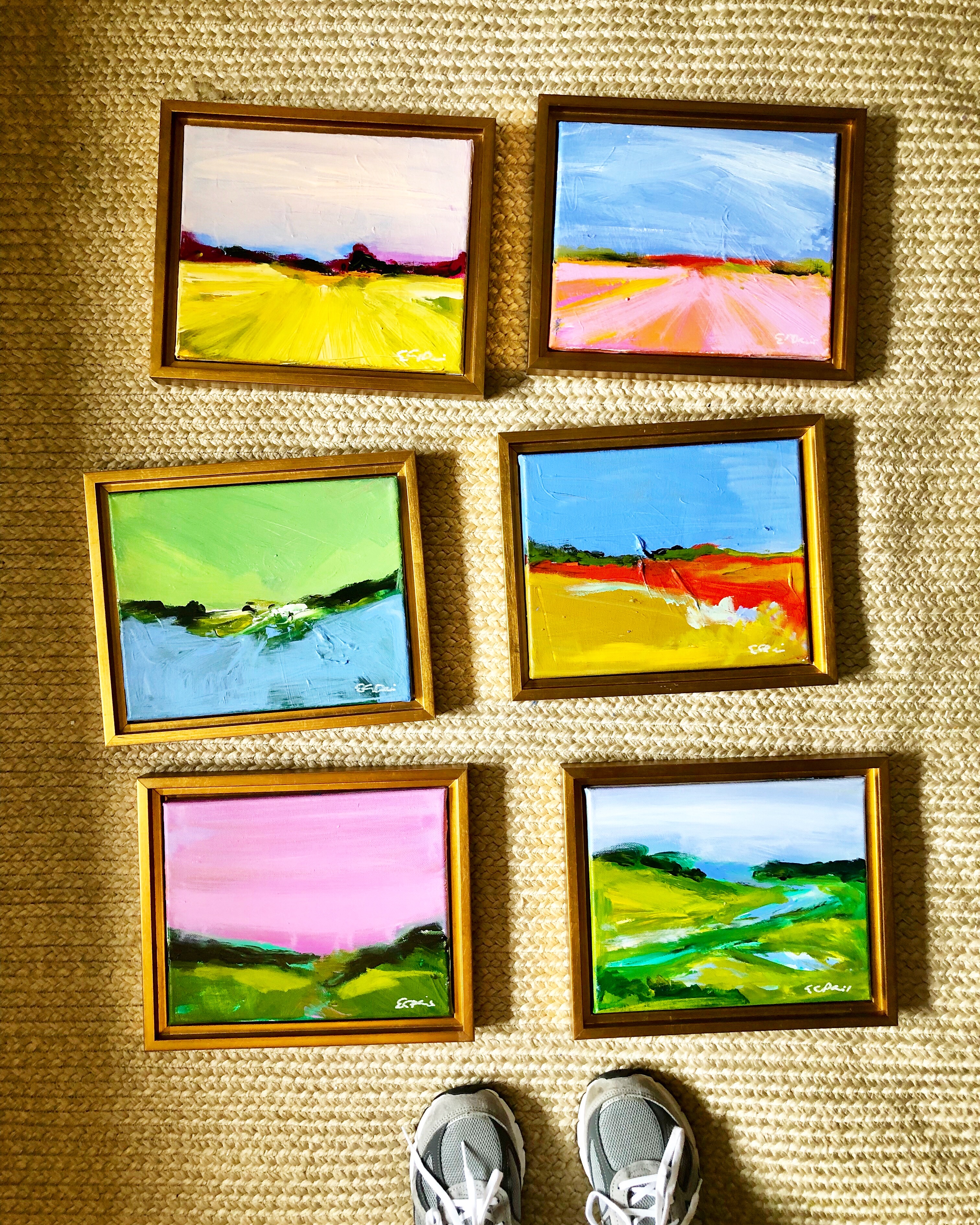 At the end of the day, she says, they're all alive, with full bellies and "somewhat clean," and "we'll just get up and do it all over the next day."
She believes her children are learning valuable lessons watching her paint. She's proud that Avery wants to be a mommy and an artist when she grows up.
"Abstract art is very much like putting together a puzzle where there's more than one solution to it, so I think that they'll see me get frustrated, they'll see me make breakthroughs, and all that can happen in the course of a day. … I like to have something that's completely under my control in my life, and putting paint on a canvas has satisfied that need."