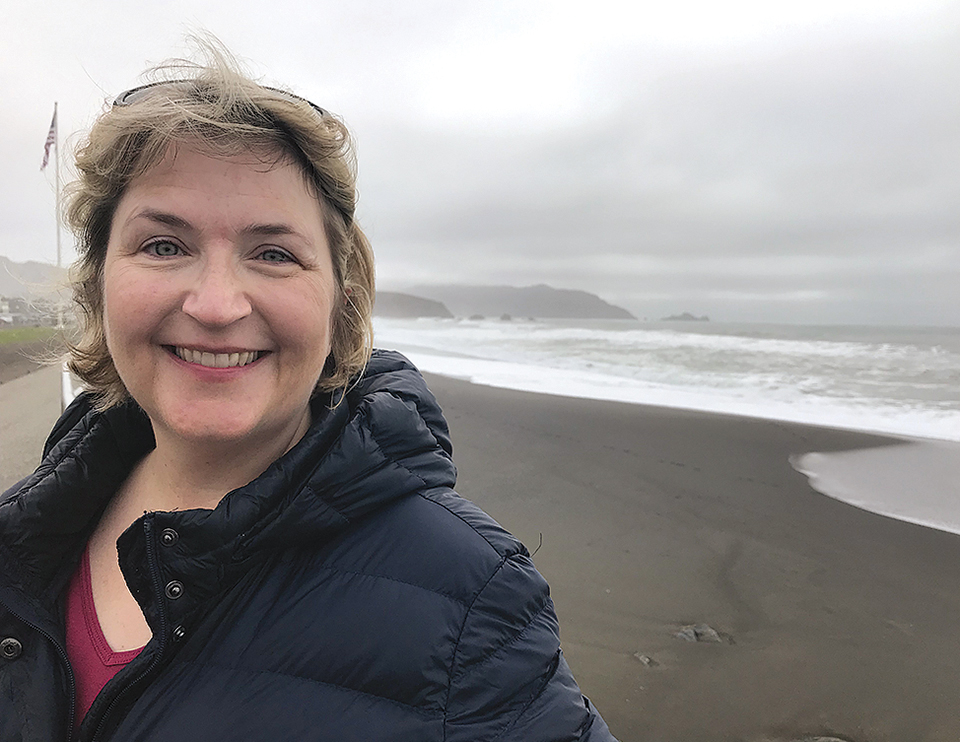 Dear old Wake Forest,
I haven't been on your beautiful campus for almost 30 years. Google Maps tells me that now, as I write this, I am 2,743 miles from the Scales Fine Arts Center. But if I close my eyes, I am there.
There were many reasons I chose to come to Wake, and one of them was that I wanted to experience living somewhere other than the Midwest, where I was born and raised (shoutout to Carbondale, Illinois!). So I headed South — and life in North Carolina opened my eyes to all kinds of new experiences: food, language, manners, the fervor of NCAA basketball fandom and so much more.
But I was uncomfortable at first — I didn't know the lingo or the customs, and in my all-women's dorm I was a fish out of water. I was a foul-mouthed, opinionated, sweatpants-clad lefty feminist in a sea of polite and gracious former debutantes. Now that's a great setup for a sitcom, but for actual living? I didn't know if it was going to work out so well.
(Spoiler alert: It did. And not just because I learned to drink sweet tea and say y'all. As in "Y'all goin' to see the Deacs play tonight?")
Being willing to be uncomfortable helped me expand as a human being — to stretch and grow. By making a radical change of location and spending time with people with different paths and perspectives, I learned as much outside the classroom as I did inside. And I learned a ton inside those classrooms — blossoming in my strengths (Theatre! Humanities!) and cultivating grit as I studied things I wasn't skilled at (I'm looking at you, biology and statistics). All that hype about the value of a liberal arts education — it's for real. Take it from me, a bona fide "Jeopardy!" champion.
Stretching and welcoming the uncomfortable — that became a template for my life beyond Wake Forest. For grad school I traveled northeast to an urban setting for my MFA in acting (hello, Pittsburgh!) where there were challenges with weather and learning to parallel park on steep grades. I embraced the culinary adventures of pierogies and eating french fries on a sandwich. Y'all gave way to yinz, as in "Yinz gonna watch da Steeler game tonight?" Grad school itself was an object lesson in discomfort. Highly competitive. Lots of blunt feedback.
(Spoiler alert #2: I wasn't the second coming of Meryl Streep.)
Next came a big geographic leap to the Pacific Northwest. Not for school, not for a job, but for (gulp) love. Eating lots of feminist crow, I moved cross-country for a guy named Dave who was finishing up his theatre master's at the University of Oregon. I experienced the joy and the challenge of cohabitation and all the teachings a grown-up relationship has to offer. I learned totally new concepts like composting and discovered my inner John Audubon persona who loved spending time hiking (Me? Hiking?) in the rain-purified hills and forests of "God's Country."
Then there was this thing called the dotcom boom. Dave and I, with our four theatre degrees between us, made the totally logical move to finding work in the tech world as we charted new territory in the San Francisco Bay Area. Discombobulation abounded as I navigated all the idiosyncrasies of corporate life and cubicle etiquette along with the daily adventure of a California freeway commute.
Twenty-three years later I am still here in The Golden State with opportunities every day to expand and lean into the unknown, right where I am. Just a few months back I made the career switch from technical writer to culture designer and leadership coach. I regularly engage in activities I once scoffed at: meditation, yoga, personal growth retreats. I have even shaken up the one constant of my life: performing. Instead of playing characters from the theatrical canon, I now write my own material. That's about the biggest stretch imaginable — being myself onstage. Yeah, the venues don't hold a candle to the Scales Fine Arts Center, but if I close my eyes….
---
Pidge Meade ('89) received an MFA in acting from the University of Pittsburgh and is a certified leadership coach through the Conscious Leadership Group. She has worked at Visa for 23 years in a variety of roles. She appeared on "Jeopardy!" from Oct. 10-12, 2016 (total cash winnings of $33,001). She lives in Pacifica, California, with her husband, Dave, also a "Jeopardy!" champion. No one will play Trivial Pursuit with them.
---