For some California alumni and parents, joining one of the Wake Forest Giving Societies is a way to stay connected to the University. They might not be able to attend campus events as often as other members who live closer to campus, but they're OK with that. There are other benefits that are more important to them, such as "paying back" the opportunities they — or their children — had as students or showing that they support Wake Forest from the other side of the country.
Giving Societies require a five-year commitment to the Wake Forest Fund. Unrestricted gifts to the Wake Forest Fund support financial aid, faculty development, emerging programs for students, library and technology resources and facilities renovation.
Jan Wuertenberger Blackford ('68) knows better than most the importance of those annual gifts. When she lived in North Carolina in the 1970s and '80s, she promoted the annual funds as an alumni volunteer and president of the Alumni Council in 1980-81. She joined a Giving Society because it "felt like the right thing to do, a good way to get in the habit of providing continuing support."
But she fell out of the habit after she and her husband, Franklin, moved to California in 1996. They rejoined the President's Club last year after attending a Call to Conversation dinner. "Both of us are enthusiastic about what Wake Forest means and is doing" and wanted to support the University, she said.
"Since I was involved early on with the annual giving programs, I've always had an appreciation for the annual funds," said Blackford, a banking consultant who lives outside San Francisco. "Even living in California, I have never felt disconnected from Wake Forest. Because I felt connected, I felt it was important to join the President's Club."
Yemi Adegbonmire ('00, JD '05), who lives in Los Angeles, benefited from annual fund gifts as well as merit scholarships. She remains grateful for the mentors who made her path at Wake Forest possible, including Maya Angelou (L.H.D. '77), Barbee Myers Oakes ('80, MA '81) and Olga Valbuena-Hanson, the law school's Melanie Nutt, Simone Rose (P '16), Beth Hopkins ('73, P '12) and Denise Hartsfield (JD '91), and Forsyth County Chief Assistant District Attorney Jennifer Martin ('96, JD '99). "They instilled things in me that I didn't know that I needed at the time," she said. "That opened doors for me and made things possible."
Adegbonmire, a member of the law school's General Counsel Advisory Committee, was an entertainment lawyer at Walt Disney before becoming general counsel for The Bail Project, a national nonprofit that covers bail for people in need who are awaiting trial. She credits her mother with inspiring her to join the President's Club by preaching the importance of giving back.
"When I was in high school in Baltimore, my mother joined Bryn Mawr School's 1885 Society through a small donation she saved for all year. It was a goal of hers. She had a sense of pride in joining, and that's something that has stuck with me. It took me a while, but it was time to 'show up' for someone else" like previous alumni who supported her, she said.
John and Elizabeth Shaw (P '19, '21), who live in San Francisco, didn't know anyone at Wake Forest when their daughter, Margaret ('19), enrolled four years ago. Their son Henry followed two years later. They're now active members of Wake Forest's growing West Coast community and have hosted welcome parties, attended a Call to Conversation dinner and volunteered for Pro Humanitate Days in San Francisco. "Wake is truly unique in the inclusion of the entire family," Elizabeth Shaw said.
The decision to join the Founders' Circle was an easy one, they said. "Traditionally we have focused our charitable dollars on education," said John Shaw, a managing director with Merrill Lynch. "Those gifts have a huge multiplier effect; you're changing lives."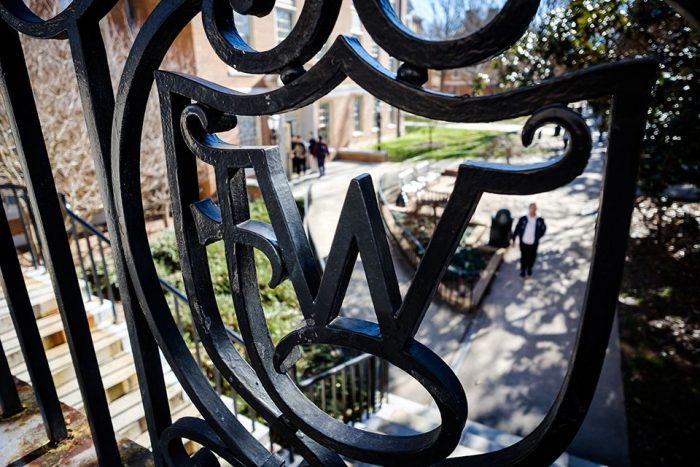 ---
---
Wake Forest Giving Societies require a five-year commitment to any Wake Forest Fund (College, School of Law, School of Business, School of Divinity, Graduate School, Student Aid, Z. Smith Reynolds Library).
Old Gold Society $50,000+ annually
Society of 1834 $25,000–$49,999 annually
Founders' Circle $10,000–$24,999 annually
Pro Humanitate Society $5,000–$9,999 annually
Silver Society $2,500–$4,999 annually
President's Club $1,000–$2,499 annually ($500 or more annually for undergraduate alumni within 10 years of graduation)
For more information on Giving Societies, visit wakewill.wfu.edu