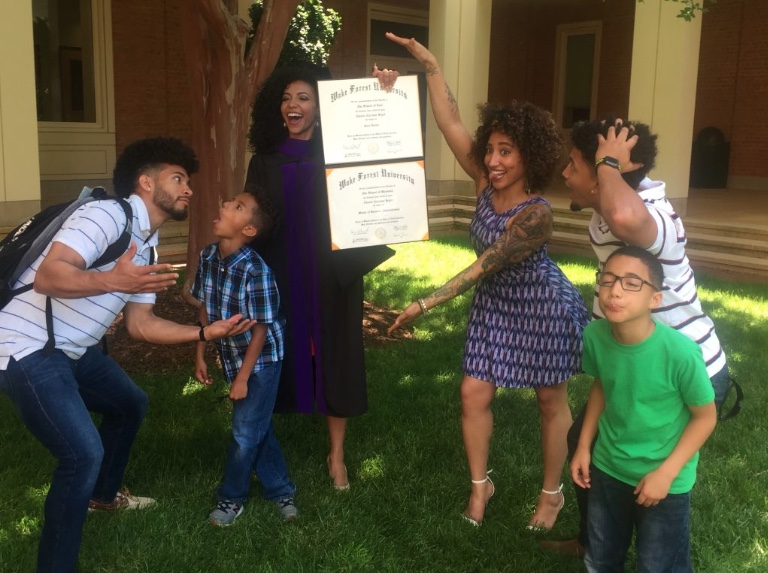 Try to list all the accomplishments and talents of Cheslie Kryst (JD/MBA '17) in one breath, and an oxygen mask is in order.
Kryst was crowned in May as Miss USA 2019 after winning Miss North Carolina USA. She'll head to the Miss Universe pageant this fall. To carry out her duties, she's taking a leave as an attorney at Poyner Spruill law firm in Charlotte where she specializes in complex civil litigation. Before the crown, when she was not running, working out, playing the piano or volunteering at Dress for Success, she did pro bono work for inmates trying to reduce their prison sentences.
At Wake Forest, she pursued a law degree and MBA at the same time.
"As soon as I heard about the dual degree program, I was interested," she says. "I got my bachelor's degree in business administration (at the University of South Carolina). … I thought that having an MBA would make me more attractive to law firms and potentially businesses, if that was the route that I decided to go. And so I thought it was just a no-brainer for me."
Visiting campus quickly sealed her decision. "Seeing the students there, seeing how excited everybody was and how genuine they were was a big part of me making this decision to be a Deacon," she says.
After her first year in law school, she worked in the North Carolina Department of Environment and Natural Resources as an intern researching the environmental effects of hydraulic fracturing, or "fracking." She later interned with General Motors Company and Fiat Chrysler Automobiles. She helped GM assess how zero emission regulations would affect strategy and development for the Chevrolet Volt electric car.
At Wake Forest, she excelled at trial advocacy competitions. In 2013, she won the 1L Trial Bar Competition Finals, and her team won the law school's national championship in the 2017 American Association for Justice Student Trial Advocacy Competition.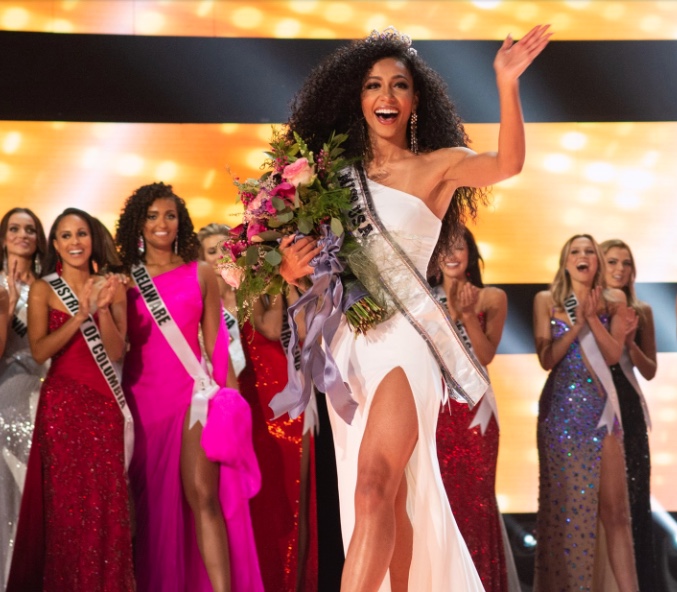 "I wanted to figure out what skills I needed that I could gain from the law school that would benefit me in my career as a litigator," she says. Adjunct Professor Matt Breeding (JD '06) encouraged her to try out for the AAJ trial team. "And I love Professor Breeding," Kryst says. "I thought he was incredibly knowledgeable, and I just trusted him. And so I said, 'Yeah, sure, I'll try out.'"
The skills have helped in court and in answering partners' questions about her case research at Poyner Spruill. The skill translated to pageants, helping her answer questions and speak in public with ease.
Two trial competition experiences inspired her to begin her fashion blog WhiteCollarGlam.com, which offers advice and tips on business wear. The first motivator was a a competition judge, also a black female, who gave her only one piece of feedback: wear a skirt, not pants. She was frustrated by the lack of substantive advice. "Glass ceilings can be broken wearing either a skirt or pants, Kryst told the Miss USA pageant audience.
Her second prompt was having three suits fail her at the same time: the first became drenched in sweat after she had to compete in a building without air conditioning, the second skirt split a seam and the third, already a little loose, was unwearably baggy because she had lost weight.
"I remember being desperate. We were heading into the finals," she says. "Luckily, one of my teammates looked up some article to figure out how we could get the sweat stains out, and I wore the first one, and we ended up winning. I just didn't want to be frustrated again and didn't want to be in that predicament again."
Wake Forest also influenced her decision to offer pro bono work to inmates. She met Bryan Stevenson, an attorney and founder and executive director of the Equal Justice Initiative, at a law school event. His book "Just Mercy: A Story of Justice and Redemption" produced "a huge shift in my view of our justice system and how it affects people."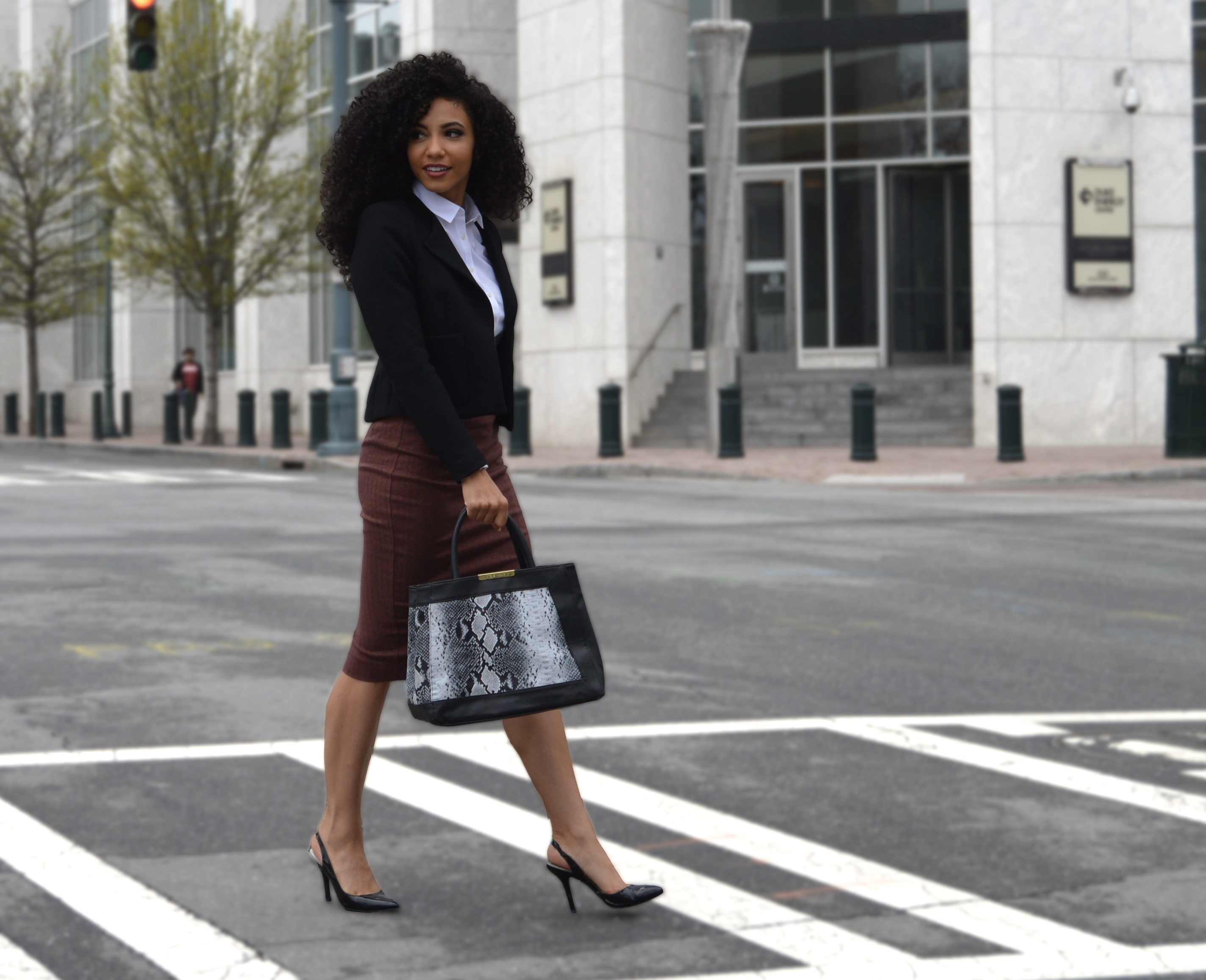 Her rigorous schedule is nothing new. As a track and field athlete at South Carolina, she landed in the top 10 in the state's record books in the triple jump. She's strong. Very strong. As an athlete, she could squat almost 300 pounds and bench press 135 pounds.
She's also persistent. She competed multiple times in the Miss North Carolina and Miss North Carolina USA pageants before winning.
"I felt like I gained something each time I competed, whether that was a new set of friends, … new skills that I needed, … a new opportunity," she says. "And beyond that, I think it was just a sense of hardheadedness. I was, like, 'I want to win. And the only way that I can win is if I keep competing.' So I did."
This year, she helped make history, becoming one of three African-American women to hold major pageant titles at the same time. The others are Kaleigh Garris, the current Miss Teen USA, and Miss American Nia Franklin, who is Kryst's friend and became a legal client.
Kryst says she plans to go back to her law career after her pageant duties, and she hopes to create a clothing line. In 2016, she won the "Rock the Runway" design competition, a fundraiser sponsored by Goodwill, designing and constructing a line of evening wear out of clothes purchased from Goodwill.
Some criticize beauty pageants as a relic of an earlier time for women, but Kryst sees it differently. Her mother, who won Mrs. North Carolina US when Kryst was in grade school, inspired her to compete in pageants in high school. Her first crown was Miss Freshman at Northwestern High School in Rock Hill, South Carolina. She says she is awed by her mother, who raised six children and worked full-time starting her own business.
"I think there are two big roles that pageants play. Number one … it gives the competitors an opportunity to talk about issues that are important to them. (In the Miss USA competition) …that was impactful to me, to be on national television in front of millions of people, to share a message that I crafted myself." (She will advocate for Dress for Success during her year as Miss USA.)
Pageants also present good role models for children, she says, which not all celebrities do. "That's important for all of us to have."