Never mind going global. Wake Forest has gone beyond the stratosphere — thanks to two college friends and space enthusiasts, Hall Wang ('08) and Lauren Hubbard Luneckas ('09), who teamed up to send a Demon Deacon sock into space.
How did they manage to send a sock to space? (And why send a sock anyway?)
"I'd say it's a case of good timing and good luck, but it also has to do with the power of Wake Forest connections," says Luneckas. "You never know where those connections might lead."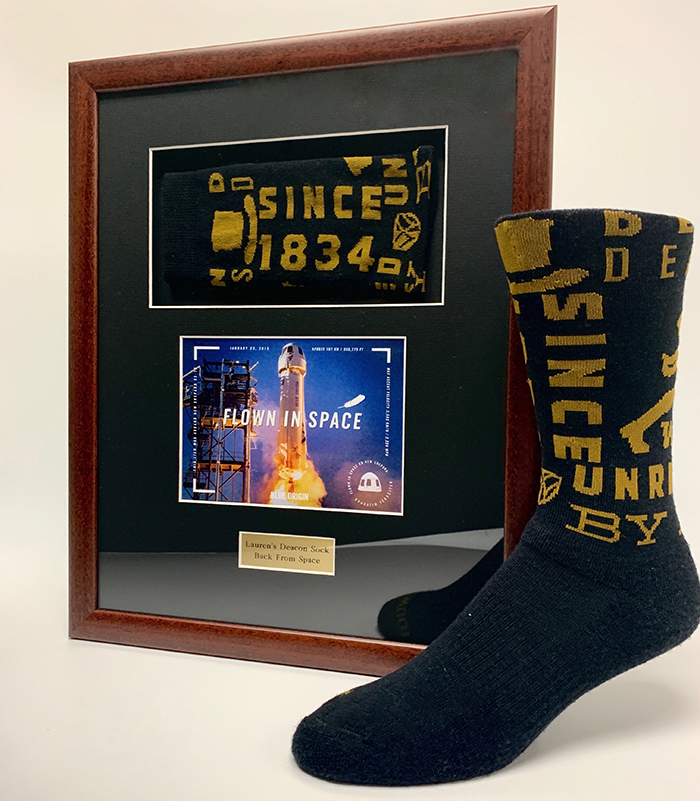 Black Sock, Blue Origin
To fully appreciate the sock's journey, you've got to go back a few decades — back to when Luneckas was a space-obsessed kid growing up outside Atlanta.
"My love of all things space is deep and it's real," she says, recalling how she'd often drag her family out to fields in the middle of the night to watch celestial events. "One of my favorite presents from Santa was a telescope, and I wanted to wallpaper my room in solar system wallpaper." She had visions of one day working at NASA, but those dreams died with a harsh realization: "I really stink at science."
Fast forward a few decades, and Luneckas, now 31, has built a career at the intersection of textiles and sports marketing, working as an executive at a sock manufacturer in South Carolina.
But her passion for space was reignited recently thanks to Wang, who she had met years ago when the two were involved in student government at Wake Forest. They've remained close friends even as their careers took them in different directions.
While Luneckas worked her way up the corporate ladder, Wang spent the majority of his post-grad years serving as a U.S. Army officer, completing two combat deployments in Afghanistan. After leaving the military in 2016, he enrolled in a graduate program at Georgetown University McDonough School of Business.
It was through Georgetown that Wang landed a Fall 2018 internship at Blue Origin, a spaceflight service company founded by Amazon CEO Jeff Bezos. Blue Origin's ultimate vision, according to its website, is to have "millions of people living and working in space." For now, it's focused on sending paying customers to space using its patented reusable rocket system, New Shepard. The company has spent the past few years launching unmanned test flights into space with hopes of sending its first crewed flight later this year.
During his internship, Wang won an internal lottery allowing him to send a few items to space aboard Blue Origin's Jan. 23 test launch. Unsure of what to send, he posted the question on Facebook, asking friends for their ideas. That's when Luneckas playfully chimed in with a suggestion — "how about a Wake Forest sock?" (She works at a sock manufacturer, remember?)
Wang was instantly on board.
"Wake was a big part of my life that I cherish," he says, "so [the sock] was an easy pick. It also gave me the idea to use the opportunity to honor the places that have been part of my higher-education journey. So along with the Wake Forest sock, I sent up a little Georgetown pennant."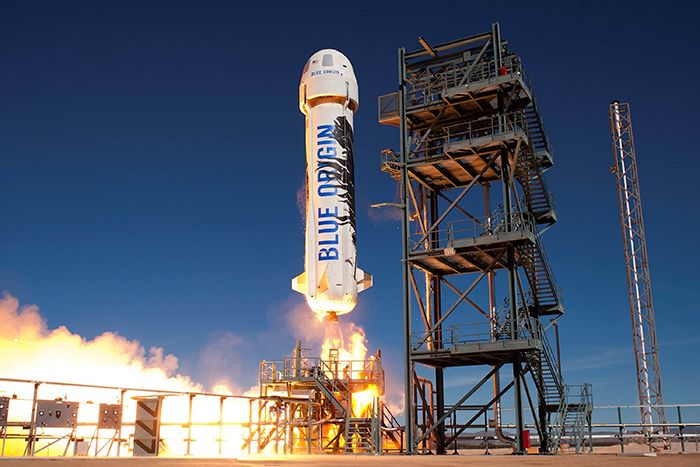 Up, Up and Away
The sock's journey to space began several weeks before blastoff.
Luneckas initially mailed it from her office in South Carolina to Wang's residence in Washington, D.C. Wang then sent it to Blue Origin's launch site in West Texas, where it was loaded onto New Shepard and blasted 66 miles into the sky, crossing the barrier into space at speeds nearing Mach 3 (three times the speed of sound).
Precisely 10 minutes and 15 seconds after takeoff, the rocket was safely back on the ground — its mission complete. Blue Origin officials retrieved the sock and returned it to Wang, who had it framed before mailing it back to Luneckas. She later posted a photo of it on her Facebook page, along with a shout-out to Wang:
"[Thanks] to my fabulously thoughtful friend Hall, who sent this sock into space on a rocket! … Please stop by my office anytime to see it, as it will hang on my wall FOREVER."
---
Having earned his MBA from Georgetown this spring, Wang is set to begin a management consultant job with Accenture Strategy this fall. He also regularly returns to Wake Forest to guest lecture for his former professors in the sociology and political science departments. It's during these lectures that he often finds himself extolling the power of Wake Forest connections.
"I always tell students, 'You never know which one of your Wake classmates will be a meaningful friendship you never expected.' Lauren wasn't one of my best friends in college. But sometimes life circumstances allow you to reconnect and build meaningful relationships later in life.
"In the case of the sock, I saw it as an opportunity to celebrate my alma mater while also doing something for a great friend that I thought she would appreciate."
Mission accomplished.