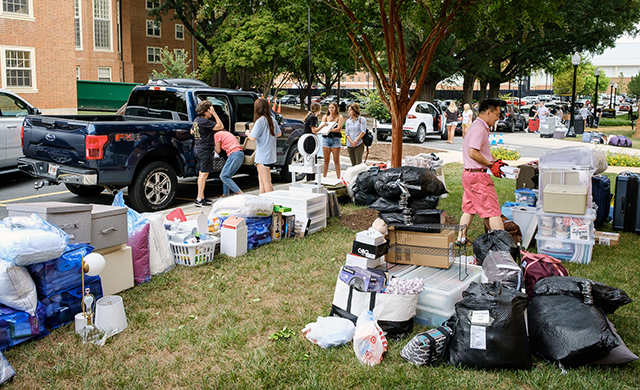 For alumni parents moving their children onto a campus they once called home, move-in day brings back wistful memories of their own student days – from making lifelong friends, to enjoying a "Double Deac with fries" in the snack pit, to hanging out on the Quad or in Reynolda Gardens.
John Matthews ('95, P '23) and Elizabeth Warner Matthews ('94, P '23), who moved their daughter, Molly, into her new residence hall, shared the sentiment of other alumni parents. "We couldn't be more thrilled," said Elizabeth Matthews. "We didn't push her to Wake. She came to the decision on her own, but we're certainly glad she did."
Alumni with children in the Class of 2023 largely graduated in the late 1980s and 1990s. They might remember when men lived on the Quad and women lived on the "girls' side" of campus. They checked their mailboxes in Poteat Residence Hall, got lost in Tribble Hall (some things never change) and took classes with Maya Angelou and Ed Wilson ('43, P '91, '93). They studied, or more likely socialized, in the "Zoo" in the Z. Smith Reynolds Library. The Benson University Center, Olin Physical Laboratory and the Lawrence Joel Veterans Memorial Coliseum were brand new or under construction.
Just under 1,400 first-year students, from 41 states and 26 countries, moved into their South Campus residence halls on Aug. 21. For alumni children — who've grown up listening to their parents' stories — it's finally their turn to start marking their own memories. Wake Forest Magazine asked a few alumni parents to share their Wake Forest stories, and we asked the newest Deacons what item they brought with them that they just can't live without.
Robert Ramseur
Raleigh, North Carolina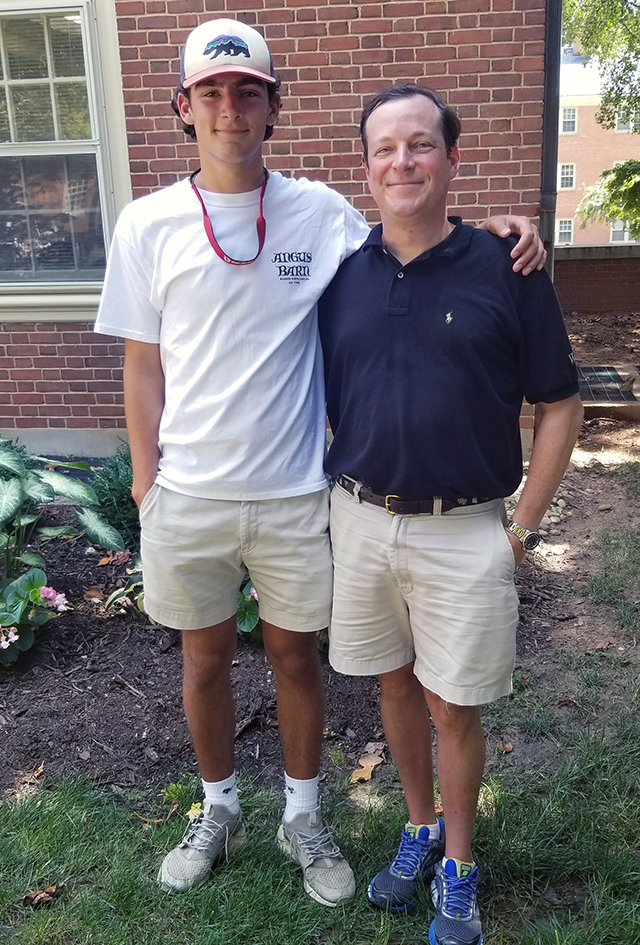 Robert J. Ramseur III ('23), a third-generation Deacon, is the son of Robert "Bob" Ramseur Jr. ('92, JD '95, P '23) and Amanda Ramseur (P '23) and the grandson of Robert Ramseur Sr. ('66, P '92).
Bob, what advice do you have for Robert?
"In addition to the typical 'study hard' advice, I'd encourage Robert and the Class of 2023 to get off campus occasionally to explore Winston-Salem and take advantage of all it has to offer."
What will you miss most about Robert?
"I'm going to miss going out to dinner with him one on one. I always learned a lot about what was going on in his life during those special times. It's also going to be tough watching sports without him, especially Deacon games."
What was your favorite spot on campus?
"The Quad. As an undergrad, I lived in Davis Hall and would spend hours 'Quad watching.' It was a great way to see just about everyone on campus, since you had to check your mail at the Poteat Post Office."
Who was your favorite professor?
"Bynum Shaw ('48, P '75) in journalism. He was a fascinating storyteller and inspired me to become a newspaper junkie. I took every class that he offered and loved them all."
What's your favorite Wake Forest memory?
"One favorite actually happened just a few years ago. Robert and I had gone to campus to buy a gift for my dad (Robert Ramseur) at the Deacon Shop. It was fall of his junior year, and he was needing to pick a college. He'd been to Wake plenty of times but never expressed any interest in attending, and I certainly never pushed him, so I just assumed he'd end up somewhere else. But while we were walking on the Quad, he turned to me and said, 'Dad, I can definitely see myself here and I think I want to apply early decision.' I was so unbelievably proud, not necessarily that he was going to go to Wake, but because he had figured out for himself that Wake was where he wanted to be. The fact that the two of us and his grandfather now have a common connection — a deep affection for Wake Forest — is just icing on the cake."
Robert, what are you most looking forward to at Wake Forest?
"Making new friends, attending sporting events and just exploring all that Wake Forest has to offer."
What's one item you're bringing from home that you can't live without?
"My car, because it gives me the freedom to travel without having to depend on others. I also live relatively close by (in Raleigh), so it will be nice to be able to go home from time to time to see family and friends."
Ansley Henderson
Glen Allen, Virginia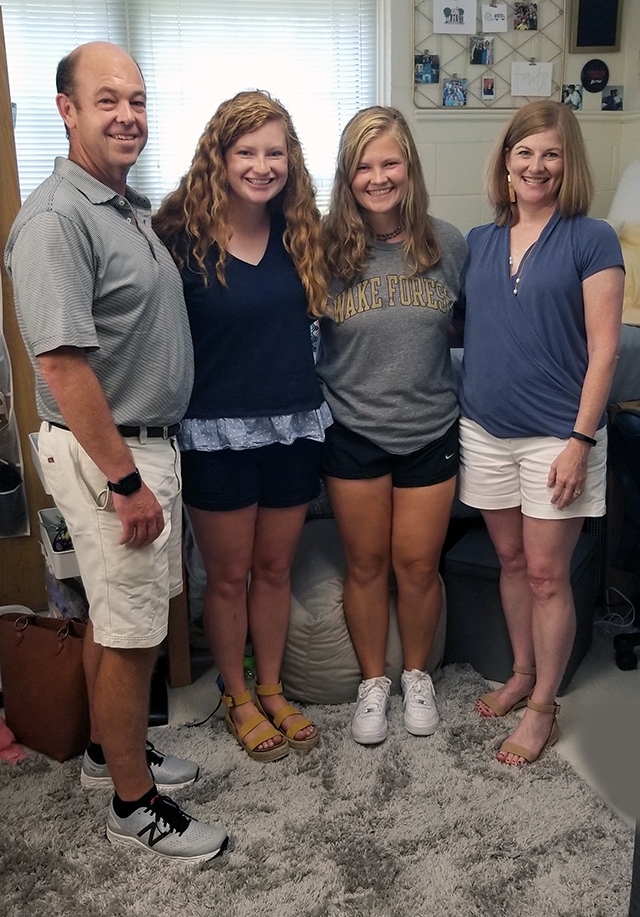 Ansley is the daughter of John "Bud" Henderson Jr. ('90, MBA '99, P '23) and Waverly McWhorter Henderson ('90, P '23). She also has an aunt and two uncles who went to Wake Forest: Helen McWhorter Kennedy ('92) and her husband, Charlie Kennedy ('92), and Michael McWhorter ('96).
Waverly, what advice do you have for Ansley?
"Take advantage of everything that Wake offers. I remember talking to alumni before I went (to Wake), and they said (take advantage of) study abroad; either it was the thing that they enjoyed most or the thing that they regretted not doing. I took advantage and went to Venice."
What will you miss most about Ansley?
Waverly: "Her laughter and her hugs."
Bud: "The great quality time that we've enjoyed with her. Her older sister went to school (James Madison University) three years ago, so we've had some really rich time, just the three of us. From a practical standpoint, she's been our grocery shopper the last several years. So, we're in for some adjustment if we're going to eat."
What's your favorite spot on campus?
Waverly: "The Quad has always been the center of Wake Forest for me. I grew up in Winston, and one year (when I was in high school) they had the sound and light show ("Visions and Dreams" on the Quad in 1984, during the Sesquicentennial celebration). It was the history of Wake Forest. It was so beautiful. I still remember going with my parents. (More recently) it was taking our children and their cousins to the Festival on the Quad for Homecoming. That's been a fun tradition for the whole family."
Bud: "Sitting on the wall in front of the old Kappa Sig house in Davis (dorm). At that time, the road came up Davis Field. It was a great spot to see friends between classes and hang out on a Friday afternoon and watch the town and everybody on campus go by."
Who was your favorite professor?
Waverly: "(Provost and Professor of English) Ed Wilson ('43, P '91, '93). I took all of his romantic poetry classes. His daughters are my age and my sister's age, so I grew up being around his daughters and going to his house. Just listening to him recite poetry was amazing."
Bud: "(Professor of History) James Barefield in the fall of my freshman year. He had such a quirky, unique personality and teaching style, it was a great introduction to college."
What's your favorite Wake Forest memory?
Waverly: "My time in Venice at Casa Artom was special."
Bud: "The Orange Bowl (2007). We had been in Florida for Christmas and were driving back to Pittsburgh, where we lived at the time. So we had no plans to go since we had just been there (Florida). One of my fraternity brothers called and said he had tickets and a place to stay, all I had to do was just get there. Waverly was kind enough to let me go while she watched the girls. It was a great opportunity to see everybody that you were in college with. Everybody that could showed up at that."
Ansley, what are you most looking forward to at Wake Forest?
"Attending as many sporting events as I can! I'm a big sports enthusiast and I love to watch all sports (not just football and basketball). Shockingly my favorite sport to watch is a good track or cross country race, so I know I'll be around the track. I've played field hockey most of my life, so I know I'll enjoy watching our awesome team at Wake as well!"
What's one item you're bringing from home that you can't live without?
"All of my stickers that are now covering my laptop and planner. Everywhere I travel I get a sticker to remember the trip and to have a fun way to see everywhere I've been. I also have stickers from my favorite restaurants, stores, quotes from my favorite TV shows, etc. They are a big portion of my personality, and they all mean something different to me."
Cameron French
Lewisville, North Carolina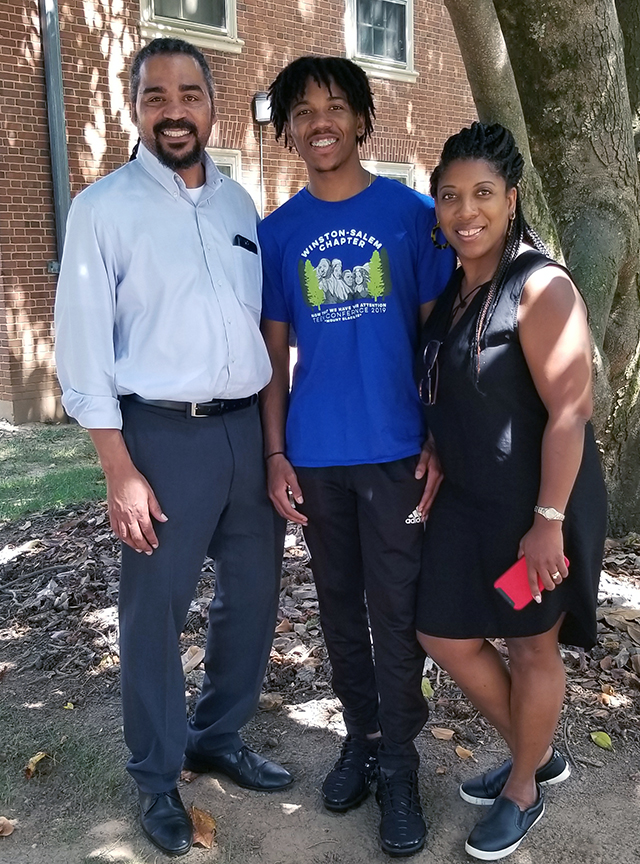 Cameron French is the son of Nate French ('93, P '23) and Camille Wilkerson French ('93, P '23). Nate French is director of the Magnolia Scholars Program at Wake Forest, which supports first-generation students.
Nate and Camille, what advice do you have for Cameron?
Nate: "Absolutely study abroad and get to know your classmates."
Camille: "Take advantage of every opportunity that Wake offers. The opportunities have grown exponentially since I was here. I hope he explores every opportunity, so that when he leaves here he knows what his passion is. So many students graduate and the pressure is to get a job, get a job. But they don't know what their passion is."
What will you miss most about Cameron?
Camille: "The drumming. He was on his drum line in high school, and he had a small band. He's constantly around the house drumming on something."
What was your favorite spot on campus?
Camille: "For sentimental reasons, I'd say the Quad, the epitome of what college should look like and feel like. And the snack pit (in Reynolda Hall); do you remember the Double Deacon? The food was great. It was big enough to get a lot of people in there, but small enough to hang out. That was a great spot.
Nate: "The Student Apartments (near Polo Road), well before those north campus buildings were there."
Who was your favorite professor?
Camille: "I was an English major, but I loved Dr. (Herman) Eure (PhD '74) in biology. (Ellen) Kovner, Dolly McPherson, Maya Angelou, Ed Wilson ('43, P '91, '93) in English."
Nate: "Allan Louden in communication. He ended up being my adviser."
What's your favorite Wake Forest memory?
Nate: "I wasn't there, but I remember one year when Randolph Childress ('94, P '20) hit a shot to beat Duke. I was so close to the TV that I thought I was there."
Camille: "I want to say it was a Wake-Clemson basketball game. I had never rushed the court, but this particular win we rushed the court – and that was the scariest thing I've ever done. People are moving you and you're trying to hold on to your friends."
Cameron, what are you most looking forward to at Wake Forest?
"Meeting new people and studying abroad."
What's one item you're bringing from home that you can't live without?
"My speaker."
Molly Matthews
Raleigh, North Carolina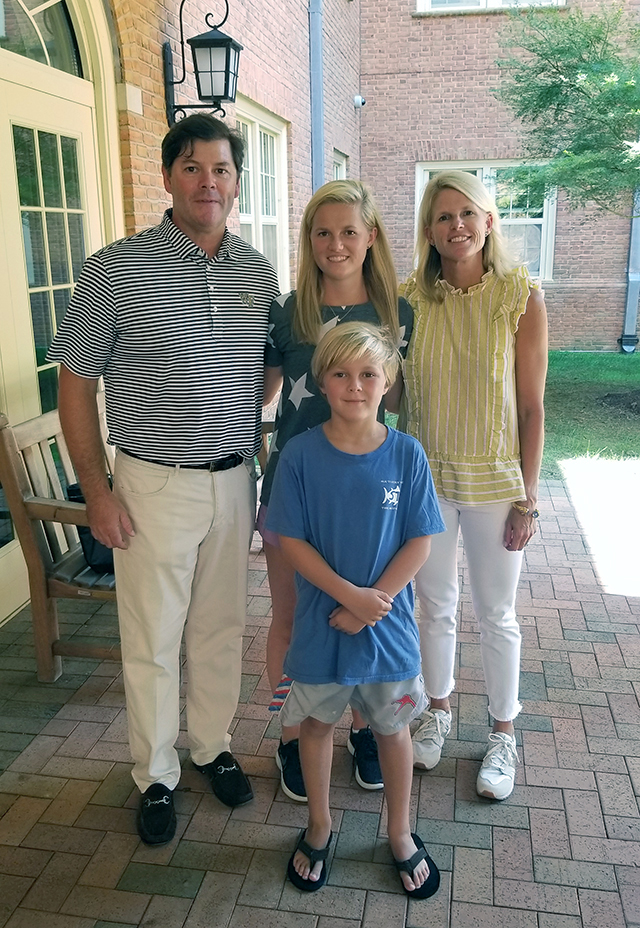 Molly Matthews has heard plenty about Wake Forest her entire life. It's where her parents — Elizabeth Warner Matthews ('94, P '23) and John C. Matthews: ('95, P '23) — first met and began dating while working in the Admissions Office following graduation. It's also where her grandmother, Joann Jackson Warner ('63, P '94), attended school.
John, what advice do you have for Molly?
"It's a rare time. You've got to work hard, but you've also got to take some time and enjoy it. I'd encourage her to take advantage of the opportunities in front of her and find her place, her niche."
What will you miss most about her?
Elizabeth: "She's our oldest — she has three younger brothers — so we'll miss her humor, her chatter, her warmth. I'll miss talking to her. Our boys are awesome, but they're boys (laughs). They don't chatter like she does."
What was your favorite spot on campus?
John: "Benson is a favorite. It was relatively new when we were students, and we spent a lot of time there. We also had our favorite spots in the library; probably every Wake student does. It's weird to call a library a 'favorite place,' but heck — it was a place of comfort sometimes."
Elizabeth: "Reynolda Gardens was such a beautiful, unique spot. I remember going to several parties and functions there over the years and just loving it."
Who was your favorite professor?
John: "I was a Spanish major, and I had a number of classes with Stan Whitley ('70). He had a way of making class fun and expanding our horizons that I'll never forget. Another was John Litcher, who taught my geography class. He had traveled around the world, so a lot of his classes were slide shows of him traveling. He was very interactive, very real, and had a knack for making a rather dry subject exciting."
Elizabeth: "Anyone who had Ed Wilson ('43, P '91, '93) would probably say he was their favorite professor. I was an English major, and he taught my British Romantic Poetry course. He was just amazing. Another was my Chinese professor, Dr. (Patrick) Moran. I had him all four years, and I grew to love his classes. He was just a great guy who was fully invested in his students."
What's your favorite Wake Forest memory?
John: "Anytime we'd go roll the Quad after big games, you knew it was a good night. It's such a uniquely Wake Forest tradition."
Elizabeth: "From a Greek standpoint, bid days were always really fun. Some of my favorite memories happened on those days. Just a lot of really excited, really happy people."
Molly, what are you most looking forward to at Wake Forest?
"I'm most excited to meet new people and learn more about all the opportunities Wake has to offer. I also am really looking forward to taking different kinds of classes and learning more about study abroad programs."
What's one item you're bringing from home that you can't live without?
"I love to listen to music, so I definitely couldn't leave behind my speaker."
Nancy Walker White
Winston-Salem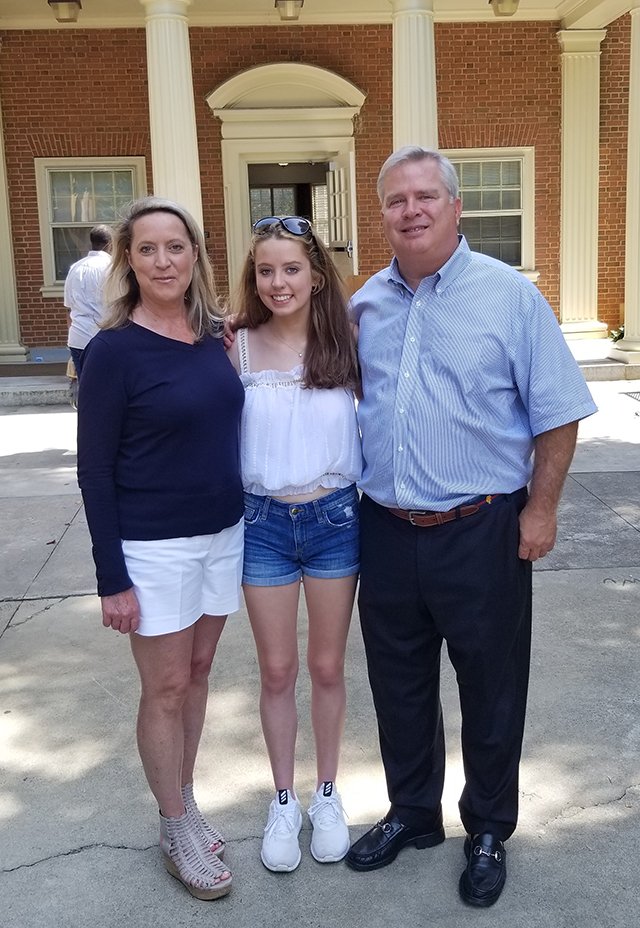 Nancy Walker White is the latest in a long line of family members to arrive on campus. Her parents are Jane Johnson White ('87, JD '92, P '23) and William "Dunlop" White III (JD '91, P '23). Her grandparents are Nancy Beck Johnson ('56, P '82, '87, '91) and the late Life Trustee Jay Johnson ('55, JD '56, P '82, '87, '91). Her aunt, Anne Johnson Bolt ('82), and uncle, Jim Johnson ('91), are also alumni.
Dunlop, what advice do you have for Nancy Walker?
"Mine is about balance, but I'll start out by saying that I want Nancy Walker to have fun. College can be the best years of your life, and I hope she makes the most of all the opportunities she's going to have. We know that she's a hardworking student, but it's really crucial that she maintains a balance between her academics, her extracurriculars and her free time."
What will you miss most about her?
Dunlop: "I'll miss her daily friendship, mostly. Nancy Walker is one of my best friends, and she's been that constant lynch pin in my life for 19 years. So even though she's close by, I'm going to miss her daily friendship."
Jane: "It's going to be lonely around the house without her!"
What was your favorite spot on campus?
Jane: "I have an off-campus place that was a favorite of mine. As a kid, my family would come up from Georgia for Wake football games and stay at the old Sheraton on Knollwood Street. There was always a big group of Wake fans staying there too, so there'd be this big caravan going to the game. This was in the 1970s, and the hotel is long gone (it was heavily damaged by a gas explosion at the neighboring K&W in 1988), but I have a lot of good memories at that place."
Dunlop: "I love the Arnold Palmer Golf Complex. It wasn't there when I was a student, but it's magnificent. People who like golf, or like history, should really check it out."
Who was your favorite professor?
Jane: "Both of us love (former) Dean Suzanne Reynolds (JD '77). She was so kind and had unbelievable compassion for her students. She treated us like friends and cared about us personally. She'd even take us to dinner. That's not necessarily something you expect from your law professor."
Dunlop: "As a first-year law student, I had a professor by the name of David Logan who taught Torts Law. He was just fantastic. I'll never forget his animation and enthusiasm for teaching law."
What's a favorite Wake Forest memory?
Dunlop: "One of our favorites happened after we graduated. It's when Nancy Walker was a cheerleader for the Junior Deacs and got to cheer during football games. I have at least 700 pictures from those games (laughs)."
Jane: "Junior Deacs is this program for elementary-age students; they try out and get uniforms and have practice once a week for the whole season. Then on game days, they get to stand in the end zone and cheer for the team."
Nancy Walker, what are you most looking forward to at Wake Forest?
"Wake Forest has been a part of my life ever since I can remember. Most of my family attended Wake Forest, so it's very special to me that I can continue the tradition at such an amazing school. I look forward to meeting people from all over the world and making close friendships."
What's one item you're bringing from home that you can't live without?
"I'm bringing pictures of my family and friends to hang up in my dorm. It's a way for me to feel close to my roots while in college. The pictures in my dorm will be a reminder to keep in touch with old friends as well as make new friends at Wake."
George Joyner
Winston-Salem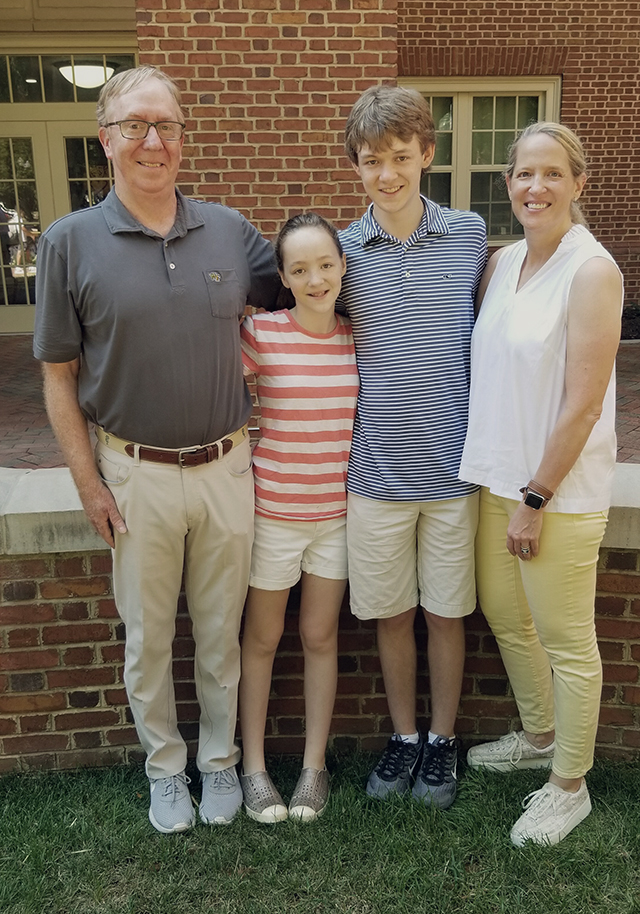 George W. Joyner IV is the son of George "Will" Joyner (JD/MBA '96, P '23) and Christine Joyner (P '23). His family's ties to Wake Forest extend far beyond his father. His grandfather, G. William Joyner Jr. ('66, P '96), is retired vice president for University Advancement, and his great-grandfather was the late Dr. George William Joyner Sr. (MD '30, P '66). Joyner's family tree stretches all the way back to Samuel Wait, Wake Forest's founder and first president.
Will, what advice do you have for George?
"I would suggest getting out of your comfort zone a bit. Join a club, get to know a professor, really take advantage of all the resources on campus. You won't have another chance to be at a place like Wake Forest, so savor every moment, and don't take it for granted."
What will you miss most about George?
"I'll miss the little things; his smile, seeing him lounging on the sofa reading a book. George is an early riser, so the first thing I hear most mornings is the sound of his clinking cereal bowl; it usually wakes us up."
What was your favorite spot on campus?
"It's got to be the Quad. I know everyone probably says that, but it's the site of so many special memories for me. Ever since I was a kid and would tag along with dad when he worked in Reynolda Hall, I just remember running around and loving it. I still do."
What was your favorite class or who was your favorite professor?
"They're one and the same — my favorite class in law school was Business Organizations, and the professor was Ralph Peeples. He was very straightforward and practical in his approach, but also very passionate. The class helped confirm my interest in being a corporate and mergers & acquisitions lawyer."
What's your favorite Wake Forest memory?
"There are so many, but one that sticks out was a basketball game verses UNC, January 1993, when the Tar Heels were ranked No. 3 in the country. It's the game where Rodney Rogers did his famous 360-degree dunk, and Wake won the game easily. The atmosphere in the Joel was just so electric that day. I'll never forget it."
George, what are you most looking forward to at Wake Forest?
"I'm actually really excited about exploring the library. I love to read, and I volunteered in a library for two summers and really enjoyed the experience."
What's one item you're bringing from home that you can't live without?
"I keep a copy of Montaigne's essays at my bedside. (Michel de Montaigne was a 16th-century French writer and philosopher.) Even though the Wake library has this book, I want to bring my copy as it has my annotations."