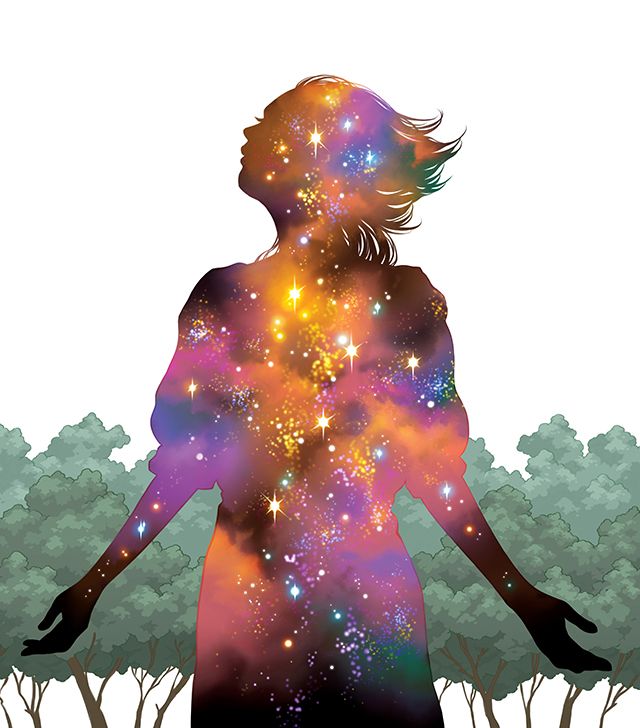 ---
Wake Forest Magazine asked alumni to share personal stories of leadership and character that impressed them or influenced their lives. Excerpts have been edited and condensed for clarity.
---
(Jump to profile by clicking names)
---
---
---
---
---
---
---
---
Vance Brown ('85, P '20)
Bringing your authentic self to the workplace and transforming through a loss.
---

Vance Brown is CEO of the National Cybersecurity Center, a nonprofit in Colorado Springs, Colorado, that shares internet security knowledge. Brown also is chairman and co-founder of Cherwell Software Inc. and board president of Exponential Impact, a technology accelerator that offers mentoring, seed funding and leadership development for tech startups. Cherwell, where Brown was CEO until 2016, was recognized in 2014 as one of the 101 fastest growing companies in North America by Deloitte's Fast 500. Brown is an honorary commander at the U.S. Air Force Academy. In 2018, he was named Business Citizen of the Year by the Colorado Springs Chamber & Economic Development Corp. Wake Forest, where he majored in economics and minored in computer science, honored him in 2009 with the Excellence in Entrepreneurship Award. Goldman Sachs recently named him one of the 100 most intriguing entrepreneurs. He earned his law degree from the University of North Carolina and practiced intellectual property law.
---
---
"   I was running a software company (in my early 30s), and it was growing, but I was honestly just experiencing a lot of having to compartmentalize my life. You've got to be one person in the corporate world and another person at home and church, and then with others you've got to have this image, but certainly you can't really bring your whole self into the workplace.
I had a mentor, (counselor and author) Brent Curtis, and he gave me a book by David Whyte called "The Heart Aroused: Poetry and the Preservation of the Soul in Corporate America." (For Curtis it was) a character issue when you can't be yourself, when you've got to be someone else. It's like kind of being a poser. That's a harsh word because you don't intentionally go out there to be someone else, but the world expects it. (The book showed me) that when you block off creativity, you're blocking off a big part of what corporate America needs. Back then, the words vulnerability and authenticity weren't as big. Now it's more commonplace that people say that matters in leadership.
His encouragement to be vulnerable, to be authentic and to then encourage others to do the same in the workplace to me was game-changing. In fact, I try to do that for others. I've got a website called Thrivers.com (and a book "Thrivers: An Entrepreneur's Fable" with John Bolin.) We'll help you thrive in business without losing your life. I actually quote Maya Angelou on the cover of the book, "My mission in life is not merely to survive, but to thrive."
Brent Curtis invited me to bring my true self, my whole self. He created a safe, one-on-one relationship where I was able to share parts of my story that I just never shared with anyone. He heard my story with incredible grace and authenticity and still believed in me. I think that's the greatest thing a leader can give someone is to know you and to still believe in you and care for you and have your back.
Then (in 1998) we were out rock climbing together, and he had an accident and fell to his death at my feet. You can imagine how life changing that was. In fact, not long after that I actually resigned from that job just to really find myself and what matters. Life is so fragile. We can be here one moment and not there the next. And so we don't want to miss out on living our life, our best life, bringing our best self, our truest self into the workplace. That was like an exclamation point on everything I learned from him."
---
---
Lizzie Ward Roediger ( '09)
Be true to your personal values and honest with your team
---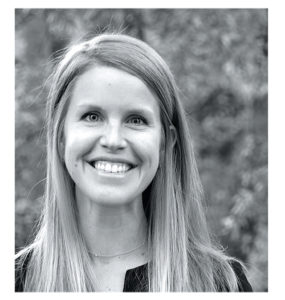 Lizzie Ward Roediger is president of Sunshine Beverages, a startup company in Winston-Salem that manufactures and sells a line of healthy energy drinks. A studio art major with a minor in entrepreneurship and social enterprise, Roediger found a mentor in the business school in Professor Bob Fly, who provided guidance when she decided to pursue a career in marketing and branding. She earned an MBA from Emory University and has held positions with marketing firms, Coca-Cola, ISP (International Sports Properties) and IMG, a global sports and media company. She joined Sunshine after ISP founder Ben Sutton ('80, JD '83, P '14, '19) founded Teall Capital and purchased a majority ownership stake in the company.
---
---
" When I was young, I thought of CEOs and leaders as superheroes: intimidating, strong, powerful, always right, tough with their teams. I've definitely seen that. I've also seen leadership that acts much differently — much more vulnerable, humble, compassionate, authentic. Maybe that's not what jumps out when you think of a business leader. But for me, those are the leaders who have shaped my path.
My first boss in New York City, (marketing executive) Kary Brock, was an early role model. I knew that she cared for me personally — my overall well-being and fulfilment. She also challenged me, gave me ownership and believed wholly in my potential. She really helped me develop my confidence and my voice.
I've also been fortunate to work for two other leaders that stand out: Ben Sutton and Keith Vest. If you're involved with Wake at all, you probably know what Ben has accomplished. Ben cares deeply about the teams he has built and never leads with fear, always inspiration. He's part of the team, not only the boss. And I've never met any other leader like Keith, who founded Sunshine. If servant leadership were a person, I'm pretty sure it would be him. He is self-aware, humble and a pro at resolving conflict. I've seen him manage very tough conversations, and the tact and empathy he displays is so rare and genuine.
I've learned from them to be true to myself, to my personal values. Even though we know that there are best practices and key traits that are common in leaders, I've learned to embrace the values and styles that may not be the norm on other teams but are important to me. I think that goes back to being an authentic leader.
Brené Brown (The New York Times bestselling author of "Dare to Lead" and "Daring Greatly") talks a lot about the importance of vulnerability. I've learned it's OK to go into tough situations and be open about not knowing everything. Being vulnerable is core to building that emotional connection and trust with your team. Brown also uses the word "rumble" as practice to have tough conversations. I use that at work. If we have to have a tough conversation, I'll say "let's rumble." That's not a bad thing. It's totally healthy.
Communication and being transparent are important. As a startup, we're fast-paced and things move quickly, and we often have to pivot. I've learned the critical importance in making sure that everyone understands not just that we're changing direction, but why we're changing. Everyone should see how their roles and actions are supporting the bigger picture.
I don't spend a lot of time thinking about (being a young leader). I look younger than I am, and sometimes that can be a challenge, but an advantage in other situations, so it evens out. If you look at the world today, there are a lot of young leaders of very successful companies. My team is also mostly young, and that has its advantages. We are the core consumers of our brand, and that gives us some personal experience and insight that is unique."
---
---
Ashleigh Parker Dunston ('09)
Responding to adversity reveals your true character
---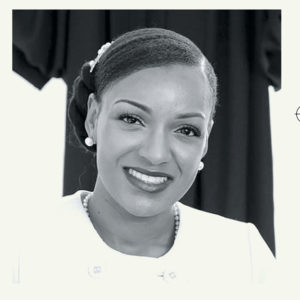 Ashleigh Parker Dunston didn't want to follow in her father's footsteps when she was growing up in Hickory, North Carolina. Her father, Jason Parker, was one of the first African American prosecutors in the western part of the state. She came to Wake Forest to become a doctor, but by her junior year, she realized that her calling was in the legal profession, too. After graduating with a degree in psychology, she earned her law degree from North Carolina Central University School of Law in Durham.
Her first job out of law school was the same first job her father had, as an assistant district attorney in Wake County (NC), followed by a stint as an assistant attorney general. In 2017, North Carolina Gov. Roy Cooper appointed her as a District Court judge in Wake County. At age 30, she was the youngest African American female district court judge in Wake County history. She is co-founder of the Capital City Lawyers Association Youth Law Day, which introduces young people to the justice system. She also speaks frequently in schools and at various events throughout the community.
---
---
" My dad grew up in Taylorsville, North Carolina, which is a small town in Alexander County, with his nine brothers and sisters. Although he grew up poor, he learned hard work and integrity from his parents. He was the first in his family to go to law school. (He taught me) resiliency, integrity, humility and selflessness. Growing up, I saw him continually uphold the law and treat everyone with respect. The type of man that he was in the courtroom or as a deacon in the church was the same man he exemplified at home.
Once when I was driving back to Wake Forest, I received a speeding ticket in the county which was in his jurisdiction at the time. He could have taken care of it, or gotten it dismissed, but instead he required that I go to court. Not only did he sit with me and embarrass me in front of everyone by announcing that I was his daughter, I had to represent myself, and pay the ticket. Needless to say, I've never gotten another speeding ticket since. When people come in (to my courtroom) to try to receive a break for their kids, I let them know that we must teach our children about decision making and how by feeling the consequences of our actions, we control whether we repeat our actions.
I believe that when people first see me, they may be thinking, "who is this young person?" As an attorney, I've been ignored and asked if I was a secretary; however, I've used their underestimation of me as my secret weapon, and my sword was overpreparation. I tell young people, you cannot always be reactionary to everything that happens to you even if it's unfair or hurtful. How you respond to adversity shows your true character. We must seize the opportunity to grow from and through the difficult issues we encounter.
My dad retired from the state in 2012, which was the same year that I began practicing law. He ran for judge and district attorney in my home county several times but was not successful. At my investiture ceremony as a judge, one of the most impactful moments was when he and my mother placed the robe on me. During my remarks I said to him, "Dad, everything you went through was not in vain. I stand on your shoulders." His perseverance, integrity and character are why I am who I am today."
---
---
---
Michael Hamlar ('04)
Love of family draws a student home despite pro football dreams
---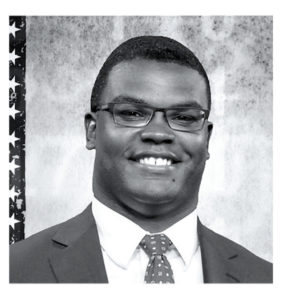 Michael Hamlar played scholarship football at Wake Forest, including in the Seattle Bowl victory. He is a third-generation leader of Hamlar-Curtis Funeral Home, his family's business, in Roanoke, Virginia, and recently became sole owner after his partner's retirement. He owns Hamlar Enterprises, a business brokerage firm; Hamlar Properties, a real estate firm founded with his wife, Katina; and BallyComm Telecommunications. His TV show "New Virginia Economy with Mike Hamlar" airs weekly on WSLS-10 during NBC Nightly News with Lester Holt. The Blue Ridge Business Journal named him in 2009 as one of its "Top 20 Leaders Under 40."
After graduating early as a communication major at Wake Forest, he earned an associate degree in funeral services from John Tyler Community College, an MBA from Liberty University and a doctorate in business administration from Walden University. He serves on numerous civic, economic and education boards.
---
---
" I was a junior at Wake when my dad died at 49 from multiple sclerosis. And then my uncle, who started our business, one of the founders, died within three weeks, which is how I ended up coming back to Roanoke so fast. He left me his part of the funeral home. Coach (Jim Grobe) said I had a good shot of playing to the next level. Even if I didn't play professional football, I was going to have a career in computer science. I built my first computer in seventh grade. I was a nerd.
Wake did prepare me for a lot of things, for the business aspect of it, dollars and cents, numbers, how to get all of these things done theoretically. Now when you're dealing with people, sometimes you have to take some of the theoretical and twist it around and make it into the practical piece. You just live and learn. You take chances. Some of them are good, some of them are not.
I learned (that business) is all about relationships, calling people when you don't necessarily need them. (At age 21) working with employees and vendors three times my age who are saying 'What does this little guy know?' was some of the difficult part. Once they got to see how we conducted business, everything was fine. (And I had) the leadership skills that I acquired over the years from athletics and academics. Academics was one of the main reasons that I went to Wake because Jim Caldwell was the head coach (at the time), and he graduated 91-plus percent of his football team. It was more than just football there. It was life skills. Coach would say almost every day that he wanted guys with character. You could have all the athletic ability in the world, but if you don't have character, then you're really not made for that team.
I did feel obligated (to come home) because my mom, my dad were my heroes. My mom is a fascinating woman. My dad was 6 foot, 350 pounds, and when he died he was 130 pounds. And through that whole time my mom stayed with him. He did not have one bed sore on him, and she flipped and turned him. I don't know how she did it because my mom's not a big woman. I know her body is hurting because of it.
And then she provided for us (at Allstate Insurance for 37 years) and made so many sacrifices because he couldn't work anymore. (Recently) I asked her what kind of car she wants, and she wanted a Honda Accord. I said, "Mom, pick out any car that you want on the lot. I'm going to buy it." We went and picked it up today. So she has her new car, which is still nothing compared to what she did for my brother and myself throughout all of these years."
---
---
---
Tosin Durotoye ('04)
A father's long-ago lesson guides his peripatetic, ambitious daughter
---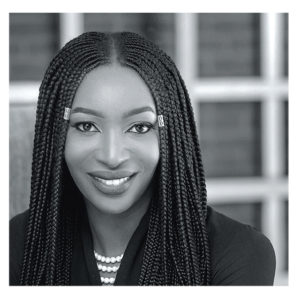 Tosin Durotoye moved home nearly three years ago to Lagos, Nigeria, where she has combined her business smarts with a devotion to empowering women and giving back. Born in Nigeria with dual citizenship in the United States, Durotoye spent formative years in Winston-Salem after her father, Yomi Durotoye, joined Wake Forest's faculty. Yomi Durotoye (P '04, '06, '13) was an associate political science teaching professor and coordinator of the African studies minor when he retired in 2016. His daughter studied political science and studio art at Wake Forest and received a master's degree at New York University, where she studied urban planning and economic development.
She is chief operating officer of FilmoRealty and founder of The Bloom Africa, which hosts events to help women connect, share and grow. She has also worked to develop curriculum and branding for the GreenHouse Lab, a female-focused technology accelerator program. In her spare time, she is launching a mentoring program for female Nigerian teenagers.
---
---
" When I think of character I always think of my dad. I think of both of my parents, but my dad stands out because he's very vocal about character. He talks about it a lot and the importance of it. I remember when I was about 8 or 9 there was an opportunity. He was being considered for a role in the Nigerian government. Having grown up in my father's home, he's, I would say, a very values-driven man. I would call him an activist. There's a story when he was younger how he got on the FBI (watch) list because he was protesting at that time apartheid in South Africa on Duke's campus. (His Ph.D. is from Duke). Those types of things were not welcome.
Even though we were so young — my sister must have been 6 and I was 8 or 9 — he called us in and said, "Guys, I want to tell you something. I'm being considered for this role in government, and I want to know what you think I should do. … I want to hear your feedback." I remember saying, "Dad, you told us so many things about what's going on in the government." The government was so bad at that time. It was a dictatorship. There was a lot of mess going on. … And we said, "Dad, we don't want you to take that opportunity because we don't want you to work for the government. We think it's corrupt." And he said, "OK, I'm not going to take it." And that was that.
I always remember that moment that this man gave us the opportunity to choose, but in a way, it was also teaching us in the process. He wouldn't have taken it even if we had said yes. But he wanted us to participate in that, and I think he was very proud with what we said.
Throughout my life he has continued to teach. He always asks us to do things the right way and according to the rule and the law and to always think about our integrity. How do I want to be remembered? I think that drives a lot of his actions."
---
---
---
Pat Williams ('62)
A mentor counsels a young executive to focus on honesty, patience, humility
---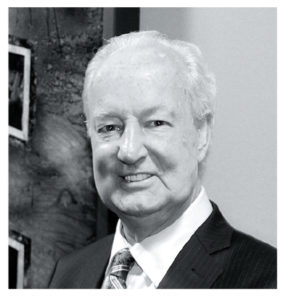 Pat Williams, senior vice president and co-founder of the Orlando Magic, recently retired from the team after a legendary sports career. He played baseball at Wake Forest and professionally, spent more than 51 years in the NBA as an executive, ran 58 marathons, overcame multiple myeloma and raised 19 children, including 14 adopted from other countries. He received the University's Distinguished Alumni Award in 1973 and is in the Wake Forest Sports Hall of Fame. He is a speaker and author of more than 100 books. His most recent is "Character Carved in Stone: The 12 Core Virtues of West Point that Build Leaders and Produce Success," with James D. Denney.
---
---
" I graduated from Wake Forest in June of 1962, spent the next two seasons playing baseball in the Phillies organization. I was a catcher. The Phillies then decided I had a better future in the front office than on the field.
I ended up in Spartanburg, South Carolina, in February of 1965 as the general manager of their farm club. I was 25 years old. I was to go to the home of the owner, R.E. Littlejohn, and introduce myself. It was a cold, rainy Sunday. I went to the door. I was nervous but also excited. The door opened, and it was Mr. Littlejohn's wife. She said, "Mr. Littlejohn is away. You can see him in the office tomorrow." She added, "No matter how long you are in ball" — that's what she called it — "you will never meet another man like my husband." I'd never heard a wife say that about her husband, and I haven't heard a wife say it since.
I spent four years running that Phillies club, and it was truly a turning point. Mr. Littlejohn had a marvelous quality called wisdom. It's rare. And he attracted people. I was always amazed.
He saw in me, as a youngster, something I didn't see in myself. And back in those days you didn't hear the word leadership. There were no books on it. There were no seminars. I don't remember him ever using the word leadership, but he saw something in me that impressed him. He stressed that if I were to go higher in the sports business I was going to have to have a strong character. He stressed the importance of honesty and integrity and personal responsibility and maturity and, above all, a humble spirit.
He could not tolerate anybody who came to him that had a pompous attitude. I saw him counseling other people from all over the map who were coming to take advantage of his wisdom.
At the age of 28, I joined the Philadelphia 76ers. And that started a 51-year run in the National Basketball Association. Whenever there was an issue, I was on the phone with him immediately to get his insights. And he could cut right through it and offer really meaningful suggestions. The word that comes to me is mentor. We all need them. They know where the pitfalls are, and wise are the young people who take advantage of mentors.
Mr. Littlejohn was an absolute hero of mine in this area of leadership and character. Those were the two qualities that he planted in my mind and my makeup as a very, very young sports executive. And they have never left me to this day, and now I find myself like Mr. Littlejohn, passing all of his principles along to other people who are coming behind me. I feel like a mini-Mr. Littlejohn. I've written two books about him. He was a unique human being.
(His advice was) control those things over which you have control and let go of everything else. He was constantly stressing to me, "Be patient, Pat, be patient." And I was not very patient. He also was constantly stressing, "You've got to have experience. If you get too far ahead of yourself and you don't have the experience, you're going to stub your toe."
---
---