Helen Haile's path to Wake Forest began on a stepladder at the Fast Mart in Charlotte. She reached up "with my small chubby hands" to pull the chain to turn on the lights. "Fast Mart is officially open," she wrote in her application.
It was here, at her Eritrean father's convenience store, a place that "somehow manages to provide shelter to anyone who needs it," Haile learned from customers "the perspectives people have on life."
To the east, near Spivey's Corner, North Carolina, Rachel Edwards was growing up outside a Sampson County town known for its singular shout out among municipalities, beginning in 1969, as the site of the National Hollerin' Contest. But even that distinction faded when the annual event was canceled in 2016. According to her college application, Edwards considered herself "an open-minded and accepting individual" in this rural town that she lamented did not always reflect her view of things.
She had never considered Wake Forest until she went to a soccer game. She was baffled by a hashtag, pronounced in her head as "Go Dee-ax." It took a while for Edwards to understand it was "Go Deacs" and that she would be destined to embrace the hashtag, not the original life she had dreamed of as "a born-and-bred Tar Heel" at the University of North Carolina. "I get the email for the scholarship weekend, and I was like, 'Wow! Wow! Wow!'" she said of Wake Forest.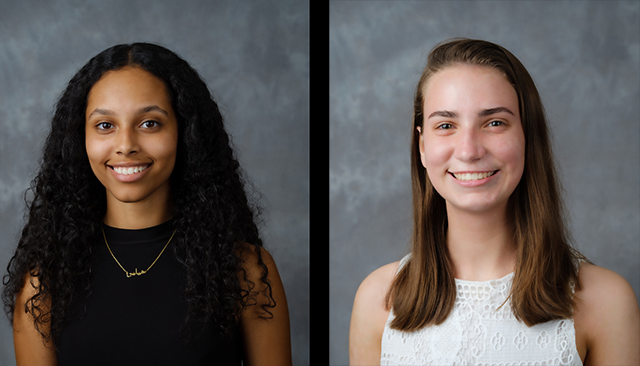 She and Haile spoke to me on their high school graduation day in June, filled with excitement that they would be among the inaugural class of the Leadership and Character Scholars Program, the newest initiative in the University's campus-wide Program for Leadership and Character. The other students are Olivia Blake of Kernersville, North Carolina; Jordan Bramley of Wilmington, North Carolina; Katie Bullock of Kansas City, Missouri; Ian Davis-Huie of Winston-Salem; Dana Johnson of Georgetown, Kentucky; Josh Knight of Greensboro, North Carolina; Akshey Suresh of Frederick, Maryland; and Deborah Wondmu of Alexandria, Virginia. They were selected based on interviews, their academic record and the leadership, character and service they demonstrated in high school. All 10 scholars will receive summer stipends for three summers for research, service and internships. Six of the 10 have full Leadership and Character Scholarships.
Haile's experience includes tutoring neighborhood low-income students on math and reading and working at her church and in a political campaign. As an Eritrean-American, she said, "It's always community first and yourself second. … I would always help somebody, and that's just part of the culture."
Edwards led a program to fill backpacks with food for underprivileged students to have during weekends, helped coach soccer and served as the president of her high school Key Club. During summer after her junior year, a class at Governor's School of North Carolina named Area Three — "We called it AP feelings" — helped her learn about "the intersection of morals and ethics and social dilemmas and how we navigate the world as teenagers." She found herself always trying to understand the other person's perspective: "I think that's the best way to embody a person of character," she said, "because without stories we're nothing."
The happy scholars were already on social media in the spring messaging each other about their opportunity. They have committed to be part of an intensive four-year program of community service and many focused conversations to come on leadership and character. The hope at the University is to grow the scholarship program to enroll 40 scholars over four years.
"With support from our faculty, staff and team, we hope to cultivate their leadership and character in ways that really serve humanity," said Michael Lamb, who directs the Program for Leadership and Character, including this newest component, the scholarship program.
Raised, as he likes to say, as a Tennessee farm boy, Lamb graduated from Rhodes College in Memphis, got his Ph.D. in ethics and political theory at Princeton and won a prestigious Rhodes Scholarship to the University of Oxford. He was overseeing a leadership and character project at Oxford, serving as dean of leadership, service and character development for Rhodes Scholars and teaching ethics when he was asked to visit Wake Forest, thanks to a friendship with a Demon Deacon and an invitation from President Nathan Hatch. Lamb joined Wake Forest in 2016, attracted to a university that he said is committed to providing "a first-class liberal arts education that spurs transformation, that helps students become the leaders and citizens of character that our world needs."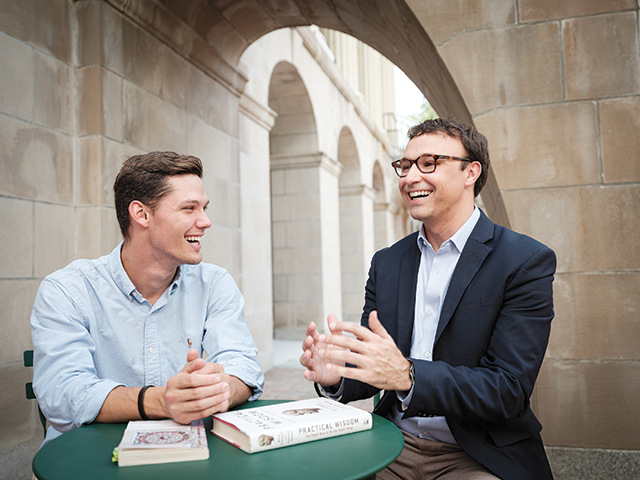 With its founding in 1834, Wake Forest announced it sought to serve students "of good character," and its Pro Humanitate motto encourages the flourishing of humans and service to humanity. "It's in our DNA," Lamb said, to focus education on marrying the intellect with character and leadership. Since his arrival, Lamb, an assistant professor of politics, ethics and interdisciplinary humanities, has learned about the heritage of Wake Forest, continued his own academic research on character development and engaged with other academic leaders to encourage an infusion of leadership and character across the campus.
The Program for Leadership and Character takes many forms, some of the initiatives already in evidence, some, as with the scholarship program, in early stages. Lamb, for example, teaches a First-Year Seminar called "Commencing Character: How Should We Live?" It challenges students to consider fundamental questions such as "what is a good life?" and "which values and virtues are needed to flourish as individuals and communities?" Students read Aristotle's "The Nicomachean Ethics," Philosophy Professor Christian Miller's "The Character Gap: How Good are We?" and commencement speeches by such luminaries as novelist Toni Morrison to illuminate virtues like justice, humility, gratitude and generosity. They have read poetry, considered the mythical flight of Icarus and, in 2018 when Dorothea Lange's Depression-era photographs were exhibited at Reynolda House Museum of American Art, discussed Lange's empathy, on display powerfully in her most famous photograph, "Migrant Mother." For their final assignment students write their own commencement speech about a virtue they care about, thus becoming exemplars for their peers.
Another program initiative — a major conference with Oxford — had the campus buzzing in February with its lectures by scholars from Oxford, Harvard, Stanford, Duke and Wake Forest and its arts and leadership workshops on hip-hop, conducting, dance, poetry, visual arts and theater. The conference kickoff event for "The Arts of Leading: Perspectives from The Humanities and Liberal Arts" packed Wait Chapel with a conversation about leadership in the arts by Renée Elise Goldsberry with professor Derek S. Hicks of the divinity school. Goldsberry starred as Angelica Schuyler in "Hamilton" on Broadway and had the Wake Forest audience from campus and Winston-Salem singing along with her.
"The most influential people are people that recognize, wherever they are and whatever they are doing, there is an opportunity to lift someone else up," she said. "I think my job is to be a light."
The University long has emphasized leadership by hosting distinguished speakers such as NBA star Chris Paul ('07) and author Krista Tippett of the "On Being" public radio program. It is expanding that emphasis — organizing discussions, workshops and retreats for students, faculty and staff on leadership and character issues. It's encouraging partnerships, such as a focus on ethics in engineering and entrepreneurship curricula. It's elevating the Honor Code, to stress to students its importance as a core University value.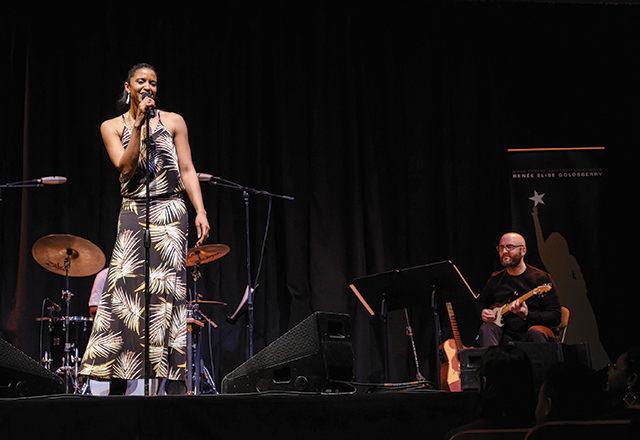 Lamb and President Hatch have said Wake Forest's campus-wide Program for Leadership and Character can be distinctive in a number of ways. Instead of thinking about "heroic" leaders — the one person out front — the idea is to develop and teach new models of leadership to equip students to lead wherever they are and whatever they do. The Program for Leadership and Character will focus not only on skills but on character. It's not enough to teach how to lead a meeting, delegate or communicate within an organization.
"These skills are necessary, but they are not sufficient," Lamb said. "After all, leaders can use their skills for either good or ill."
A program goal is to teach students to be not only effective but ethical leaders with values, virtues and vision that orient them to the common good. The program will rely on rigorous academic research into character development, including research done by Wake Forest faculty. It will reflect on why virtues matter, drawing on the Pro Humanitate motto to train students to lead not only for themselves but for humanity. Finally, Lamb said, the program's lessons of leadership also will be drawn from the liberal arts. While often taught in business or politics classes, leadership should be regarded through an even broader lens, he said: through the study of history, literature, religion, philosophy and the arts.
The program expects to offer an expansive, liberal-arts based approach to what leadership might be. The message no doubt will be amplified by scholarship winners like Haile and Edwards, living the lessons that underscore how values and virtues matter more than ever, especially at a University devoted to educating the whole person.
---
---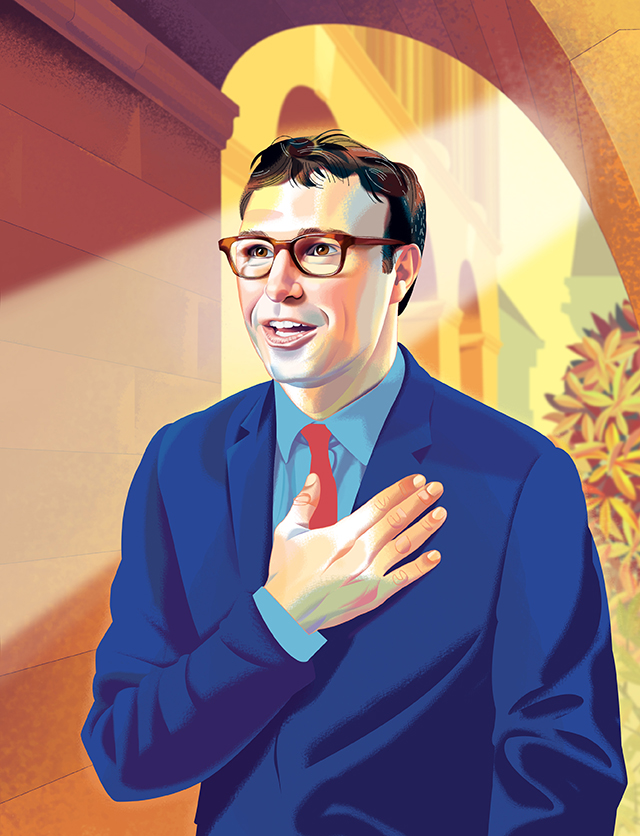 Seven Strategies for Character Development
"Emerging adulthood" — the period between ages 18 and 29 — is an important time for character development, according to professor Michael Lamb and leaders of the Oxford Character Project at the University of Oxford Jonathan Brant and Edward Brooks. The three scholars have written "How is Virtue Cultivated?: Seven Strategies for Postgraduate Character Development," offering guidance to educators who aspire to develop character education programs informed by educational theory and practice.
The authors rely on the tradition of Aristotle in defining character "as the collection of stable, deep, and enduring dispositions that define who we are and shape how we characteristically think, feel, and act. This Aristotelian tradition typically identifies morally good dispositions as 'virtues' — dispositions that dispose us to think, feel, or act 'at the right times, about the right things, toward the right people, for the right end, and in the right way' — and morally bad dispositions as 'vices' — dispositions that dispose us to think, feel, or act at the wrong times, about the wrong things, toward the wrong people, for the wrong end, or in the wrong way." Between virtues and vices are intermediate states for which character education can develop more stable virtues. The paper focused on four virtues: a sense of vocation, commitment to service, gratitude and humility.
Drawing in part from research at Wake Forest by Philosophy Professor Christian Miller, the paper offered seven strategies for character development, which Lamb has characterized in talks as integral to the Wake Forest Program for Leadership and Character. They are:
---
1. Habituation through practice: "We learn virtue like we learn a skill, by practicing it over and over, doing the same things until they become a habit of ours," Lamb told the Wake Forest Staff Advisory Council in April.
2. Reflection on personal experience: Reflection exercises — having participants reflect on their own experiences to identify virtues essential to good leadership and leaders who exemplify them — can foster "practical wisdom," according to the paper.
3. Engagement with virtuous exemplars: "Our brains light up in the face of someone we actually admire or love as an exemplar of virtue," Lamb said.
4. Dialogue that increases virtue literacy: "We have discussions of virtues like gratitude or humility … and how we can apply those in our own life," Lamb said of the University program.
5. Awareness of situational variables: This strategy can help students become aware of their biases and how their vision is shaped by cultural experiences, blinding them at times to the experiences of others who are different from them. The idea is to become aware and correct for those biases in a diverse community.
6. Moral reminders: "Research from Professor Miller and others shows that if you remind people what they care about, they actually will act more virtuously" Lamb told the Staff Advisory Council, "and so one role of the Honor Code on a campus like Wake Forest is not only to give rules of conduct but to remind us all of what we really care about" — integrity, honor, trust and fairness.
7. Friendships of mutual accountability: "How do we choose good friends? How do we help students choose good friends? And not just friends to support them at all cost but friends who hold them accountable to their best selves," Lamb said, noting there will be programs and discussion groups for students to grapple with questions about failure and leadership.