Ikenna Smart first learned the game that would bring him to the United States playing barefoot on an open-air basketball court prone to flooding in his native Nigeria.
When he wasn't honing his skills playing barefoot, he played in dress shoes or shoes not his size. "I never had a real basketball shoe until I came here," says Smart (MA '19), who came to the United States in 2011 on his 16th birthday.
"It made me appreciate what I got when I came to America. It's been a virtue guiding me throughout my career: To be humble and hungry and appreciate the opportunity. I don't take those things for granted. I'm very grateful for what basketball has provided me. I'm blessed to be in this position."
Smart, 24, took his opportunity and ran with it, playing basketball and graduating from the University at Buffalo and earning a master's in liberal arts from Wake Forest.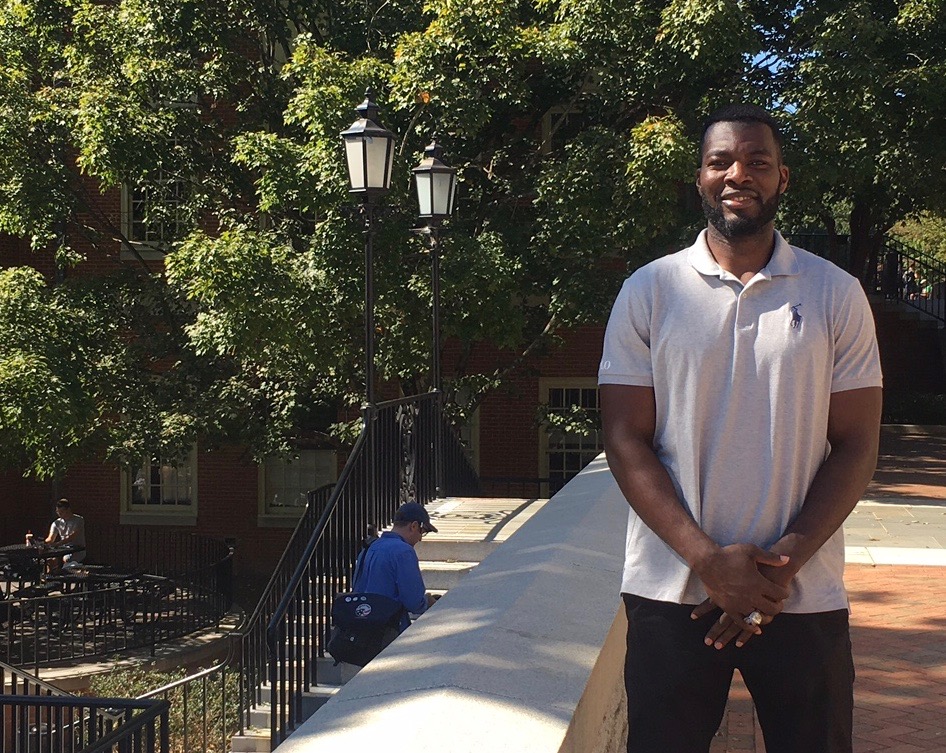 He hasn't forgotten how far he's come since playing barefoot and dreaming about a college education that he knew his parents would never be able to afford. He has started the Smart Sport Foundation to collect shoes from college athletes — who typically receive more shoes than they will ever be able to wear — to give to children in Nigeria.
He has already collected 150 to 200 pairs of shoes from athletes at half a dozen colleges including Wake Forest, Buffalo and the College of Charleston, where his brother Osinachi plays basketball. He hopes to collect 500 pairs of basketball shoes and football and soccer cleats to send to Nigeria this fall.
It's about far more than just giving shoes to kids so they can play basketball, says Smart, sitting outside the Benson University Center food court on a recent fall day. Something as simple as a pair of basketball shoes, that American teenagers take for granted, could encourage children to stay in school to pursue a sport that could be their ticket to a brighter future, as it was for him.
"This could make a difference and change someone's life and create a path to a great education, a better future for some of these kids," he says. "God has given me the opportunity to do this, and I don't want it to go to waste."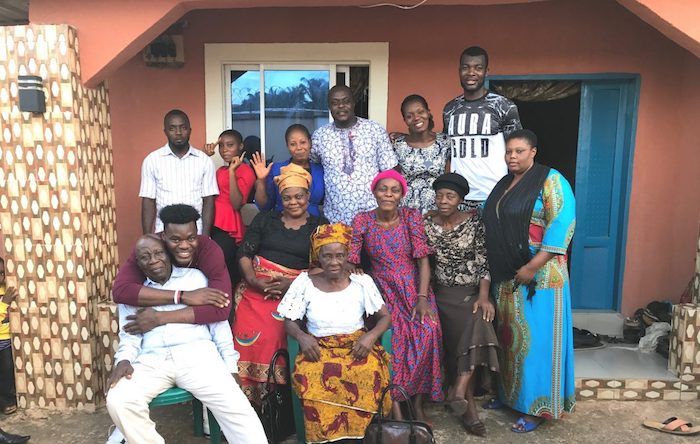 Smart still marvels at the path his life has taken. The son of a pastor and a nurse midwife, he grew up in Umuahia, Nigeria, an agricultural city of about 360,000 people and the capital of Abia State in southeastern Nigeria. Like most boys there, he played soccer every chance he got, even though he couldn't afford soccer cleats.
One day his size — 6 feet 8 inches tall and 195 pounds by the time he was 15 — caught the attention of a coach and other boys playing basketball nearby. "Come on over," the boys yelled. "Stop wasting your time playing soccer," the coach told him.
Smart protested that he didn't know how to play, and besides, he didn't have any basketball shoes. Never mind, they told him, and threw him the ball. He had never seen a basketball game, much less played, but somehow, he knew what to do. He soared high in the air and dunked the ball.
A few months later, with the help of a Nigerian basketball coach, Smart was on his way to the United States to live with a host family in Liberty, North Carolina. He played high school basketball at New Garden Friends School in Greensboro and on AAU teams CP3 Allstars and Teamloaded NC Elite.
He earned a scholarship to Buffalo and started 71 of his 93 career games over three years and helped guide the Bulls to three straight NCAA tournaments. He also laid the groundwork for what would become his foundation.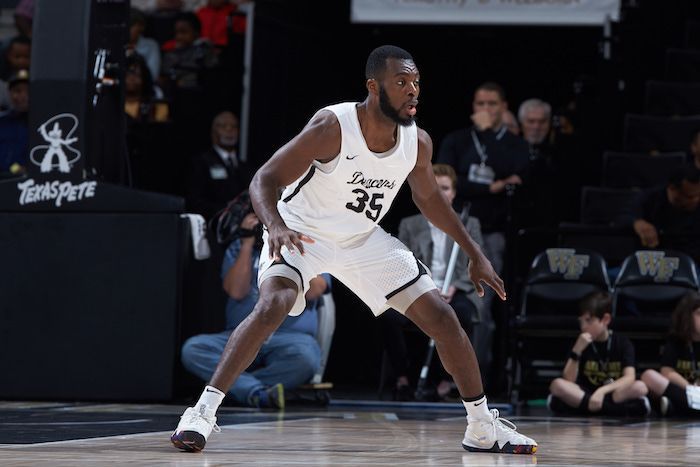 A college basketball player might receive a dozen pairs of shoes a year, but wear only a couple of pairs. Smart always sent his extra shoes back home, where a pair of basketball shoes could cost as much as some families make in a month. But what did his teammates do with all their unwanted shoes?
Smart and his brother Osinachi started collecting basketball shoes from their teammates at Buffalo and the College of Charleston. In 2017, they sent about 90 pairs to Nigeria that they handed out at a basketball clinic.
Smart brought his shoe-mission with him when he transferred to Wake Forest for his final season of eligibility after graduating from Buffalo in 2018 with a dual degree in geography and international trade. His parents had never been to the United States or seen him play until they made the trip to Winston-Salem in March to see him start against Florida State on Senior Day.
Although Smart played only one year at Wake Forest, he had an impact on his younger teammates, says Evan Manning, director of player development for the men's basketball team and one of several Wake Foresters serving on the board of the Smart Shoe Foundation.
"Ikenna has an amazing story," Manning says. "He has a very giving personality, and he wants to help other people, and that showed from the minute he came in the door."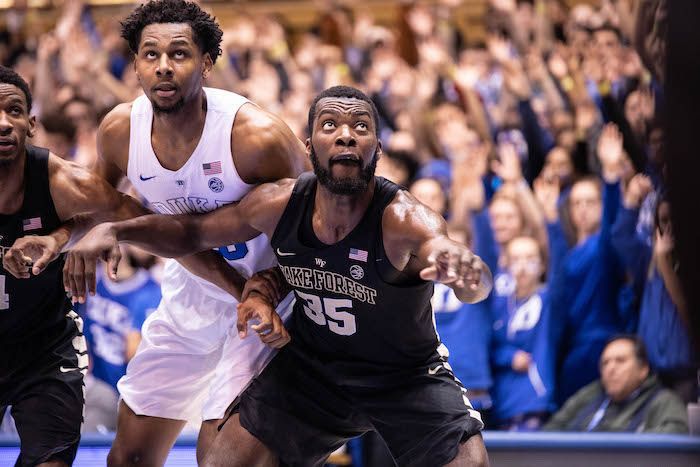 Smart started the Smart Sport Foundation with assistance from the School of Law's Steve Virgil (P '19) and third-year law student Nick Pappayliou, a former wrestler at Davidson College. Virgil, a clinical professor of law and executive director of Experiential Education, was impressed with Smart's plan.
"There's not another organization that I know of like this," he says. "Ikenna has a unique vision and a unique connection to basketball, and he's able to articulate that vision and tell a compelling story."
Smart lives in Kernersville, North Carolina, with his wife, Jillian, a former member of the rowing team at Buffalo. His basketball career has ended, but he still hopes to be a part of the game, perhaps as an NBA scout.
He's also focused on collecting as many shoes as he can for the kids back home. "This is something that I can do to help kids. If I fail, I fail, but I have to try."