This story originally appeared in 2019. Once again, Scott Chalkley ('09) is supporting the Merrie Christmas Project to help families in need in his hometown of Macon, Georgia. For a donation to the Merrie Christmas Project, Chalkley will personally call your kids and do a virtual Santa visit. Visit Chalkley on Facebook for details.
'Twas the week before Christmas, and Scott "Scotty Claus" Chalkley's cellphone is ringing and ringing, like the bells in Wait Chapel. As Christmas Day draws near, scores of children, those who have been nice and even a few who admit to being naughty, call him to share their wish lists.
"Get me three dogs, three fishes and one cat."
"Someone stole my bike. Please give me a new one. It was at my grandma's house, on the back porch."
With visions of new pets and bikes and computers and even hoverboards dancing in their heads, the wee little ones think they're calling the North Pole. But instead of reaching jolly old St. Nick, they've dialed a 32-year-old, soft-spoken advertising copywriter who lives in a split-level in Raleigh.
Chalkley ('09) could be a Grinch and say, "Wrong number, kid." But he's embraced his role as an accidental Santa Claus, whose phone number is similar to the number for the real Santa Claus (at least if you live in central Georgia, where Chalkley grew up in Macon).
"It makes Christmas really special," said Chalkley, who has two young children of his own. "It's become a special part of our family story."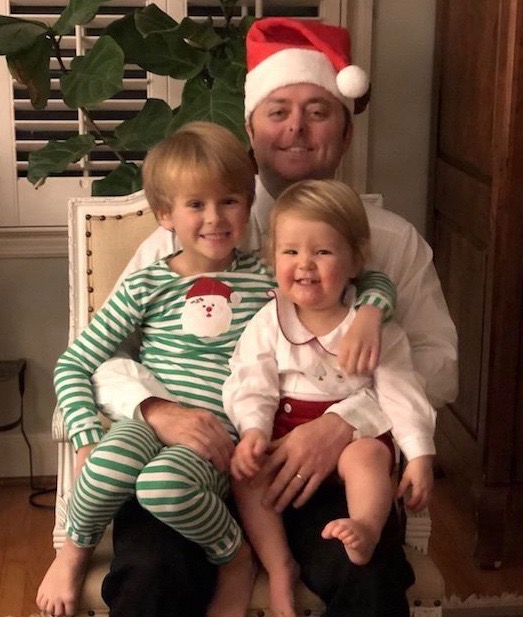 It all started eight Christmases ago when Chalkley was working at an advertising agency in Miami. Children, one after another, after another, called his cellphone wanting to talk to Santa Claus.
He couldn't figure out what was the matter until a grandmother told him what number she was trying to call. Turns out his phone number is close enough to the Santa hotline in central Georgia to be misdialed by eager young children.
"I saw this number on Google. I got my mommy's phone and stuff. I want a hoverboard for Christmas!"
He didn't want to change his number, so he decided to play along and have some fun. His mother told him that when he was young he always wanted to be Santa Claus, so this was his chance. And his initials, in case you hadn't noticed, are "S.C."
So when an unfamiliar number from Macon area code 478 appears on his phone, he becomes Santa Claus. He doesn't have a round belly like a bowl full of jelly or a beard as white as snow, but on the phone, who can tell? He can't answer every call, so if he's out feeding the reindeer, anyone calling his phone, any time of year, hears from the jolly old elf himself:
"Ho, Ho, Ho, and Merry Christmas. Thank you for calling the North Pole. This is Santa Claus. I'm building a sleigh full of toys at the moment, but if you're on the good list, leave a message telling me what you'd like for Christmas this year. If you're on the bad list, hang up and try harder. Just kidding. Merry Christmas."
He does a pretty good Santa impersonation, although one caller seemed to catch on that she wasn't talking to the real Santa Claus.
"Santa doesn't sound too good. Is Santa sick?"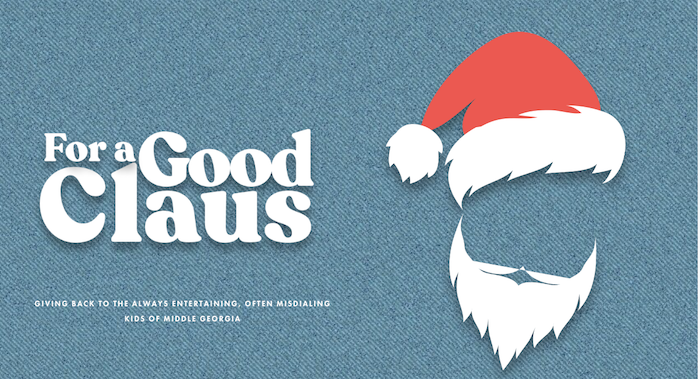 And what messages they leave! Funny ones, the occasional poignant one ("I want my mom to come home for Christmas") and some that are downright strange.
"I want a pie in the face and let me think … and another pie in the face, with whip cream. Can you buy me some whip cream?"
"I've been watching you for years. I know you be spicy. I'm spicier than you, OK? I'm the spiciest man on earth."
Chalkley, who isn't spicy at all, hopes to spread even more Christmas cheer this year by using those misdialed calls and voicemails to help children in central Georgia. He's set up a website, "For a Good Claus," that includes some of his favorite voicemails and a link to support the Merrie Christmas Project, which provides presents, food and Christmas trees to underprivileged children in his hometown of Macon, Ga. It's special to Chalkley because it honors the late Merrie Kaplan, the sister of one of his high school friends.
"Wake's motto, Pro Humanitate, has always stuck with me," said Chalkley, who was an English major and journalism minor. "I wanted to do something to turn these funny voicemails into some goodwill. I thought giving back to the kids in middle Georgia made sense instead of trying to give to the kids who called."
Chalkley's Christmas story has been featured on the "CBS Evening News" and WRAL-TV in Raleigh. For the CBS interview, he had only a few hours to stage his house and dress his boys, Weller, 20 months, and Hughes, 5, in matching green-and-white striped pajamas.
Weller is too young to understand all the fuss. Hughes understands that Dad's pretending to be Santa Claus, but isn't the real Santa Claus. Chalkley's wife, Margaret, will occasionally answer the phone as Mrs. Claus. (Her Mrs. Claus, for some reason, uses a British accent.)
Chalkley has his own Christmas wish that he shares on his website: "Have a listen (to the voicemails) and a laugh. And please, if you are able to spare it, help make Christmas special for the kids around my hometown who have made Christmas very special for me for a long time. #BeMerrie"