---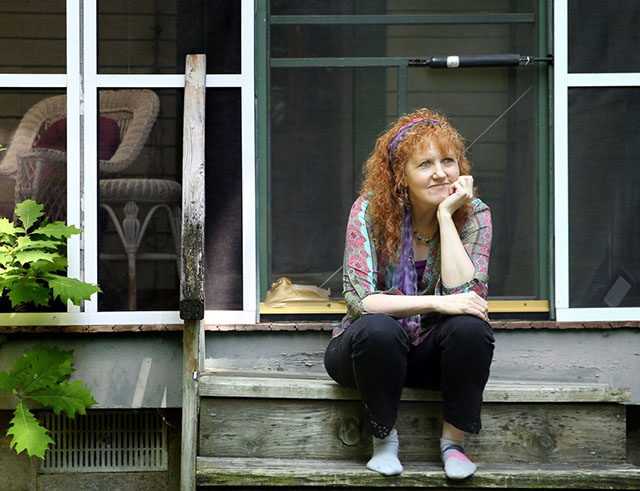 ---
On a rare sabbatical last summer, Jeannette Sorrell ('86) sat barefoot, on her screened back porch, where she likes to listen to the ripple of an outdoor fountain.
She had just come off a busy season in which her baroque orchestra, Cleveland-based Apollo's Fire, won its first Grammy Award. The ensemble completed its fifth European tour, a full subscription series at home and Sorrell did five weeks of guest conducting across the United States.
Apollo's Fire is about the hottest thing going in baroque music. As a period-instrument orchestra, it features 17th century instruments, such as the lute, the harpsichord and strings. With possibly the largest following of any baroque orchestra in the nation, Apollo's Fire has sold out major venues from London to Los Angeles, including its 2018 debut concert at Carnegie Hall. It has won accolades from critics along the way, produced 28 CDs and counting and garnered some 3 million views on YouTube.
Despite its success, Sorrell did not believe she and her ensemble would win a Grammy this past year. She almost didn't make the trip to Los Angeles for the awards event. "It's really unusual for an early music group to win something so mainstream as the Grammys," she says. "It feels as if we've broken through a glass ceiling."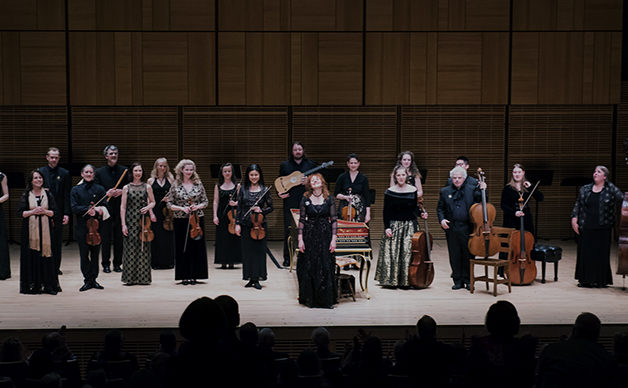 Sorrell, one of Wake Forest's first Reynolds Scholars, studied liberal arts, orchestral conducting and harpsichord. At her home in a historic, tree-lined neighborhood in Cleveland Heights, she recalled what it was like at age 26 in 1992 to create a period-instrument orchestra from scratch — in the shadow of the renowned Cleveland Orchestra no less. She named her group for the Greek god of music, healing and the sun. She had a vision to put her own twist on baroque music, and a $25,000 grant to get it off the ground.
Initially, the foundation she approached wasn't interested in funding her idea, and it rejected her twice. On her third try, the funders came through.
That first year, Sorrell didn't draw a salary, and she subsisted mainly on ramen noodles. Her younger sister, Christine Sorrell Dinkins ('92), drove up after graduating from Wake Forest to be Apollo's unpaid manager and box office staff at the debut concerts.
"The grant was a turning point, but it wasn't enough," Sorrell says. "There aren't enough period players in one city to make an orchestra, so you're flying people in. It's a profession of migrants and wanderers."
She's conversational about her music, politics, veganism and upkeep of her early 20th century home. She smiles easily, occasionally brushing her curly red hair away from her face, and she possesses a gentle, affable manner that belies a tough and demanding nature familiar to those who know her well.
---
Musician and entrepreneur
Facing enormous challenges in the early days of Apollo's Fire forced Sorrell to be creative.
She sees herself not just as artistic director of the group but as an entrepreneur. Her job is and always has been to build a following and keep people coming back.
The ensemble sold out its first concerts in the Cleveland area, which brought more invitations and more ticket sales. It was a promising debut for Sorrell. A year earlier, in 1991, she had been invited to interview for assistant conductor of the Cleveland Orchestra. In a meeting with then-music director Christoph von Dohnányi, she says, he told her Cleveland audiences would never accept a woman conductor.
The rejection turned out to be a blessing. Leading a symphony orchestra wasn't her dream anyway.
Sister Christine, now the Kenan Professor of Philosophy at Wofford College in South Carolina, says the experience pushed Sorrell to follow her true calling.
Sorrell knew when she entered Wake Forest in the early 1980s she wanted to conduct a baroque chamber orchestra. She had gotten her first taste of conducting in high school with a church vocal and instrumental ensemble. She was tenacious but something of an oddball; there were few women in the male-dominated conducting world. She had no role models.
At Wake Forest, she excelled as a conducting student under professor George Trautwein (P '89). He had high expectations, and he nudged Sorrell to audition for the summer conducting program at the prestigious Aspen Musical Festival and School.
She was chosen at age 19, becoming the youngest person of her class to wave a baton at Aspen.
"The others didn't take me very seriously," she says. "I knew I wanted to specialize in early music. There I was in a mainstream conducting program, where everyone else wanted to conduct Brahms and Shostakovich. I was the weird one in class, but it was great."
''When I see her perform ... what jumps out is her energy, commitment and sheer joy of music-making."
---
Since high school, Sorrell loved the music of Handel and Bach and sounds of period instruments — the chirp of the woodwinds, the mellowness of the brass, the purity of notes produced on gut strings. She was drawn to the centuries-old baroque tradition of expressive performance called affekt, the idea that the role of the musicians is to move the emotional moods of the listener. That fit Sorrell. She grew up in ballet and theatre, and also with strong progressive values. She had a lot to say — and expressing herself through music and movement came naturally.
She often conducts standing behind a harpsichord. Her performances are at once fiery and graceful. She uses her entire body, with sweeping arms and animated expressions to build tension, suspense and relief.
"She's a physical, active performer," says Wake Forest Music Professor David Levy, who taught Sorrell. "When I see her perform and see her videos, what jumps out is her energy, commitment and sheer joy of music-making. And it's not just her but also the people around her. It's the visceral, visual aspect of Apollo's Fire."
---
Her path to Tanglewood
As a child growing up in Denver, Sorrell buried herself in books and music. She played violin and, in third grade, wanted to take piano lessons offered at school. But her parents couldn't afford a piano. They had just finished graduate school, embarking on their careers as college professors.
"I lied and said we had a piano," she says. "I made a little paper keyboard and practiced on the paper every day. Once a week, I went to a friend's house with a piano. I loved to practice, and she hated to practice. So, we'd go into the piano room and close the door. Her parents thought she was practicing, but I was practicing."
Soon after, Sorrell's parents bought for her a used upright for $125.
At Wake Forest, two things happened that would turn out to be life changing. Sorrell switched from piano to harpsichord. She mastered fingering techniques that allowed her to be expressive on the instrument, which predates the piano and lacks the sound dynamics of a piano. The strings of a harpsichord are plucked rather than hammered. The sound can be percussive and requires considerable skill to sound expressive. Moving up and down the scales of upper and lower keyboards, Sorrell learned to shade and connect notes in a way to convey mood and feeling.
Sorrell as an undergrad also started a small chamber orchestra of students at the University of North Carolina School of the Arts. The group performed at Wake Forest, under a small grant from the North Carolina Arts Council.
"The grant enabled me to pay each musician $10 a rehearsal," she says. "I learned how to lead a baroque orchestra from the harpsichord. It was a pilot project for what later was reborn as Apollo's Fire."
After graduating from Wake Forest, Sorrell became one of the youngest students in the conducting program at the Tanglewood Festival in Massachusetts, the other preeminent summer program in addition to Aspen. The only woman in her group, she studied under conductors Leonard Bernstein and Roger Norrington.
She received a scholarship to the Oberlin Conservatory of Music in Ohio and graduated from the Artist Diploma program. From there, she moved to Amsterdam to study the harpsichord under the late Gustav Leonhardt, an acclaimed harpsichordist and organist who pioneered a revival of baroque music in the last half of the 20th century.
Leonhardt was a scholar of "historically informed performance." That means performing 17th and 18th century music as it was originally conceived, or as close to it as one can know based on historical manuscripts.
Leonhardt had a big influence on Sorrell. His embrace of the art of rhetoric, adopted by early baroque composers from ancient Greek and Roman orators, shaped her approach to music.
"The great orators could manipulate moods and emotions by the rise and fall of the voice and by the use of timing, the way Martin Luther King did in recent times," she says. "That's the way baroque music was meant to work as well, but that art was lost during the 19th century and most of the 20th."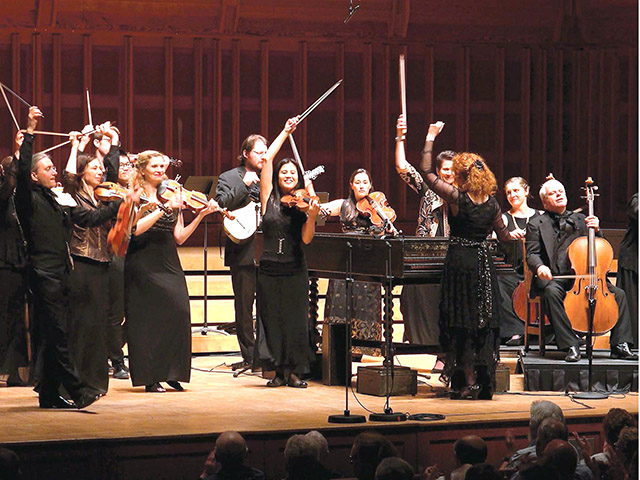 A knack for experimentation
Communicating with the audience is essential for Sorrell, through the music and also by talking to audiences in her relaxed, gracious manner about the music. Critics and fans laud her creativity, and not only with regard to her baroque music programs. She has a knack for experimentation and designs programs featuring different genres such as ethnic folk music from around the world.
"She'd bring in anything but the washboard — and she might bring in the washboard, too," says Jeffrey Strauss, her partner of eight years. A Chicago lawyer and baritone soloist, Strauss occasionally performs with the group.
In a New York performance of Bach's "St. John Passion," in which Strauss had the role of Pilate, Sorrell devised a "dramatic presentation," according to a New York Times review. The reviewer praised Sorrell for having the characters "confront one another face to face on the stage, sometimes coming close to blows."
In a program called "O Jerusalem! — Crossroads of Three Faiths," Sorrell brings together music and poetry from the Jewish, Christian, Arab and Armenian quarters of the Old City.
Politics and human rights are never far from Sorrell's mind at home or on stage. She introduces a program called "Sugarloaf Mountain: An Appalachian Gathering," as an immigrant story, describing the roots of Appalachian folk music that came across the Atlantic with immigrants from the British Isles. She says in the program introduction:
"The resilient spirit of these settlers shines through their stories and rings through their music, reminding us that immigration is a beautiful part of our shared history in America."
She said she's careful to not be overtly political during concerts, but the introduction is usually well received. Like many artists, "It's impossible for her vision and feelings not to inform her programming," says her partner, Strauss. "The music and the way Jeannette performs it — she is communicating with the audience in a way symphonic music doesn't."
"Some of us try to challenge listeners to perhaps think about things in a different way," Sorrell says. "I wouldn't call that political. It's more about a humanitarian view of the world."
At her home, a slightly weathered Bernie Sanders sign still stands in the ivy-covered front yard. She was a Sanders volunteer in 2016 and worked the phone bank. During her 2019 summer sabbatical, Sorrell was occupied with immigrant detention roiling the national politics. She's a member of Freedom for Immigrants, a nonprofit that monitors immigrants detained throughout the United States. Sorrell was trying to organize a visit to a local jail where at least 60 immigrants were being held.
Asked to show off her 18th-century reproduction French harpsichord in the living room, she sat down and played a portion of the solo from Brandenburg Concerto No. 5. In the piece, Bach featured the harpsichord in big way, with an extended solo and then in the third movement, playing scales under the other players. It's a difficult piece for the most advanced harpsichordists. Strauss remembers when Sorrell took it on at Apollo's Fire's debut concert at Tanglewood in 2015. He was nervous. She wasn't.
She never did choose the easy way.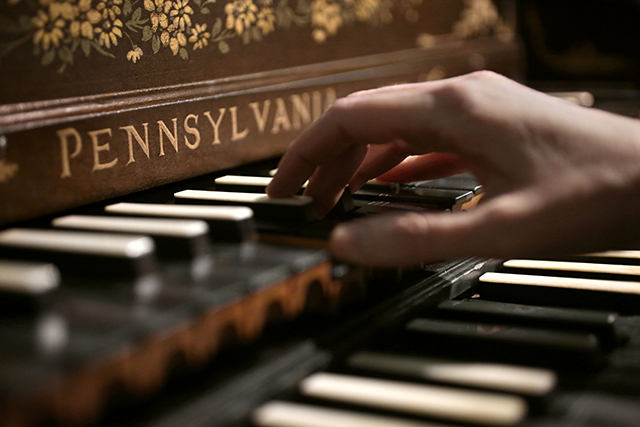 Photo by Lisa DeJong
---
---
Harlan Spector is a Northeast Ohio writer and communications strategist. Previously, he was a staff writer and editor for The Cleveland Plain Dealer.
For more on Apollo's Fire, go to apollosfire.org.