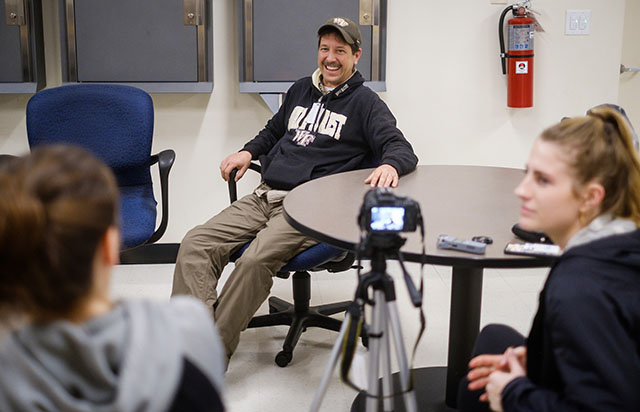 Xuan "Cathy" Lu was "super nervous" about venturing into the grungy mechanical world where electrician and maintenance man Rob Hager works every day.
Lu, a junior majoring in accountancy and mathematical statistics, and two classmates tagged along a few hours each week with Hager in a project to shadow Facilities & Campus Services workers. Students in classes by David Phillips, associate professor of interdisciplinary humanities, and Ivan Weiss, assistant professor of the practice in journalism, documented the experience in video, photos and essays.
Lu says she never imagined making building repairs, and she assumed "that the facilities staff don't like the students, and students can't get along with facilities people."
Not so, she found. She and juniors Sophia Tompkins and Kaley Vontz discovered mutual respect with Hager, whom Vontz called "super charismatic."
"I'm a chatty Cathy. I can talk to anybody," says Hager, a self-described hillbilly from West Virginia who has worked at Wake Forest for 10 years. "I like the parents I meet mad (about a problem he can fix during move-in) and five minutes later we're buddies. I wouldn't trade it."
Lu says in her class reflections video that she was grateful to get out of her comfort zone as a student from China who mostly interacts with faculty and students. She appreciated Hager's philosophy of supporting students who could accomplish great things one day.
"We help each other get along where we're going in life," Hager says. "You may become president. One of these people may cure cancer. … When you graduate, that's an accomplishment for me and for us."
Not that the job is easy. Hager and his 13 colleagues on his residential maintenance team cover more than a million square feet of space. "Lots of things can go wrong. We spin a lot of plates."
He enjoys reassuring parents that their children will have what they need to stay safe and comfortable — from lights to hot water to smoke alarms. While interactions are his favorite part of the job, he says, "the non-interaction, I think, is the most beautiful part of it. Our motto is 'This is Disney World' … because we come in and do a lot of things while you're at class, we'll get out of your room, and you're good."
Tompkins, a psychology major with minors in Spanish and entrepreneurship, says Hager's excitement about the work made it easy to want to jump in and learn how to switch filters and clean gauges. "It was really greasy, and we got super messy, but he saw that all three of us were willing to put in the energy, the time and effort to try to do it and get it right."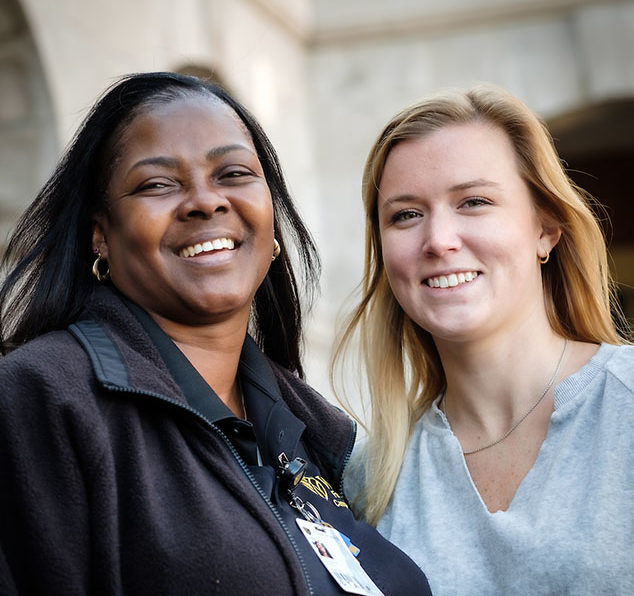 ---
Cynthia Wilson, a custodial team leader, says having senior Elizabeth Bunn shadow her and others showed Bunn how much they do. "We do care about them, and we want them to help us keep it clean. If we work together, we can do it. …
"I had a good group in Palmer and Piccolo dorms. I call them my babies. A couple came and gave me a big hug, told me I made their babies feel good away from their moms."
Bunn, a German and communication major with a minor in journalism, discovered that she and Wilson attended the same high school in Raleigh. Bunn saw how hard the custodians work. "You know they're there, and you wake up every morning and your bathroom is clean, but you don't realize how much goes into it day by day, … and that's one thing you don't have to focus on.
"They're here for the students, and all they really want is to be recognized, not in the sense of, 'Oh, my goodness, you're so amazing,' just a hello on campus," Bunn says.
Weiss and Phillips created the classes at the request of IPLACe, the campus interdisciplinary arts group that sponsored the October outdoor performance by facilities workers directed by Allison Orr ('93). Orr shadowed employees to prepare her choreography, and students who helped with the production also shadowed workers.
Weiss says students connected with workers in strong ways. "It's a huge theme going through our whole society now of who do we really see? How do we relate to each other? What are the boundaries of that relationship?"
Phillips says, "I really enjoyed seeing (a shift) in the class members because suddenly they were not just looking at the world around them in new ways, but they were looking at themselves in new ways," Phillips says. "And for me, that's the most important part of something that's transformative — if your understanding of who you are personally in the world can evolve in constructive ways."
Phillips says students' perspectives changed. "They will never look at another service worker again in the same way. They will see a person; they will not see a title or some sort of service identity. They'll attempt to look beyond that."