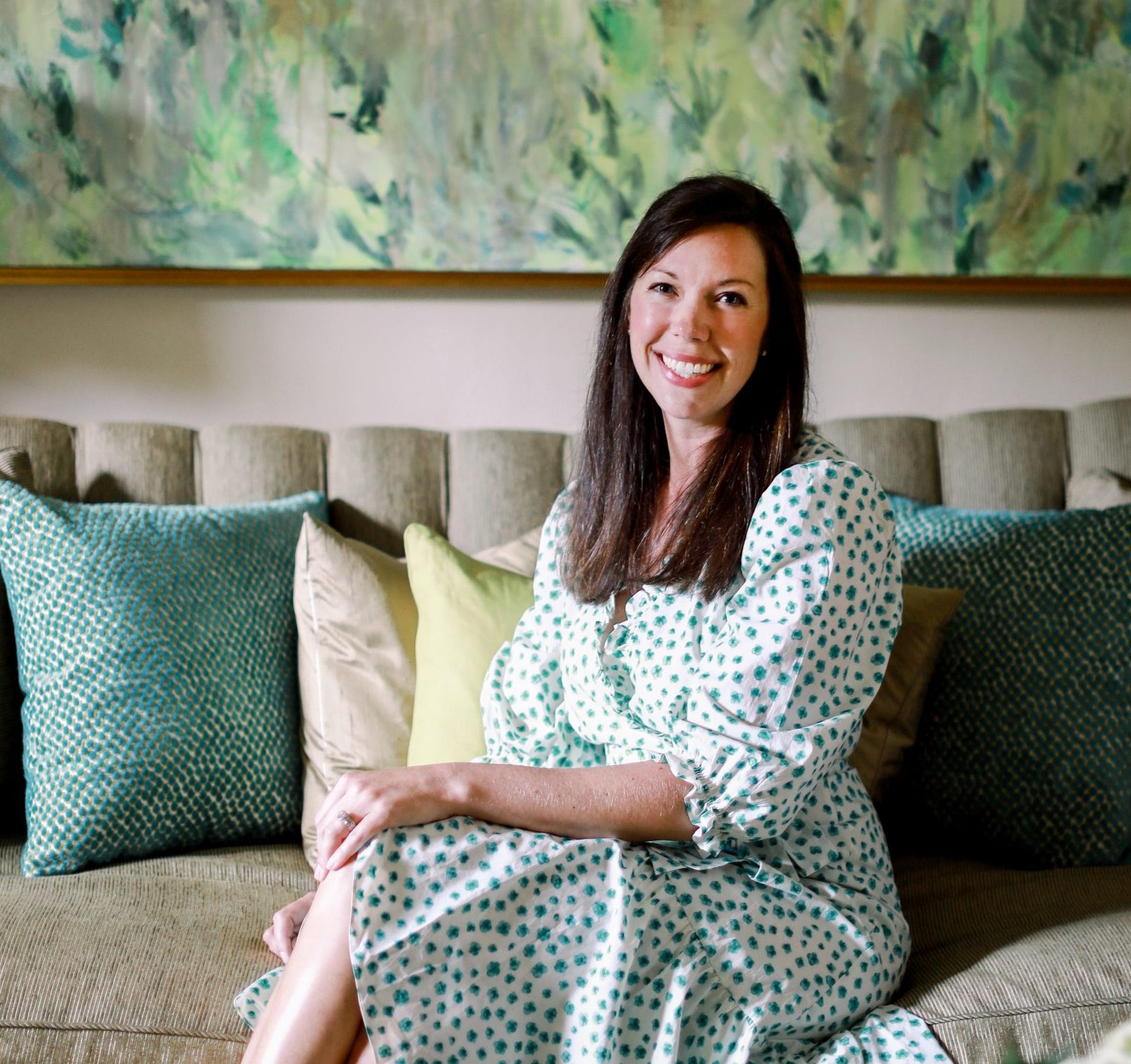 In April, during the early weeks of the COVID-19 pandemic in the United States, Anna Hustrulid Jarrell ('05) reached out to an old friend: Melanie Barbee (MBA '87, P '19), the owner of Rolly's Baby Boutique, a small business in Winston-Salem that's been around for 36 years. 
Jarrell is a regular customer (she has shopped there for her son, Will, now 6), and Barbee has helped boost Jarrell's career as a local custom artist who specializes in painting portraits. Over the last few years, Jarrell has done pop-up sessions in the store to create portraits of children, and Barbee has displayed and sold Jarrell's work. 
The public health crisis forced Rolly's to close for about eight weeks. "I knew that places like that must have been taking a huge hit. It was a very isolating time, and I wanted to check in on people," says Jarrell. 
"Those were some of the darkest days, and she came over and cheered me up and listened. She's that kind of person, you know?" says Barbee. 
Then Jarrell hit her with a request that humbled her: "May I paint you?"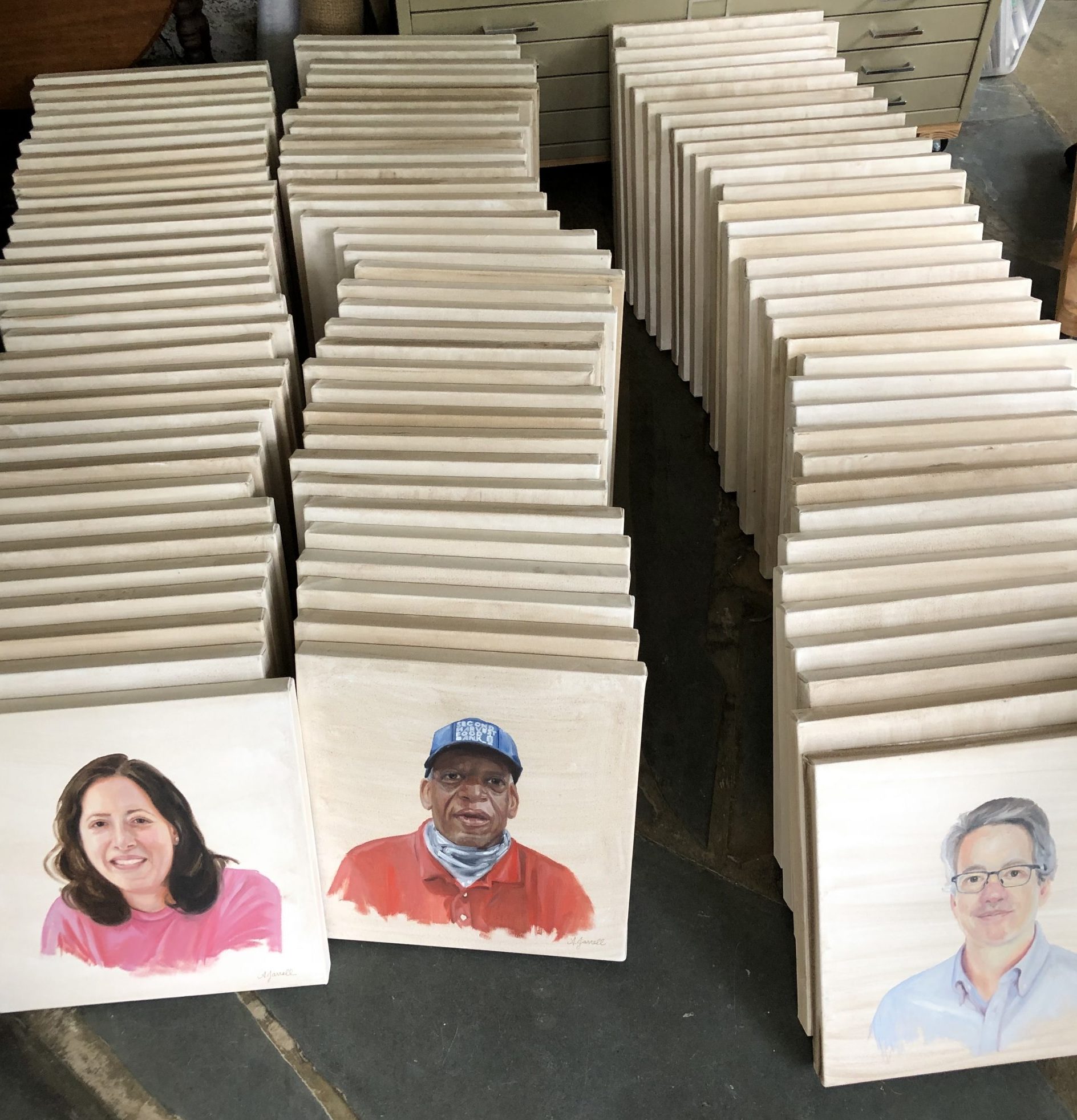 100 Faces of Winston-Salem
Barbee's oil portrait — based off a photo that Jarrell took — is one of 100 that Jarrell completed in just 100 days between April 24 and July 31 as part of "The 100 Faces of Winston-Salem Project," an ambitious, philanthropic undertaking that Jarrell dreamed up. "It's a time capsule of our city at this moment," says Jarrell. 
The portraits feature subjects who live or work in Winston-Salem. She also interviewed them about how the pandemic has affected their lives. For many of the portraits, Jarrell chose people she knew. For 32 of them, she asked the community to sponsor subjects for a minimum $400 donation toward Wake Forest Baptist Health's COVID-19 response. The money goes to areas of greatest need, such as equipment and supplies to protect patients and health care employees, resources for patients to address care-related expenses, benefits for health care providers on the front lines and funding for research in vaccines and population health. So far, the project has raised more than $13,000.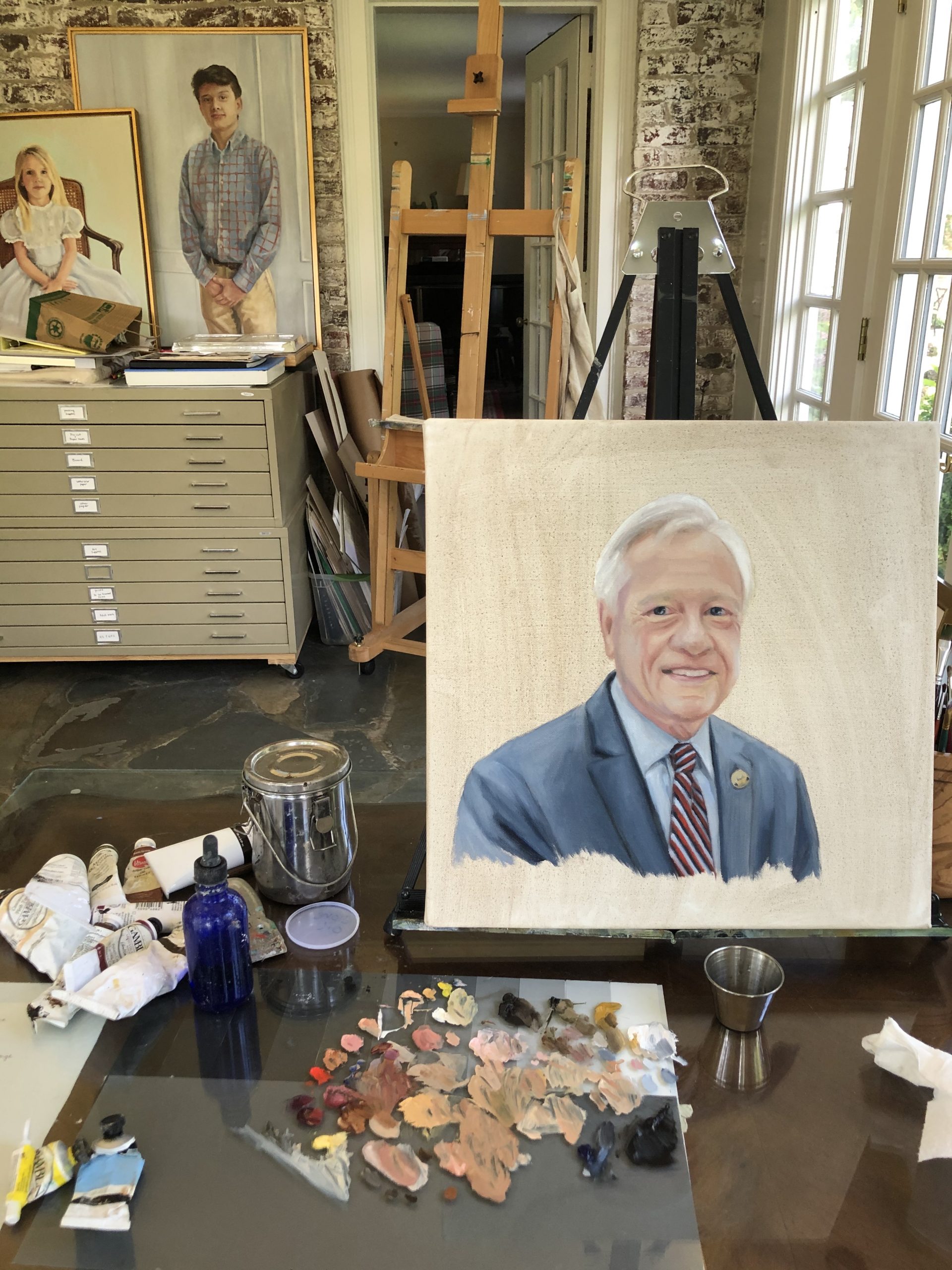 And it may raise even more. The Southeastern Center for Contemporary Art in Winston-Salem plans to display all 100 portraits for six weeks at a to-be-announced date, whenever North Carolina moves into Phase 3 of its reopening plan. Jarrell's goal is to find one buyer for the entire collection. A photo of each portrait — along with a short, moving biography about each person — can be found on Jarrell's Instagram account, @ajarrellart. 
Beyond Barbee, others Jarrell painted include: Mayor Allen Joines (LL.D. '09); Angela Pringle Hairston (P '19), superintendent of Winston-Salem/Forsyth County Schools; Dr. Christopher Ohl, professor of infectious diseases at Wake Forest School of Medicine; Tammy Pollock, director of youth ministries for Centenary United Methodist Church and wife of Eddie Pollock Jr. (MD '83, Ph.D. '91); state Rep. Evelyn Terry; Larry Crosby, who has worked at The Loop restaurant for 12 years; Amber Nikolay, a commercial loan assistant at American National Bank & Trust Company; Randy Eaddy, president and CEO of The Arts Council of Winston-Salem & Forsyth County; 4-year-old Pearl Monroe Tucker, who is fighting leukemia; and even a self-portrait.
Each portrait is done in what's known as an "alla prima" style (think: a speed portrait). Rather than painting a layer, letting it dry for a few days, and then painting another layer, Jarrell creates each portrait in just three hours. The project has helped Jarrell improve her skills as an artist, as well as her stamina in the studio. "Doing anything in 100 days is a way to get better — like doing a 100-day pushup challenge," says Jarrell.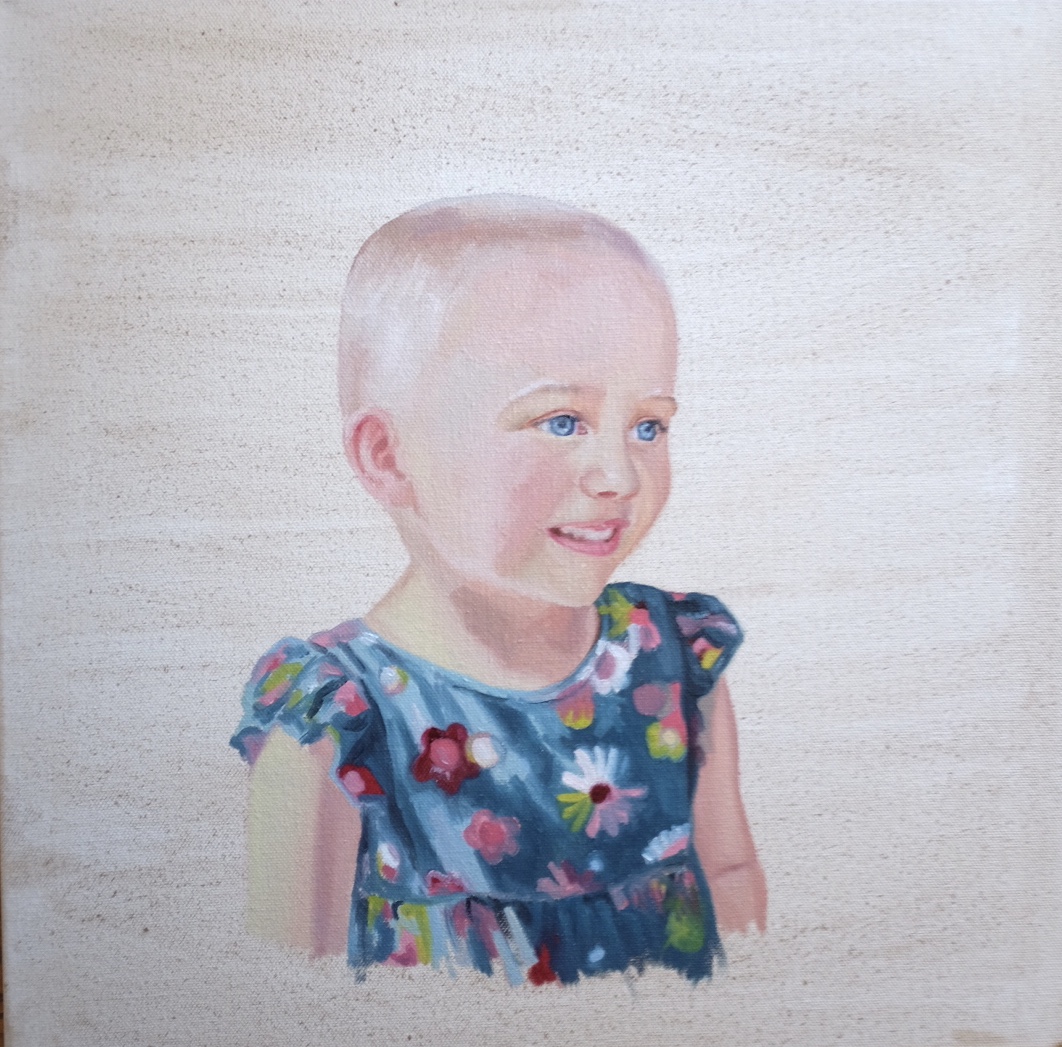 Learning the Fundamentals
Jarrell, originally from High Point, North Carolina, wasn't always sure she'd be a professional artist, but her passion for making art grew during her time at Wake Forest. 
Jarrell double majored in psychology and studio art with a concentration in drawing, and Wake Forest was the first place she had the chance to work with oil paint. Many high schools aren't able to offer classes on it because oil paints can be expensive and require good ventilation, space and time to dry and fire safety training.
One faculty member who remembers her well is Page Laughlin, Harold W. Tribble Professor, Painting.
"She always had a lot of facility, a lot of technical skill. She was always a very hard worker and very determined, qualities that I very much respect. The biggest challenge for any artist is: what to do with that skill, how to apply it," says Laughlin. 
"Sometimes it was fun to debate with her in the classroom, to really have her think about how imagery communicates — how painting is a language, not just a technique. She was open to that, determined to both embrace it and get to a deeper understanding of it. It's always fun to teach students like that because they challenge you as a professor, and you get to watch them grow." Laughlin was so impressed by how self-possessed Jarrell was that she hired her as a babysitter.
 Jarrell's main extracurricular activity was being part of the Kappa Delta sorority. She served as secretary during her junior year and was often responsible for its artistic and eye-catching promotional banners in the Pit. 
During her senior year, Jarrell received a thrilling honor: Wake Forest bought one of her pieces for its permanent collection. Her oil painting of silver cups on a reflective surface hangs in the president's boardroom. "It was my first sale!" says Jarrell. "It's a neat way for Wake Forest to support students."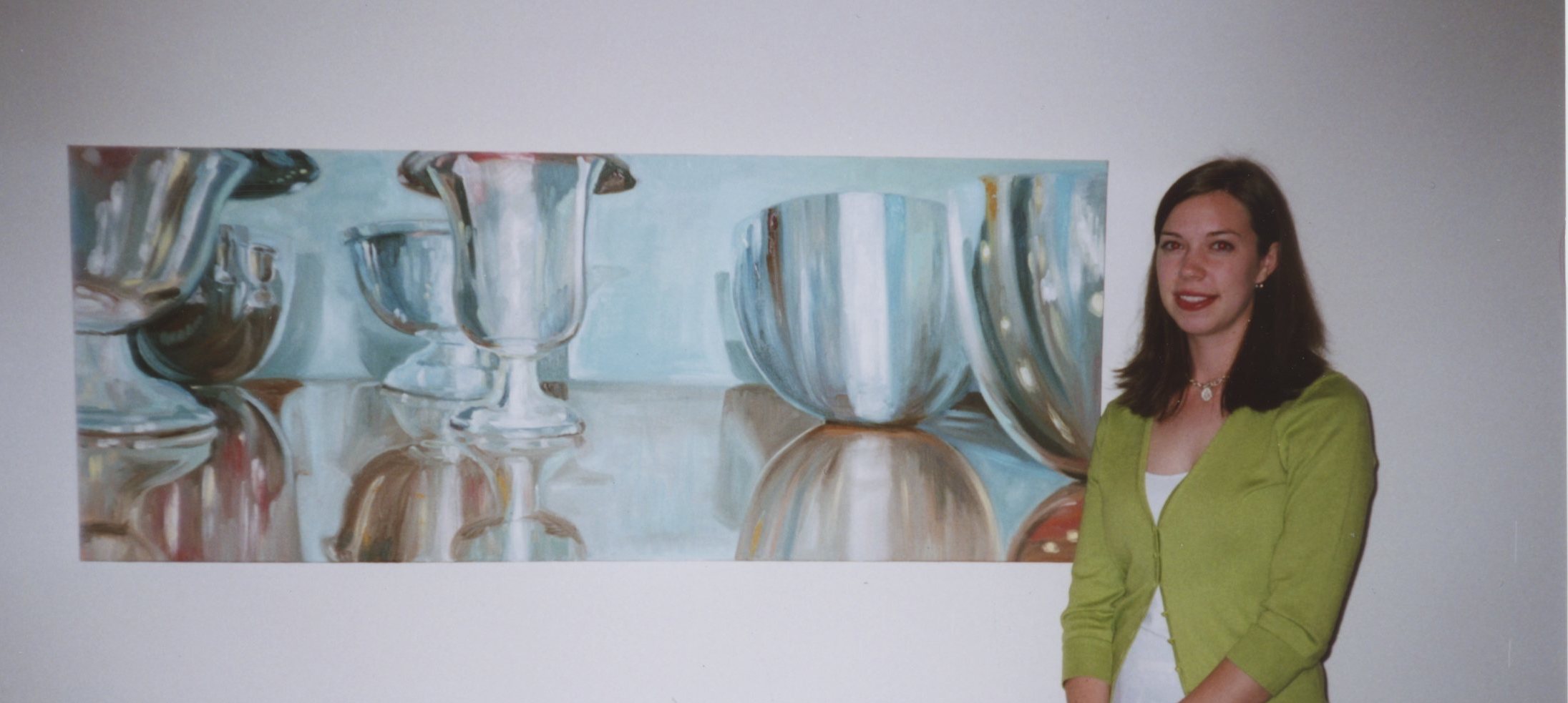 Growing Into an Artist
After graduating, Jarrell married her high-school sweetheart and fellow Deac — Jesse Jarrell ('04). She taught art for a few years at Forsyth Country Day School while tutoring and coaching cross-country after school. Jesse's wedding gift to her was one of Laughlin's paintings, which hangs in their home. 
When the financial crisis hit in 2008, they both bought the assets of a reclaimed wood business in Wilmington, North Carolina, that had gone under and turned it into a green business. Jarrell quickly learned how to handle sales and accounting. 
In 2010, they sold that business and returned to Winston-Salem. Jarrell focused on ACT and SAT tutoring while struggling to get pregnant. "I was living at the doctor's office, basically. It was the sort of thing where they'd say, 'We need you here today for blood work, tomorrow for a procedure, and you'll want to stay off your feet for a few days.' It was tough to juggle the schedule, as well as the ups and downs," says Jarrell. 
Will was born in 2014, and by 2016, Jarrell was able to return to her first love: painting. "I didn't know what to get my parents for Christmas that year, so I painted a watercolor of their first house and posted a picture of it on Instagram," says Jarrell. "And everybody went crazy for it. All my friends were saying, 'You need to paint mine, please!'" 
Today, Jarrell has her own thriving business, A. Jarrell Custom Art, creating mostly portraits in a variety of mediums (watercolor, pastel, acrylic, oil), as well as some abstract art and murals for clients. "It's a Southern tradition to have a portrait of your child in your formal living room or dining room," says Jarrell, so those types of requests make up a bulk of her sales.
"The support of friends has been a huge factor, and I don't think my job would have become what it is if it hadn't been for the invention of social media," says Jarrell.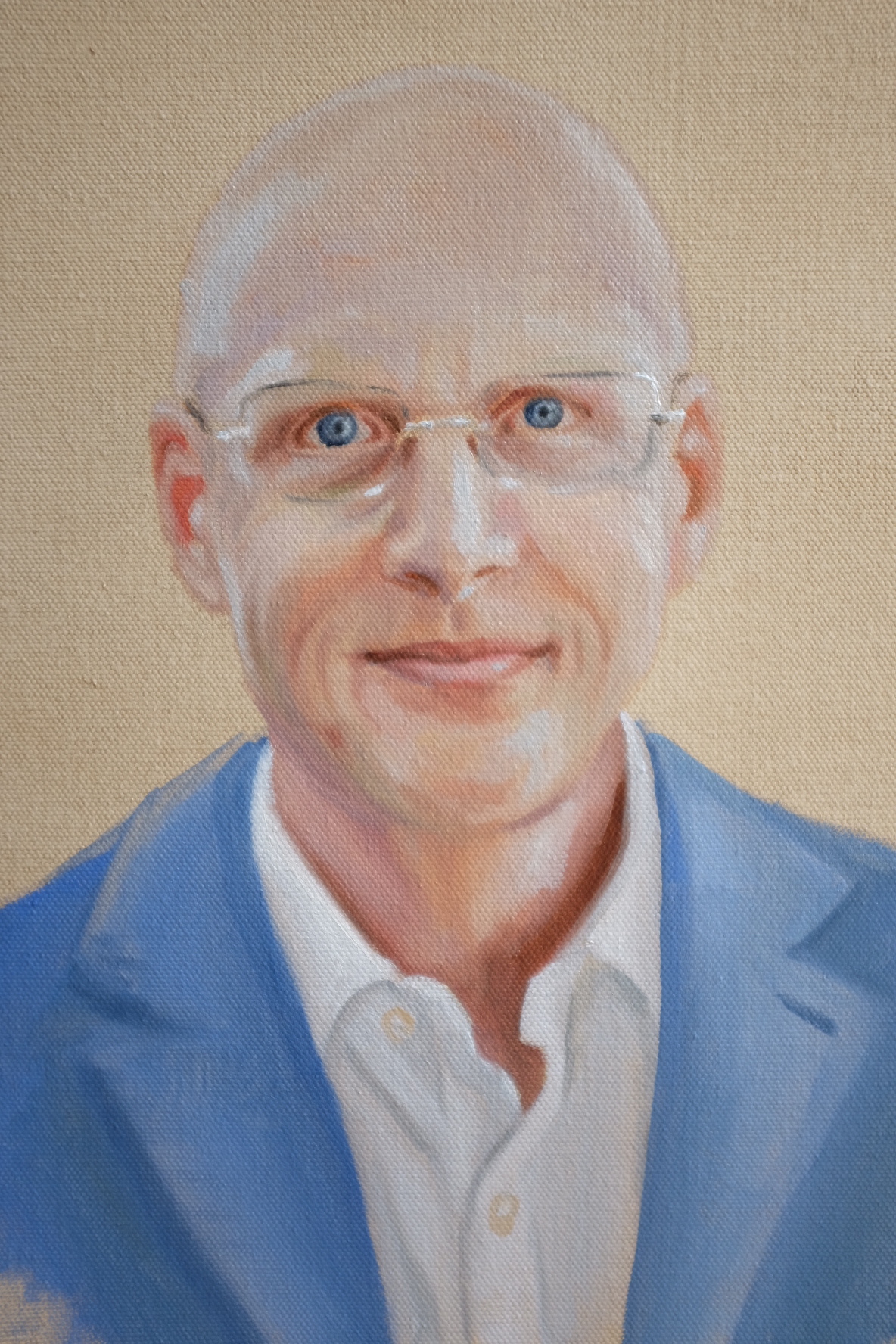 Supporting the Community 
Where "The 100 Faces of Winston-Salem Project" takes Jarrell's career next will be fun to watch. Challenging herself in that way has been a meaningful experience. "It gives me more of an appreciation for everybody and just the humanity of all of us and what we're going through during this time — how we need to be a little bit easier on ourselves and compassionate with each other," she says. 
One thing is clear: The project is helping keep others afloat. Rolly's is open and "crawling back," says Barbee, who adds: "We don't know if we're going to be here another 36 years. We don't know where we're going to be by Christmas, but because of loyal people, including Anna, we're probably going to make it." 
Jane Bianchi ('05) is a freelance writer based in Tampa, Florida, and the editor of the UT Journal alumni magazine at The University of Tampa.