Wake Forest's Crisis Response Fund has distributed nearly $695,000 to help students, employees and contract workers navigate through COVID-related financial hardships.
"We've heard a number of stories that really pluck the heartstrings," said Tom Benza (MA '12), director of student financial aid. "Students and their families are in difficult situations, and I'm grateful to all the donors who have supported the Crisis Response Fund to help meet our students' additional financial needs due to COVID."
Donations to the Crisis Response Fund are being distributed to the Student Financial Aid office to help students and to the Chaplain's Emergency Fund to assist employees and contract staff.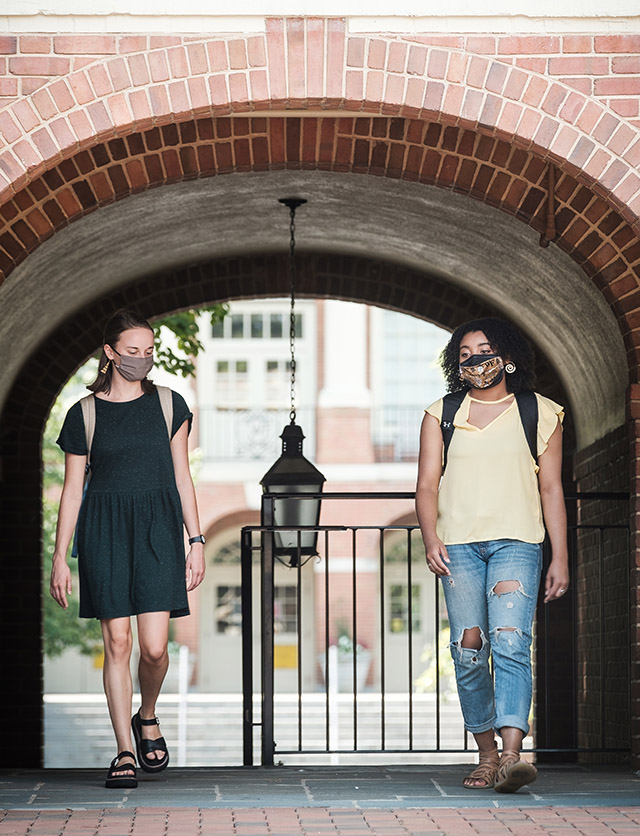 The financial aid office distributed more than $150,000 in emergency aid to 127 undergraduate, graduate and professional students immediately after campus shut down in mid-March, Benza said. As the fall semester began, the office had awarded about $1 million (including $431,000 from the Crisis Response Fund) in additional need-based scholarship support to meet the additional demonstrated financial needs of students impacted by COVID-19.
The Chaplain's Emergency Fund has given about $114,000 to 120 faculty, staff and contract workers. Those funds helped pay for basic necessities, including food and housing, for workers who lost their jobs or had reduced hours, said Peggy Beckman (P '12), office manager for the chaplain's office.
"The Chaplain's Emergency Fund is a lifeline to those that have nowhere else to turn," she said.
The Crisis Response Fund was established in late March with a gift of $100,000 from President Nathan O. Hatch and his wife, Julie. In addition to hundreds of gifts from alumni, parents and students, the fund received $271,000 in unspent funds for student organizations from Student Government and $25,000 for the canceled staff picnic from the Staff Advisory Committee.
The University Advancement office has coordinated the fundraising for the Crisis Response Fund, which includes a website, Answering the Call of Pro Humanitate. Tim Snyder ('88), associate vice president for alumni and donor services, said the generous response from alumni and parents has been inspiring.
"As campus was closing (in March) we saw members of the Wake Forest community looking for ways to help one another. They were anticipating people needing help," Snyder said. "The Crisis Response Fund is a way that donors can make contributions, receive a tax deduction and have their gifts provide for needs of any member of the campus community."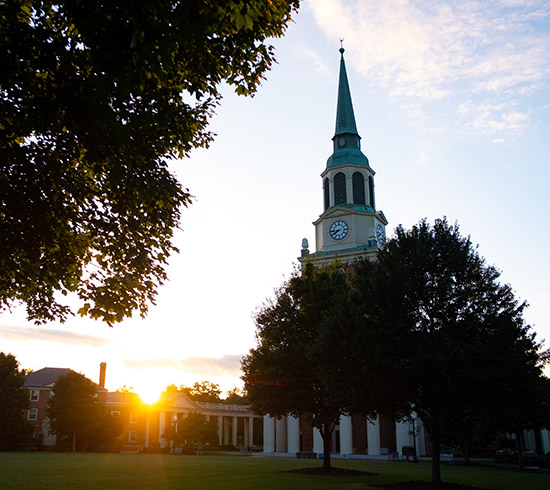 ---
When campus closed suddenly, students, employees and contract workers were faced with unexpected, immediate expenses. Some students needed help paying for plane tickets to get back home, Benza said. Some students who couldn't return home needed financial assistance for housing. Students who lost on- and off-campus jobs that they depended on to pay for housing and food needed immediate help, too, he said.
As the COVID-19 crisis and unemployment continued to spread through the spring and summer, the focus shifted to helping students who needed financial aid because their financial situations had changed, Benza said.
"The number of financial aid applicants requesting additional need-based support due to extenuating financial circumstances increased, and we've received requests from a number of families who never applied for financial aid, but now are unable to make that full tuition payment or secure a loan because of losing a job or a small-business closing," he said.
"The Chaplain's Emergency Fund is a lifeline to those that have nowhere else to turn."
Beckman said many contract workers, including Aramark workers who lost their jobs when campus dining halls closed, needed immediate help in the spring to pay for food, rent, medications, utilities and car payments as they waited for unemployment benefits to begin.
"For those workers that live paycheck to paycheck, a small car repair, kids now eating all their meals at home, higher electric bills, etc., can throw anyone into falling behind on rent and not having enough food in the house, and the list goes on," she said.
Even as campus employees have returned to work for the fall semester, some are still facing difficult circumstances because their spouses remain out of work, Beckman said. And with most local school systems using virtual learning this fall, some employees need help with unexpected child-care expenses, she said.
"Each day a new request — many days multiple requests — come in," Beckman said. "Each person is at a place they never wanted to be. They have come to the end of their resources, and now they need help. I'm thankful that our office extends that hand and walks them through their problems and is able to pay the rent, give them money for groceries and help them when they have nowhere else to turn."
---
For more information on the Crisis Response Fund, visit bit.ly/3kGTeh0