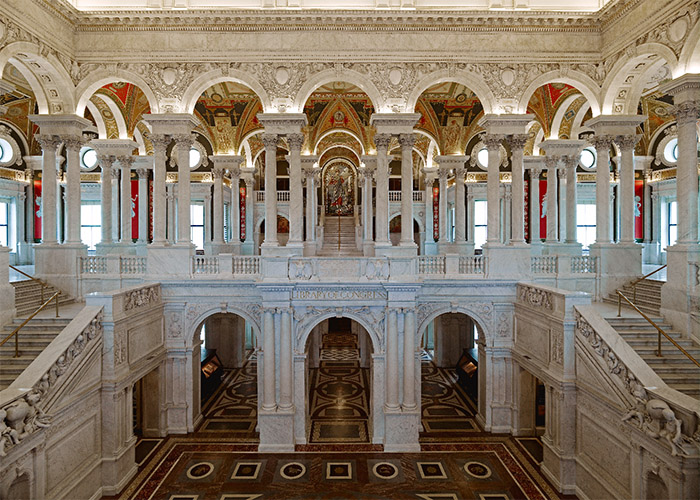 ---
As chief of staff for the Librarian of Congress, Ryan Ramsey ('03) has full access to the many wonders of the world's largest library that are not on display to the public.
Ramsey graciously gave a pre-coronavirus private tour of the Library of Congress in Washington, D.C., to Wake Forest Magazine. He offered his insights into some of his favorite "secret treasures" among the Library's 171 million items (though some of his favorites are viewable online or can be reviewed in a reading room upon request).
---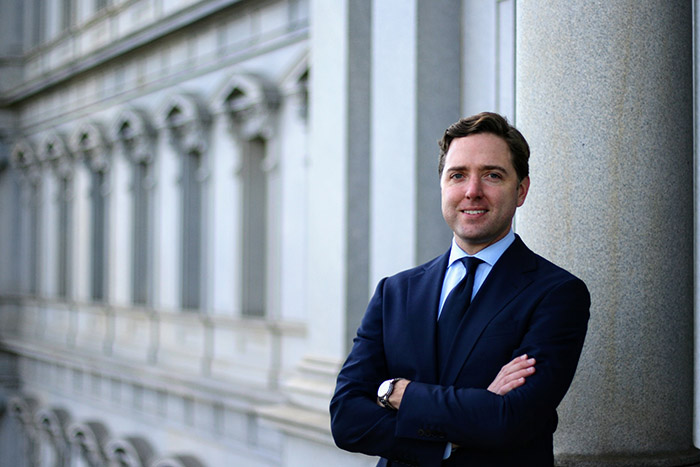 ---
At Wake Forest, Ramsey served in student government — Speaker of the House and president — to push himself past his introverted personality, and he discovered he wanted a career in government. He had favored math and science in high school, but he fell in love with history and double-majored in history and political science. He reveled in the diversity of the liberal arts catalog, wishing he could take 20 courses every semester.
This has made him perfectly suited as chief of staff at the Library of Congress, "although I never would have drawn a straight line from there to here," he says. He worked first in Iowa on the presidential campaign of John Edwards of North Carolina, then in other political jobs, including with U.S. Senate Majority Leader Harry Reid. (Deacon classmates connected Ramsey to several jobs, and he is paying it forward by advising students at Wake Washington Center.)
He moved to the White House Presidential Personnel Office for Barack Obama. As the congressional liaison, he was the first stop for members of Congress who wanted to recommend an appointee. He moved to the Department of Homeland Security, enjoying the variety — border security, cybersecurity, immigration, the Secret Service, the Coast Guard, crisis communications and dealing with Congress and stakeholders.
The White House invited him back for what he calls "a dream job" driving the legislative process for 200 nominees, including ambassadors and Cabinet secretaries requiring Senate confirmation. That's how he met Carla Hayden (L.H.D. '19), named Librarian of Congress in 2016. Because she was the Library's first nomination in 28 years, Ramsey spent a great deal of time working with staffers, who were unfamiliar with the process and a bit daunted given the Library's status as a "fiercely nonpartisan entity," Ramsey says. He got to know Hayden well. She is a respected professor and the first professional librarian in the position in more than 60 years, having led the Chicago and Baltimore public library systems. Later, she recruited Ramsey to bring his political skills to her ambitious agenda.
Like many people, Ramsey imagined the Library full of "dusty manuscripts and rare books," but he found a never-ending supply of fascinating items, from photography to film to the world's largest collections of comic books and baseball cards. The Library also offered a bit more freedom than the pressure-filled White House, giving him more time with his wife, Deirdre, and their children, now 4 and 7 years old.
And his favorite place at Wake Forest happened to be Z. Smith Reynolds Library, where he became a voracious reader for the first time. "I was in two reading-heavy majors, and I found myself reading all that, plus the same amount outside of class … that I would serendipitously find at ZSR that were really on obscure, random topics," he says.
Like many people, Ramsey imagined the Library full of "dusty manuscripts and rare books," but he found a never-ending supply of fascinating items.
He joined Hayden's office in 2017. Besides enjoying the Library's variety, architectural beauty and historical richness, Ramsey fully supports Hayden's goals, including a capital campaign to make the Library more accessible and increase its use, such as for researching genealogy. "We've got 2 million visitors a year, but we would like more of those visitors to be inspired by what they see here and to want to use the collection," Ramsey says.
Hayden wants to create a "treasure gallery" to better display such gems as an original illustrated Gutenberg Bible, one of a handful on vellum, and a draft of the Declaration of Independence in Thomas Jefferson's handwriting with edits by "BF" (Benjamin Franklin) and "JA" (John Adams), with changes such as "subjects" replaced with "citizens."
A project called "By the People" enlists the public to transcribe hard-to-read cursive writing to make documents more searchable online. Other goals are digitizing more material and creating an interactive gallery where visitors, especially students, can touch objects or learn how to do bookbinding.
Ramsey is proud of the Library's off-the-record dinners for members of Congress and their spouses to hear prominent historians and socialize with people they don't normally interact with. "It's been nice to see people who have been battling all day set it aside for the evening, and they're not doing it for perception. There are no cameras around," he says. "That is one of the most meaningful parts of this job."
---
* * * * * * * * *
Ramsey's Favorite Objects
---
The Main Reading Room Oculus
---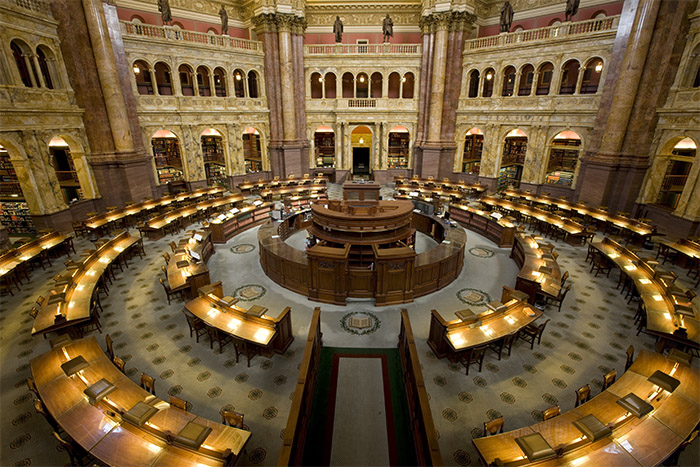 In the Main Reading Room, one of 18 such research rooms, anyone older than 16 with a reading room card can sit to review items from a Library collection. Visible from the middle is a beautiful mural by Edwin Blashfield in the dome of the rotunda (pictured at right). 

"It's called 'Human Understanding,'" Ramsey says. "(A female figure is) lifting the veil of ignorance from her face. And it's meaningful that you can only see that mural when you're on the Reading Room floor doing research. The public viewing is up behind those windows, and you can't see it from there."
The Library wants to open up the middle area, leaving a historical circular wooden reception desk constructed in the original building. The middle space would be opened to a lower-level floor that would become an orientation room where visitors could see the dome. The lower level currently is a work area reachable from the Reading Room only through a "secret" doorway and staircase.
"We want … to democratize access by putting (President Thomas) Jefferson's library underneath and allow people to feel that inspiration and learning from there," Ramsey says.
Jefferson sold his 6,487-book library, the nation's largest at the time, to Congress after British soldiers in the War of 1812 burned the library established in the Capitol in 1800. In 1851, another fire destroyed two-thirds of Jefferson's books. The remaining books were moved to the current Jefferson Building, completed in 1897 to house the Library of Congress.
---
Contents of President Lincoln's pockets when he was assassinated
---
Lincoln carried two pairs of spectacles, one with a sliding temple mended with string; a Confederate $5 bill, possibly a souvenir from a victory visit to Richmond, Virginia; a chamois glasses cleaner; an ivory pocket knife; a handkerchief stitched with A. Lincoln in red; a wallet; a gold and quartz watch fob; and more. A coat button that might have come off during treatment of his injuries is "a humanizing thing about him," Ramsey says. "That he was carrying Confederate paper money (the only currency in his wallet) is usually most surprising to people." But what fascinated Ryan were the news clippings in his wallet, not all recent and not all complimentary. "He carried with him, literally and metaphorically, criticism from months and years before he was killed. … They are a reminder of the emotional toll he suffered as president."
About the treasure: John Wilkes Booth, an actor and Confederate sympathizer, shot the 16th president at Ford's Theatre on April 14, 1865, five days after the Confederate Army surrendered to end the Civil War. Lincoln's granddaughter, Mary Lincoln Isham, donated the contents in 1937. The Librarian at the time left them in a safe in a small room off his office after he retired, where they were rediscovered decades later. More at bit.ly/2YmlFbG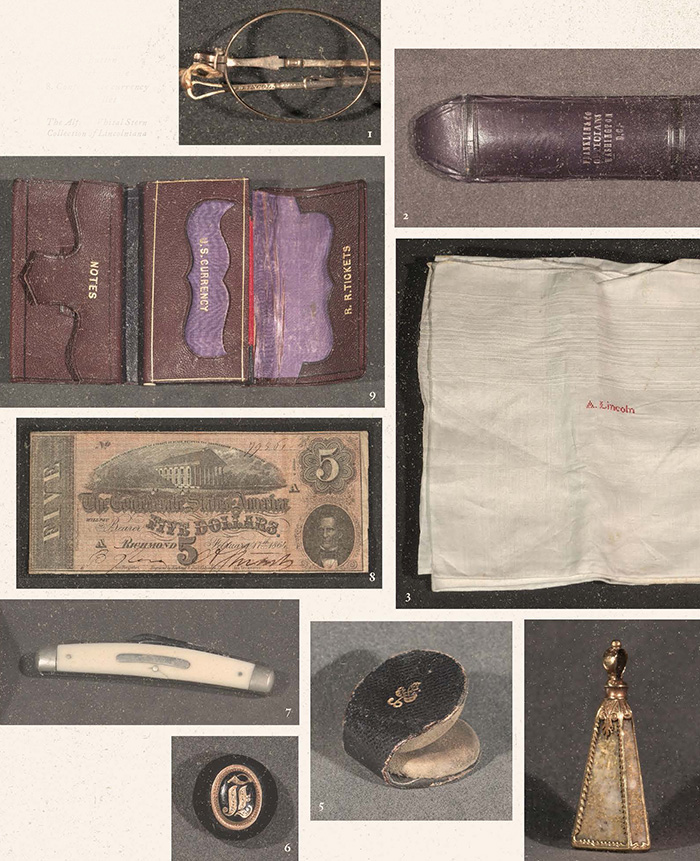 ---
Astrophysicist Carl Sagan's Papers
---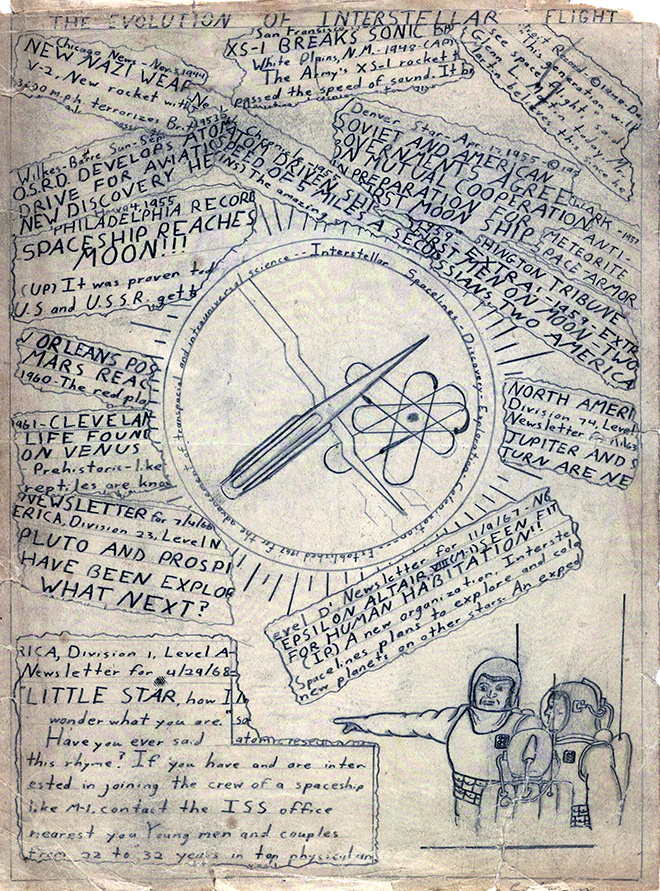 "The entire collection is awe-inspiring, but my favorite item is the cartoon Sagan drew at the age of 10 or 11, imagining space travel," Ramsey says. "It's fun to think about his intellect and imagination, especially at that age." The collection includes his science fiction story notes and a notebook of extraterrestrial objects of biological interest.
About the image: Sagan, who helped popularize science, made this 12-by-9-inch drawing, circa 1944-46, when he was 10 to 13 years old. It is a collage of imagined future newspaper headlines: announcing an atomic space ship that can travel 5 miles per second; two Russians and two Americans landing on the moon in a joint mission in 1959; a Mars landing in 1960; discovery of prehistoric-like reptiles on Venus in 1961; a 1967 ad inviting men and women to live on "Altair 8," a planet in another solar system. More at bit.ly/2SnlGbz
---
The Library's Photography Collection
---
"The Library of Congress has more than 15 million photographs," Ramsey says. "Some of my favorites relate to 20th-century athletes, especially those who deserve credit for paving the way for civil rights."
About the images: John Arthur "Jack" Johnson, nicknamed the Galveston Giant, was an American boxer who, at the height of the Jim Crow era, became the first African American world heavyweight boxing champion. He died in 1946 at the age of 68 in a car accident after driving away in anger from a diner in eastern North Carolina that refused to serve him. More at bit.ly/2z0vHUV
Jesse Owens' photo shows him in 1936 at the start of his record-breaking 200-meter race in the Olympics in Germany, where he won four gold medals and infuriated the Nazis. More at bit.ly/3f6VOu3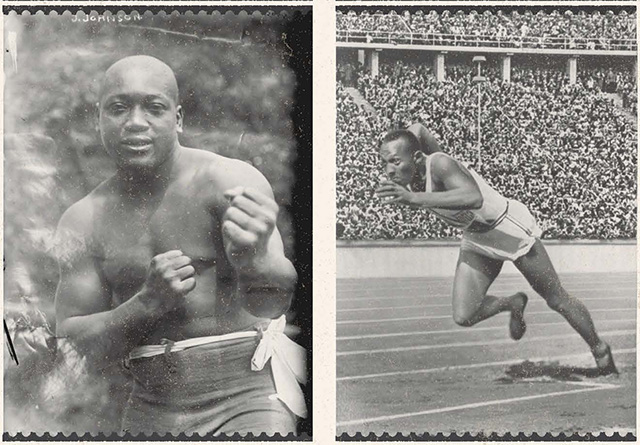 ---
Wesley Branch Rickey Papers
---
"Branch Rickey (an American baseball player and sports executive) is credited with integrating baseball in 1945 when he signed Jackie Robinson," Ramsey says. "Rickey was a great judge of talent, and we have his scouting reports. Hank Aaron visited the Library last year, and we were able to show him his own scouting report by Rickey, which he hadn't seen before." More at bit.ly/2y57TiX 
---
President Theodore Roosevelt's Diary
---
"Teddy Roosevelt's personal diary, which fits in his breast pocket, has Feb. 14 crossed out in a red X and (the words written), 'The light has gone out of my life' because it was the day that his wife and his mother had died in the same house on the same day (in 1884)," Ramsey says. "That was before he went off to his adventures (from capturing cattle thieves in the American West to soldiering to tracking lions in Africa), before he became president, but it helps to lend some context to the man he became. It was a way of coping with his sadness." More at bit.ly/2YopdtP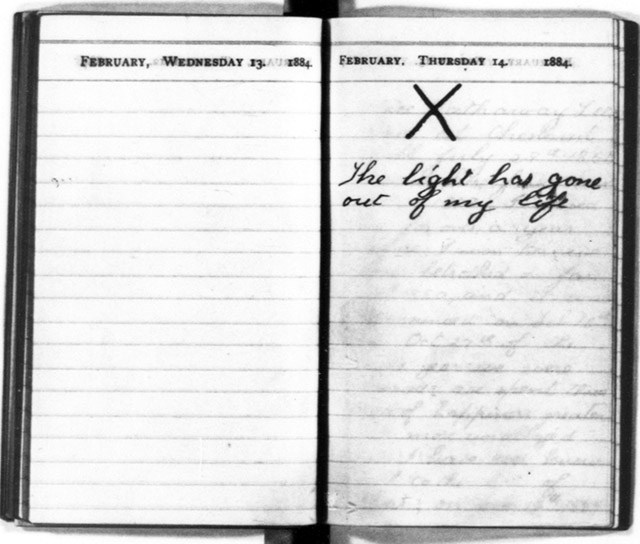 ---
* * * * * * * * *
Ramsey's Treasured Moments
---
Hayden's Swearing-in
---

Carla Hayden, the first woman and first African American to be Librarian of Congress, is a native of Abraham Lincoln's hometown of Springfield, Illinois. She was only the third person, after Lincoln and President Barack Obama, to take the oath on the Lincoln Bible when she was installed in 2016.
"It was particularly meaningful for her as a descendant of slaves, people who were punished for learning to read or trying to learn to read, to serve as the head of the world's largest library," Ramsey says. Ramsey accompanied Hayden at Wake Forest's 2019 Commencement when she received an honorary Doctor of Humane Letters.
See the Lincoln Bible at bit.ly/2KWxSvr
---
Synchronicity for "The DaVinci Code" author
---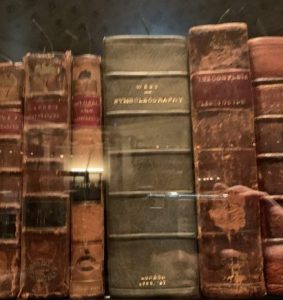 "I had a fun encounter with novelist Dan Brown. He wrote the book years ago called 'The Lost Symbol' (2009), and some key parts of the story take place at the Library," Ramsey says. He was giving Brown a private tour when the novelist stopped in Jefferson's collection, looked up and happened to see a book called "Symboleography." Brown asked to view the book. "He was blown away," Ramsey says.
---
A Random Encounter
---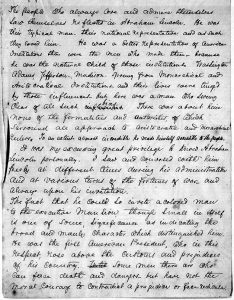 Ramsey also was moved when he and Hayden first toured the Manuscript Division vault. The first place where Hayden asked to look at materials was the collection of papers from Frederick Douglass, a black author and statesman who had escaped slavery before Lincoln abolished it. "She chose a random folder inside of a random box and found this item." (pictured right)
"No people or class of people in this country have a better reason for lamenting the death of Abraham Lincoln and desiring to honor and perpetuate his memory, than have the colored people," wrote Douglass, "and yet we are about the only people who have been forbidden to exhibit our sorrow or to show our respect for the deceased president publicly." More at bit.ly/3bVygqe
---
Searching Local Collections
---
"I can find old photographs and maps from my birthplace — Kokomo, Indiana — or my hometown of Troy, Michigan," Ramsey says. "French President Emmanuel Macron visited the Library in 2018, and we were able to show him a Paris telephone book from the 1970s with his parents' names and address listed."