Toss out the old interview notes gathering dust. Find a new home for the Wake Forest history books. File, or at least organize, those stacks of papers. Get a new chair and better lighting. But keep the Dilbert day-to-day calendar.
Those were some of the suggestions from professional organizer Perri Helms Kersh ('92, MAEd '94, P '23) during a virtual visit to declutter my makeshift home office in what used to be my dining room in pre-COVID days.
Kersh first came to my attention when she shared tips on working from home (WFH) in a Zoom meeting with Wake Forest's University Advancement office, held because so many of us, including the Wake Forest Magazine staff, are still working virtually. Then she joined me on a Zoom call to offer suggestions to improve my own workspace/dining room table, which, admittedly, was covered with too many books, papers and magazines that have piled up the last seven months.
"Back in March, when the world came to a screeching halt … everybody had to pivot at one time and set up some sort of home office," Kersh says. "You may have thought, 'This is terrible, but I'll only be doing this until April.' " But with many of us continuing to work from home, it's time to set up spaces and systems that will serve you long term, she says.
Kersh, who lives in Chapel Hill, North Carolina, is the owner of Neat Freak Professional Organizing and president of the North Carolina chapter of the National Association of Productivity and Organizing Professionals. And, yes, she is working from home these days helping clients virtually organize their homes if she can't see them in person. She works from a tabletop desk underneath floating shelves in her living room, while husband Carter Kersh ('93, P '23) works in their home office and son Hamner attends his high school classes virtually from his bedroom. Her daughter, Phereby, is a sophomore at Wake Forest. Her brother-in-law is Wake Forest Provost Rogan Kersh ('86).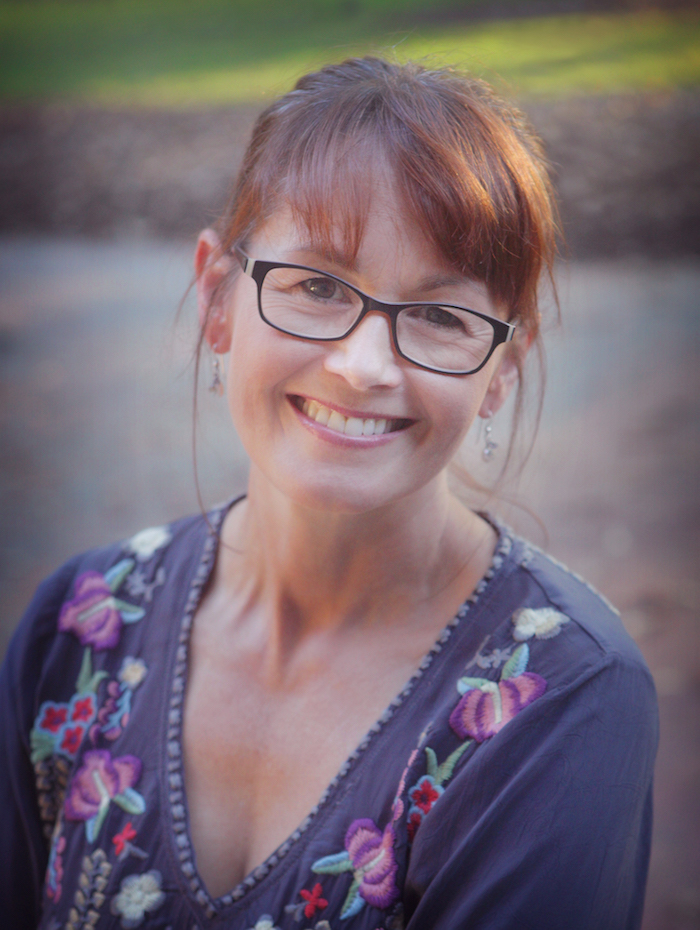 Kersh has been helping organize and declutter homes and bring order into busy family lives since opening Neat Freak in 2005. She also works with small-business owners, helps older clients downsize and offers time-management counseling.
Originally from Asheboro, North Carolina, Kersh was a Poteat Scholar and psychology major at Wake Forest. As a graduate student, she worked in Wake Forest's Learning Assistance Program where she learned productivity and time management skills that she still uses today.
After receiving her master's degree in counseling, she was a counselor at the University of Kentucky before moving back to Winston-Salem to work for a marketing company. Her childhood affinity for organizing and a desire to help people improve their lives, but not in a traditional counseling role, led her into professional organizing.
Before any discussion of work-from-home, Kersh points out that the ability to work from home is a privilege, especially when so many people have lost their jobs. Even if you've been working from home for seven months and thought you were doing great, there are still things you can probably do to improve your workspace, productivity, and mental and physical wellbeing.
First, get rid of the clutter that clutters your mind as much as your workspace, she says. For me, that meant moving most of the books, papers, notebooks and old copies of the Wake Forest Magazine that had accumulated on the dining room table since mid-March. The Wake Forest history books found a new home in a nearby cabinet. Notes and interview transcripts from stories I'm working on now went into a cheap tote, where they're easy to find if I need them. Transcripts from months-old interviews went in the recycling bin since I also have electronic copies.
For anyone working at home, Kersh advises once-a-month clean-up days to purge stuff that you no longer need. "There's something about the mental weight of clutter that can steal from our energy and our focus, because it's just sort of staring at us," she says.
My day-to-day Dilbert calendar, much to my surprise, survived the decluttering. "We (often) rely on technology to remind us what to do. But paper calendars are such an important tool; there's a real connection to writing things down on paper, sort of the physical experience of connecting yourself," she says. "I've started making to-do lists every day to give my day some structure, especially now when time is so nebulous. I'm a real believer in a paper calendar, it's a good throwback."
Here are some of Kersh's tips for a productive, pleasing home office. (She's happy to consult with alumni who need help with their own home office or WFH productivity. Visit Neat Freak to contact her.)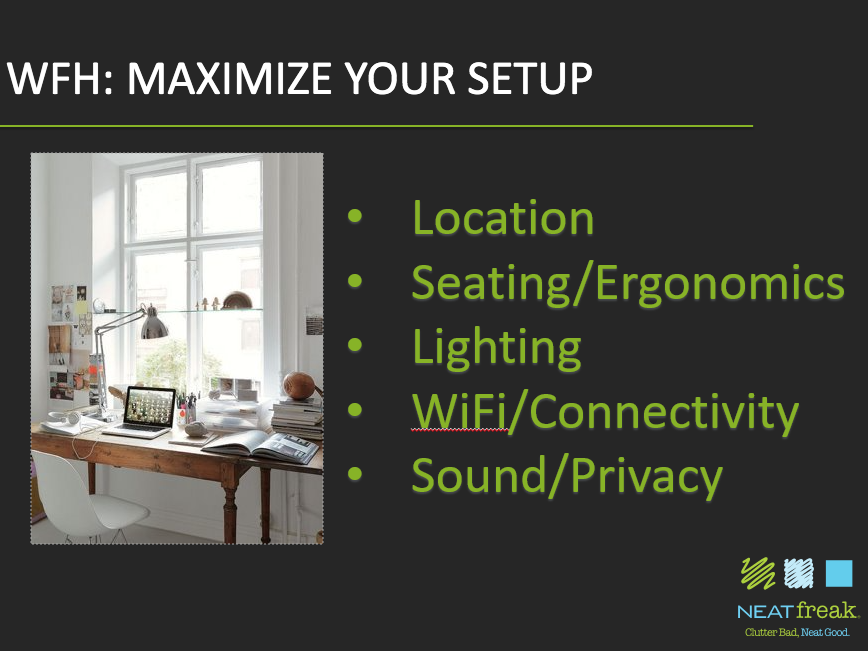 1) WFH: Maximize your setup
Location. If you didn't already have a home office, you probably threw together a makeshift location on the fly. It may have worked for a while, but if you're going to be working from home for the long haul, consider if your March location is still the best location. What's working well? What's not? Avoid setting up your office in the bedroom, if possible: Do you really want to look at work first thing in the morning and the last thing at night? Kersh asks.
Seating. You probably left your desk chair at the office, so consider buying a comfortable, ergonomic chair. Think about a sit/stand workstation if you get tired of sitting all day. Take advantage of free apps – Stand Up!, The Work Break Timer, Randomly RemindMe; and Timeout — to remind you to get up and move throughout the day.
Lighting. Make sure you have good task lighting; overhead lighting isn't the best lighting for working on a computer all day.
Wi-Fi connectivity. When seemingly everyone went online at the same time in March, a strong Wi-Fi signal was often a problem. If you originally set up your home office in a room just to be close to Wi-Fi but it wasn't really the best location, add a mesh Wi-Fi system or a booster so you can move to a better location.
Sound/privacy. Invest in good headphones and a built-in microphone for Zoom meetings, and a white-noise machine to cancel out your spouse's Zoom calls and your teenager's virtual class meetings. "It probably saved my marriage," Kersh jokes.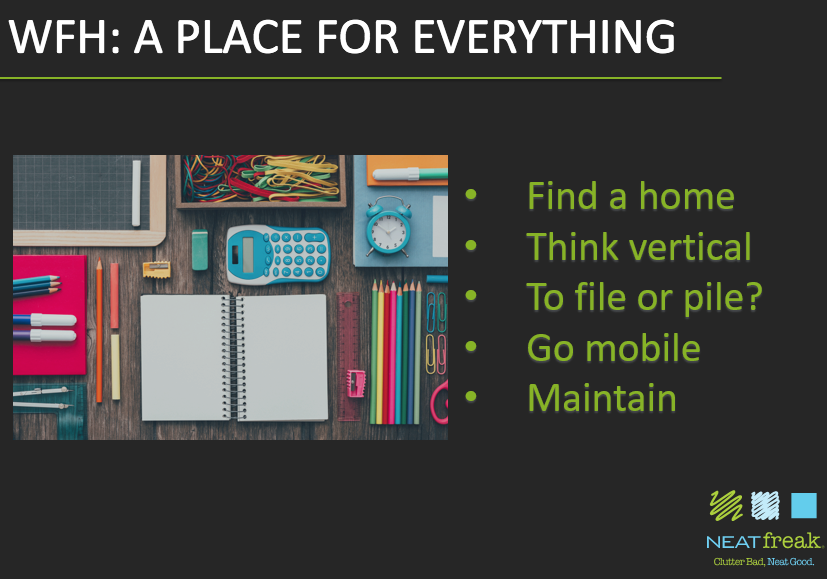 2) Organization 101
Find a home for everything. "As (author and professional organizer) Julie Morgenstern says, 'If something doesn't have a place, it will always be out of place.' That's so important for getting our hands on the things that we need every day," kersh says. "(According to) Ikea, the average American spends 50 minutes a day looking for lost or misplaced items." Having a home for things keeps you from wasting time and on task.
Think vertical. Can you add a bookcase or floating shelves above your workspace? Put the things you need up on the wall rather than cluttering up your desk or table.
File or pile? Do you file away papers or keep them in piles on your workspace so you can see them? If you're a filer, buy a small plastic file box. If you're a piler, get a cheap bin or tote to keep your piles off your desk, but still close by. Consider a scanner app, such as Evernote Scannable, to store documents electronically.
Maintain your space and system. Build in time at the end of the day to clean up your workspace. That's especially important now since it's also the same space you're living in, Kersh says.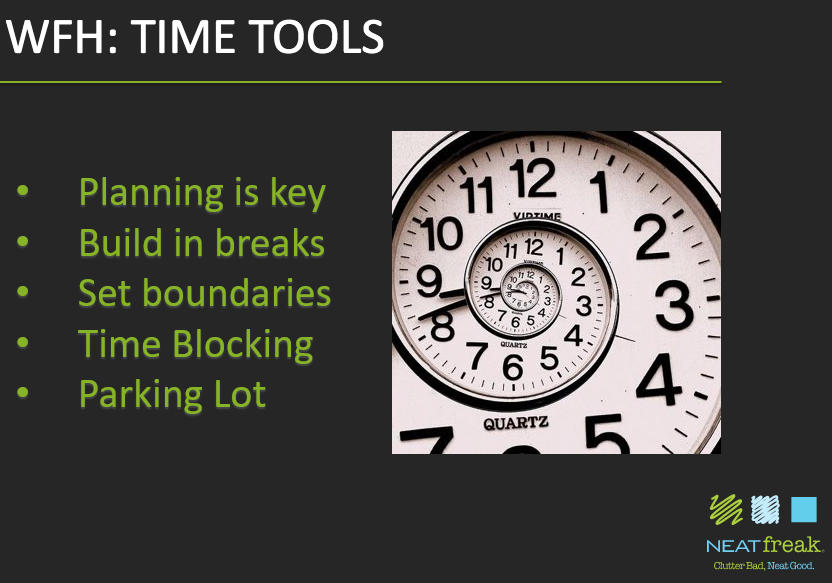 3) Productivity and time management
Planning: "Time is the great equalizer, whether you're a 7 year old playing on the playground or a seasoned CEO, you have the exact same number of hours. What's so interesting during this pandemic is that time seems to have lost all meaning," Kersh says. Schedule time at the start of your day to plan what's most important to accomplish that day. End your day reflecting on what you accomplished and what you didn't get done that needs to be on the top of tomorrow's list.
Breaks: Build in mental and physical breaks throughout the day to get up and move. Set boundaries and manage expectations with both co-workers and the people you live with.
Time Blocking: Estimate how long it will take to finish an important task and block out time for it. "One of the most powerful tools you can use right now is the timer on your phone," Kersh says. "Set the timer for 30 minutes and when the timer goes off, pause and see if you're doing what you set out to do 30 minutes ago, or did you veer off into social media?" Consider apps such as Focus Me or Freedom to block out social media or news alerts.
Parking Lot: Come up with a great idea, but it doesn't apply to what you're working on right now? Don't stop what you're working on. Put that great idea in the "parking lot" — Siri or in a notebook — to come back to later.
4) Look at the bright side
Yes, there is a bright side to working from home, Kersh says, besides a shorter commute: Shorter meetings, learning new skills and developing more empathy for co-workers. On Zoom calls, "you're literally staring into each other's personal lives and seeing their pets and their children and their dirty breakfast dishes," she says. "We understand each other's lives and that we are whole people and not just our work selves."
Watch Perri Kersh talk about "Decision Fatigue: Keeping You Organized."