No one has told Wake Forest's story more passionately or eloquently than retired professor, dean and provost Edwin G. Wilson ('43, P '91, '93).
In a new book, "Songs of Wake Forest," Wilson remembers many of the Wake Foresters he's known the last eight decades, from professors and classmates he met on the Old Campus to professors, deans and presidents he served alongside in Winston-Salem.
The "songs" are told through more than 50 eulogies and remembrances that Wilson gave at memorial services, retirements and other gatherings from 1978 to 2017. But more than a book of eulogies, it's his personal tributes — written as only he could — to friends and colleagues whose lives were intertwined with Wake Forest.
---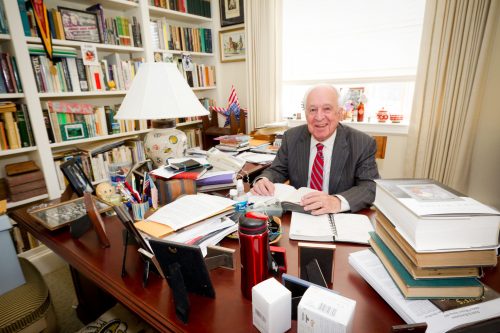 ---
"They are important to the story of Wake Forest. … I wanted them, collectively and individually, to capture the spirit of Wake Forest as I saw it and understood it," Wilson said at a virtual book launch in December sponsored by the Z. Smith Reynolds Library's Special Collections and Archives.
The book launch included a question-and-answer session with Wilson, video of his remarks at the 2014 service for Maya Angelou (L.H.D. '77) and, of course, some poetry.
"Songs of Wake Forest" is available at the College Bookstore or Bookmarks in Winston-Salem. Proceeds from the sale of the book will go to the Z. Smith Reynolds Library.
---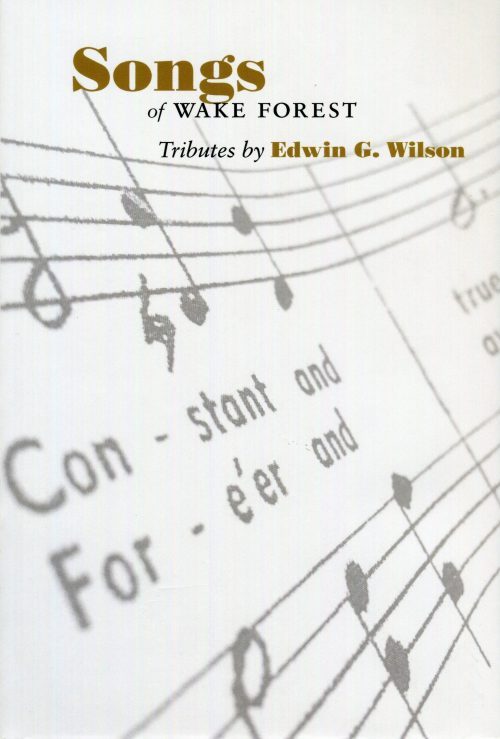 ---
Wilson delivered the tributes over a 40-year period, beginning with his former English professor Lewis Aycock (1926), who died in 1978, and ending with theatre professor Don Wolfe, who died in 2019. The book includes tributes to professors E.E. Folk (1921, P '47), Charlie Allen ('39, MA '41), Carlton Mitchell ('43), Bynum Shaw ('48, P '75), J. Allen Easley (P '43, '44, '46), Jon Reinhardt, Elizabeth Phillips and Marcellus Waddill, among others.
The tributes are eloquent, poignant and at times, wistful, as he remembers friends lost and a different era at Wake Forest. Wilson writes of Chaplain Ed Christman ('50, JD '53, P '84, '85): "We of a Wake Forest world which is now drifting into memory are blessed to have known him and to have been his friend."
Wilson often weaves an individual's story into the larger story of the University. Of Professor of Communication Julian Burroughs ('51, P '80, '83), he writes: "Words like 'integrity,' and 'virtue' and faith' do not perhaps come as easily to mind as they once did, but these words are woven into the fabric of Wake Forest, and they are part of Wake Forest's historic mission. Julian embraced that mission and wove his own creative design into that fabric."
---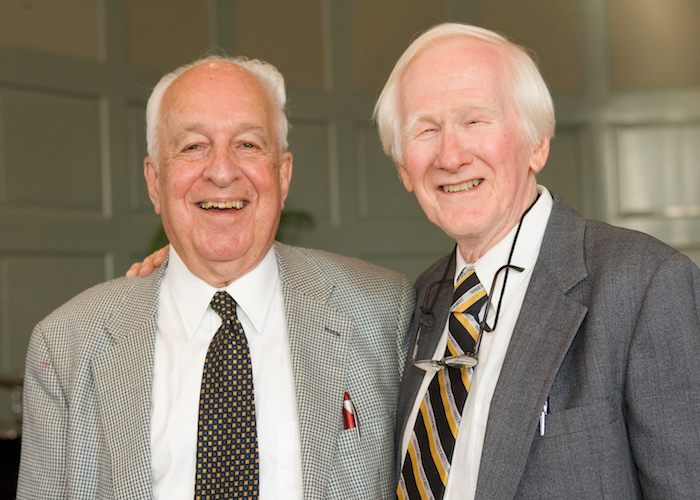 ---
Wilson enrolled on the Old Campus in 1939 and, except for several years in the U.S. Navy and graduate school at Harvard, has spent his entire life at Wake Forest. After joining the faculty as an English professor in 1951, he served as dean under President Harold W. Tribble (LL.D. '48, P '55) and was named provost in 1967 by President James Ralph Scales.
Wilson includes tributes to Tribble and Scales, as well as colleagues and friends Russell Brantley ('45, P '72), Bill Starling ('57), Henry Stroupe ('35, MA '37, P '66, '68), Mark Reece ('49, P '77, '81, '85), Lu Leake and Lois Johnson. Tributes to notable alumni are also included, including Harold T.P. Hayes ('48, L.H.D. '89, P '79, '91), Archie Ammons ('49, D. Litt. '72), Willis "Doc" Murphrey ('52, JD '57, P '81) and Penelope Niven ('62, D. Litt. '92).
Two of his speeches are included in the book: "The Heritage of Wake Forest" (1996), which offers a glimpse into life on the Old Campus and Wake Forest's founding values; and "The Essence of Wake Forest" (2010), in which Wilson describes the University's tradition of friendliness, honor and Pro Humanitate.
"The souls he commemorates ... serve as lasting memorials to the dedication of those who spent their professional lives making Wake Forest 'Mother so Dear.' "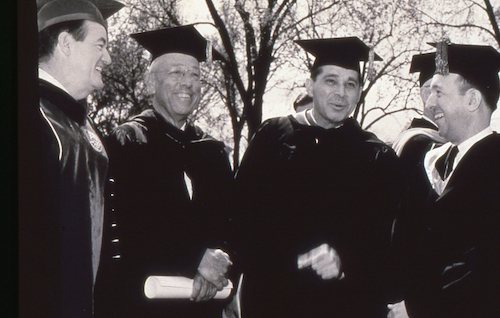 ---
The book was edited by two of Wilson's former students, Tamara McLaughlin ('99) and Catherine Burroughs ('80).
"Each song is different, each contribution is unique, but the refrain is clear — gratitude for those who not only shared their professional talents but their personal passions as well," McLaughlin wrote in the book's preface. "(O)ur hope is that you will recognize parts of your own song … and that will bring to mind other Wake Foresters whose names do not appear in these pages, but whose songs resonate with these same ideals."
McLaughlin is Wilson's assistant and business and communications manager for the Wellbeing Collaborative at Wake Forest. Burroughs is the daughter of communication professor Julian Burroughs and the Courtesy Lecturer of English and the Performing Arts and Media Studies at Cornell University and Professor Emerita of English at Wells College.
"Dr. Wilson embodies all that is good and outstanding about Wake Forest," Burroughs writes in the book. "The souls he commemorates here in his eloquent reminiscences serve as lasting memorials to the dedication of those who spent their professional lives making Wake Forest 'Mother so Dear.' "
If you would like to share your own "song" of Wake Forest or tribute to Ed Wilson, please send your remembrances to songsfordrwilson@wfu.edu or ZSR Library, Special Collections and Archives, P.O. Box 7777, Winston-Salem, NC, 27109.
---