As women move into their second century of voting rights, Wake Forest Magazine offers a series of milestones along with the millstones in the story of women at the University since the founding in 1834 as a manual labor institute for men.
---
It took more than a century after Sarah "Sally" Merriam Wait helped her husband, Samuel, establish Wake Forest before women were accepted as undergraduates. Today, Michele Gillespie is dean of the College, and women account for half the 28 department chairs. Jane A. Aiken is dean of the law school, and Michelle Roehm became interim dean of the business school recently. Dr. Julie Ann Freischlag is CEO of Wake Forest Baptist Health, the first female dean of the medical school and chief academic officer of Atrium Health.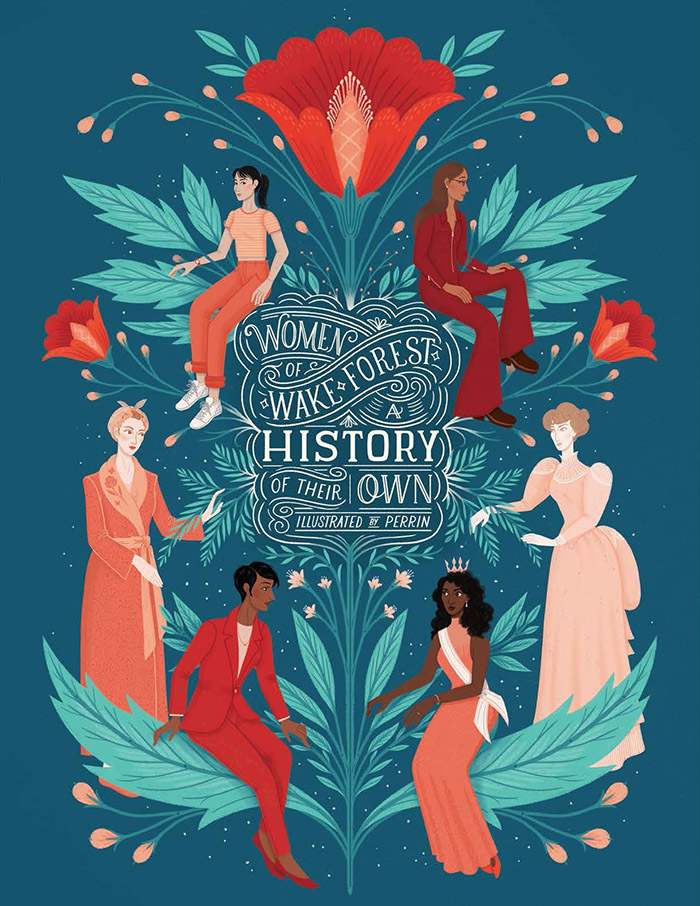 ---
1890
Evabelle Simmons, whose father is a professor, becomes Wake Forest's first female graduate and possibly the first female college graduate in North Carolina. Trustees at first deny Simmons a diploma. They relent following male students' protests and faculty approval of her degree. She becomes a teacher at Union Female Academy in Eufaula, Alabama.
---
1942
Female undergraduates are admitted, helping offset falling enrollment during World War II. (Women, especially professors' daughters, had always participated unofficially in campus life.) Beth Perry Upchurch ('43, P '67) is considered the first among the 47 women enrolled.
---
1942
Lois Johnson becomes the first dean of women; later her namesake is an all-female dorm.
---
1943
Beth Perry's roommate, Martha Ann Allen Turnage ('44, P '80), reaches the finals in a debate tournament in Charlotte after passing the tryout for the Pi Kappa Delta forensics fraternity. As the Old Gold & Black reports on April 9, "She holds … the distinction of being the first member of the weaker sex ever to represent Wake Forest in a varsity debate tournament." In the fall of 1943, Allen takes over as the first female editor of the Old Gold & Black.
---
1946
Women buoy the spirits of sailors aboard the SS Wake Forest Victory cargo ship launched during World War II. The men ask for a "charming feminine mascot." Students vote to crown Ruth Blount Fentress ('46) of Salisbury, North Carolina, as "Miss Wake Forest Victory" and send the sailors photos of her and 15 other coeds.
---
1947
Marjorie Crisp joins the physical education department as the University's first full-time female faculty member.
---
1948
Wake Forest's first officially sanctioned social society for women, Strings (later Pi Beta Phi), forms as a parody of Tassels, founded a year earlier as a women's honor society. Other societies form through the years, and some eventually attach to national sororities. In 1988, Pi Omicron, a chapter of Delta Sigma Theta, a historically black sorority, is established, and with it, the Panhellenic Council.
---
1957-58
The longstanding women's dress code requires women to wear hose if they go to Raleigh and urges them to look their best in dorm parlors, including wearing a raincoat, shoes and a scarf to cover "those unsightly rollers" when leaving their rooms to answer the dorm phone.
---
1960
Martha Mason ('60), who lived most of her life in an iron lung because of childhood polio, graduates first in her class. Her memoir is "Breath: A Lifetime in the Rhythm of an Iron Lung."
---
1964
Lula M. "Lu" Leake succeeds Lois Johnson as dean of women. Leake receives the Medallion of Merit in 1996, saluted for "leading students through what was arguably the most significant era of change for women in the history of this nation." She retires in 1997 as associate vice president for academic affairs.
---
1968
Elizabeth Phillips in English and Mary Frances Robinson in Romance Languages are named female full professors who later chair their departments in the 1970s. They follow trailblazer Jeanne Owen, a business professor. Owen earned the rank of full professor in 1963 while serving as acting dean of women from 1962-64.
---
1968
The mandate to wear skirts or dresses is relaxed to allow slacks on campus but not to class. It is the last gasp before the dress code dies the next year.
---
1971
Wake Forest opens New Dorm (now Luter Residence Hall), its first coed dorm. Beth Norbrey Hopkins ('73, P '12) is the first Black woman named as homecoming queen. She graduates cum laude and retires in June 2016 from the law school faculty.
---
1972
Enrollment in the College reaches what the trustees call an "ideal population," with 1,865 men and 1,030 women. President James Ralph Scales says the presence of women is "total, pervasive, inescapable" and points to Marylou Cooper Green ('74) as the first female student government president and Margaret Perry (P '80) as registrar. A rule requiring chaperones for social occasions ends in 1969, and in 1970 no longer are women required to make up their beds by 10 a.m. Students still push to ax the curfew for first-year women, succeeding in 1974.
---
1973
Women join the ROTC, taking part in all activities except handling weapons.
---
1974
Dolly McPherson, an English professor, becomes the first full-time Black female faculty member.
---
1974
On an impromptu lark on a cold night, student government president Elizabeth "Beth" Daniels ('75) is one of several women in a crowd of 200 who join the latest fad — "streaking" — running nude around campus. Years later in an essay in "The History of Wake Forest," Daniels writes, "I will never forget (President) James Scales' line: 'Well, we don't have all the bare facts; so we're just not going to discuss it.'"
---
1975
Rep. Barbara Jordan (LL.D. '75), D-Texas, becomes the first woman and first Black person to speak at Commencement.
---
1979
To move toward parity under Title IX, the University raises the women's athletic budget from $153,000 to $461,500 over three years and estimates in four years reaching $1 million annually to bring travel and women's athletic facilities closer to men's.
---
1982
Author, poet and civil rights advocate Maya Angelou (L.H.D. '77) joins Wake Forest as Reynolds Professor of American Studies.
---
1983
Wake Forest launches its Women's Studies minor, which evolves into a major in the Women's, Gender, and Sexuality Studies Department.
---
1988
Sandra Combs Boyette (MBA '95) is named the University's first female vice president, in charge of public affairs.
---
1991
The freshman class enrolls five more women than men, the first time females outnumber males.
---
1992
Dana Johnson leads the business school as its first permanently appointed female dean.
---
1993
Former women's athletic director Marjorie Crisp and her successor, Dot Casey, become the first female Wake Forest Sports Hall of Fame inductees.
---
2002-04
The women's field hockey team, led by Coach Jen Averill, wins three consecutive NCAA championships, Wake Forest's only national team titles in female athletics.
---
2004
Deborah L. Best ('70, MA '72), a psychology professor, becomes the first female dean of the College.
---
2007
Jill Tiefenthaler (JD '77), an economics professor, arrives from Colgate University to become the University's first female provost. Lorna G. Moore becomes the first female dean of the Graduate School of Arts and Sciences.
---
2010
Gail O'Day becomes the first female dean of the University's divinity school.
---
2013
The Women's Center opens in Benson University Center, offering support and advocacy.
---
2015
Suzanne Reynolds (JD '77) is named the first female dean of the law school, and Donna Boswell ('72, MA '74) becomes the first woman to serve as chair of the University Board of Trustees.
---
2017
Photographer Kate T. Parker ('98) publishes her national best-selling "Strong is the New Pretty: A Celebration of Girls Being Themselves," showing young girls' fearlessness and character.
---
2019
Despite having a migraine, Jennifer Kupcho ('19) becomes the first woman (pro or amateur) to win at Augusta National, a golf club famed for its Masters Tournament and notorious for not admitting women until 2012.
---
Editors' note: The timeline has been updated with additional firsts for women. If you have another milestone to suggest, we will consider it. Send us an email at magazine@wfu.edu