From long-lost tiger pins to skimpy Speedos, the Wake Forest Historical Museum and Z. Smith Reynolds Library's Special Collections & Archives have fascinating collections of Wake Forest memorabilia from the 1830s to today. Our colleagues at the museum and library revealed some of their favorite athletic artifacts in a recent webinar. And we couldn't resist adding one of our own: Chris Paul's shoes, anyone?
---
Watch the presentation, "From Tigers to Speedos: Athletic artifacts from Special Collections & Archives and the Wake Forest Historical Museum."
Discover more fascinating objects, from the whimsical to the serious and the historic to the fleeting (dress codes!?), in Wake Forest Magazine's Spring 2016 feature, "Object Curiosity."
---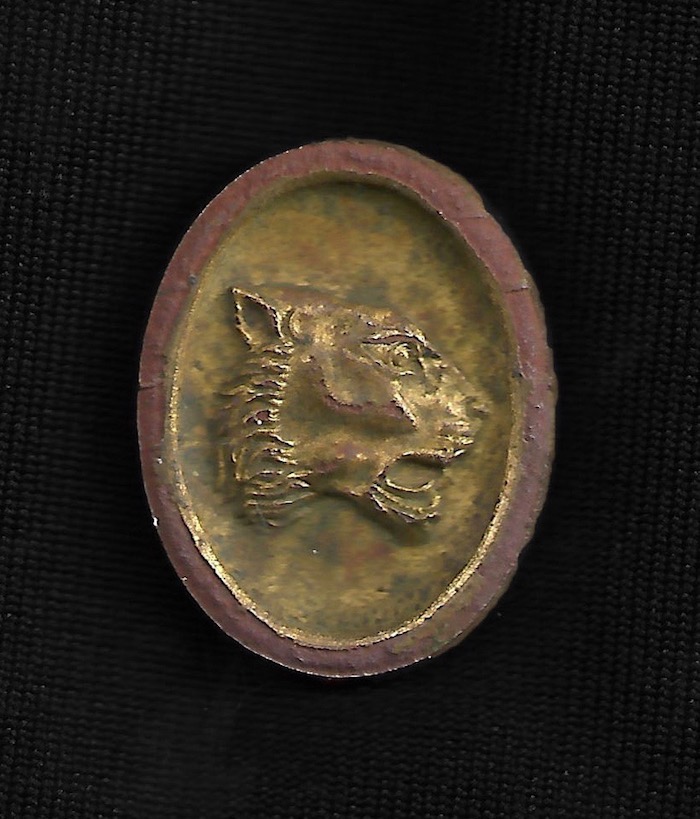 Tiger pin, 1890
Wake Forest's first mascot wasn't the Demon Deacon. It was a tiger. In the 1890s, John M. Heck (1895) designed the first "college badge": a tiger head over the letters "WFC." The tiger soon fell out of favor, and Wake Forest's athletic teams became "the Baptists." In 1923, Old Gold & Black editor J.M. "Mayon" Parker (1924) described the football team as playing like "Demon Deacons" in a victory over "the Methodists" of Trinity College, now Duke University. That nickname stuck. This pin (minus the faded "WFC" letters) was unearthed on the athletic fields near the original campus before the Wake Forest Historical Museum was constructed on the site in 2009. One holdover from the tiger: the black and gold colors.
---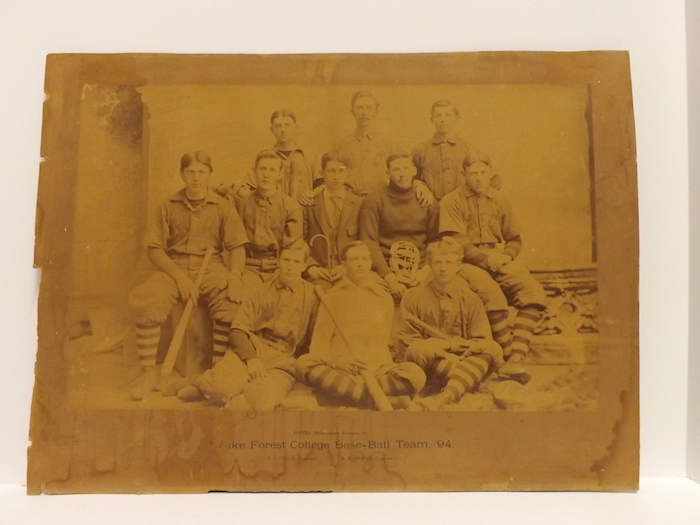 Baseball team, 1894
Wake Forest began fielding a baseball team in 1891. This photograph of the 1894 team was found recently in the attic of an old house near the original campus. Wake Forest won the National Championship in 1955 in the College World Series.
---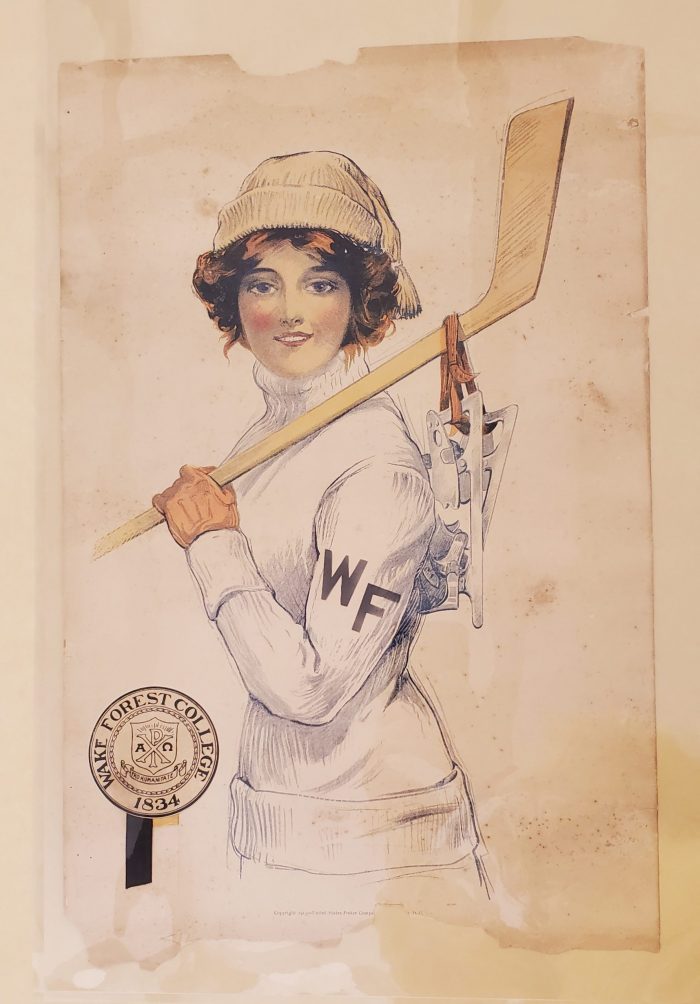 Hockey poster, 1913
This poster hung in the room of Myron Banks (1923) on the original campus. What's so significant about the poster? Women weren't admitted to Wake Forest until nearly 30 years later, in 1942. The poster was one of many similar illustrations for magazines and ads produced in the late 1800s and early 1900s that showed young women at leisure. The Wake Forest seal (and other schools') and "WF" letters were added to the mass-produced illustration.
---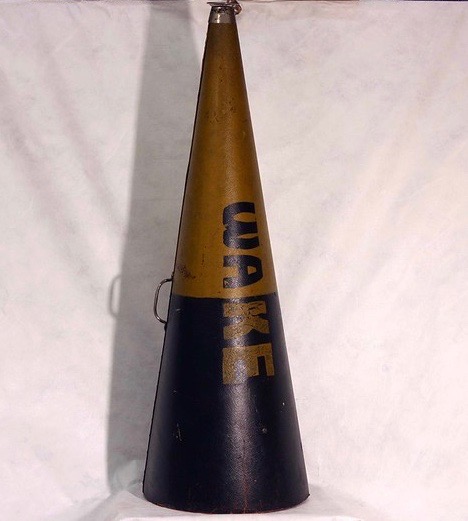 Megaphone, 1930
This 3-foot megaphone was signed by cheerleaders Fred Fletcher ('30), Dana Jester ('30) and Fleming Fuller ('32, MD '34, P '73 ).
---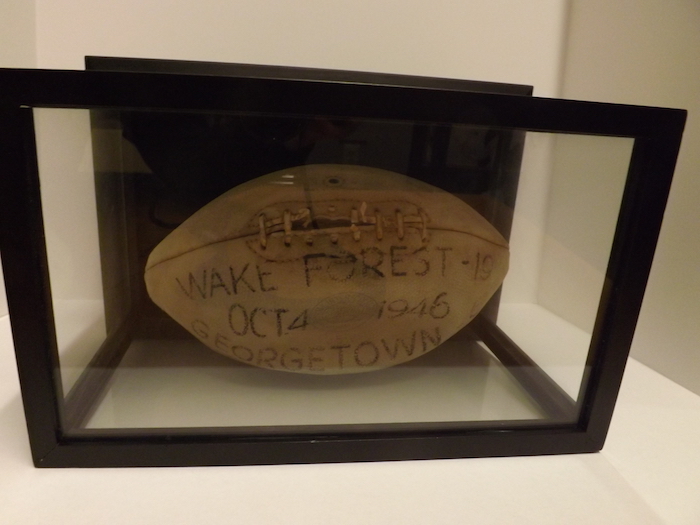 White football, 1946
This so-called "white football" was used in the Wake Forest-Georgetown game on Oct. 4, 1946, at old Groves Stadium on the original campus. Coach "Peahead" Walker's boys defeating visiting Georgetown, 19-6, on the way to a 6-3 record and Wake Forest's first bowl appearance. Wake Forest defeated South Carolina, 26-14, in the Gator Bowl in Jacksonville, Florida. White leather footballs were used during night games, when lighting around early football fields wasn't very good, so that players could see the ball.
---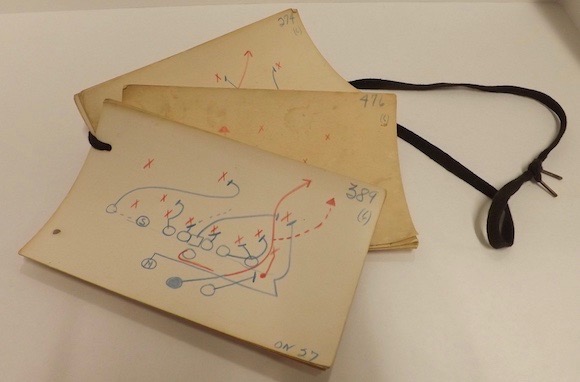 Peahead Walker's playbook
Douglas Clyde "Peahead" Walker was a tough-as-nails football coach, prone to colorful language that kept him in hot water with school officials and Baptists. Between 1937 and 1950, he led the Deacons to 14 mostly successful seasons. Walker's 14-year tenure is still the longest in Wake Forest football history. He also held the record for most wins — 77 — until Jim Grobe tied his record in 2013. Walker resigned in 1951 over a $500 salary dispute with President Harold W. Tribble (LL.D. '48, P '55). Students burned Tribble in effigy to protest Walker's departure.
---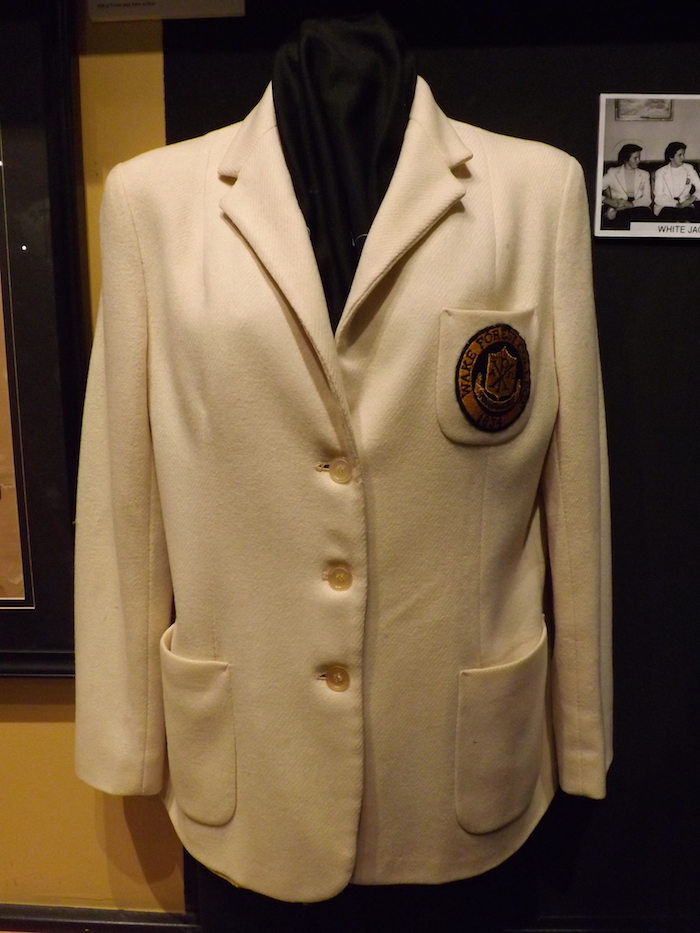 White jacket club, 1950
Marjorie Crisp was the first full-time female faculty member when she was hired to teach physical education in 1947. She started the Women's Recreation Association, or the white jacket club, to recognize achievement in intramurals. This jacket belonged to Dot Brooks George ('55). George later married basketball standout Maurice George ('55). Crisp was later women's athletics director and was inducted into the Wake Forest Sports Hall of Fame in 1993.
---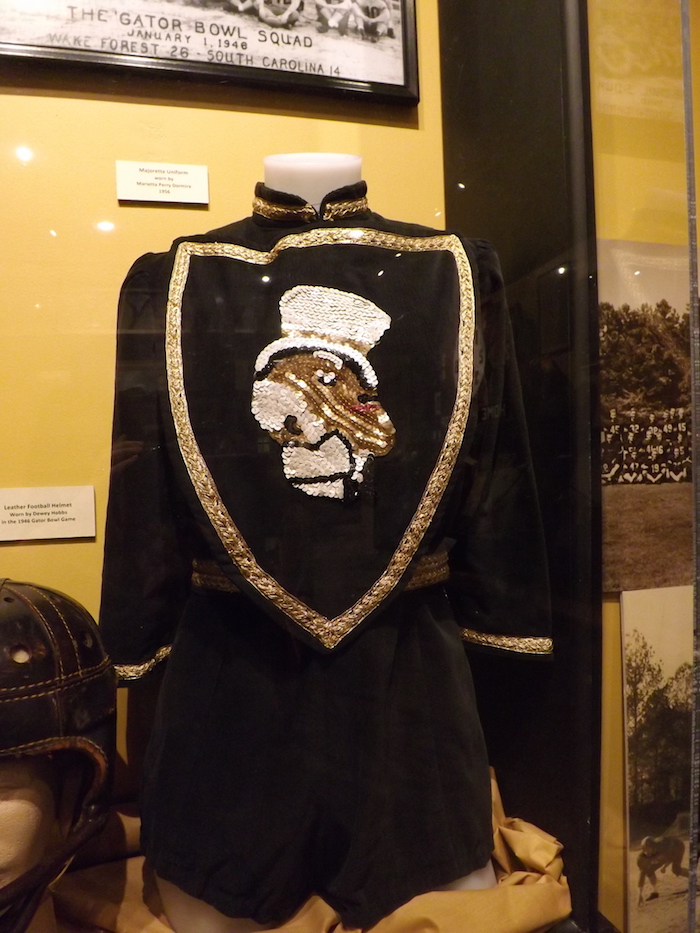 Majorette uniform
Majorettes Sara Page Jackson Lewis ('52, P '78) and Marietta Perry Dormire ('56, P '83) performed at athletic events and in parades across the state of North Carolina in homemade uniforms. This uniform was made by Dormire; a similar one belonging to Lewis is also at the historical museum. Lewis, who was originally from Elizabeth City, North Carolina, helped recruit Dormire, who lived in Edenton, to Wake Forest. Lewis performed for President Harry Truman when he spoke at the groundbreaking for the new campus in 1951. She was named Miss Demon Deacon and queen of the Magnolia Court her senior year.
---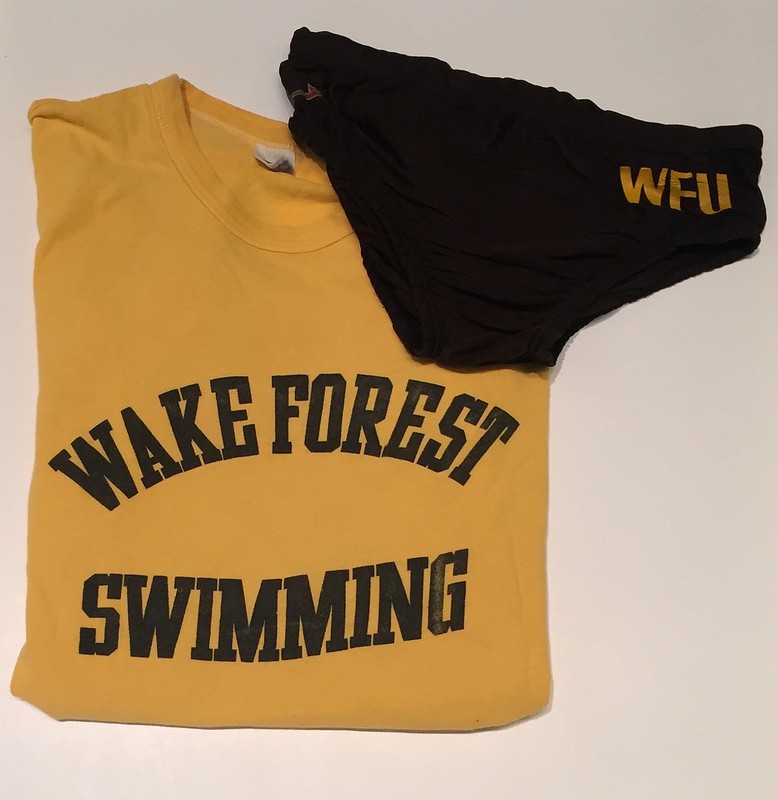 Speedo, 1980
Did you know that Wake Forest once had a swim team? The team was coached by popular physical education teacher Leo Ellison (P '77, '83). Tom Laraway ('80) donated these items to Special Collections & Archives to keep the memory of the swim team alive. Laraway, Ron Cobb ('80), Jim Kusel ('80) and Andy Hudnell ('83) participated in the program's final event, the 400 freestyle relay in the 1980 ACC Championship.
---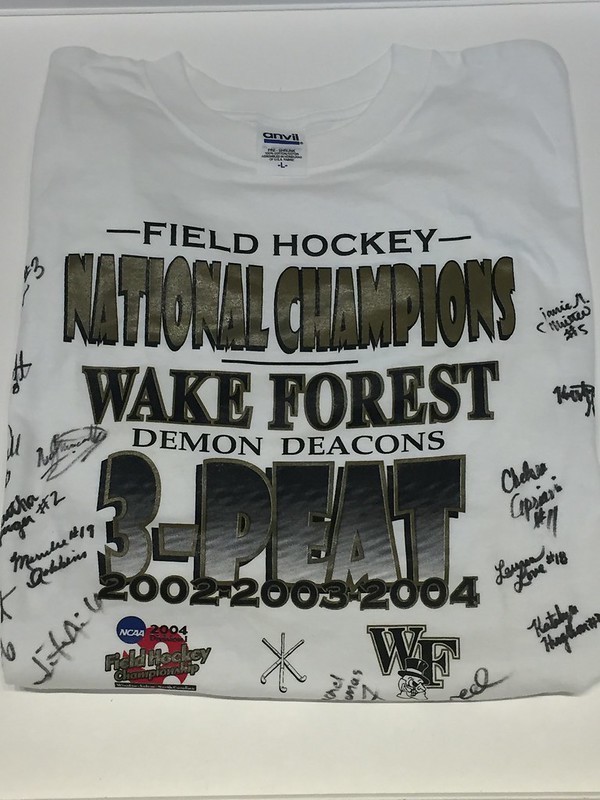 Field hockey championship T-shirt
This shirt from the 2004 national field hockey championship was signed by Coach Jen Averill and her players. Wake Forest won three consecutive field hockey national titles in 2002, 2003 and 2004.
---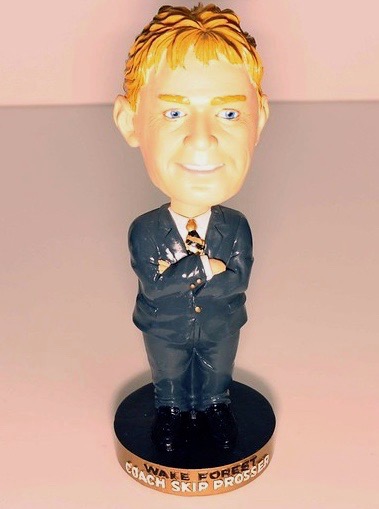 Skip Prosser bobblehead, 2008
With the roar of the motorcycle, the flashing lights, the pulsating music and the sea of students in tie-dyed shirts, basketball Coach Skip Prosser rocked Joel Coliseum. He left us too early when he died in July 2007, but we still smile when we see this bobblehead doll.
---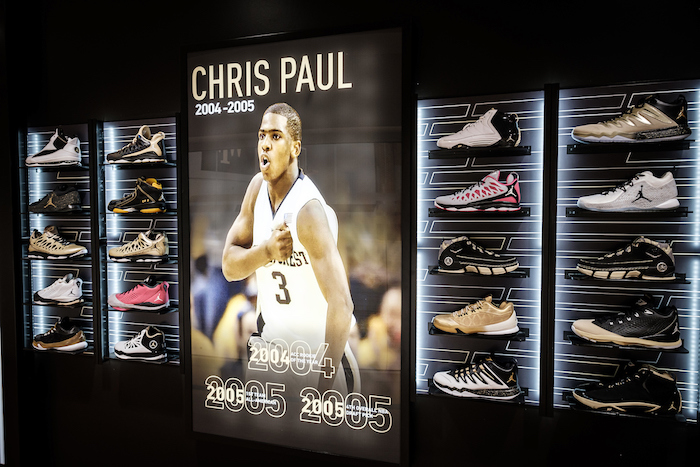 And our personal favorite:
Chris Paul's shoes
This collection of shoes belongs to Wake Forest and NBA star Chris Paul ('07). It isn't in the Wake Forest Historical Museum or Special Collections & Archives — it's in the Shaw Basketball Complex — but we just couldn't leave it out.
---
The webinar, "From Tigers to Speedos: Athletic artifacts from Special Collections & Archives and the Wake Forest Historical Museum," was presented by Ed Morris (P '04), executive director, and Sarah Soleim, manager of community and academic learning, Wake Forest Historical Museum; and Tanya Zanish-Belcher, director, and Rebecca Petersen May, public services archivist, Special Collections & Archives, Z. Smith Reynolds Library.