"I came in the spring, and the trees on the Quad were so beautiful, I just fell in love."
Some variation of that memory often emerges when alumni describe what drew them to Wake Forest. 
For some people, majestic magnolias impress, or merry dogwood blossoms frame their memories of blossoming romance, or willow oaks form a quiet backdrop for friendships that developed. Recent alumni can see the red maples of Hearn Plaza, which replaced the Autumn Purple ash trees that succumbed to disease, as did the American elms before them. All but a few around Davis Field were lost to Dutch elm disease, which ravaged millions of American elms in the United States beginning in 1930 in the Midwest and spreading for decades.
Even as the tree generations change through time, the Wake Forest campus perennially wins designation as a Tree Campus USA by the national Arbor Day Foundation. Arbor Day, which varies by state, is honored in North Carolina on the first Friday after March 15 — on March 19 this year.  
To celebrate the day, University arborist Jim Mussetter joined Lindsay Batchelor, director of the Office of Sustainability, and Nathan Peifer (MDiv '13), the Campus Garden manager and Campus as Lab  program coordinator, to talk with students and others about the hidden, and not-so-hidden, life of trees on campus.  
The experts shared tree lore and answered questions on a sunny day, using logs and flowering branch samples to supplement the regal rows of giant visual aids — the Southern magnolias lining Manchester Plaza. Wake Forest Magazine also pulled notes from an interview with Mussetter a while back, held in reserve for Arbor Day reflections.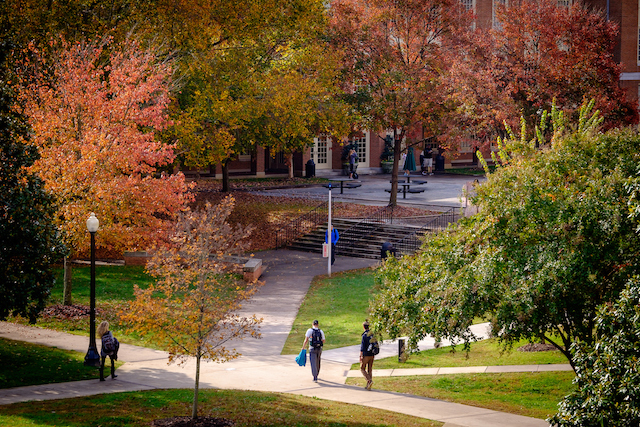 'Everything about them fascinates me'
To say Jim Mussetter is a tree lover is an understatement. He always knew he wasn't destined for an indoor job — "I would go crazy" — and studied landscaping at Sandhills Community College. An internship at Reynolda Gardens and a few years working in horticulture at Wake Forest preceded transfer to the tree crew. "That was exciting. I was young, and it's big equipment and doing big stuff and loud noise. Through the course of time I advanced to University arborist, and my interest has just grown over the years." He has been at Wake Forest for 28 years.
"Trees provide fruit. They provide shade. It cools the air. There are many environmental benefits," Mussetter says. "I like big trees, too, because they've lived so long. Imagine the history this tree's lived through. North American Native Americans sat under this tree and contemplated their life. 
"I love the sound of trees as a storm approaches. They start swaying, and you can see how they move with the wind. Everything about them fascinates me."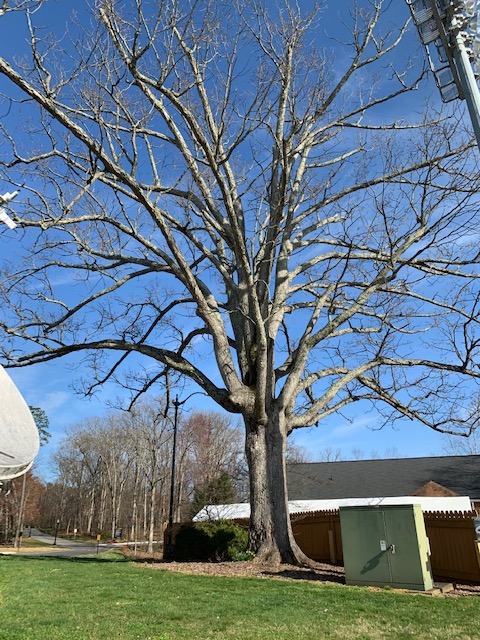 When he first became responsible for choosing and planting trees, his focus was on diversifying the types of species on campus, both for beauty and to protect against disease wiping out an entire species. The Autumn Purple ash trees were costly to keep healthy as insects and disease damaged them, so they have been gradually replaced in the past decade with October Glory, Brandywine and Sun Valley cultivars of red maples, a native tree better acclimated to wet soils.
Chris McLaughlin ('99, MBA '04) came to the Arbor Day session to hear more about the trees he has watched evolve during his four years as a student and 21 years as an employee, currently as assistant director of service and project portfolio management in Information Systems. 
"The biggest tree-related memory has to do with the trees on the Quad, the fact that they've been replaced; they've been different sizes. It was a very visible way for students to see how the University was wrestling with these growing and changing pieces of campus that weren't always cooperating, as (tree) pests were coming in. For whatever reason, people were very attached to the trees." 
Peifer told the group he's grateful to be on campus for his job. "Every day I get to walk down this majestic Quad and go in Reynolda Hall, where I have a desk."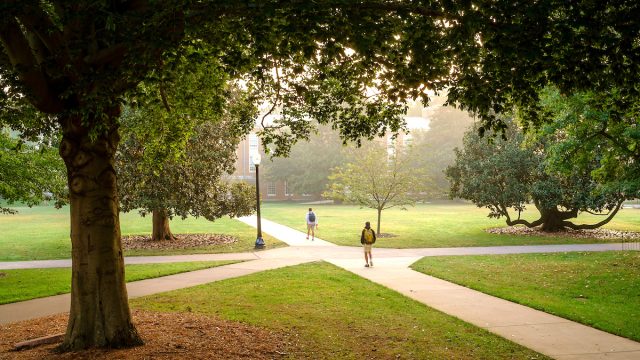 Planting 3,534 trees
Wake Forest takes its trees seriously. A Tree Advisory Committee and a master plan guide their care and cultivation. Batchelor says those who walk around campus will notice yellow tags on trees with facts about them and the campus ecosystem. Besides giving us beauty and shade, trees stabilize the soil, control erosion, provide habitat for insects and small mammals and pull carbon dioxide from the atmosphere, she told the group. Memory plaques link many trees to the Deacons who loved the campus.
Mussetter's tree crew of four carries out intensive work. "I like to think I get paid to do forest bathing — but not always," Mussetter told the group. His team removes 50 to 60 trees a year because of disease, storm damage or construction projects and plants 100 to 150 a year. He says Wake Forest has planted 3,534 trees since the 1950s. 
The magnolias on Manchester Plaza have a special origin. They arrived at only 5 feet tall in 1956 in a batch of 20 donated by Walter Raphael Wiley Sr. ('29, MD '32, P '63) and his wife, Monnie Louise McDaniel Wiley. With the University's pending move from the town of Wake Forest to Winston-Salem, she had asked her nephew, Robert Earl Williford ('51), to collect magnolia seeds from the original campus. She planted them in a filled-in swimming pool in their hometown of Chesterfield, South Carolina, and she and her son, Walter R. Wiley Jr. ('63), delivered them in a large station wagon to the new campus in Winston-Salem.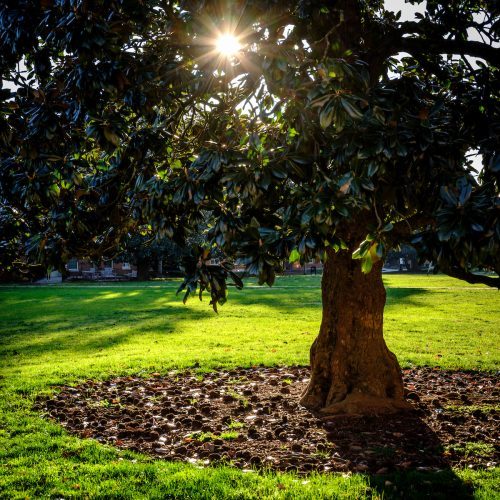 Mussetter says Wake Foresters pay close attention to their trees.
 "There's a lot of communication to make sure everyone's aware of what we're doing, why we're doing what we're doing," Mussetter says. "They get very concerned when they see trees being cut down. People should know that I'm not just randomly cutting trees down and that I want to have as many trees as we can." 
Mussetter's personal favorite type of tree is the white oak, "considered the king of kings." The huge white oak behind WFDD radio station is believed to be the oldest on campus.
"I've planted white oaks all over campus," Mussetter says. "A white oak is slow growing, so it may be trees that we've planted recently, it'll be a hundred years before it's a big tree. The forest will be more spectacular than it is now. You really are building a future."
---
Share a photo of your favorite tree or trees on campus to your story on Instagram and tag @sustainableswfu to join the "Meet the Trees" social media photo challenge through March 31. Prizes will go to the best photos, which will be featured on the Office of Sustainability's Instagram.