Who knew science could make your summer beverages so much more heavenly?
Devin Kidner ('08) of Chicago and Alex Koblan ('13) of Boston know. The two women of Wake Forest haven't met, but they're both award-winning professional connoisseurs of creating a satisfying drink in an industry that tends to be dominated by men.
Kidner is founder and owner of HOLLOW LEG, offering individual and corporate clients such as Google and Deloitte in-person or virtual mixology classes with what she calls "Julia Child-like conviction." She focuses on using locally sourced seasonal ingredients and having clients try hands-on mixing as she explains the chemistry and physiology of taste.
In her first foray from her career in Chicago's sustainable food scene, she won a 2014 national cocktail competition through Slow Food USA. That earned her a spot at Slow Food International's biannual Terra Madre conference, considered the Olympics of food, in Turin, Italy. It launched her mixology career. She created cocktails and taught mixology for Rhine Hall Distillery and KOVAL Distillery before establishing HOLLOW LEG, featured in 2016 by WGN-TV as a "hidden gem of Chicago."
Koblan is the head bartender at Blossom Bar in Brookline, Massachusetts, and lives in Boston with her husband, Bart Johnston ('12), whom she met when his twin was in the marching band drum corps with her at Wake Forest. She's been a beverage industry force, producing events and developing brands, marketing, training and front-of-house excellence for breweries and distilleries.
She made it to the rarefied company of the eight finalists in the Speed Rack 2020 competition for female bartenders, which raises money for breast cancer research. Women in the finals are given four cocktails from the 100-cocktail book and must make them as quickly as possible with great presentation, taste and dilution. A round lasts 1.5 to 2 minutes maximum. The winner was just 3 seconds faster than Koblan.
Wake Forest Magazine talked with Kidner and Koblan separately in Zoom interviews to drink in their tips for enjoying the hot summer ahead (or the chill of winter) and to learn their scientific secrets and what drew them to making alluring beverages.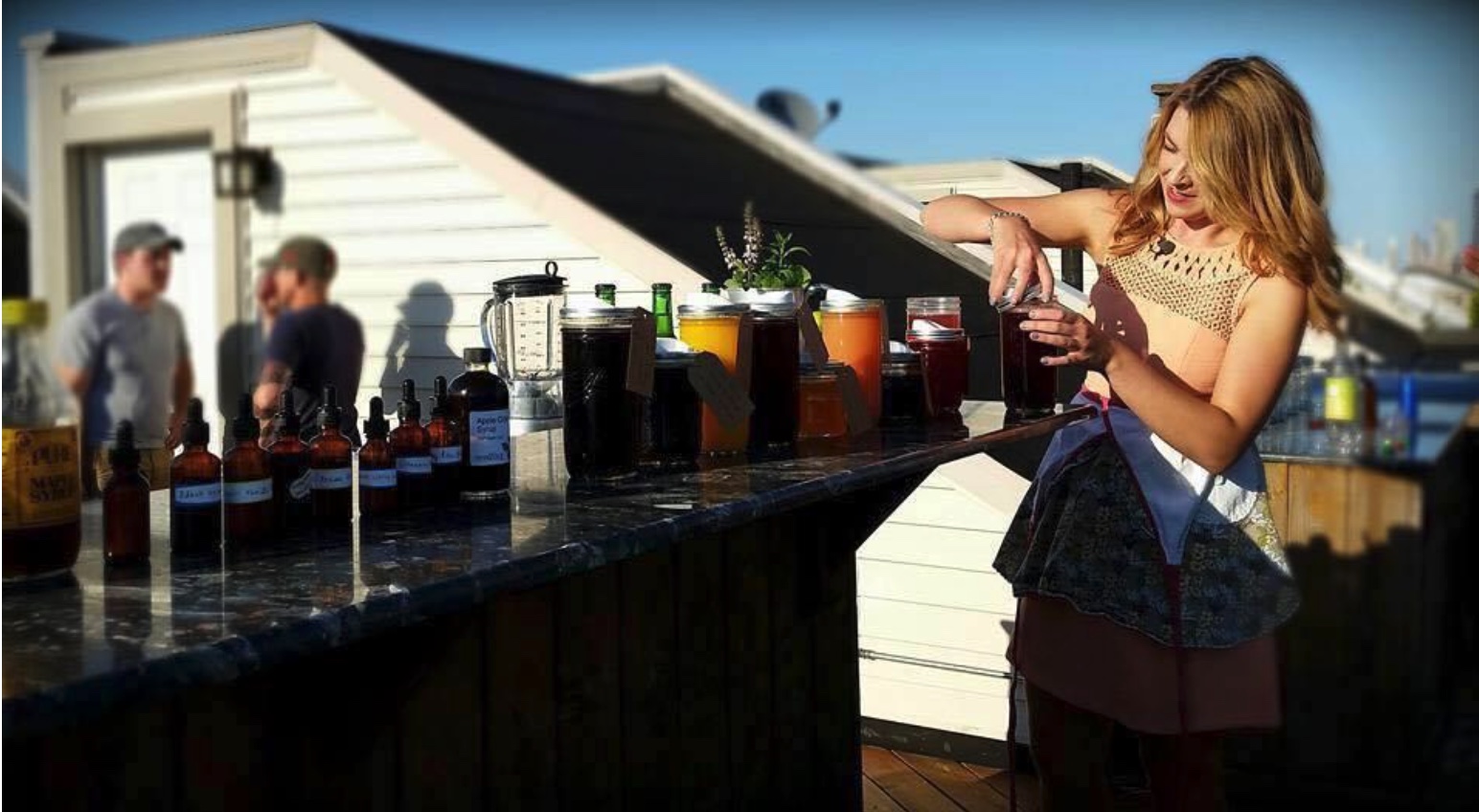 Devin Kidner: Understanding "the party in your mouth"
One of Kidner's specialties is "no-proof" cocktails, the name she prefers for non-alcohol cocktails. "There's no dignity, there's no sexiness to virgin or mocktail. It just looks dumb when you're above the age of 12," Kidner says. 
The scientific principles for tasty no-proof drinks apply to all cocktails.
"I love neuro-gastronomical science so much that I started learning pretty early on about something called the trigeminal nerves, which is a nerve system in your mouth that picks up chemical sensation." 
Humans have three ways to taste. The first is smell, the strongest sense. Second is the tongue, which detects sweet, sour, salty, bitter and umami flavors. Umami is Japanese for "pleasant savory taste" and has been described as brothy or meaty.
The third way to taste is the trigeminal nerves, which are temperature based. "Your ability to detect things like the spiffiness of carbon dioxide and soda and champagne or beer is because of that nerve system. It's not a flavor; it's a chemical sensation." It includes things like the menthol that produces a cooling sensation from mint, or the chemicals in cinnamon or the vanillin in vanilla, which both have a warming flavor. 
The alcohol in cocktails is ethanol. "The sting that you feel when you either take a shot or have a good whiskey in your mouth, that's a trigeminal effect. If we remove ethanol, there are other trigeminal effects that you can play with — the cooling sensation of menthol, or the heat of jalapeno, or the pungency of ginger, or even garlic — and create chemical sensation without alcohol.
"I have served people my no-proof wasabi martini, and literally after two, they're like, 'What is this? It's really got me buzzed.' I'm like, 'Baby, there ain't no alcohol there.'
Getting a good restaurant or bar cocktail
This "phenomenal science" of humans' "magical unicorn" physiology and chemistry can help people create cocktails to match their palate at home. It can also give them tools to adjust a cocktail at a bar or restaurant without sending it back, Kinder says.
First, before ordering, don't be shy to ask questions about the alcohol brands and the ingredients on the menu. "Knowing every flavor profile and how those are going to mix with other flavors, it's just impossible. Ask the bartender, 'Is this sweet? Is this sour? I'm looking for something that's more acidic, or maybe I want something more refreshing. I like a little spice in mine.'"
She says lemon is the magic eraser for a cocktail that doesn't work for you. A squeeze can correct a drink that is either too sweet or too bitter. To sweeten a drink, ask for a bit of "simple syrup" that you can add to taste. Surprisingly, too hot or spicy calls for fighting fire with fire, by adding more alcohol or ginger rather than something sweet.
Koblan offers similar advice. "Curiosity is definitely the key," she says. "And being bold, being brave, asking questions and trying things that are out of your comfort zone. And trusting that person on the other side of the bar. They do that 60 to 70 hours a week. They're going to take very good care of you."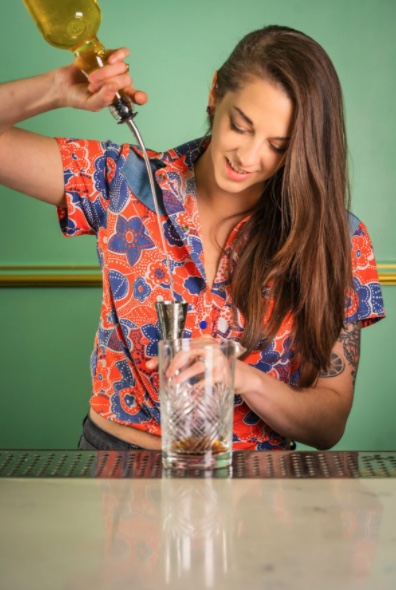 Alex Koblan: Finding a career through science, anthropology and hospitality
The chemistry of alcoholic drinks came naturally to Koblan. "I grew up in a very scientific household," says Koblan, a native of Boston.
Her father, Kenneth Koblan, is chief scientific officer at Sunovion Pharmaceuticals. Her mother, Marilyn Koblan, is a medical and surgical critical care nurse.
"I grew up having a lot of weird conversations at the dinner table about how light refracts. We did a lot of cool experiments on the weekends for fun. So I've always enjoyed finding ways to make things change colors or more efficient ways to do things or processing ingredients. There is a lot of chemistry involved in the drink-making world as well."
Her mother's love of entertaining guests and her Italian heritage predisposed Koblan to a love of hospitality, and her Wake Forest experiences helped lead her eventually to mixology.
"I did a senior thesis on the world of craft beer, and that was my first introduction to the industry," Koblan says. She majored in anthropology and minored in psychology.
"I spent all my summers abroad (on archaeology digs and research in Portugal, Spain and South Africa) working and being on teams with people who didn't always speak the same language and certainly didn't grow up the same as me culturally. I have always loved that. You can share a really nice meal and a good drink with someone, and it can really break down a barrier. I think food is communion."
The beverage industry is the "most fun job," Koblan says. "I get to help people feel comfortable and provide them with hospitality while helping them get along with a drink in their hand. It allows me to be creative. Every single day that I go into work is different. It really has a lot of problem-solving in the moment, and it's very performative, as well. … What could be better than that?"
The pandemic was challenging to both women, but Kidner was able to flourish with virtual classes and is resuming in-person work, too. Koblan's bar avoided layoffs by staying creative, including making "to-go" cocktails and mixer kits shipped worldwide, and Massachusetts has fully reopened.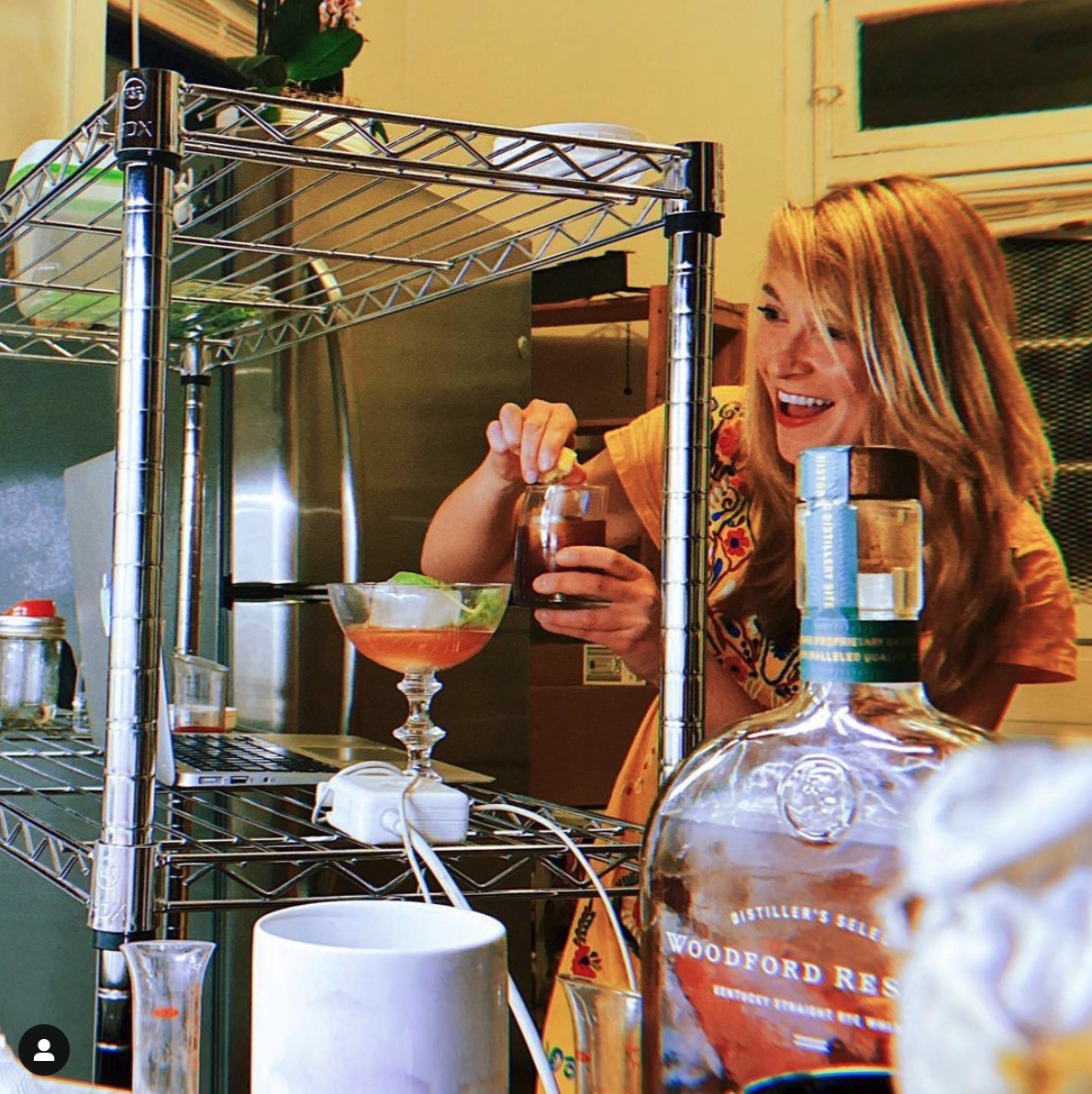 The impact of Wake Forest
Both mixologists credit Wake Forest as an important influence.
Kidner loves the University's Pro Humanitate spirit. "I love little kids, so Project Pumpkin was something that was really, really, really appealing to me."
She majored in sociology, with minors in communication and women's, gender & sexuality studies. "I had incredible professors. (Professor of Sociology) Joseph Soares meant so much to me, always had an open door for students, was incredibly intelligent, would make sure that if you had a dream and you wanted to really pursue it, he would go to the ends of the earth to make it possible."
Kidner, who grew up in North Carolina and northern Virginia, entered the competition that initiated her into mixology almost as a fluke while pursuing her master's degree at Northwestern University, where she became enchanted with Chicago. "My mama (a financial adviser) always told me, 'You should always have a side hustle,' and I was really interested in the science of food," says Kidner, who was focused on sustainable agriculture journalism.  
Her side hustle was teaching children at a farmer's market how to make butter or ice cream from scratch to break down technical science terms. "Next thing I knew, I had more adults who had no children wanting to know how to make butter," she says. "I sold out every single class. People were asking, 'What else do you do?'"
She began teaching how to break down fruits into syrups and jams, then added a cocktail, using rhubarbs or other Midwest fruits. A woman suggested the Slow Food competition, one of the few open to non-bartender amateurs.
She found the seeds of her cocktail career in pawpaw fruit. "They are the largest North American hand fruit, about a pound in size, but a lot of people don't know what they are," Kidner says. She cut the "cloyingly sweet" pawpaws with sour cherry or apple cider from Michigan, then added clover honey and Midwest rye vodka.
"I made this daiquiri that I called the Maui in the Midwest (recipe below) because it tasted tropical, but it was from this frozen tundra six months out of the year."
Koblan says Wake Forest helped her professionally by honing her ability to express herself clearly. "Being a woman, especially in a very male-dominated industry, I have to work a little bit harder sometimes and be composed and professional. Wake certainly prepared me to tackle and take on this industry. Instilling that hard work value system and being able to put your head down and handle a heavy course load is certainly a very big plus, being able to take on multiple projects."
I wanted something light, refreshing, enjoyable that was going to have some sentimental connection to the University.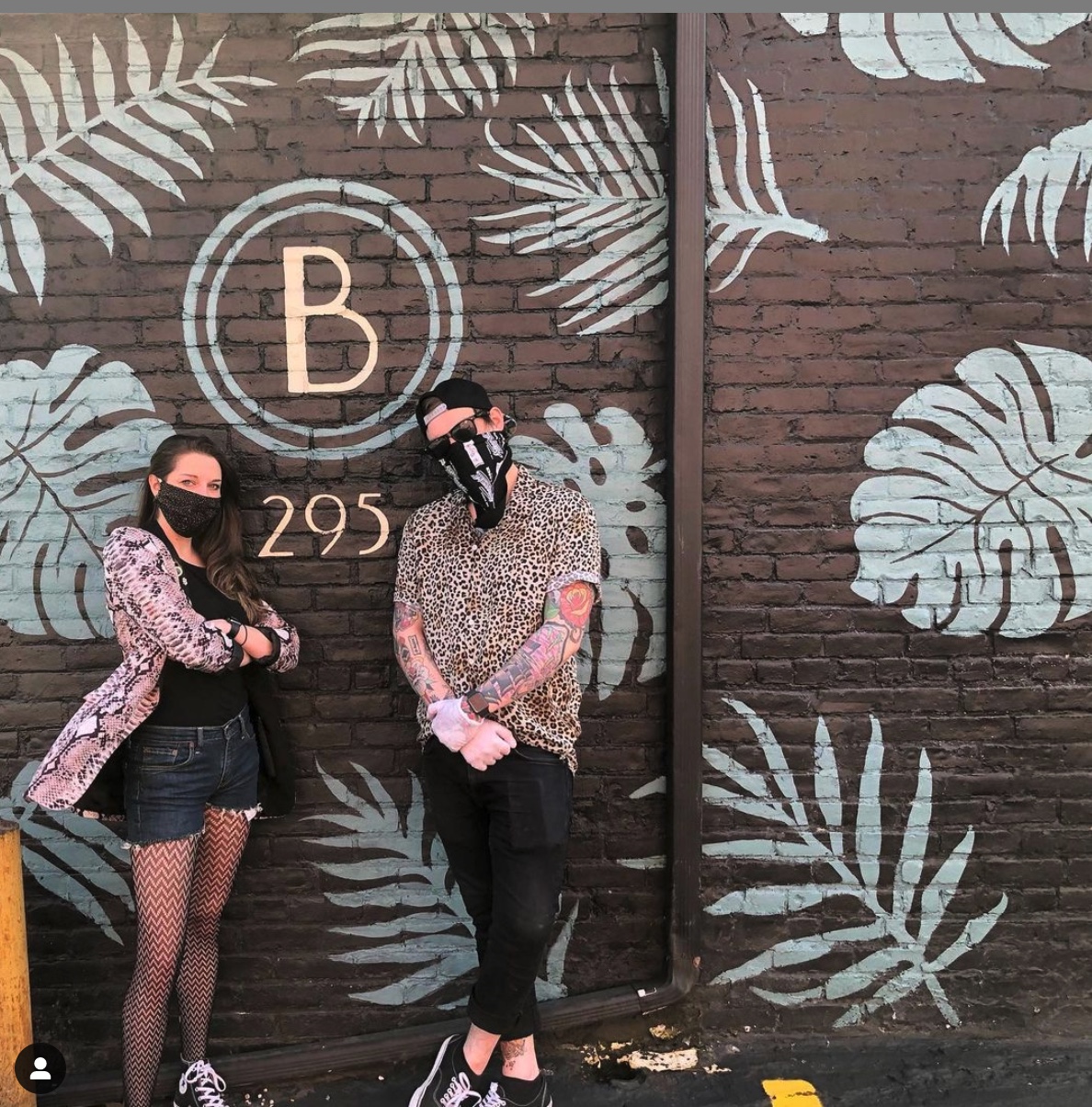 The magic of magnolias
Both women fell in love with the beauty of campus, and magnolias hold a special place for them.
"I love the swings around campus, and I love the magnolia trees," says Kidner. "I'd always climb up in one near the sociology building and stay up in there all day waving at professors and my friends."
Koblan's love of the magnolias on campus inspired The Magnolia cocktail recipe she created for the virtual Wake Women's Weekend conference this year. (See recipe below.)
"I went down to Wake in June between my junior and senior year (of high school) and every other school that I went to, I could not get the idea of the (magnolias at Wake Forest) out of my head," Koblan says. "It was a very sentimental image for myself."
She created the floral-based cocktail for the women's conference because "I wanted something that ladies could sit on their porch and enjoy with their friends. I wanted something light, refreshing, enjoyable that was going to have some sentimental connection to the University."
Cheers to that!
---
 At Instagram, find Alex Koblan at @blossom_bar_brookline, Devin Kidner at @hollowlegmixology. Also see @slowfoodusa @speed_rack
The Magnolia by Alex Koblan:
1.5 ounces blanco tequila
1.5 ounces tea infused simple syrup (recipe below)
1 ounce lemon juice
0.5 St. Germain
5-6 mint leaves
Shake with ice (a shaker works best but in a pinch a Tupperware or yeti tumbler works great), double strain over fresh ice into a glass. Garnish with a lemon wedge and edible flower!
For a nonalcoholic version up to 2 ounces of syrup, 1 ounce of lemon, 5-6 basil or mint leaves, top with soda of your choice (Pamplemousse LeCroix or anything cucumber would be a delight). Have fun with flavor combos!!
Tea syrup –
For this recipe I used jasmine green tea, but any floral herbal tea you prefer would work great (chamomile, lavender, hibiscus). Heat 1 cup of water on the stove in a saucepan and add 1 cup of sugar, bring to a light boil. Stir until sugar is incorporated and solution is clear. Turn off heat and add 2 teabags of your choice to the syrup. Let sit for 30 minutes. Squeeze out tea bags and you have your syrup! Keep refrigerated for up to a month in the fridge.
Maui in the Midwest by Devin Kidner:
• 60ml /2 ounces vodka
• 30ml /1 ounce apple cider
• 1 teaspoon raw, unfiltered honey
• 3/4 cup seeded pawpaw flesh
• 1/2 cup ice cubes
Combine all of the ingredients in a blender and process until smooth. Pour into a chilled glass, garnish with two lemon balm leaves. Serve chilled and relax.