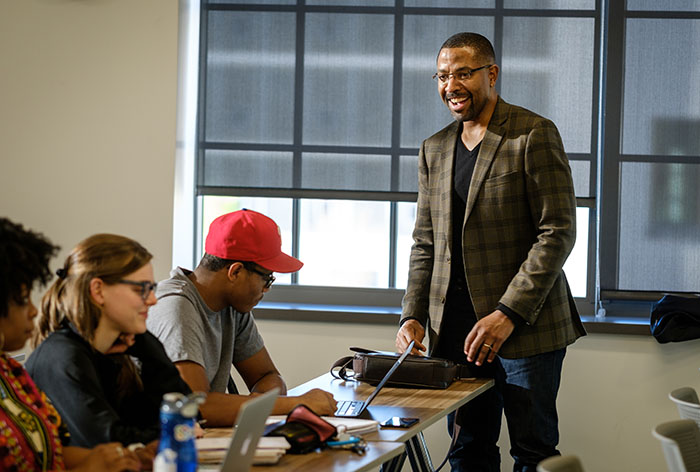 Corey D. B. Walker, the Wake Forest Professor of the Humanities and an author, is the inaugural director of the African American Studies Program, which will launch in the fall as a major at Wake Forest. He is jointly appointed in the Department of English and the Interdisciplinary Humanities Program.
In January, an anonymous donor made a $1 million gift to help establish the new program and create the Dr. Dolly A. McPherson Fund for African American Studies, named for the late professor of English who was the University's first full-time Black female faculty member. Plans include developing a graduate certificate in addition to a major and minor, Walker says.
Walker was an external consultant on the University's Slavery, Race and Memory Project. He previously was vice president of Virginia Union University and professor and dean of the seminary at its Samuel DeWitt Proctor School of Theology in Richmond, Virginia. He also has held faculty and leadership positions at Brown University, the University of Virginia, Winston-Salem State University and the University of Richmond. He was a non-resident fellow at the W.E.B. Du Bois Research Institute at Harvard University.
Wake Forest Magazine talked with Walker about his new role. The conversation has been condensed and edited for clarity.
---
What drew you to Wake Forest?
I was dean of the college at Winston-Salem State for four years. (Wake Forest Provost Rogan Kersh '86) and I work really well together. We taught a class together — "Universities and Communities." I interacted with colleagues at Wake and throughout the city. Working on the Slavery, Race and Memory Project gave me an up-close look at what Wake is doing. It really solidified that Wake Forest is a place to do some vital and important work.
Why is this the time for an African American Studies Program?
Wake is a top-30 institution in the nation and is one of the very few not to have an African American studies program. We're going to launch a signature program that will be uniquely Wake. Students as early as 1969 were saying we need African American studies. So this has been 50 years in coming.
What are the core elements of the program you're building?
One of the big pieces is serving as a hub of intellectual curiosity and intellectual creativity for the College and the broader University. African American studies brings and develops new knowledges about the human experience, drawn from the deep wells of the intellectual traditions, thoughts and cultures of people of Africa and of the African diaspora in the U.S.
Secondly, if we want to really deepen our understanding of the liberal arts traditions, you can't do that without African American studies. African American studies really is for everyone. You can't have a deeply humanistic education without understanding the varieties of ways in which people are human and the ways in which people develop knowledge, develop culture.
Thirdly, we have an opportunity to develop a signature approach (that) produces students who then go out and transform the world. That's one of the key pillars of African American studies.
What surprised or interested you during the Slavery, Race and Memory Project?
Students at Wake Forest were debating questions around slavery in the 1840s and the 1850s. The majority of the time, those debates went for the maintenance and continuation of slavery. A century later in the 1950s and 1960s, there are students at Wake Forest who are not only pushing the board of trustees and the administration to desegregate, they're also joining hands with their colleagues at Winston-Salem State to end segregation in Winston-Salem. What are the possibilities of Wake Forest from that beginning and into the future?
What are your other interests?
I'm an avid college football fan. I also work with a number of folks on the Center for Faith, Justice and Reconciliation (in Richmond, where he, his wife and their daughters, ages 10 and 17, split their time until this summer.) That interfaith reconciliation work is one of my particular passions.