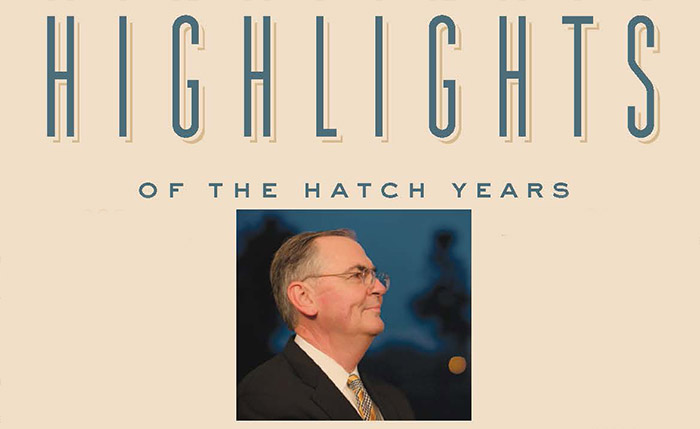 ---
2005
Nathan O. Hatch becomes Wake Forest's 13th president on July 1, with official inauguration Oct. 20 in Wait Chapel.
---
2006
Hatch announces a strategic planning process to "build upon existing strengths and identify areas where we need to improve."
Voices of Our Time speaker series begins.
Plans are announced to raise $10 million for a Presidential Trust for Faculty Excellence.
Entrepreneurship and social enterprise minor is added, one of 10 minors and eight majors created during the Hatch administration.
---
2007
Wake Forest begins programs in Washington, D.C., through The Washington Center for Internships and Academic Seminars.
---
2008
Test-optional policy for applicants takes effect as Wake Forest becomes the first top-30 national university not to require SAT or ACT exams.
Deacon Tower (later renamed McCreary Tower) opens, the first of an array of new athletics facilities, including McCreary Field House, Sutton Sports Performance Center and Shah Basketball Complex.
Hatch unveils a strategic plan to build on Wake Forest's strengths as a "collegiate university" to become "an extraordinary place in American higher education."
---
2009
The undergraduate Calloway School of Business and Accountancy and the Babcock Graduate School of Management combine to become the Wake Forest School of Business.
A redesign of career services births the Office of Personal and Career Development, which becomes a top college-to-career program.
Magnolia Scholars program begins for first-generation college students.
---
2010
The Character Project is created to research character and how to include it in curricula.
South Residence Hall, the first LEED-certified building with environmental benefits on the Reynolda Campus, opens.
The Humanities Institute launches.
---
2011
Porter B. Byrum Welcome Center opens.
A requirement that undergraduates live on campus their first three years takes effect.
---
2012
Wake Forest Biotech Place opens downtown.
The graduate business education program, in Charlotte since 1995, opens Wake Forest University Charlotte Center at 200 N. College St.
The Interdisciplinary Performance and the Liberal Arts Center (IPLACe) is created. It's now the Interdisciplinary Arts Center.
Faces of Courage celebrates 50 years of integration with a yearlong series of events to commemorate and honor those who contributed to a diverse Wake Forest.
Hatch becomes chair of the NCAA Division I Board of Directors during a tumultuous time.
---
2013
"Wake Will: The Campaign for Wake Forest" kicks off with a $600 million goal for scholarships, faculty support and new and improved facilities.
Farrell Hall opens to house the School of Business.
Dogwood and Magnolia residence halls open.
The first Presidential Endowed Chair, recognizing faculty who represent the teacher-scholar ideal, goes to historian Michele Gillespie, now dean of the College. (Nine more presidential chairs were added in the Hatch years.)
---
2014
Thrive, a comprehensive wellbeing initiative, launches to inspire students' emotional, spiritual, physical and social wellbeing.
Hatch is inducted into the prestigious American Academy of Arts & Sciences.
---
2015
A Summer Immersion Program opens for high school students.
---
2016
The School of Medicine moves its medical education programs into Innovation Quarter in downtown Winston-Salem.
Buoyed by momentum, Wake Will becomes Wake Will Lead, extending the capital campaign goal to $1 billion by 2020.
---
2017
Wake Forest joins the Universities Studying Slavery consortium.
Wake Downtown in Innovation Quarter offers new undergraduate programs in biomedical sciences and engineering.
The Program for Leadership and Character begins.
The Wake Washington Center at One Dupont Circle, home to a "study abroad" program in the nation's capital, celebrates its grand opening.
Hatch begins Call to Conversation dinners, which launch nationally a year later.
A study-abroad program for first-year students opens in Copenhagen.
Wake Forest receives $70 million for scholarships from the late Porter Byrum (JD '42), the largest gift in the University's history.
The new residence hall honoring Maya Angelou (L.H.D. '77) is dedicated.
---
2018
Reynolda Cabinet expands to include the chief diversity officer.
The three-year project to transform the 1950s Reynolds Gym into a health and wellbeing center is complete.
---
2019
Hatch forms the President's Commission on Race, Equity and Community to illuminate University history.
A study shows the University ranks fourth among U.S. doctoral colleges and universities in percentage of students studying abroad.
---
2020
Wake Will Lead campaign exceeds its $1 billion goal, having created more than 50 endowed professorships, funded renovations and new buildings, provided scholarship dollars to 1 in 5 undergraduates, lowered student debt by 30% and added nearly $400 million to the endowment.
Hatch, on behalf of the University, apologizes "for participating in and benefitting from the institution of slavery … and for the exploitation and use of enslaved people." The University's Slavery, Race and Memory Project publishes essays about Wake Forest ties to slavery.
Hatch, trustees and the campus community mobilize to deal with extraordinary challenges of the COVID-19 pandemic to ensure a safe return for the 2020-21 academic year.
Atrium Health and Wake Forest Baptist Health, including the School of Medicine, merge as Atrium Health and announce plans to add a medical school campus in Charlotte.
Trustees approve a new School of Professional Studies in Charlotte.
---
2021
An anonymous $1 million gift creates the Dr. Dolly A. McPherson Fund for African American Studies to help establish the new major and minor.
Hatch receives the Order of the Long Leaf Pine, North Carolina's highest civilian service award.
---
NOTE: The timeline above is part of a larger feature celebrating Dr. Hatch's tenure at Wake Forest. You can read the full story by clicking the link below:
. . . . . . . . . . .
Embracing values, tradition and innovation, President Nathan O. Hatch challenged his team and Wake Foresters to make history.