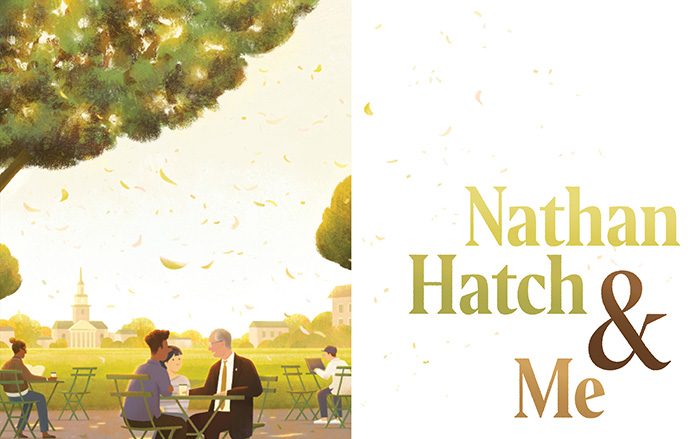 Wake Forest Magazine asked friends and colleagues of the president to share behind-the-scenes observations of his leadership in action and his impact on their lives.
(Jump to interview by clicking name)
---
---
---
---
---
---
---
---
---
---
---
Three chairs of the Wake Forest Board of Trustees — Gerald Roach ('80, JD '82, P '09, '12), Don Flow (MBA '83) and Donna Boswell ('72, MA '74)  — share thoughts on Nathan Hatch's leadership in action. 
. . . . . .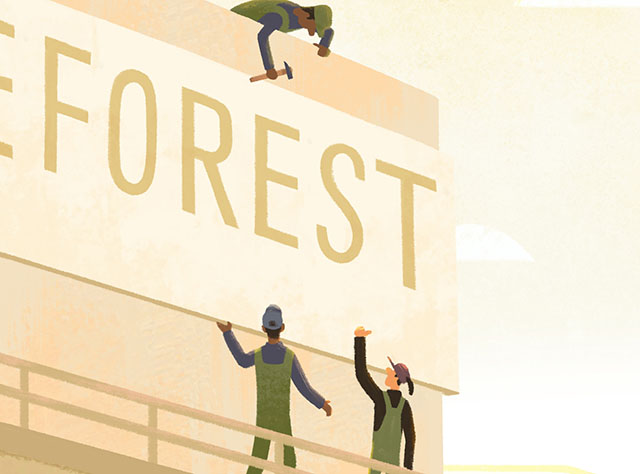 Rebecca Alexander (P '22)
 I 'm sure others will talk about the Slavery, Race and Memory Project, so I will talk about Wake Downtown. He was aware that the medical school was moving from the hospital to these newly renovated spaces (in former R.J. Reynolds Tobacco Co. buildings) and that an opportunity presented itself for the undergraduate campus and all the campus to have some presence downtown. He demonstrated his leadership in recognizing that opportunity and acting on it very quickly and decisively while still allowing faculty, encouraging faculty to present and propose programs rather than saying, "This is what we will do in this space." He invited collaboration. So that's the big picture.
Leadership is not just big-picture vision, but digging in and tackling some of the challenges. We would have monthly meetings with (top administrators.) Sometimes it was high level, and sometimes it was debating the sign that was going to go on the top of the building. How does it represent everything that was happening here and is there a flashy name? Is there a logo? How do we make sure that this space is branded? In the end, it just says Wake Forest. Getting down to that level of nitty gritty. The leadership is in what's this going to look like 10 years from now, not just today? How do we mark the moment in a way that is lasting?
(I appreciated) his generosity of allowing people to lead, providing opportunities like the opportunity that he gave me to lead in the Wake Downtown planning. He's definitely not a micro-manager. He's a gracious motivator. He motivates people to give their best, even if the ways that they lead and give their best are different than his. What makes (Wake Forest) a great place is that we have lots of different styles and personalities and ways of leading. He allows other people to shine. He doesn't feel the need to take the limelight. He enables them, seeks out funding for them and connects people but doesn't take the credit for things as much as he probably could. That's the beauty of a quiet leader who enables and empowers others.
---
Rebecca Alexander (P '22) is associate dean for research and community engagement, director of Wake Downtown and a chemistry professor who holds the Robert P. and Debra Lee Faculty Fellowship and the F.M. Kirby Family Faculty Fellowship. Wake Downtown is the University's undergraduate presence with new engineering, biochemistry and other programs approved in 2017. They occupy a building in the research and business Innovation Quarter, next to the medical school's building for its medical education programs.

. . . . . .
Mit Shah ('91)
W hen Dr. Hatch arrived at Wake Forest in 2005 with his wife, Julie, it was my first year as a trustee, and it was his first time as a university president. At Wake Forest, we are all deeply connected by our mission to inspire our students to be what they could become and to lead lives that matter. In Nathan's own way, that's precisely what happened on his journey. His evolution was due in large part to his intentionality of never wanting to be the smartest person in the room. Instead, he built a strong circle of diverse thinkers and purposeful stewards whose passion, perspectives and ideas together led to the smartest room.
Learning from the depth and breadth of others' experiences and their ability to discern, strategize and execute is how Nathan cultivated his own knowledge and advanced his personal style of leadership. During Nathan's tenure, each of our trustee board chairs brought immense professional expertise in higher education, health care, business, law and governance. Nathan worked intently with each of them, our board, his cabinet and the broader Wake Forest community to foster his personal, professional and intellectual discovery. We have all been witness to how these experiences, combined with his incredible deepness of humanity, helped him evolve into an enormously transformational leader.
When history writes its book on Nathan, it's a Wake Forest story in many ways, which is, "You will arrive here full of excitement, enthusiasm and conviction, and you will grow and develop by learning from others and embracing what this place is." Now you think back to early last year, and while his retirement wasn't publicly announced, Dr. Hatch would begin his final and perhaps most important chapter of his revered tenure. But for him, there was still a significant priority to accomplish at a time of intense importance to our University and to our society — Wake Forest's apology for participating in and benefiting from the institution of slavery.
There were people who said, "I don't understand the apology. It's nothing that Dr. Hatch did. It's nothing that we did in our lifetimes." But if you think about Nathan's ethos, regardless of all the meaningful things that we have done at Wake Forest, he cultivated a culture that always reminded us to remain constant and true to ourselves. We say the words, Pro Humanitate. It's not a statement of convenience. It is how we must lead our lives — so that they truly matter.
This is the story of Dr. Nathan O. Hatch. A servant leader who arrived in Winston Salem full of profound goodness, genuinely wanting to make a difference in this world, possessing the self-awareness and fortitude to surround himself with powerful catalysts, never wavering in doing what was right. Generations of Wake Foresters will bask in the glorious shade of the tree that Nathan and Julie have devotedly planted.
---
Mit Shah ('91) is the CEO of Noble Investment Group and a member of the Wake Forest Board of Trustees.
. . . . . .
Jonathan Walton (D.D. '15)
I 've known Nathan Hatch my whole professional career, whether he knew me or not, because I was introduced to him in graduate school in an American religious history course and that classic text (by Hatch) "The Democratization of American Christianity." It helped shape our understanding of American history and the ways that religion and democracy and politics have always been intertwined, shaping and informing the other. In every class that I've ever taught in American religion, there's some sort of reference if not assignment to Dr. Hatch's "The Democratization of American Christianity."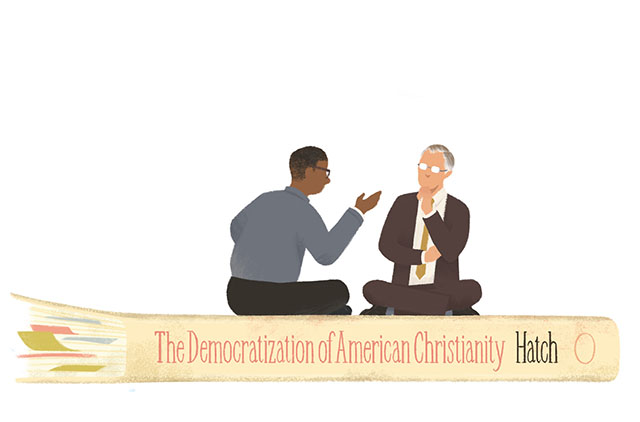 When I finally had the chance to meet him face to face, I let him know that I guess we had been kind of BFFs in my imagination for about 20 years. He's had this kind of intellectual impact. I think that pales in comparison to who he is as a human being. If he's a great scholar, he's a much better person.
When I think of Nathan and Julie, I think of a level of kindness. I think of a level of tenderness, that they understand people as whole, complicated human beings that live within communities of personal relations. That may be the historian in him. I can tell this story about when he was recruiting me to Wake Forest. One of the things that Cecily, my wife, and I were so impressed by and appreciative of was when we sat down for dinner with Nathan and Julie, the conversation was not about the greatness and the opportunities at Wake Forest for me as a scholar. It was not about salary or income or professional aspirations. It wasn't about the immense possibility that the divinity school could and does afford. It was about our life together as a family. My wife and I. Our children. Our daughter's love for science, her twin brother's love for the theater. The little guy's love for sports. We spent two hours at dinner talking about their passions, the ways those passions might be realized in the state of North Carolina in general and in Winston-Salem in particular.
And so, Cecily and I walked away knowing that they were invested in us as a family. … They live into, "This is who we are as a community — that we move and go together." That's why I wanted to be at Wake Forest.
I think there is something about Wake Forest that allowed Nathan and Julie Hatch to thrive here. And in the process, they were able to accentuate ingredients that were already in the recipe of Wake Forest as it relates to building scaffolding of innovation without losing interpersonal tenderness.
---
Jonathan L. Walton (D.D. '15) is dean of the School of Divinity, Presidential Chair of Religion and Society and dean of Wait Chapel. He left Harvard University to join Wake Forest in 2019.
. . . . . .
Reid Morgan ('75, JD '79, P '13, '14, '19)
At Founder's Day, on Feb. 6, 1992, Provost Edwin G. Wilson ('43, P '91, '93) gave a speech in Wait Chapel to a capacity crowd who had come to hear his wisdom about Wake Forest. In that speech he expressed a hope that "as Wake Forest University grows in wealth, prestige and success — as it, so to speak, 'gains the whole world' — it will not 'lose [its] own soul.' "
During his 16 years at Wake Forest, President Nathan Hatch has ensured that Wake Forest has kept its "soul." At a 2019 meeting of the University Board of Trustees, President Hatch delivered an address entitled "The Soul of Wake Forest."
"What is our soul?" he asked. "It is our animating force, what gives us life, what joins us together in a common vision, deeply felt and jointly held. It is our common possession and our common life. It is our way of being, the source of our deepest values, the fabric of our shared humanity."
Echoing the words of Provost Wilson, Ralph Waldo Emerson and Dr. Martin Luther King Jr., he went on to suggest that "the soul of Wake Forest lies in its inherent commitment to both intellect and character, and … that investing more deeply in marrying these core elements is both our calling and our opportunity in these times. … By setting a North Star of intellect and character, we are, at the same time, faithful to our heritage and powerfully relevant in contemporary society."
Each president of Wake Forest has been called upon to understand the soul of the University, interpret it for the times, lead in the expression of it and preserve it for future generations. In his words and deeds, President Hatch has revealed the intensity of his focus on, and the depth of his understanding of, the soul of Wake Forest — and his commitment to a vision for the University that is true to its soul. He has informed and enlarged our understanding of our unifying motto, Pro Humanitate, which signifies the soul of Wake Forest, and he has done so in difficult times.
I am grateful to President Hatch for his indispensable leadership in preserving and interpreting the soul of Wake Forest.
---
Reid Morgan ('75, JD '79, P '13, '14, '19) is the University's senior vice president and general counsel. He's worked with three Wake Forest presidents — James Ralph Scales, Thomas K. Hearn Jr. and Nathan O. Hatch — dating back to 1979.
. . . . . .
Herman Eure (Ph.D.'74, P '23)
Eure was impressed with Hatch's response to recent racial issues, including offering an apology at the 2020 Founders' Day Convocation for the University's exploitation and use of enslaved people. "I trust Nathan Hatch to do the right thing," Eure says. He advised Hatch and talked with students during 2019 protests over racial incidents on campus and offensive content found in a historical review of The Howler prompted by similar findings at other universities. The review found lynching references, racial slurs, students in blackface and Confederate symbols, including photos of a few current administrators posing in front of a Confederate flag at the Kappa Alpha fraternity in the 1980s when they were students.

We talked about what these kids are concerned about is that it seems that we study these things, and there are no actions on these conclusions or recommendations. The students came prepared with written statements, and I was proud of them. After it was over, I told them that I wanted to speak with the students by myself. And I said, "Dr. Hatch is a historian. They study everything; they're meticulous about getting the facts straight, and then they do their writing or talking. So, don't take him being slow as not wanting to react. He's going to look at it, assess it and make a decision."
I said, "Believe me, when he comes to a conclusion about what he thinks is right or wrong and moral, that's one of his key values — morality. If he tells you he's going to do something, then you can take it to the bank. He's true to his word."
He and I have not always agreed on everything, but he was willing to tell me why he thinks this is better than that, and I have to respect that. His leadership came in the fact that some of the demands were met. One of them was they had no place that they call theirs. Within two weeks, (the Black Student Alliance) had a lounge because he said that night that we will look into this, and if we can do it, we will do it.
The thing that impressed me with those students was that he listened to them. But more importantly, he heard them and felt their pain and their anguish that "How long are we going to have to take this kind of thing?" It takes the rare person to hear what someone is really saying, which means they're internalizing it and then acting on it from a moral perspective.
(On the slavery apology) he is the only president deciding this is a part of Wake Forest history. No one forced him into doing it. He did it on his own. That, to me, is leadership. (He) was willing to say, "We need to acknowledge this, and we need to figure out how we're going to change this situation" — with the commitment to the Slavery, Race and Memory Project.
---
Herman Eure (Ph.D. '74, P '23) is a trustee and a retired biology professor, department chair and associate dean. He was the University's first Black full-time graduate student, first Black doctoral recipient on the Reynolda Campus and first Black full-time faculty member. He initiated the Office of Minority Affairs (now the Intercultural Center) in 1978. He received the Medallion of Merit in 2017.
. . . . . .
Killian Noe ('80, D.D. '17)
There is much about President Hatch's leadership that is moving and inspiring to me. We need more leaders who embody the qualities he embodies. Being president of a university is not a job. It's your life. (I know he could not have been the extraordinary president he's been if Mrs. Hatch wasn't also deeply called and committed to Wake Forest. We owe her a debt of gratitude.)
As for the qualities I admire in him, not just the qualities, but the commitments … let's start with Pro Humanitate. That's been Wake Forest's motto from the beginning, but he made it come alive because of his leadership and commitment to it. He knows from his own experience that it is in giving our lives that we find life. By emphasizing this for students and alumni he has given us a loving gift. He has loved us all by reminding us that it is what we give, not what we acquire, that creates lives of meaning and joy.
Here at Recovery Café we often quote the Franciscan priest Richard Rohr who said, "What does not get transformed gets transmitted." We know what we can't face will never get transformed, but will get transmitted to the next generation and the next. Dr. Hatch led Wake Forest in facing its reprehensible past participation in the enslavement of human beings. I am deeply moved by that commitment which makes ongoing transformation possible.
Another commitment that resonates deeply with me is his commitment to the Call to Conversation program. At the heart of Recovery Café is the truth that we all need to be deeply known and loved and that real relationships that cross racial, religious, socioeconomic and political barriers are what change us and ultimately change our world. I can't think of anything more needed in our nation right now than relationships that change us and heal the divides.
But more important than all the things he did, the most important gift President Hatch gave us was the gift of his "being." He lives and leads from a very deep place. His "being," not just his doing, calls individuals and communities to their truest selves.
---
Killian Noe ('80, D.D. '17 ) is the co-founder of Recovery Café in Seattle, a model for those suffering from homelessness, addiction and other mental health challenges, that has spread to 24 other cities in the United States and Canada. She received Wake Forest's Distinguished Alumni Award in 2015.
. . . . . .
Jermyn Davis ('10)
I remember as student body president my junior year talking to him about student life. At the time, parties were off campus, and I told him, "We really need to figure out what we can do to get social student life back to campus." And I remember him saying to me, "I want to work with you to get this done." It impacted my life personally; it's a story to say, "If you are committed to something, you just get it done." It just meant so much because we increased funding for students to have social gatherings on campus and really brought social events back to the Quad.
My senior year, I was student trustee, and the student body president at the time was my best friend — she still is — and we thought it'd be a really cool idea to get Dr. Hatch and the then-provost to do a rap (for a charity event). I remember (us) saying, "Dr. Hatch is definitely not going to go for this, and the provost, she is not going to go for this, either."
So we set up meetings at the exact same time. And we said to him, "Provost (Jill) Tiefenthaler has agreed to do the rap, if you agree to do it." And we told her, "He has agreed to do the rap, if you agree to do them." And they both did, not realizing until several weeks later they both had been conned. It's probably a bad idea to say that out loud. (This was) something that he probably didn't want to do but also realized it was for charity, to get people excited about it, so, sometimes you step outside of your comfort zone, especially as a leader, to do those things.
What I love about Dr. Hatch is that he sees talent. I was going to go to Deloitte after graduation, and he said, "I really want you to be in my office (as a Wake Forest Fellow)." And I was, "I don't want to do this. I don't think your office will have all the things that I'm trying to grow." And he (says), "We'll make this the experience that you want to have." I learned that when you find a person that's really talented, you say, "How can I make the job fit them?" I have now tried to say, "Who are the most talented people? How can I surround myself with them?"
I would not have been in higher education at all — at all — if he hadn't gotten me into that Fellows year. In the way that Nathan approaches leadership, it made me realize higher education is such a dynamic industry.
---
Trustee Jermyn Davis ('10) is a strategic cloud advisor in Google's higher education practice. He was a student trustee and was a Wake Forest Fellow in the President's office after graduation, developing and managing special projects. Prior to working as a strategy and operations consultant in Deloitte Consulting's higher education division, he was chief of staff for Jill Tiefenthaler, then president of Colorado College.
. . . . . .
Provost Rogan Kersh ('86)
As we all know, our wonderful president is a low-key — you might say limelight-shunning — individual who is wonderfully steady and even-keeled. When a crisis is its worst, we can look to him for a kind of calm support, and when things are great, he keeps us grounded. However, this gently reserved man has one moment when he loves to shine. Nathan Hatch is a frustrated orchestra conductor.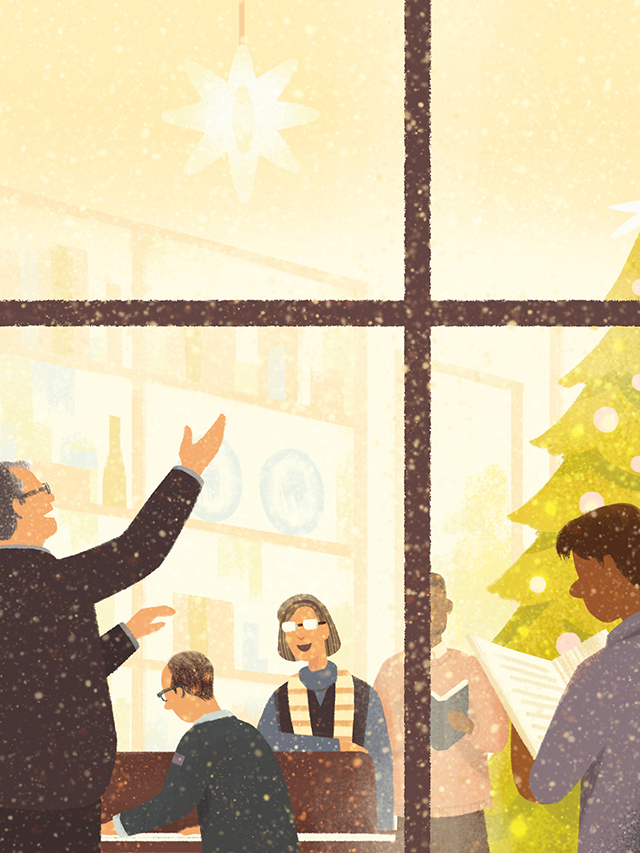 I figured that out once a year, where he hosts folks from campus and his beloved First Presbyterian Church and other friends for a rousing Christmas carol-singing session in his capacious president's house living room. Imagine as many as 50 people packed in, some on the couches and chairs, some standing, and Nathan takes the position right by the piano, which is our accompaniment. In recent years, you've also had a violin.
Nathan organizes the group, will occasionally conduct us, queues the piano, calls out the next carol, and — in this wonderful basso profundo that I don't think many of us have heard him sing unless you're standing next to him for the alma mater or the fight song — sings out these carols in most marvelous ways.
I had been here five months and was delighted to get invited to a carol party and thought we might be going door to door, but no, it was a Nathan Hatch command performance. And he loved being out front, making sure that all us tenors merged with the altos, and the sopranos came in when they should.
When I think of how Nathan leads, more broadly, it's more this same, perhaps not orchestra, but choir conductor metaphor. He organizes us as a whole; he sends the invitations; he knows who's going to be there for, literally, the caroling session, but figuratively, he draws the talent here.
He sees who performs in what ways the best. He puts them in a place and on a team where they can be their most effective, where we each can sing our part and have it merge seamlessly with the whole. It is a kind of literal genius. Most anybody can get up and give a speech, issue a directive, write a memo or have an edict come forth, but he is constantly aware of how the whole choir is working together and what parts we need — "We haven't had a counter-tenor for years here at Wake; I know just the one to go get."
He organizes and carries out the execution of the finest choir (of which) I've ever had the honor to be a part.
---
Rogan Kersh ('86) has been provost and a professor of political science at Wake Forest since 2012. He previously was an associate dean and professor at New York University and a professor at Syracuse University.
. . . . . .
Michele Gillespie
Nathan cares deeply about character. For Nathan, everything starts with what it means to be good and do good in the world. So when it comes to higher education, he firmly believes that you can't just teach young people a set of skills that will give them a career and money, and be happy with that.
Instead, we must help all our young people learn how to be critical thinkers who are ethical, principled and compassionate. To that end, because our world has grown so complex and the problems we face so immense, we have never needed the humanities more given their formative role in shaping character. (Nathan has) signaled to everyone that we are a liberal arts university first and foremost, that the humanities are at the core of our distinctive Wake Forest education.
Nathan has been extraordinarily innovative. He understood the significance of creating the Office of Personal and Career Development long before other institutions had even begun to rethink career development. He understands the significance of putting a School of Professional Studies in Charlotte because of the big market there. He understands how the Atrium Health and Wake Forest Baptist Health partnership ensures that the medical center remains strong for generations to come. Those are cutting edge, imaginative, 21st-century pursuits.
But his penchant for innovation is always steeped in those values that speak to what it means to be human and that are embedded in a liberal arts education. All his decisions are rooted in this very important place. Perhaps nowhere has this been more evident than in his demonstration of character — and courage — in leading the institution to bring students back to campus last fall at a time when many schools went wholly online.
He said, "We have to figure out … how to keep everyone healthy and safe, but we are in the business of educating our students and educating the whole student" and that meant having students return to campus, and he was right.
---
Michele Gillespie is Dean of the College and the Presidential Endowed Professor of Southern History. Since joining the faculty in 1999, she has also served as associate provost for academic initiatives from 2007 to 2010.
. . . . . .
Mary Pugel
I thought about "What has been his impact on my life?" One is more personal. I'll never forget this. When my father died almost two years ago now, the Hatches interrupted their spring break and flew to Seattle for his funeral. I will never forget that, nor will my family. An action like that will always be part of why this long friendship that I have had with Nathan and Julie will always remain so special. It illustrates something that's very, very important.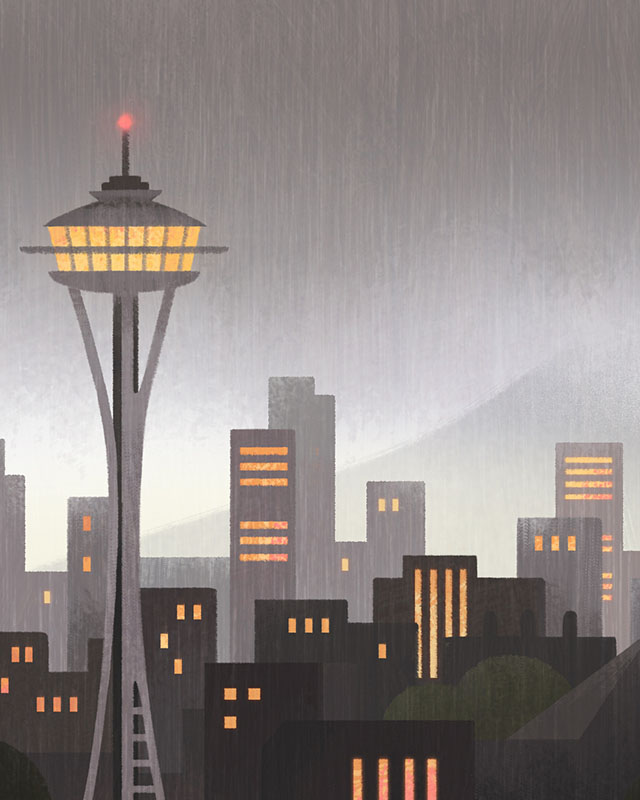 I thought about what I learned from working with Nathan. One is holding always to the highest personal and professional standards. It's not always easy, but one thing I've learned is don't take shortcuts. Put in the effort. If a goal is worthy of your attention and worthy of accomplishing, it's worthy of your effort.
With Nathan Hatch — I think anyone who gets to know him well discovers this quickly — the same person shows up every time. There are not several Nathan Hatches. He is the same person regardless of the audience, regardless of the event. To have the same person show up every day in the office is a huge gift, and I know that's not always the case in all work environments.
He talks about it a lot: At the end of the day, put your trust in people rather than plans or strategies. You can have the most beautifully thought-out plans and strategies, but if you don't have the right people, you risk failure big time. Look for the best people. Trust them to do the work that you hired them to do. Don't sweat the small stuff. … If you put your effort into finding the best people, let them do their job, and rarely will they disappoint you. At the end of the day, what do you trust — the plan or the people? Trust the people.
Finally, you don't have to be the loudest voice in the room to be effective. As people have come to know Nathan over time, I think people came to appreciate and rely on that and understand that — strength comes from being who you are, that you are not trying to pretend that you're someone else.
---
Mary Pugel has served as Nathan Hatch's chief of staff at Wake Forest since his arrival in 2005. She had a similar role, starting in 1997, when Hatch was provost at the University of Notre Dame. She has known Julie Hatch all her life. Pugel's family and Julie Hatch's family share a friendship that goes back generations and to Priest Lake in Idaho, where the families have had cabins in the woods across the creek from each other.
. . . . . .
Jim O'Connell ('13)
I spent the year after graduating as a Fellow in the Office of the President. During that time, Dr. Hatch was generous enough to meet every two weeks to discuss career aspirations and planning. But deeper than offering career advice, he took the time to get to know me by asking deep questions about talent and service and vocation.
At one point he suggested we read Jim Collins' "Good to Great" to see what we could both learn. It opened my mind to an interesting pattern amongst effective leaders: that oftentimes the best leaders are deeply humble personally but bold and energetic on behalf of his or her institution.
I realized midway through the book that I was sitting across from someone (Dr. Hatch) who perfectly embodies Collins' description. And shortly after completing the book, when it came time to write my Rhodes Scholarship essay, I talked about having had great role models in my life. As you might imagine, I had Dr. Hatch in mind.
Dr. Hatch brings out people's best through his authenticity, creativity and steadiness. Our shared friendship with Michael Lamb (executive director of the Program for Leadership and Character) is a testament to this. Michael likely would have landed somewhere else were it not for Dr. Hatch's vision and commitment.
Both Michael and Dr. Hatch view leadership and character through a relational lens. It's about the team you build. It's about the missions you rally people around. It's about building consensus, collaborating, tapping the brightest minds. And yet — at risk of sounding overly poetic — Dr. Hatch has shown that sometimes it's more about the heart than the mind. You need both, but you have to bring your full heart to everything you do. That, above all else, is the best lesson Dr. Hatch taught me.
---
Jim O'Connell ('13) is a member of the board of trustees and president of Vinik Family Office in Tampa, Florida. As an undergraduate, he was a student trustee and co-chair of the Honor and Ethics Council. After graduating, he was a Wake Forest Fellow in the President's office. As a Rhodes Scholar at the University of Oxford, he met Michael Lamb and introduced him to Hatch. Lamb was hired in 2016 and began the Program for Leadership and Character. O'Connell splits time between Tampa and New York City.
---
Interviews were conducted by Maria Henson ('82), Kerry M. King ('85) and Carol L. Hanner. Comments were edited and condensed for clarity.
__________________________  
Leadership Behind the Scenes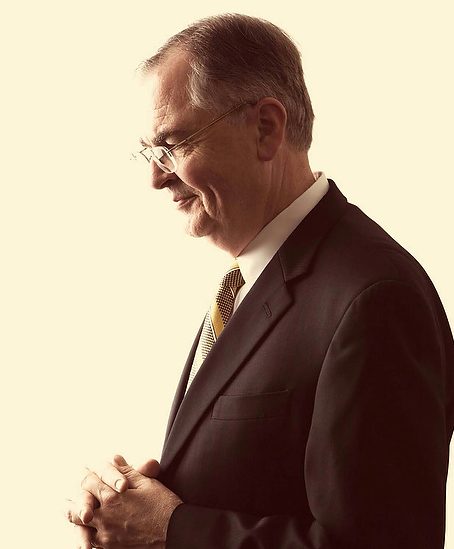 We asked three University trustees who served as board chairs during the recent capital campaign about their insights. The question: "During your time as board chair, you saw Nathan Hatch behind the scenes having to make important, sometimes difficult decisions. Tell us about a time that revealed his character and your regard for him."
. . . . . .
Gerald Roach ('80, JD '82, P '09, '12)
Nathan Hatch is one of the finest leaders I have ever met.  It is truly one of life's blessings to have been able to work with him and to continue to work with him. I am so glad that he and Julie are not going anywhere and that they will continue to be part of the fabric of Wake Forest.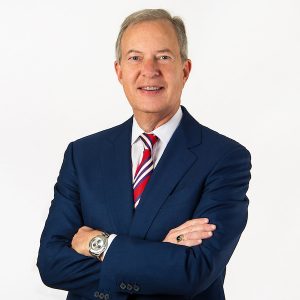 There are lots of stories to tell which reflect Dr. Hatch's character — stories of many types. He loves Wake Forest and puts it first in all that he does. But sometimes, loving Wake Forest means defending her. Dr. Hatch certainly is slow to anger. He has had many reasons which would provoke anger from the average man but not Dr. Hatch. There was one time, however, where it was not so much what he said as how he looked. When he learned that individuals involved with other institutions had been stealing football plays from Wake Forest in what is now known as WakeyLeaks, he was ready to put on his armor and get on his horse as the veins popped out of his neck.
He also has a deep conviction to do what is right. He called me last year and said, "Gerald, we just cannot wait any longer. Now is the time for Wake Forest to apologize for its role in slavery. It is the right thing to do, and I want to do it now at the Founders' Day Convocation." We had a board meeting scheduled soon, but he wanted my support that he could proceed with the apology and do it now. He had deliberated; he had listened; and he was convinced that now was the time, and he was ready to proceed. Of course, the board, being led by his example, followed at its next meeting to make it our own apology.
"We need to be sure that the stress of this crisis bends us toward each other."

-Nathan Hatch
Another story reminds me how the Greatest Generation made decisions in times of crisis. During the early months of COVID-19, Dr. Hatch made many decisions affecting the lives of others while information was incomplete, yet decisions had to be made. All the while, he inspired the internal COVID working team and the special COVID committee of the board with historical examples, words of perspective and encouragement that acknowledged not only the COVID times, but the times of racial injustice, the need for discourse and not discord. He wrote on March 17, 2020, "We need to be sure that the stress of this crisis bends us toward each other. … We must find ways to take seriously those least supported in weathering the storm." He wrote with conviction that this is the time for Wake Forest to shine as an example of character and leadership in our society today.
---
Gerald Roach ('80, JD '82, P '09, '12) of Raleigh is serving as chair from 2018 to June 30. He led the presidential search committee, which selected Susan Wente to succeed Nathan Hatch. He is firm chair of Smith Anderson, the largest law firm based in Research Triangle Park, where he specializes in mergers and acquisitions, capital markets and corporate governance.
. . . . . .
Don Flow (MBA '83)
Over 16 years I have found a consistent set of character attributes that infused all of Nathan's work and his life: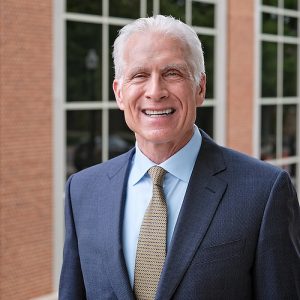 First, Nathan is utterly trustworthy and a person of great integrity. He keeps his promises and never seeks his advantage over another person or the community. He deeply believes that leadership does not confer privilege, but instead, requires fully embracing responsibility. Those who encounter Nathan also know that he is committed to their flourishing.
Secondly, Nathan is intellectually curious and interested in a wide range of ideas and subjects. He loves to learn from other people — from sports to politics, from religion to history, from economics to foreign policy, from art to medicine.
Thirdly, Nathan is very self-aware. He knows where his strengths lie, and he is comfortable seeking the assistance of people who have expertise outside his domain. This combination of confidence and humility and the openness to others' strengths allows him to build a deep esprit de corps among his team.
Fourthly, Nathan is an "ideas-in-action" person. He likes to get things done! He is patient with people but impatient with bureaucracy that gets bogged down in endless reviews. His questions: What is the problem or opportunity? Who are the best people to review this and give input? What do they recommend that we do? Who is going to lead this effort?
Lastly, Nathan's character is marked by gratitude for the extraordinary life, family, friends and institutions that have shaped him. When we think of his leadership at Wake Forest, the one phrase that is repeated is: "Well done!"
---
Don Flow (MBA '83) chaired the board 2012-2015 and the University's $1 billion capital campaign. He is chairman and CEO of Flow Automotive Companies in Winston-Salem.
. . . . . .
Donna Boswell ('72, MA '74)
Nathan Hatch is an enigma:  Great expectations tethered to bedrock values, a gentle, almost shy person in a job that, on a daily basis, keeps him in the spotlight and in the eye of the hurricane.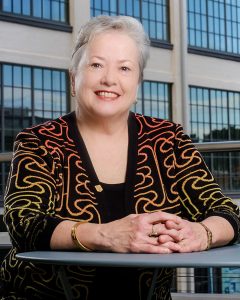 Operating a residential community of several thousand diverse 18-to-21-year-olds, employing necessary support staff and a couple of hundred ambitious, dedicated, extremely well-educated faculty members, while fielding competitive athletic teams at the pinnacle of the NCAA is not for the fainthearted. The precarious unpredictability of this business — financially, socioculturally, politically — would give any investor pause.
Nathan has challenged Wake Forest to provide the highest quality educational, social and recreational experiences to prepare and nudge our students into readiness for living fulfilling lives of character and purpose. His magic is in identifying people of character and talent, fostering collegial reliance on one another and then giving them the headroom to act. His style shows through, no matter how dire the situation. He is steady and supportive, even when an outcome is less than stellar. A great model of servant leadership for students, staff, faculty, alumni and trustees. May he continue to inspire us and our future students for years to come.
---
Donna Boswell ('72, MA '74), first female chair of the trustees, served as chair 2013-2015. She retired from the global law firm Hogan Lovells in Washington, D.C., where her specialty was health care law and regulation. She lives in Winston-Salem.