W ake Forest students couldn't believe what they were hearing on their radios one night in the fall of 1946: "This is station W-A-K-E coming to you from the campus of Wake Forest College in Wake Forest, North Carolina, and presenting the Deaconlight Serenade, beaming musical good cheer to you and yours, styled Wake Forest way."
What The Student magazine called "the new radio miracle" was started by roommates Alva "Al" Parris ('49, MD '53, P '75) and Henry Randall ('50) in their room in Mrs. Kent Barbee's rooming house on Faculty Avenue. Parris, a founder of Theta Chi fraternity, loved radio and had a stack of records that he brought with him to college. Randall, a ministerial student, had already hosted a radio call-in show in high school.
The two "radio men" turned their room into a makeshift studio with two turntables, a Hallicrafters' radio transmitter, a phono-oscillator and a crystal microphone and strung a 300-foot wire between trees to send a signal to friends next door. They broadcast a nightly program of popular music, opening with big bandleader Jimmy Dorsey's "Contrasts" and ending with "The Star-Spangled Banner."
Those early broadcasts marked the beginning of what eventually became WFDD, a National Public Radio affiliate station licensed to Wake Forest. WFDD is celebrating its 75th anniversary this year.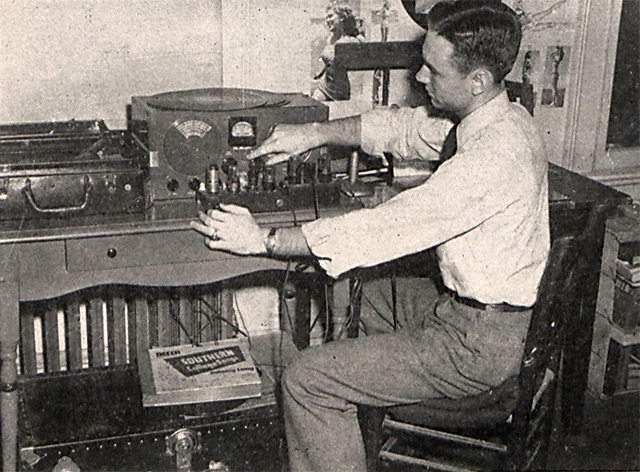 Parris and Randall had bigger dreams of a station that could be heard all over campus and received approval to transmit over the campus power lines. They had to raise money for equipment and collected $9.70 at a basketball game, $20 from the Baptist Student Union, $200 from the board of trustees and other donations from fraternities. Brothers David Herring ('51) and Ralph Herring ('49) and a Raleigh radio engineer built a 50-watt transmitter.
The station officially went on the air at 580-AM on April 19, 1948, with the playing of "Dear Old Wake Forest" from the Groves Stadium radio booth. The highlight of opening night was a replay of Charlotte station WBT's popular Saturday night "Midnight Dancing Party" that had been taped earlier.
Early programming included news and weather reports and classical and popular music. Deaconlight Serenade — "music for romancing" — and live Wake Forest football, basketball and baseball games quickly became popular. The fledgling station soon relocated to an old Army barracks and changed its call letters, which were already being used by another station, to WFDD (Wake Forest Demon Deacons).
With the move to the new campus in 1956, WFDD moved into a large suite of offices and studios on "Pub Row" in Reynolda Hall. The station was run entirely by students until Julian "Sonny" Burroughs ('51, P '80, '83), who had been student station manager in 1950, joined the faculty in 1958 to teach speech communication and to oversee WFDD.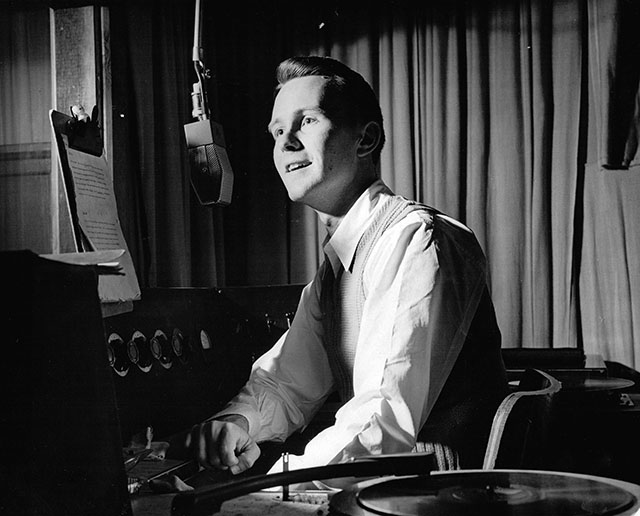 Under Burroughs' leadership, WFDD became a noncommercial educational FM station in 1961. Burroughs also was involved in some of the early planning for National Public Radio, and WFDD became the first NPR station in North Carolina in 1970.
Students continued to host programs, including the classical music Evening Concert, the rock-centric Deaconlight, and a lighter rock morning show, Renaissance. Rick Reynolds ('71) shared his memories of those times in a Facebook group, Deaconlight.
"Sunday nights at 11 p.m., we rocked the joint. Hopefully, Dr. Burroughs had gone to bed by then. We had no official playlist — it was up to each DJ. Grateful Dead, Led Zeppelin, Black Sabbath, Janis Joplin, Elton John, the James Gang, The Band, Mountain, James Taylor, Rush, Neil Young and Crosby, Stills, Nash & Young. The best of times."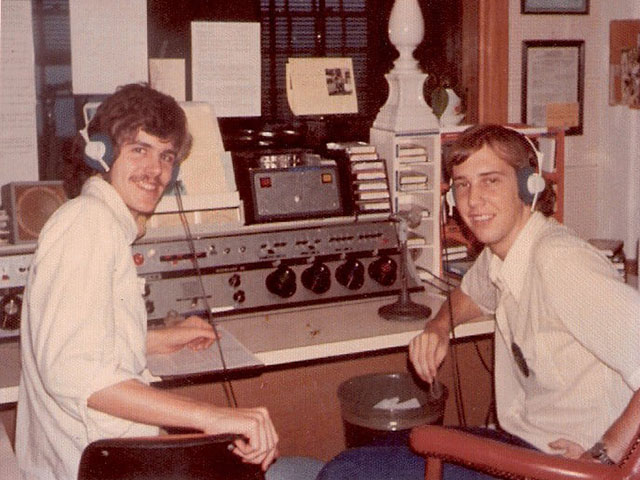 After Burroughs stepped down as faculty director in 1981, students became less involved in the station. Several years later, students again started their own station, appropriately named WAKE Radio. Today, WFDD broadcasts NPR and BBC programming, award-winning news and public affairs programming and classical music from a restored farmhouse on campus.
Many "Big FuDD" alumni went on to careers in radio and journalism. "The WFDD studio in Reynolda Hall was a premier environment for students to learn how to channel their creativity in a professional environment," said DD Thornton Kenny ('81), the last host of Deaconlight. "Students produced news programs and created a sports network and the late-night music program Deaconlight that was, and still is, legendary."
---
For information on WFDD's anniversary celebration, visit wfdd.org/75th.
DD Thornton Kenny shares stories of Big FuDD alumni at WakeForestRadio.com and facebook.com/groups/deaconlight.