___________________________________  
On July 1, Susan R. Wente, a renowned biomedical scientist, will become Wake Forest's 14th president and its first female president since the University's founding in 1834.
___________________________________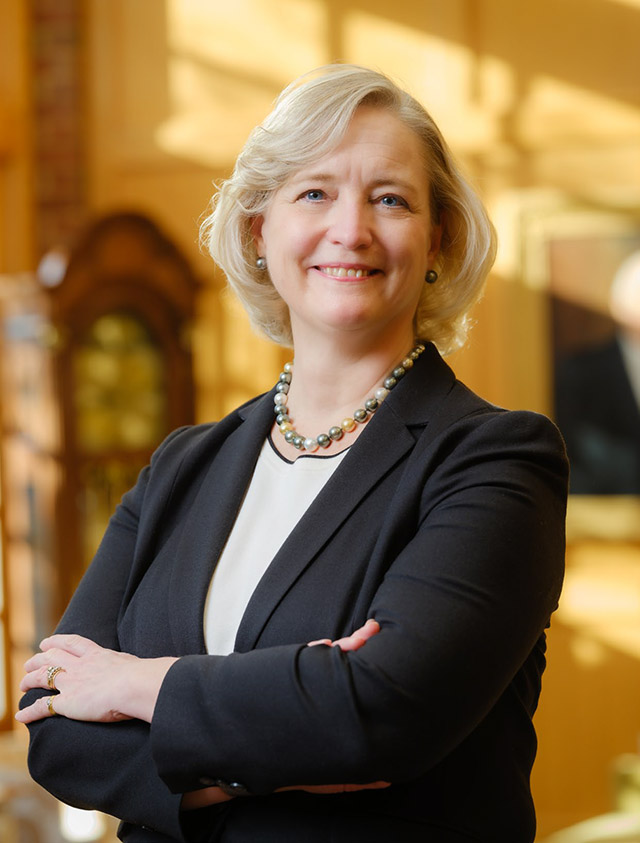 She has spent the past seven years as Vanderbilt's provost and vice chancellor for academic affairs and was interim chancellor from August 2019 to June 2020. Among her notable achievements as a higher education leader: the appointment of Vanderbilt's first female athletics director, creation of its Office of Inclusive Excellence, her oversight of a historic transition of Vanderbilt University and Vanderbilt University Medical Center into two separate legal and financial entities in 2016, and innovations to enhance the undergraduate experience, including the elevation of arts and humanities.
Born in Norfolk, Nebraska, she spent her early childhood in Holstein, Iowa, and then in Emmetsburg, Iowa, population 3,904 in the last census. Her path to college took a dramatic, unexpected turn toward a career in academia and the research lab. She got a Bachelor of Science degree in biochemistry at the University of Iowa in 1984. With a focus on protein biochemistry, she moved to California to earn her doctorate in biochemistry at the University of California, Berkeley. Her dissertation was titled "Site-Directed Mutations Altering the Active Site and the Nucleotide-Binding Site of Aspartate Transcarbamoylase."
At Berkeley, she met a fellow graduate student, geneticist Chris Hardy. They married and have two grown daughters, Allison and Lindsay Hardy.
Maria Henson ('82) of Wake Forest Magazine spoke with Wente (pronounced "Wen-tee") by Zoom in the spring about her selection and her life's path. For more about Wente, her many academic honors, her championing of equity and inclusion and the presidential search led by trustees chair Gerald Roach ('80, JD '82, P '09, '12), go to search.president.wfu.edu.
---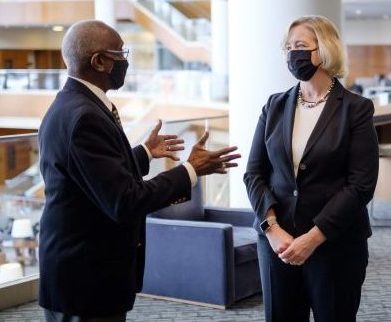 ---
MH: Tell me about your parents, Betty and Harold Wente.
SW:  My mom worked the whole time I was growing up. She was a (registered) nurse, and she worked either in the hospitals or the nursing homes in the towns where we lived. … Dad — every summer he was continuing his education. He got his master's by going back to school in the summers, and we moved to Emmetsburg because he had gotten a job at the community college. He kept advancing in both his education and also his positions. He eventually completed his doctorate in education. That was when I was in ninth grade. I remember I hung a shingle out on the garage for him because he had gotten his doctorate.
MH: How did they shape you?
SW: They had a real partnership, and that partnership was evident every single day in terms of how they were balancing their career ambitions. They were in professions that were real servant leaders — nursing and teaching. … They very much instilled in us the power of education, how that can enable opportunity. None of my grandparents went to college. My mom's mom, the only time she worked outside the home was during World War II. She went off to work in a munitions plant, and my mom's dad was a lumberyard man. So very modest means.
We had huge gardens. It wasn't until I went to graduate school that I actually opened a can of tomatoes with a can opener. … Every fish I ever ate came out of the freezer from my grandfather's or my parents' fishing — perch and walleye. Very agrarian. Their working really inspired in us this work ethic and appreciation of education and how it was a huge opportunity.
MH: I've read that you are exceptionally organized. What's your secret sauce?
SW:  I was probably taught it by my mother. She worked every other weekend as a nurse, and you'd get up in the morning, and here was your to-do list. You had to check that you'd done everything before you could do what you wanted to do. … My own approach is to compartmentalize different activities or different functions or different work that you have got to get done and be really sure that you have delegated those activities and functions in ways that are most important to you.
MH: You are known as somebody who's a hard worker who can get things done. I'm interested in your early days working corn and soybean fields.
SW: We all had odd jobs growing up. I was babysitting at the age they let you babysit. My brothers were mowing lawns. I worked at the A&W restaurant all the way through high school and when I came back in summer, between my first and second year in college … as well as teaching Upward Bound at the community college that summer.
MH: Were you a waitress or hostess?
SW: I was behind the front counter taking all the orders by phone. I was a leader — a manager — so I was coordinating between the carhops and the kitchen, making the drinks, getting all the orders on the trays, in charge of reconciling all the accounts, like the money at the end of the night. I was chief mug washer. That was all-year-round.
In the summers I would take on additional jobs of detasseling corn and walking soybeans. You'd get up before daybreak, get on a school bus, and they'd drive you out to the fields. You got your sack lunch for the day. You had your long-sleeve shirt, bandana over your head, and you worked until 4 or 5 in the afternoon. … You're dirty as can be. Bugs and pollen. They paid extra if you worked every single day through the weekend.
I remember that first summer I worked 14, 15 or 16 days doing that. And I remember at the end of it I got my single paycheck — it was like $800 or something like this — and I signed the whole check over to my parents because I wanted contact lenses. … (Individual farmers) would hire us, at an hourly rate (for walking soybeans). That was better work than detasseling. It was cleaner work. The beans were lower — they were more like knee high — and you'd hoe through. You weeded the soybean field. I got great suntans.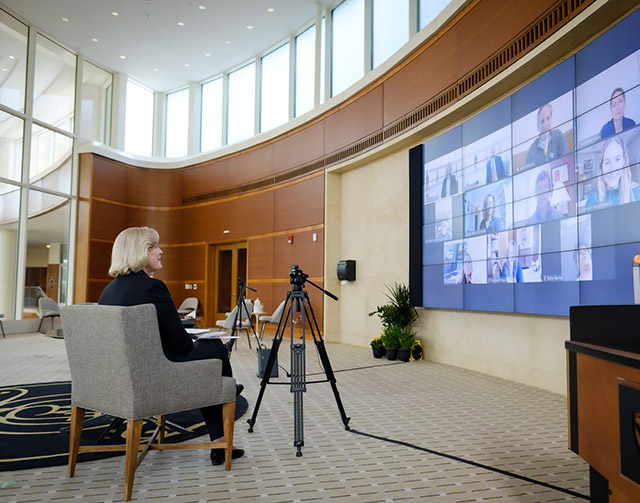 ---
MH: Moving to your college-to-career path, I was struck by how you wanted to be a dental hygienist. What changed?
SW:  Coming from a small town — this is pre-internet days — what you learned about in terms of careers was from those you knew immediately around you. … I loved science. I loved math. (I thought), 'What's a career path that I could aspire to?' And I would say there was a confidence gap in terms of actually saying and declaring, 'I'll be pre-med or pre-chemistry.' … I think going (to college) and saying, 'I'm going to be a pre-dental hygiene major' felt safe, felt comfortable, and I could have a job in four years.
(She goes on to describe how she successfully passed College-Level Examination Program tests to earn credit before she entered the University of Iowa and as a way to save money. She tested out of first-year English, but her adviser said it was required for the pre-dental hygiene major. They went back and forth on the phone about whether Wente could get out of it.)
Then (the adviser) paused, and it was a long pause. I had never met the person. She said, 'Well, I've been looking at your record. I think you should go open major. … If in two or three years you still want to be a dental hygienist, come back to us, and we'll figure out what to do.'
I went downstairs to the open-major office, and they changed my entire schedule. I went from chemistry for pre-nursing and pre-dental hygiene to chemistry for pre-med, pre-vet, pre-sciences. They put me in calculus. They changed my entire schedule. Somehow, I just sat there, and I said, 'OK, sure.'
MH: So that one woman really changed your life and your life trajectory.
SW:  This is what I think about in terms of our current undergraduates and my passion for mentoring and my passion for advising, my passion for us ensuring we're thinking about each person as an individual, that we're giving opportunity, that we are looking at college as a time when young people are in different phases of their development and how we provide an environment that's safe and welcoming for them to really discover their full potential.
That is something I've worked to continue paying forward. … It was not just getting an education that was transformational for what I've been able to do, but it was the people, the personal attention and that pre-dental hygiene adviser and the open-major adviser who really listened to me.
MH: You got that personal attention and direction at a time you needed it. What do you say to undergraduates now?
SW: You want to use this opportunity to aim high. Try doing some things that you never thought you'd be interested in. It's a way of saying take some academic risks. You also want to use your resources. Build your network. Go to those office hours for faculty. Talk to your advisers. Aim high and explore.
MH: A lab job in college really fired you up, right?
SW: I loved it.
MH: Why?
SW: One, you're the first person doing a particular experiment. You have that opportunity to find out something nobody else knows. You're really navigating that unknown and you get to change the variables. It was a bit like cooking. It was very independent. You were doing experiments. You were designing the experiments. You were analyzing results. You were empowered in that way.
(Wente, now an acclaimed scientist who has studied the pathways between the nucleus and cytoplasm of cells and is the author or co-author of more than 100 peer-reviewed research articles, went on to discuss her excitement around teams she had worked with in labs and as a professor. The forming of such research teams, she said, "highlights the serendipity of science and how unexpected results and unexpected connections are really the foundation and further how collaboration and networks work." Teamwork along with transparency and trust, she has said, will be her guiding principles at Wake Forest.)
---
"I think the draw to Wake Forest that came through in every meeting I had with the search committee ... was really this view of community that was promoted. The search committee was incredibly inclusive, incredibly thoughtful."
MH: What's the No. 1 trait you look for when bringing people onto your teams?
SW:  Fundamental values and their ability to communicate. Fundamental values being: Are they honest? Are they committed? And there's resiliency. Being optimistic and resilient.
MH: What is your communication style?
SW:  I try to be very direct and also empathetic and find ways to think about when I'm delivering messages what the person hearing it will be viewing. … When you're communicating with someone, the first thing somebody hears is how is this going to impact me, then how is it going to impact we before it's going to impact others. I try to be authentic. I don't have any qualms about sharing who I am or where I've come from.
MH: What one word describes you best?
SW:  Oh, boy.
MH: That's two words.
SW:  I'm strong but not strong meaning pushy. I mean like, I can handle it. I'm a problem solver. People have always told me that. My husband sometimes says, 'As soon as you see a problem, you want to fix it. Can you just leave it laying for a day or two?'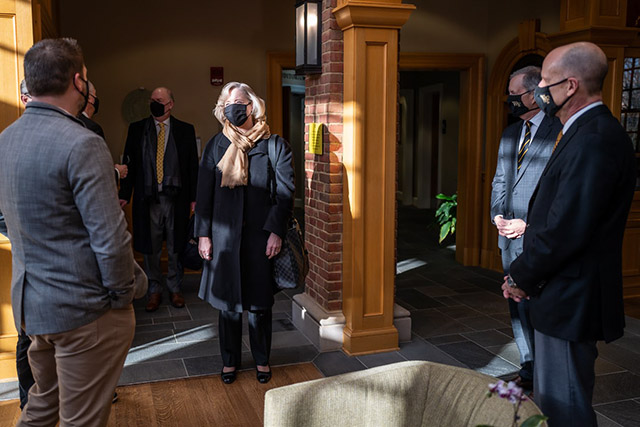 MH: With this career you have had, obviously you could go many places, but you chose to come to Wake Forest. Why, and how are you feeling now that you've had a few weeks since the announcement?
SW:  I think the draw to Wake Forest that came through in every meeting I had with the search committee, in conversations I had with the board chair, Gerald Roach, who was incredibly effective at recruiting me into the search, was really this view of community that was promoted. The search committee was incredibly inclusive, incredibly thoughtful. … I began to think about it: What am I bringing to Wake Forest — my skills and background compared to where strategically the University is positioned and moving? I have a deep background in academic medicine. Then everything I'd heard and known about the focus on the teacher-scholar model and the devotion to academic excellence and the undergraduate experience and balancing that with strong professional schools. … And then I've also had experience with (Division 1) athletics and the Power Five conference. I know that Wake Forest is very committed in having a true student-athlete experience as one of its offerings for students, among others.
So, it was the right time at the right place. It became truly the right place, and I'm excited about it.
— The interview was edited for brevity and clarity.
___________________________________