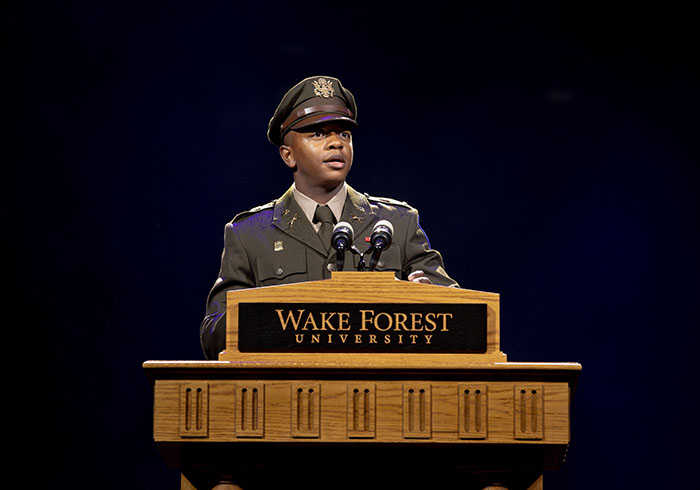 ---
"You think you got into Wake Forest without help from affirmative action. I am pretty sure that they just needed to hit a diversity requirement."
---
That was what my high school classmate told me when I discussed that I was accepted into Wake Forest University. For some time I thought that person was right. I had only a 900 on the SAT and an 18 on the ACT. Furthermore, my GPA wasn't the highest compared with my other classmates'. I wasn't the smartest person in the room most times. All of this caused doubt in my head.
When I graduated high school and made my way to Winston-Salem, I didn't know what to expect. I was truly concerned what people would think of me if I told them my scores or my GPA. I just wanted to run away from the real Miles. I created almost a facade — this stellar and high-achieving high school student who got into all the great schools, had a high SAT/ACT and had high grades coming in. I was lying to myself and trying to hide who I really was — a Star Wars-loving, social butterfly, average student who happened to get into Wake Forest.
It wasn't until my mentors — my professors, administrators and classmates whom I was more honest with — began to tell me not to be ashamed of who I was that I could revert back to the Miles I believed in. We all fall into the trap of letting society dictate who we should be, how we should think and, more importantly, who deserves what. I wanted to change that.
I worked hard at Wake to ensure that I was putting my best foot forward. I wanted to have no regrets when I left campus each time the semester ended. My accomplishments at Wake Forest would almost be a fantasy to high school Miles: dean's list student, magna cum laude graduate, president of the student government, Army ROTC battalion commander and now 2nd Lt. Miles Middleton in the infantry.
Remember that you cannot do college alone; find friends who will uplift you and make you think differently.
There are lessons I think students and others should know that I learned in my time at Wake. I would start by saying that maybe there are those out there, whether it be in high school or starting a college career, who doubt who they are and want to create a fictional character in order to run away from the past. I say to them embrace your past and who you are, so you are able to learn and grow as an individual. Remember that you cannot do college alone; find friends who will uplift you and make you think differently.
Additionally, lean on your professors. Thank goodness the professors I had were understanding and always available to help. I've taken three professors from my majors (history and politics and international affairs) four to five times each, building my relationship with each one. Many thanks to Charles "Will" Walldorf Jr. (P '17, '24), associate professor of politics and international affairs; Charles Wilkins, associate professor of history; and Heidi Robinson (MA '11, P '18, '20), assistant vice president of the Career Education and Training Office in Personal and Career Development and associate professor of the practice in the Department of Education. They helped me find my calling and career.
More advice: Don't be afraid to express yourself to others and tell them what you believe, but don't have a closed mind when you're in the classroom. Try to listen as much as possible to others.
Lastly, take care of yourself. You do not have to be involved in everything. You have to be able to say no to the good and yes to the best opportunities that will advance your career and perspective.
Wake Forest gave me hope, courage and the ability to dream. Now I am going to take all of the lessons learned to the next assignment God has given me, serving in our Armed Forces. It's not a goodbye, but see you later and thank you!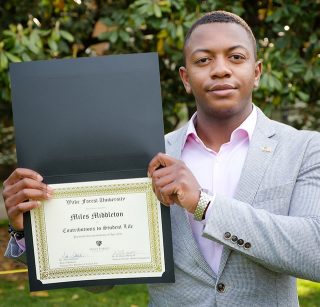 ---
Miles Palmore-Middleton, a native of Long Island, New York, majored in history and politics and international affairs, with a focus on Islamic studies and international affairs. He was president of Wake Forest's student government for the 2020-21 school year. He is a member of Alpha Phi Alpha Fraternity Inc. and served as vice president of the Xi Eta Chapter. He was headed in the summer to the U.S. Army's Infantry Basic Officer Leadership Course, taught at The Maneuver Center of Excellence at Fort Benning, Georgia. He is the proud son of Heather Palmore.