In 2011, a national search brought AJ Mazaris to Wake Forest as founding director of the LGBTQ+ Center.
"There were certainly lots of very important and supportive people who provided a safe harbor for LGBTQ students as 'other duties' not assigned in their jobs," says Mazaris, who also is assistant vice president for equitable policy in the Office of Diversity and Inclusion and teaches in the Department of Women's, Gender and Sexuality Studies.
But the University had no institutional support for LGBTQ students, faculty or staff and no resources and advocacy around gender and sexuality, Mazaris says.
What Wake Forest did have was "a real commitment to doing this right," says Mazaris. "It felt like this really exciting opportunity to build something from scratch."
The center, based in Benson University Center, is planning a 10th-anniversary celebration Feb. 25-26. Mazaris looks with pride at the growth of the center and society, even as challenges remain in the next decade.
When Scott Thacker ('77), CEO of Ivory Consulting Corp. in the San Francisco Bay area, was an undergraduate, "there wasn't anything gay anywhere (at Wake Forest)." He was reared as a strong, confident person who succeeded without that support, but the center could have changed his life, he says. "I would have become the person I am now much sooner because I could have begun exploring that part of me at a much earlier age."
He has championed diversity and mentoring at Wake Forest, at his childhood school in Ohio and in his career. He spearheaded alumni creation of the LGBTQ Scholarship five years ago, the first of its kind at Wake Forest. His wish for the next 10 years at Wake Forest is that LGBTQ students are completely mainstream. But short of that dream, he will continue with the efforts "that warm my heart" ­— supporting the center and scholarships and making life easier for those who followed him.
One recurring answer emerged as Thacker asked alumni and students in the scholarship process what they wished Wake Forest offered: education on dating and marriage, as well as career. That need "was the same when I was there in the 1970s. We want to date but don't have any role models of what it's like today when you're dating same-sex in college," Thacker says.
He hopes in the next decade the center "has enough funding to offer more programs and encourage more people to be out and to show the world who they are and through their stories have more LGBTQ people apply to Wake Forest."
Expanding hope and courage
Mark Covington-Booth ('13), a psychotherapist in Washington, D.C., who last year earned his doctorate in counseling education and supervision at George Washington University, was "one of the first students who ever walked through my door," Mazaris says.
After growing up in Winston-Salem as a gay black man, Covington-Booth says, his time at Wake Forest helped him understand a great deal about who he is. Mazaris helped him find the courage to move to Washington to pursue a master's degree. Covington-Booth, who married Jack Booth in June, continues to meet Wake Forest alumni and functions as a therapist for students in the Wake Washington program.
His hope for the next decade is that the University can bring more help to students of color, including LGBTQ students, trying to find their way at a predominantly white institution.
With so many dynamic, driven students at Wake Forest and many economic imbalances among them, "socially, you have to learn how to swim pretty quickly," Covington-Booth says.
He got "very lucky" by taking part in music and theater, joining a fraternity and having gay friends, "but a lot of people didn't have that same sense of community. Always making people feel more inclusive and welcoming should be the message forefront, … demonstrated right from the professors the first day of class to the housekeeper."
Peace of mind
Covington-Booth sees a need for more mental health support. People in the LGBTQ community suffer anxiety and depression that are "very different from a person that is heterosexual or may have never encountered some of those stresses."
The pandemic upped the emotional pressure on adults, and isolation was "even more crushing for some students," he says.
Leilani Fletcher ('22) agrees with Covington-Booth. Fletcher knows students who went home in the pandemic to hostile, unwelcoming or even unsafe family life because of their identities.
"I'm really grateful that my family's super supportive," Fletcher says. "I know definitely for some of my friends or different people on campus, going home is always a very difficult, sticky situation."
Fletcher, a double major in religious studies and women's, gender and sexuality studies, connected deeply with the center through work-study, the Change Agent program, creating social media content and helping establish a local chapter of Lavender Menace, a physical and online space "for queer women to connect and be in community with each other," Fletcher says. In 2020, Fletcher received the LGBTQ Scholarship.
"For me the biggest thing is having a person or a place where I can just go and feel like I can be my authentic self and not have a lot of judgment or eyes on me."
---
Three buckets
Mazaris says the center will continue the three buckets of its core mission — education, advocacy and support.
"The support piece of our mission often looks like meeting one-on-one with a student who's navigating a coming-out crisis, talking to someone who is having an issue with their roommate or their housing situation, supporting a student whose parents haven't been affirming of their gender identity. Support also looks like helping students develop networks of peer support with other classmates," Mazaris says.
An equally important piece, Mazaris says, is advocacy, identifying inequity because of orientation or gender identity and creating more equitable policies, practices and resources.
The center partners with the Office of Residence Life and Housing on gender-neutral residence halls and with Human Resources on benefits equity for partners of gay and lesbian employees and ensuring that transgender employees have access to benefits for all of their health care needs.
"Currently, we're working on the University-wide data standards project around how names are displayed in our databases. It was just particularly important for trans folks," Mazaris says.
The work goes beyond structural issues. "You also have to do education because if you don't, you're never going to change your campus climate."
D.E.A.C. Allies (Developing Empowering and Affirming Communities), formerly Safe Zone, helps students, faculty and staff "to understand the experiences of their LGBTQ students, colleagues, alumni and then gives them some concrete tools and skills for creating inclusive environments," Mazaris says. "The LGBTQ Center can't be the only safe space on campus."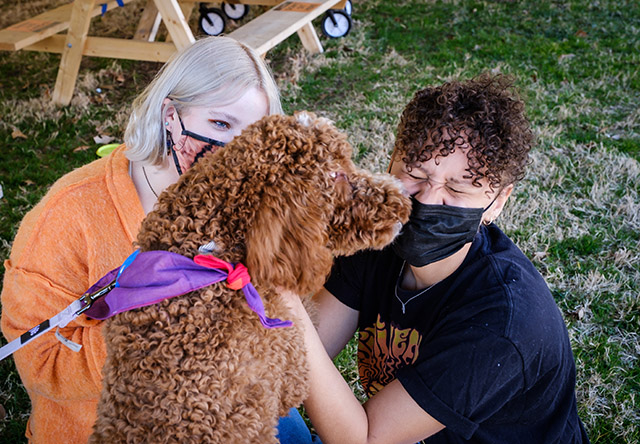 The next decade
The center will continue to expand its workshops, some for those new to LGBTQ issues and others dealing with more complex ally skills. That could include, Mazaris says, "a gender and sexuality professor who is literally a subject matter expert in this from a theoretical perspective but wants better tools for thinking about how to create a supportive classroom environment."
Students are now able to ask to join the LGBTQ-inclusive advising group and to request an adviser who has participated in the D.E.A.C. Allies program.
The center's work will continue to emphasize personal narratives that open up empathy for what people have in common, as well as practical advice such as how to share and ask about which pronouns someone prefers. The University will need to continue advocating for larger political conversations on nondiscrimination ordinances or organizing strategies, Mazaris says.
Fletcher sees the center as critical for many students. "The center really has kept me grounded, and I honestly don't know where I would be without (it)."
---
For more information on the center and its 10th anniversary events, go to lgbtq.wfu.edu. Find the center's glossary of LGBTQ terms at bit.ly/2UsAc5q