When Courtney Toll ('18) and Annabel Love ('18) roomed together as sophomores, Toll shared her ironing hack — getting wrinkles out of clothes with a heated hair straightener.
No bulky ironing board or iron cluttering a tiny dorm room.
That sparked a business plan later during their collaboration with other students in Wake Forest's entrepreneurial Startup Lab. This year, on May 24, the two officially launched the Nori Press. Nori, which is "iron" spelled backward, zoomed to a strong start with an engineered device that can iron, steam or steam-iron clothes on a hanger, a bed or a table.
The company, with Toll as CEO and Love as COO, raised $1.3 million in funding, and the co-founders took a leap from their day jobs in New York City. So far, Nori has garnered three times the revenue projected for initial investors, Toll says. Nori has been featured in magazines that include Vogue, Town & Country, People, Travel + Leisure and Martha Stewart Living.
Wake Forest Magazine talked with Toll and Love separately about their journeys. Both majored in communication and minored in entrepreneurship and social enterprise. Love also minored in journalism, and Toll also minored in writing. These excerpts have been edited for length and clarity.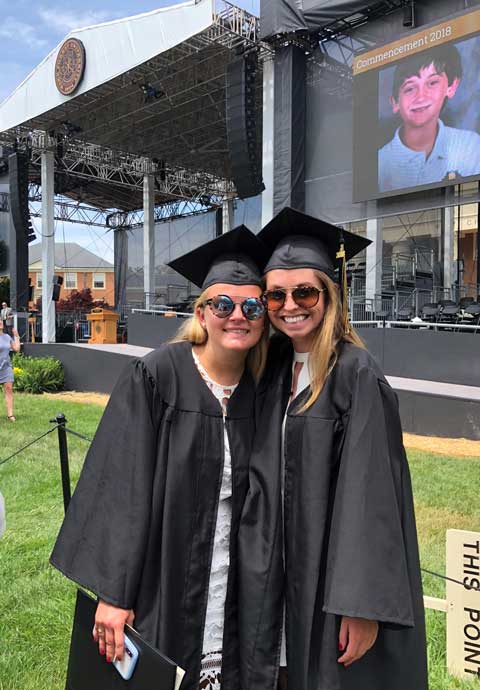 Q. What drew you to become entrepreneurs?
Annabel: I grew up in the Silicon Valley/Bay Area. My father is in the entrepreneurship space, so I grew up learning that to take risks and to fail is OK. I'd come home from school, and he would say, "What did you learn today? What mistakes did you make?"
So, this risk of entrepreneurship never seemed super scary to me. In fact, I was a babysitter for a lot of kids in the Bay Area. (To help busy families during the holidays) I put flyers around, sent out a massive email, and I had a lot of kids come to my Kooky Kids Camp. (And) I was always doing lemonade stands.
Courtney, on the other hand, will be the first person to say that she never thought entrepreneurship would be her kind of passion and dream. But the yin and yang of the two of us works really well.
Courtney: I'm about as risk averse as it comes. I'm very privileged to have been able to attend a school like Wake Forest and have freedom to explore different jobs because of that education. I felt like there's a beaten path, and it's beaten for a reason. I'm pretty comfortable there. I led certain organizations, but those had all been led before and done before, and it's easy to find success when you have mentors you can look up to.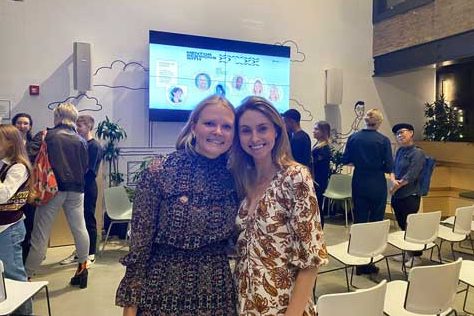 The hardware world is 70% male, so to be two 24-year-old females, to build our product, it was definitely a really tricky thing.
Q. How did you decide to leave your jobs to pursue Nori full time?
Courtney: Even though we did explore the idea in the context of the entrepreneurship course and Startup Lab, I got a job (in consulting) after college and really focused on trying to excel within that company. But probably six months in, I started to feel fairly stagnant. I had come from Wake Forest (where) I was constantly challenged. That is when my attention started to return to Nori, (which) just challenged me across so many different spectrums.
After work and on the weekends, I raised about $300,000 to support setting out on my own. I knew that I could pay myself a small salary and de-risked it a little bit. About 14 months later we raised a little over a million dollars.
Annabel: I was in interior decorating. Courtney was the first to quit her job in September 2019. I followed suit in April 2020. We both felt very passionate about Nori and decided to pursue a career.
We wanted to create something that people not only want, but there is a real desired need for this. And we wanted to innovate in this space that hasn't seen much innovation.
With all the group projects that we had at Wake, we were used to collaborating.
Q. What was the most challenging part of creating Nori?
Annabel: Breaking into the hardware industry. (It) has more barriers to entry just because it requires a fair amount of capital and lengthy lead times (to design and create products). Taking on a typical boys' club is also very intriguing to us.
We actually didn't have a business background besides our entrepreneurship minors so figuring out how to create a product like this, it's a steep learning curve — in the best way possible — but a lot of different pieces and different parts go into this. We familiarized ourselves with everything in this product. Courtney and I were always asking questions to our engineer. We used naïveté to our advantage because we would say, "Well, what if we did this?" Our engineer would say, "Well, that hasn't been done like that." And we're, "Exactly, we're thinking of a new way to do things."
The supply chain is also very interesting because with everything going on right now, there's super lengthy delays, a pretty high cost, so we are constantly familiarizing ourselves and talking to experts in that space.
Courtney: The hardware world is 70% male, so to be two 24-year-old females, to build our product, it was definitely a really tricky thing. We went through two clusters of product development, with 100,000 plus regulatory tests. We have this swivel power cord that they literally turned 100,000 times to see if it falls off. It just gives you an amazing appreciation anytime you walk into a home goods store (or see) every product that's in your house because it's incredible what is required, especially from a technology standpoint. 
Q. What have you loved about this work? 
Courtney: It's so different every single day. (I'm responsible for) managing our agency partners — key search and social agency partners, a PR partner, marketing partners, search optimization partners, where I spend a lot of my time keeping track of the metrics and then reinvesting our capital based on those metrics. I also handle all fundraising. I'm working with larger retailers and as well as hospitality partners (with a plan to place Nori in hotels, which she credits as Annabel's idea to expand beyond current online direct sales) and also product expansion. What are those next products going to look like?
I love Annabel. Working with someone that you trust and truly love spending time with just makes everything so enjoyable. On top of that, one of the amazing benefits of entrepreneurship is that you have these tangible things that you can hold on to. It started with a tangible product that we built.
Annabel: We love working together. (They just moved into a shared workspace.) It's so fun working with one of your best friends.
We raised capital. We partnered with this great design and engineering firm. We created this prototype and showed all of our friends. We had this fun wine and cheese night where we (asked), "What do you think? What would you do different?" Creating a product that people were excited about was something that both (Courtney) and I were really interested in pursuing. It's very collaborative, which we both enjoy.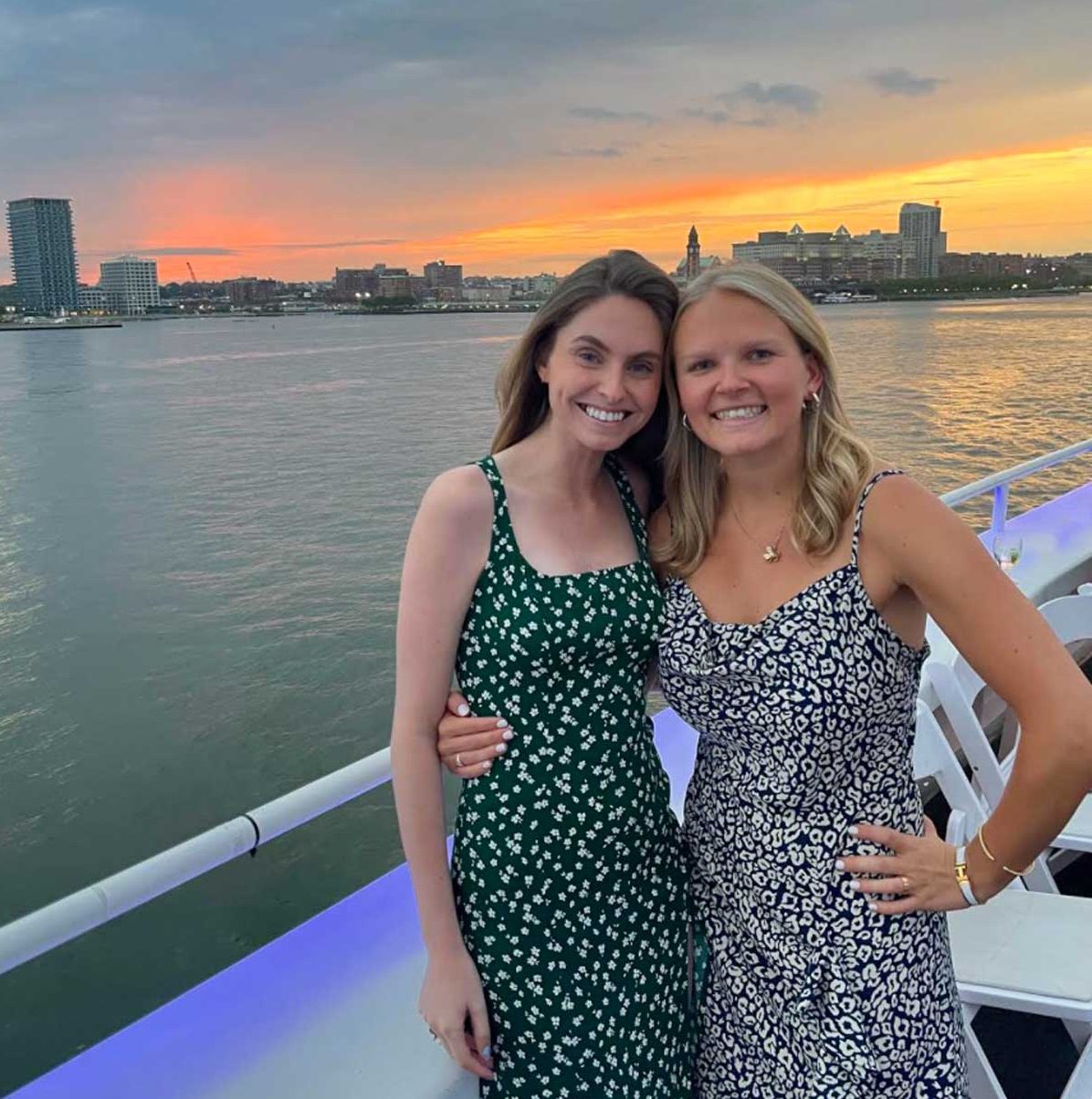 Q. How did your Wake Forest experience prepare you?
Annabel: We were able to talk to different people and received so much feedback that we wouldn't have had the chance to do any other place.
(Liberal arts) benefited us because we just became well-rounded people that can solve problems in very different circumstances. If we didn't go to Wake and we only studied hardware, sure, that would be great. But what about marketing? What about public speaking? What about networking? Not having a liberal arts education, you lose that. Nori as the product is, of course, one element, but a lot of the business is talking to different people, working with other people, working in group settings. With all the group projects that we had at Wake, we were used to collaborating. Being able to think of things in a different critical way and not just focusing on one lens of the business, but thinking of it from a holistic approach, has definitely put us at an advantage.
We love Wake. My youngest brother is actually here. We love coming back. It's such a special place.
Courtney: I would say the greater approach to learning that Wake Forest fosters (prepared me). They're constantly pushing you to try new things and get outside the box, to leave the classroom and ask questions and get to know new people. That greater mentality serves in entrepreneurship. A certain amount of comfort to reach out to people, to Wake Forest alumni, has been extremely beneficial.