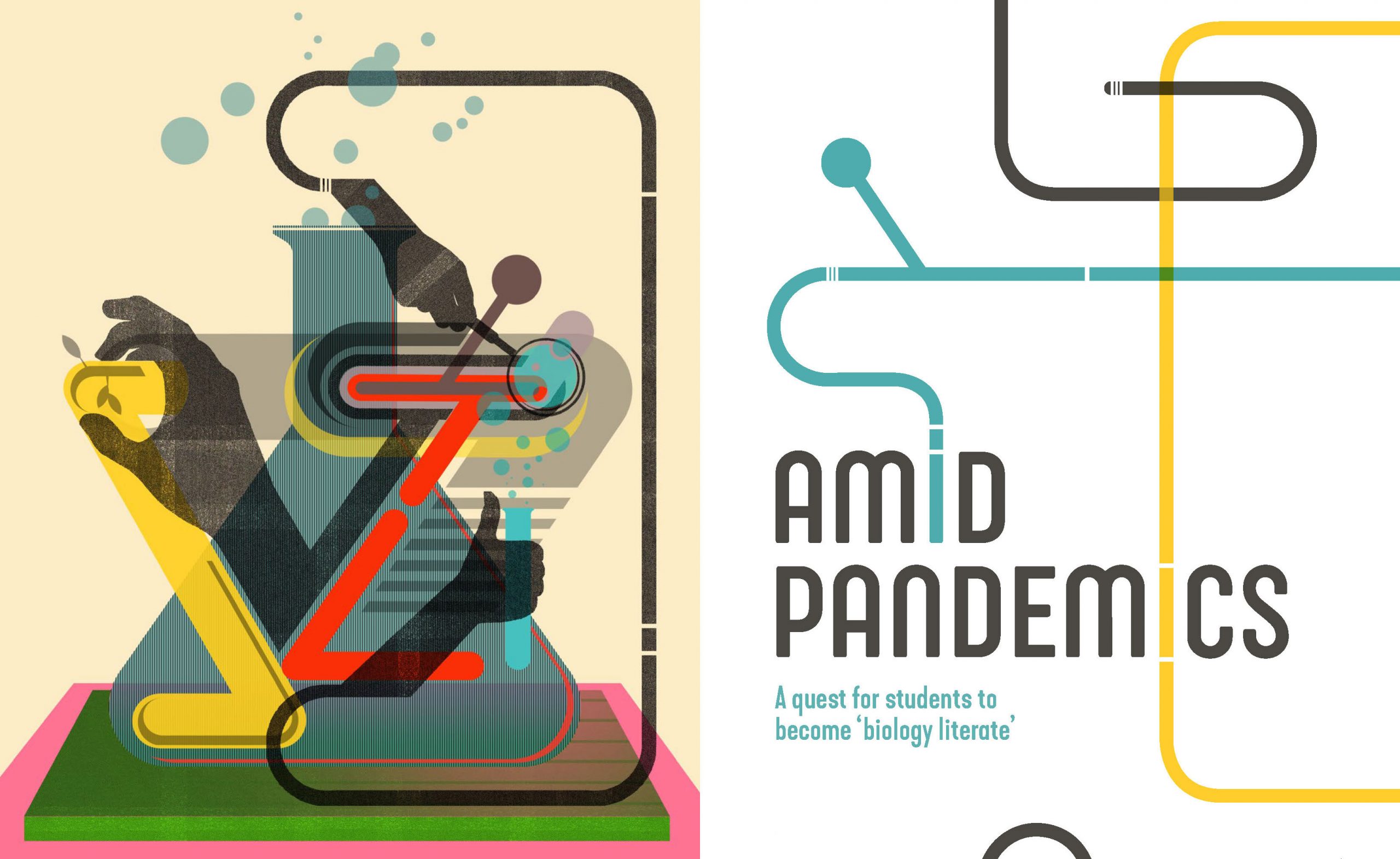 ---
Virologist and Teaching Professor of Biology Pat Lord (Ph.D. '86) taught about viruses and pandemics long before COVID-19.
In fall 2018 and fall 2019, she taught a first-year seminar, "Outbreak: Coming Soon to a Neighborhood Near You," about the cultural, biological, economic and societal factors that contribute to the spread of a pandemic other than just the virus itself. Both years, her students designed on-campus exhibits about infectious diseases to tie into an exhibit at the Smithsonian National Museum of Natural History on the 100th anniversary of the 1918 flu pandemic. In an ironic twist, the exhibit designed by the students in 2019 was forced to close in early 2020 because of COVID-19.
Last fall, she taught Biology 101, "Biology and the Human Condition," a course for nonbiology majors that focused on the 1918 flu, Ebola, Zika and SARS CoV2 or COVID-19. Since 2012, Lord and Ana Iltis, director of the Center for Bioethics, Health and Society, have organized annual "Dining Dilemmas" to encourage students to explore ethical dilemmas around health issues during a meal and group discussions. Lord received an Innovative Teaching Award from Wake Forest's Center for the Advancement of Teaching in 2019.
Kerry M. King ('85), senior editor of Wake Forest Magazine, visited Lord's class in the fall and talked with her about her mission to teach the nonbiology majors who someday might be decision-makers during pandemics.
---
KK: Why are you so passionate about viruses?
PL: My Ph.D. (in microbiology and immunology from Wake Forest School of Medicine) was on cytomegalovirus, which is a herpes virus, and looking at the gene expression of cytomegalovirus. When I came here (in 2000), I had the opportunity to develop a virology course for majors. What I find interesting about viruses is how they have adapted to particular niches, to be able to take advantage of cells.
Primarily I focus on human viruses, because there's so many out there. But they can infect every life form. (For example) they are responsible for killing off about 20 to 30% of the bacteria in the ocean every 24 hours. If they didn't, the bacteria would continue to grow and suck up all the nutrients. Viruses are crucial in that ecosystem to allow carbon and other resources to get released back into the environment for other organisms. I find that fascinating.
The opportunity came to teach a first-year seminar, which is kind of an out-of-the-box-type class. The more I thought about it, the more I liked teaching (in my Biology 101 class) that there's more to viruses than just their life cycle. How does society impact the spread of viruses? How does economics? Culture? I thought the pandemic would be over. But it turned out to be a great launching point to looking historically at so many pandemics that we've had lately — Ebola, Zika, H1N1, SARS. It's important to get these students who are in fields other than biology to think about what factors other than the virus itself led to the spread. They'll be the politicians, the businesspeople, the entrepreneurs that will be faced with future pandemics.
KK: What did you think when COVID emerged?
PL: I wasn't really worried because there have been outbreaks before. We've had flu outbreaks and the first SARS. Although SARS of 2003 had a 10% fatality rate, it was quickly contained, and that virus doesn't circulate in the population anymore. People were quarantined; people followed quarantine. I'm very surprised at how different the United States and our world are (today) than in 2003. In January, I thought, "We'll be fine." But by February, with our political leadership and the errors made … we were behind the eight ball in a short period of time, which surprised me. And still surprises me. I didn't think we'd be dealing with this two years later. Once the vaccines were out, I thought, "We're OK; people are going to get vaccinated."
"If the environment's not healthy, then humans can't be healthy."
KK: With you and your students masked in your classroom, that really brought home the reality of a pandemic. How did that change student interest in the course ("Biology and the Human Condition") and how you taught it?
PL: They were really engaged. You were there on the day when we were talking about other epidemics. The discussion just took off. I was impressed with how they could see commonalities between COVID and the 1918 flu. And they've been very interested in misinformation. How do we address misinformation? Why is there so much misinformation? We talked about multiple sources. I tried to help them learn where to go for (reliable) sources, because that's what I had to do. Social media is so prevalent and shared everywhere, with no background information.
I constantly scanned the news to see what the latest change was. When the booster (shot) issue came up, we talked about how vaccines work. When (President) Biden announced the (vaccine) mandate (for certain businesses), we talked about, "Did he have the legal right to do that?" They said, "Put some teeth into the vaccine (mandate), and get it done." The student body is highly vaccinated, and they're tired and over it. We talked about selfishness. We are in such a different place in this country. It has become so partisan. And I'm not quite sure how to get past that.
KK: After sitting in on your class for a few days, I was impressed with how you brought communications, economics, ethics, history, human behavior, politics, sociology and other disciplines into your teaching and class discussions. Why is it important for students, and all of us, to understand that viruses, as you said, "don't exist in a vacuum?"
PL: Consider economics. A lot of vaccines don't get developed because it's not profitable for pharmaceutical companies. Look at therapies. Who's going to do the research? What funding is there for that kind of research? How do we communicate? You have to think about people in different settings. Not everybody is educated, and even those that are can have misperceptions. How are you going to help people come together? Think about sociology. When you've been disenfranchised — think about the Tuskegee experiments — why would you suddenly believe that now the government is going to protect you?
How about the news media? The media didn't help with (the message) that the vaccine's been rushed. We walked through the data from the clinical trials to say it wasn't really rushed. It happened faster because they were allowed to overlap trials. Then we talked about the J&J vaccine and (some reported problems with recipients developing) blood clots. People weren't paying attention to the denominator. What percentage was that? I think that's where we could do a better job with communication. Anybody that was hesitant about the vaccine, that's going to make them even more hesitant.
KK: You wrote in your syllabus that "biological literacy is essential to be an effective citizen." What do you mean by that?
PL: How do you make a decision to get a vaccine? How do you decide if you need a particular genetic test? What does the result of the genetic test actually tell you? I'll give you an example. We talked in class about cystic fibrosis testing because the American College of Obstetrics and Gynecology had said any woman who's pregnant or considering pregnancy should be tested to see if she's a carrier for cystic fibrosis. Cystic fibrosis is the most common inherited disease in Caucasians. But if you're Hispanic or African American, is the test going to be valid for you? There are thousands of mutants. Which ones is a company testing for? Once you make the decision to be tested and you have that information, how do you interpret it?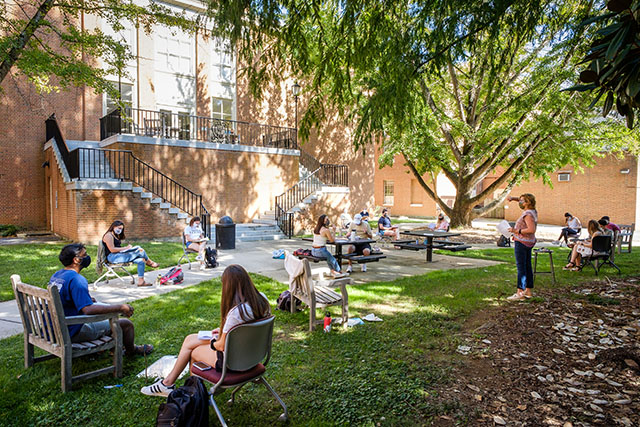 Ultimately, it's all about one's health. If we aren't conscious about the environment and our interactions with the environment, and the environment's not healthy, then humans can't be healthy. Animals can't be healthy. And we'll see more pandemics.
KK: What do you want students to take away from your course?
PL: That biology is not just for the biologists. Every person will have to face decisions, whether it's genetic testing or vaccines, or "do I buy a battery-operated car versus a gas-powered one? What can I do about climate warming?" Every person faces these decisions, not just biologists. And honestly, if we leave it up to the biologists, we're doomed. We're not the ones who make the laws. Biologists do the research and figure mechanisms of virus infection and replication, but we don't control how that information is interpreted by the media or citizens — that's why everyone needs to be biology literate.
---
COVID-19: A sampling of programs and classes
–The Center for Bioethics, Health and Society and the Department of Biology sponsored "Dining Dilemmas" in October on "Covering COVID: Who SHOULD get a slice of the pie?" Students discussed the economic realities of COVID and the rationing of health care in a pandemic. Speakers included Tina Marsh Dalton, associate professor of economics; Mark Hall, the Fred D. and Elizabeth L. Turnage Professor of Law and director of Health Law and Policy Program; and Richard Lord (MD '88), chair of Family and Community Medicine and vice president of population health, Atrium Health Wake Forest Baptist. (He is also the husband of biology professor Pat Lord.)
–Sarah McDonald Esstman, associate professor of biology and the Robert and Debra Lee Faculty Fellow, taught a fall, upper-level biology class that included researching COVID-19 and the pandemic from different angles. Students examined how COVID differs from other coronaviruses, COVID "long haulers," public health infection controls, vaccine development, conspiracy theories and the social and economic impacts of the pandemic.
–Associate Professor of Economics Tina Marsh Dalton revamped two courses to focus on the pandemic. Students in "Economics of Health and Medicine" studied socioeconomic conditions that affected the spread and treatment of COVID-19, testing strategies in different countries, vaccination strategies, public and private partnerships and the historical influence of pandemics. In "Principles of Economics," students researched the effect of the pandemic on supply and demand.
–Assistant Professor of Statistics Lucy D'Agostino McGowan uses statistics to study public health questions. She's written about and been featured in newspapers and magazines discussing why it's important to understand statistics when looking at the effectiveness of vaccines and the frequency of breakthrough COVID-19 cases. She's also worked with researchers at Johns Hopkins Bloomberg School of Public Health to build an application to help evaluate contact tracing programs.
–In the Journalism Program, Phoebe Zerwick, program director and associate professor of the practice; Justin Catanoso (MALS '93), professor of the practice; Ivan Weiss, assistant professor of the practice; Maria Henson ('82), part-time professor of the practice; and adjuncts Paul Garber ('86), Mandy Locke and Jordan Green have been addressing COVID through reporting classes and news literacy classes that discuss COVID through a range of lenses, from misinformation to the pandemic's impact on elections and, in one class, through students' investigative work into COVID deaths.
–Z. Smith Reynolds Library's Roz Tedford ('90, MA '94), director of research and instruction, and Hu Womack ('90, MBA '00), associate librarian for instruction and outreach, teach a first-year seminar on "Mis/Disinformation Online" to help students evaluate the sources of information. They added a module last year on "Expertise and Junk Science" to examine COVID mis/disinformation.