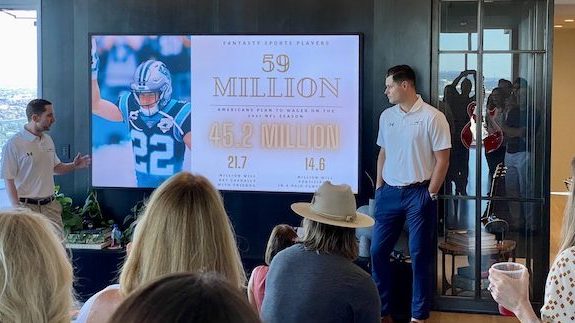 When Michael Zavagno ('15) and Griffin Kurzius ('15) decided to join a fantasy football league with their college hallmates in 2011, they saw it as the perfect way to find their community at Wake Forest.
Eleven years later, and still playing in the same league, the two friends have made fantasy football their business.
During their longstanding competition with fellow Deacons, the fantasy football enthusiasts came to a life-changing question: what if fantasy football, much like the way people talk about sports, zeroed in on the mano a mano matchup between individual players?
Zavagno and Kurzius created their own daily fantasy startup, TopProp Fantasy Sports, to do just that. The platform officially launched on Sept. 9, the day the NFL kicked off the 2021 season.
Their goal was to offer a simpler fantasy football experience based around the most basic kind of talk radio sports chatter: who is better, player A or player B?
What if fantasy football zeroed in on the mano a mano matchup between individual players?
In traditional fantasy football, participants take on the role of general manager of their fantasy teams. Before the start of the NFL season, each participant gets to "draft" 15 real-life NFL players to their fantasy teams.
The drafted players' real-life performance — such as yards gained and touchdowns scored — translates into points for their fantasy team. If Tom Brady throws for three touchdowns, that gives 18 points to the fantasy team that picked Brady as its quarterback. In leagues often organized by groups of friends, family or colleagues, the fantasy teams face off against one another weekly. The team with the highest total points at the end of that week's NFL games wins the face-off.
In that model, the individual performances of players on opposite teams are secondary to the overall team performance. That's where Zavagno and Kurzius saw an opportunity for a new kind of fantasy football thrill, focusing on individual players going head to head.
"We looked around the market and couldn't really find anything that replicated that (head-to-head) experience," Zavagno said. "We thought there was a niche that we could potentially capture a market share with. That led us from basically our fantasy league to something that we wanted to use as fantasy players."
In TopProp's Battleground mode, users can challenge other contestants to a "matchup" between any two NFL players and bet on the one they think will do better that week.
Zavagno and Kurzius have been thinking about games and sports since they met as first-year students in Collins Residence Hall — a few doors down from each other in the 1B wing. Between playing Super Smash Bros. and Mario Kart in the Collins lounge and talking about sports and fantasy football, their friendship grew.
"It all started with this fantasy football league in the fall," Kurzius said. "I'm from the Jersey area, so I was a (New York) Giants fan. Mike is a (Cleveland) Browns fan. We had a lot of folks from all across the U.S., so that was an easy way for us to bond as a hall and watch the games on Sunday when we weren't studying."
The "AR15's The League," named after former Wake Forest football cornerback and Collins hallmate Allen "AR" Ramsey ('15), still boasts the same 10 Wake Forest friends from 2011, but a lot has changed.
"It's been quite the journey to exit the corporate world and enter the entrepreneurship world." — Michael Zavagno
Zavagno, a history major, earned his law degree at the University of Pennsylvania Carey Law School and practiced at international law firm Weil, Gotshal & Manges LLP. Kurzius, an economics major, became a strategic account executive at computer technology giant Oracle Corp.
They remained best friends. Life, despite the pandemic, was good. Work was good. But sports was their passion.
"COVID-19 gave us an opportunity to think about where we were in our respective jobs, and (see) what might be out there with something that we are more passionate about," Zavagno said. "We went out on a limb and wanted to try something new for ourselves. It's been quite the journey to exit the corporate world and enter the entrepreneurship world."
One of their professors is not surprised by their switch to the sports world.
"They always came in (to class) wearing sports attire. They're always wearing gym shorts and (team) T-shirts. These guys, they love sports. They lived and breathed sports," said Professor of the Practice Justin Catanoso (MALS '93), who taught them in his sports journalism class. "If this had been 20 years ago, they would have gone into sports writing. … They would have been beat reporters, and they'd be covering professional sports by now. They were good enough to do that."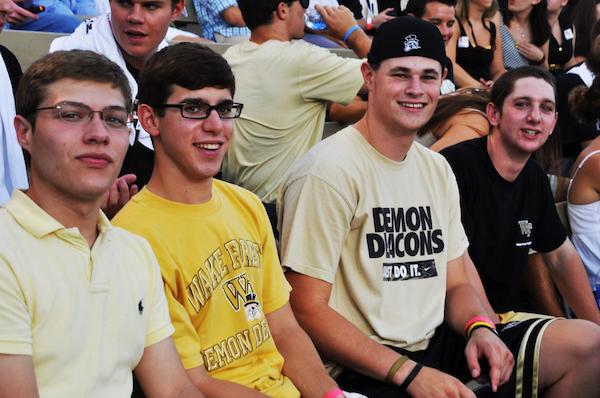 TopProp has 555 active users with an average contest volume of 3.8 contests per user per week, averaging more than 2,000 head-to-head contests a week during this year's NFL playoffs. The platform increased its active user pool by over 100 users during the playoffs.
With the rise of the startup, Zavagno and Kurzius plan to launch a mobile app and expand to 35 states by the start of the next football season. TopProp currently operates in 29 states and the District of Columbia as a daily fantasy sports (DFS) entity.
The platform functions as the host of head-to-head contests rather than being the "house" as is seen with sports betting. TopProp's business model consists of charging a 5% fee on the money wagered in any given contest the fans create. The minimum wager is $5, but users have the option to offer contests to friends with no wager, allowing them to experiment with the platform.
"They were trying to, from the get-go, figure out how they could overcome that inertia that exists when people start to use an (established) product, and they don't want to move away to another product," said Assistant Teaching Professor Todd McFall, who teaches a sports economics course and taught Kurzius in 2014.
Zavagno, who is CEO, and Kurzius, who is COO, partnered with fantasy football analyst and influencer Matt Freedman  in the marketing buildup for the September launch of TopProp. The startup has also received investments from Mark Lavelle and Gary Marino, co-founders of Deep Lake Capital, a publicly traded, special-purpose acquisition company.
Now in the off-season, Zavagno, in Los Angeles, and Kurzius, in Boston, are looking to expand  into professional golf by the start of the Masters Tournament in April and basketball by the fall NBA season.
And with Super Bowl LVI in the rearview mirror, the two friends are able to reflect on their first full season with TopProp and how it all started in Collins 1B.
"We wouldn't be here without Wake. … We met at Wake. We started this fantasy league at Wake. We met the friends that we've been in this fantasy league with at Wake," Zavagno said. "No matter where we go or what TopProp grows into, Wake is always going to be at the heart of it."
---
Hailing from Natal, Brazil, Rafael Lima ('21), a communication major, is a Wake Forest Fellow at the School of Business. As a student, he was news and sports editor for the Old Gold & Black and represented the University in Model United Nations competitions.