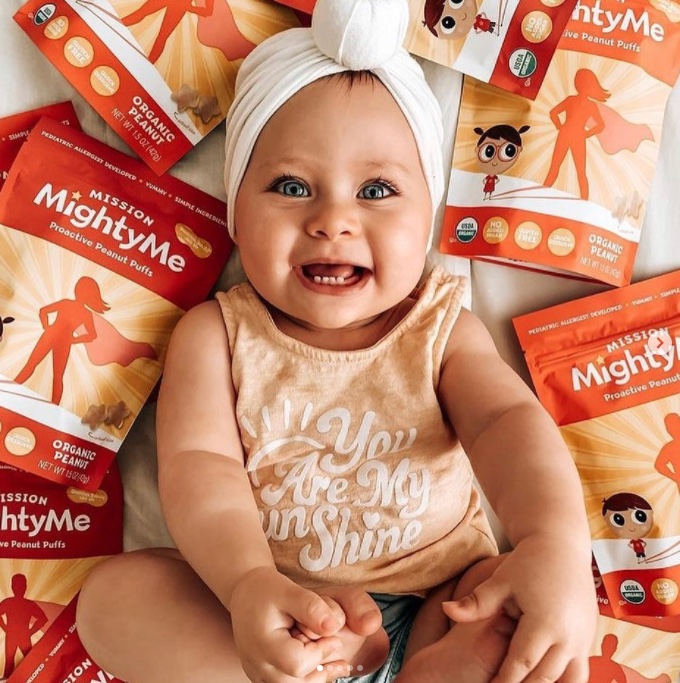 Catherine Mitchell Jaxon ('98) and her husband, James Jay "JJ" Jaxon, discovered when their oldest daughter Niall was 3 that she is severely allergic to nuts, and their world changed.
After their third child James was born, their world changed again. Catherine, a former producer for CNN who loves research, discovered a National Institutes of Health (NIH) study in 2015 that turned the conventional wisdom on baby food allergies upside down. Baby foods had carefully followed recommendations by the American Academy of Pediatrics to avoid any nuts in their products since about 2000. But the 2015 study found that giving nut proteins to babies as early as 4 months of age and regularly until age 5 actually greatly reduces the likelihood that they will develop nut allergies. 
The result has been a new passion for the couple, who teamed with Dr. Gideon Lack, the pediatric allergist behind the NIH study, to develop peanut butter puffs in 2020 for little ones. Their Mission MightyMe Proactive Peanut Puffs — a soft, quick-dissolving snack — received recognition as a groundbreaking venture by Fast Company magazine as a finalist in the 2021 World Changing Ideas Awards, honoring innovation for the good of society and the planet.
The Jaxons say a pouch of peanut puffs meets the amount of peanut protein recommended by the pediatrics academy for high-risk infants with egg or other allergies or eczema, which is 6 grams per week. This year, the Jaxons added a new puff product called Proactive Nut Butter Puffs that includes almonds, walnuts, hazelnuts and cashews in addition to peanuts, with two pouches per week delivering the nut protein amounts recommended in a 2016 followup study.
Managing Editor Carol L. Hanner of Wake Forest Magazine talked with the Jaxons about their experiences wading into a new business of baby food. The excerpts are condensed and edited for clarity.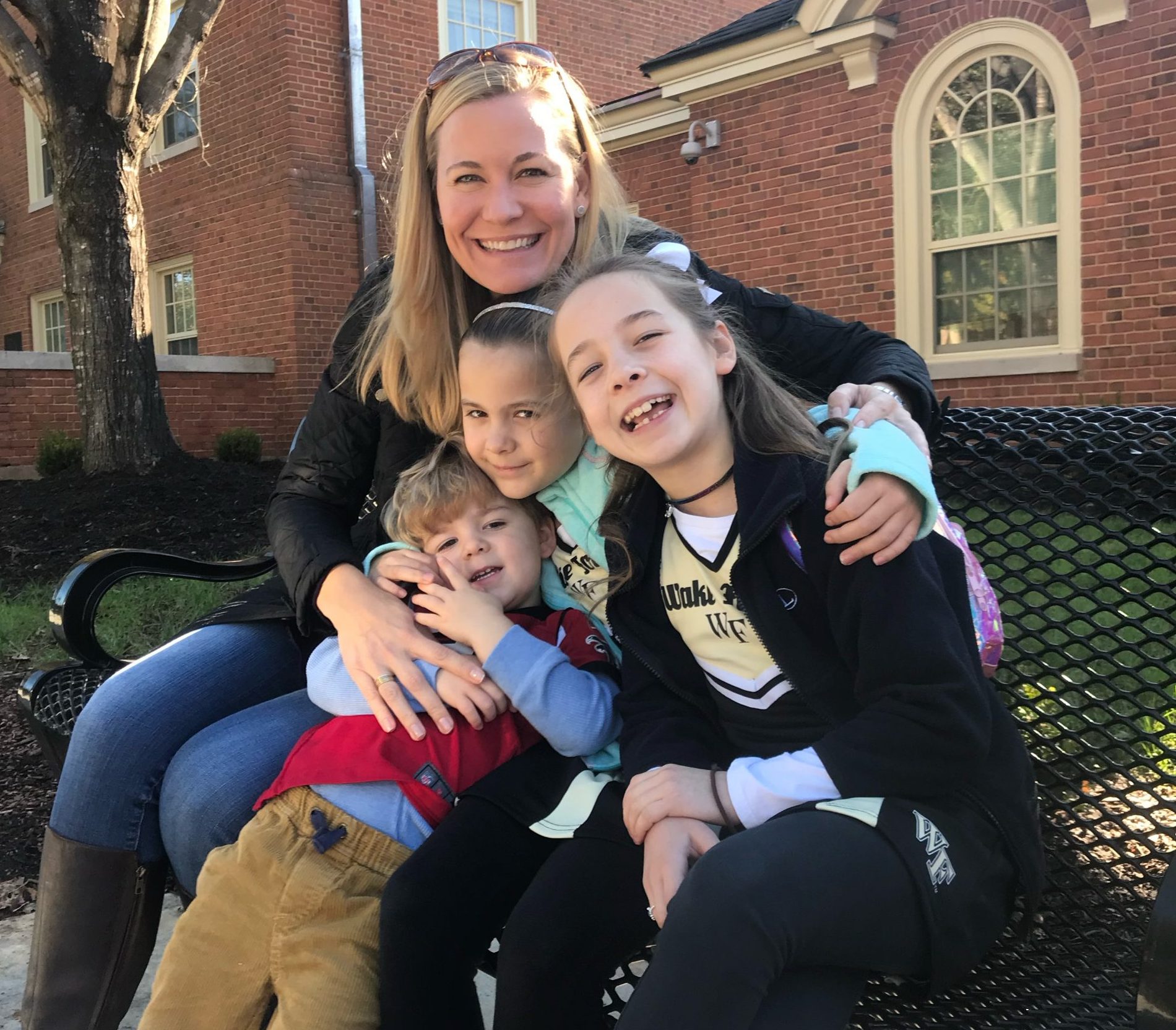 Q. When did your daughter develop nut allergies?
Catherine: When (Niall, now 12) was born, a common medical guidance was not to give babies peanuts and other common food allergens in infancy. And, of course, we followed that guidance. Unfortunately, when she was almost 3, she had her first walnut and had a really severe reaction. After we went for subsequent allergy testing, we realized that she was allergic to almost all of the tree nuts. So, we adjusted. We learned all we could about food allergies, made sure we had an EpiPen in every diaper bag and knew how to respond if she had an accidental exposure.
Q. How did you learn about the new approach to allergies for babies?
Catherine: Fast forward to 2015, and we were having our third child. (Catherine left her demanding job at CNN after the birth of Harper, now 11.) That's the year that the LEAP study was published in The New England Journal of Medicine. The LEAP study stands for Learning Early About Peanut Allergies. It was this groundbreaking five-year clinical trial that showed that introducing peanut protein early in the first year of life and then keeping it in the diet consistently until age 5 reduced the rate of peanut allergy by up to 86%. It was huge news, a total reversal of what was common thinking at the time. I remember … reading a quote from Dr. Anthony Fauci, who said this study is going to transform how we approach food allergy prevention. We are talking about saving thousands and thousands of kids from peanut allergy.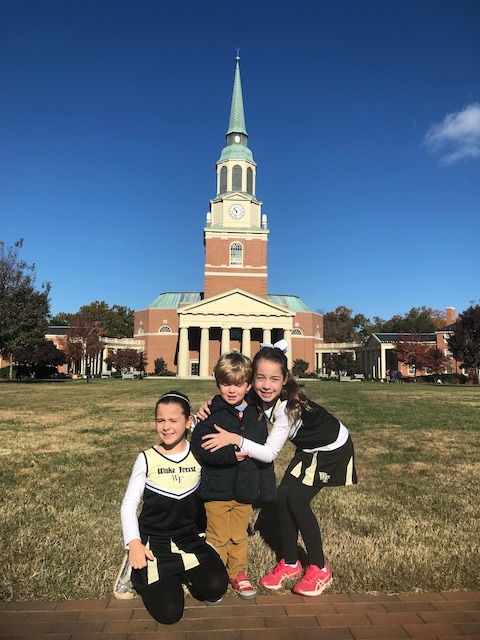 Q. How did you change the way you fed your youngest child?
Catherine: I said to JJ, "OK, we have to do this. We have this 6-month-old (at) the right age. We need to get  nuts into his diet to help him avoid a food allergy like his older sister has."
Then when we looked around at the baby-food aisle, there were no products that contained nuts or common food allergens. And, of course, nuts and nut butters are choking hazards for babies. So, we were having to make all these foods on our own, and we kept saying, "There's got to be an easier way to do this."
At the same time guidelines around the globe were changing to recommend early introduction, and now, the American Academy of Pediatrics and the FDA (U.S. Food and Drug Administration) and the National Institutes of Health have all recommended early introduction. And yet there still are very few products for babies that contain these ingredients.
We reached out to Dr. Gideon Lack who led the LEAP study and basically said, "We think there have to be consumer products that make this possible in order to actually bring down the rate of food allergy." That's how we got started.
(Lack, a professor of pediatric allergy at King's College London, became their company co-founder with Todd Slotkin, a co-founder of the nonprofit FARE, or Food Allergy Research & Education).
Q. Why did doctors recommend not giving peanuts to babies in the first place?
JJ: In 2000, the American Academy of Pediatrics put out guidelines encouraging parents to avoid giving infants peanuts, tree nuts and some other common food allergens. They were starting to see a slight increase in food allergies. There were no studies that had been done on why, but the thinking was, if we can get parents to avoid giving infants these foods until their immune systems are more developed, then maybe that will result in children having lower rates of food allergies. There was no evidence behind it, no clinical studies behind it. It was just a theory.
Then, of course, the main producers of baby products reacted to that and removed any of those ingredients from their foods. (Since then) the rate of food allergies has increased 50%, and the rate of nut allergies tripled. When the LEAP study came out in 2015, … it took a couple years for those guidelines to actually change. (Health officials recommend that high-risk babies — with severe eczema and/or egg allergy — start peanut foods early, but only after evaluation by a doctor and possible allergy testing. Babies already confirmed to have allergies should NOT eat foods with nuts.)
Q. Why did you decide to make the peanut puffs yourself?
 JJ: When Catherine first found the LEAP study, it was something that seemed so simple. Just feed your babies peanuts. Feed kids food. We're not talking about medicines or new vaccines. But in reality, it was just so hard. I remember Catherine holding up the jar of those puffs that we were buying by the caseload and peanut butter and just saying, "Why can't somebody just put these two together?" After doing tons of consumer research, talking with people all throughout the food industry, what we ended up creating is just exactly what we wanted as parents.
Q: What challenges did you face in launching the products?
Catherine: JJ's background is in investment banking (he now works on their company full-time) and mine is in journalism (she majored in communication with a minor in journalism), and we've never done anything with the food space, nor have we started a company. … We talked about this for years before we actually did it. We joke that every step of the way has been hard, starting with our launch the week that the world shut down (with COVID in March 2020). Next thing we know we're homeschooling, virtual schooling, launching a product, no child care. I will say having the mission behind the company has been huge for us, because we do feel like it's not just a business for us. It is more of a mission.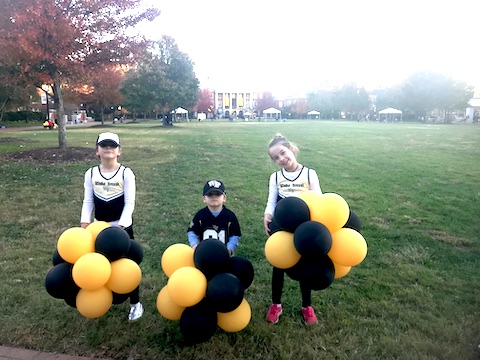 Q. How have your oldest daughter's allergies affected her life and yours? (Their two younger children did not develop allergies.)
Catherine: When something like that happens to your child, it's really scary. It also threw us into this whole new world of being a food allergy family. It's a difficult walk for a lot of these kids through life. Food is how our society gathers and celebrates And so, when she was really little, even being worried about her going over to a birthday party for a friend, when food becomes scary, it's just a very difficult thing. 
Our eyes were really opened to the prevalence. One out of every 13 kids in the U.S. has a food allergy. That's an average of two in every classroom.
For our daughter, she's such a good sport about it, but her quality of life daily is impacted, and we have to worry daily because she's eating away from us (at school or with friends).
It's rare to outgrow nut allergies, so she will probably carry an EpiPen for life.
Q. How have the puffs done in the market so far?
JJ: The response was just phenomenal. The first product is over 25% average growth from one month to the next. This past January when we launched the new product, we doubled what we had done in December.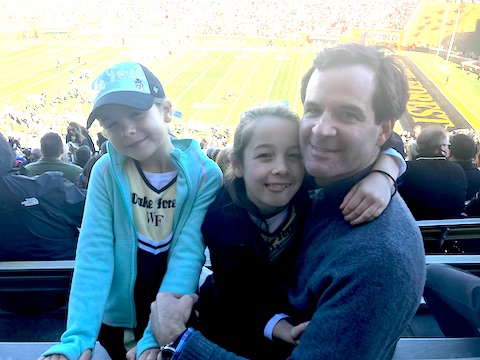 Q. You have a great deal of research and education information on your social media and your website. Why is that important for you?
Catherine: A big part of our mission is awareness. We just have to normalize the process of including these foods in a baby's diet.
JJ: It's much safer the earlier (parents) do it because the likelihood that a food allergy will develop is much lower and the severity of a potential food allergic reaction is also much lower. There aren't many busy new moms that are reading through The New England Journal of Medicine. Armed with the research, we need to be where new moms and dads are, … on Instagram and Facebook and TikTok.
 Q. How did Wake Forest influence you, Catherine?
Catherine: In (associate professor and director of journalism) Wayne King's newspaper reporting class, he had us read "All the President's Men" (about the reporters whose stories helped uncover the Watergate scandal that led to President Richard M. Nixon's resignation). And I remember for me, that was such a light bulb. I knew the story, but I had not read the book until this class. I just remember thinking journalism is so important and really has the potential for positive change. 
---