Wilmer Sanders died on March 9, 2023, two months before his 101st birthday. This story originally appeared in June 2022. Obituary
Retired German professor Wilmer Sanders, who turned 100 in May, was sitting in a pasture in American-occupied territory in Austria in the closing days of World War II when he first heard about the GI Bill of Rights.
A radio and telegraph operator and "pole climber" in an anti-tank communications unit in the U.S. Army, Sanders was also called on as an interpreter when his company encountered German-speaking civilians in its march through Alsace-Lorraine, France, into Germany and finally into Austria.
"I was the only one in the company who had even a sprinkling of German because I had two years in high school," he recalled recently, "and I grew up in the Pennsylvania German area, which gave me a good background."
Sanders and his buddy Wally listened as a sergeant read the GI Bill of Rights, which provided a range of benefits to veterans, including tuition assistance to attend college. "Up to that point, I had no idea what I was going to do with my life," Sanders said. "On the spur of the moment, I turned to Wally and said, 'I'm going to college. I'm going to be a German professor.'"
You can draw a line from that Austrian pasture to Wake Forest and to Sanders' dedication to Wake Forest students for an astonishing 60 years and counting — as a professor for 31 years and as a donor for the last three decades who's helped more than a hundred students study German abroad.
---
---
Sanders, who lives in a retirement community in Winston-Salem, retired in 1992 but is still giving back. In 1989, he started making monthly gifts from his salary to endow the W.D. Sanders Scholarship Fund for German Studies Abroad. He has made numerous additional gifts and is the largest donor to the German and Russian department.
About 125 students have benefited from Sanders' generosity in the last 33 years. The fund has grown to support four to six students each summer. Some former recipients have made gifts to the scholarship in honor of Sanders' 100th birthday.
Alyssa Howards, associate professor and chair of the German and Russian department, said Sanders' contributions to students have been transformative. "We time and again have seen students with shy and halting German return from their time abroad with confidence and an eager passion for all things German. (His) implicit instructions are: 'Go to Germany, speak German and have adventures!'"
---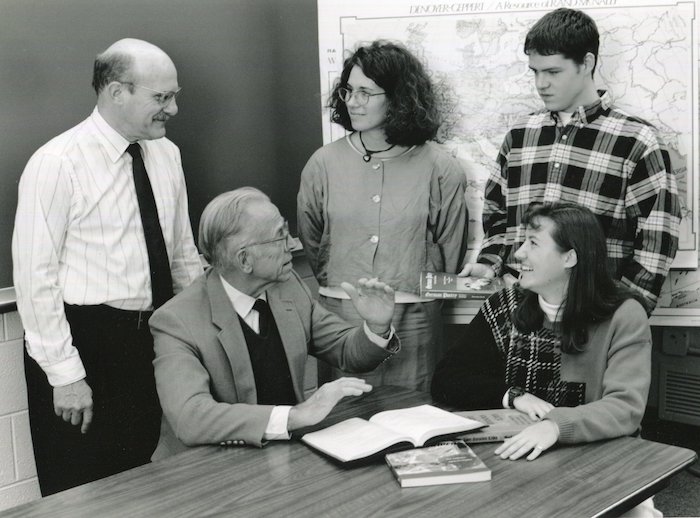 ---
A native of Lyon Station, Pennsylvania, Sanders was a machinist apprentice at a steel mill when he was drafted in 1942. He got a taste of higher education through several Army training programs at colleges before he was sent overseas. He returned to the United States in 1946 and used the GI Bill to graduate from Muhlenberg College in Allentown, Pennsylvania.
After earning his master's degree and Ph.D. in German from Indiana University, he joined the Wake Forest faculty on the original campus in 1954 to fill in for a couple of years for another professor. He taught German and French at Salem College from 1957 to 1963 before returning to Wake Forest in 1964.
Sanders had the opportunity to study in Basel, Switzerland, when he was in college and in Vienna, Austria, when he was in graduate school. He started the scholarship to give students an opportunity to study abroad as he had and to learn German language and culture in an immersive setting.
"I had no children so I thought I should at least send one student to Europe, and it turned out it bloomed into more than 100. My students were always something special. I also felt that I was very fortunate having the GI Bill of Rights."
---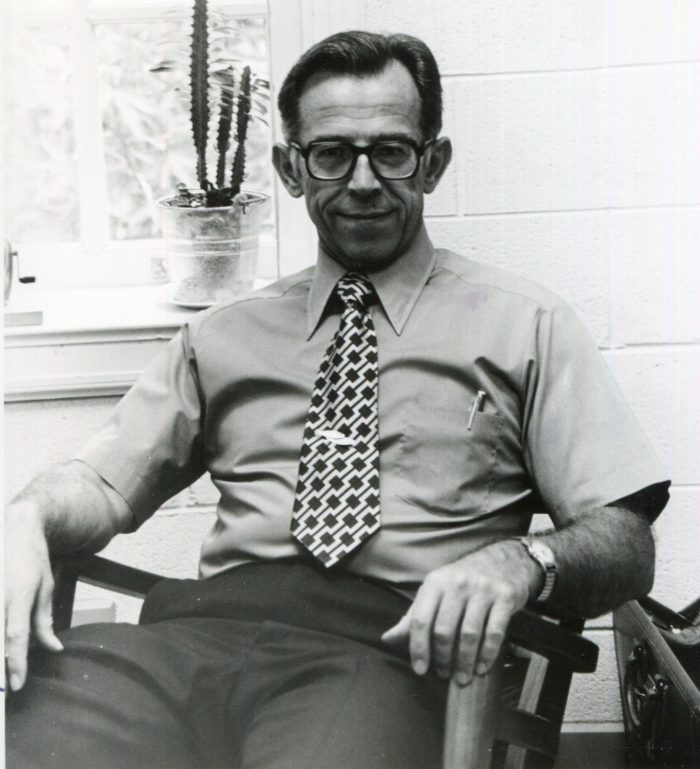 ---
The scholarship continues to benefit students decades after Sanders retired. Jesse Hinde ('07) received the scholarship to study at the Goethe-Institut in the city of Schwäbisch Hall, Germany. He lived with other students from around the world.
"I was the only American in the program for most of my stay, and German was the common language that we had," said Hinde, who majored in German and economics.
After an intensive two-week course in business German, he interned at a financial institution. "It was one of the most amazing journeys in my life," he said. "For the first four weeks I was there, no one else I interacted with knew much, if any, English. It was such an immersive experience and pushed me as a person like never before."
Sanders, who returned to Europe 11 times after World War II, is pleased to give back to students. "I wanted somehow to leave some mark of my presence behind. I always liked to help people. I could not have found a better place than Wake Forest. I've been extremely, extremely lucky."