The magic of move-in day might come from the marching band's jams that get your heart pumping to the drumline. It could be those butterflies in your stomach when you meet your roommate for the first time and wonder if you'll become friends.
For many alumni parents who helped their children move in on Aug. 17, there's something particularly nostalgic about seeing their child step onto the same campus as they did in the late 1980s and 1990s. It's their children's turn to hang out in the Benson University Center, lie in the sun on the Quad, get lost in Tribble Hall and cheer on the Demon Deacons.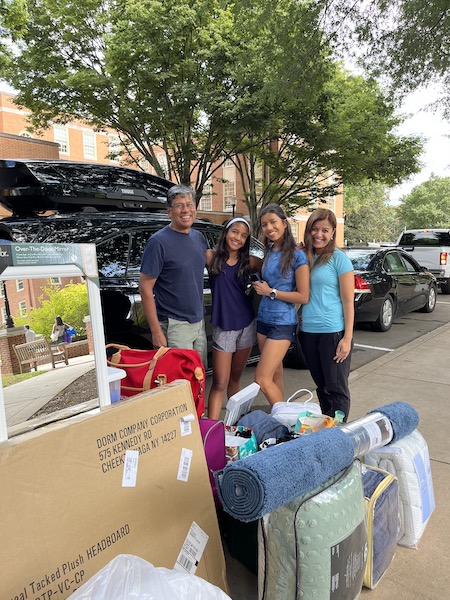 The 1,400 new students, from 46 states and 29 countries, were the first to experience the traditional move-in day since before COVID-19. Some are among the first students to live in the newly renovated Bostwick and Johnson dorms, which housed female students when the campus opened in 1956.
Wake Forest Magazine caught up with alumni families to hear what the parents remember about their own experience and what their children are looking forward to in their first year.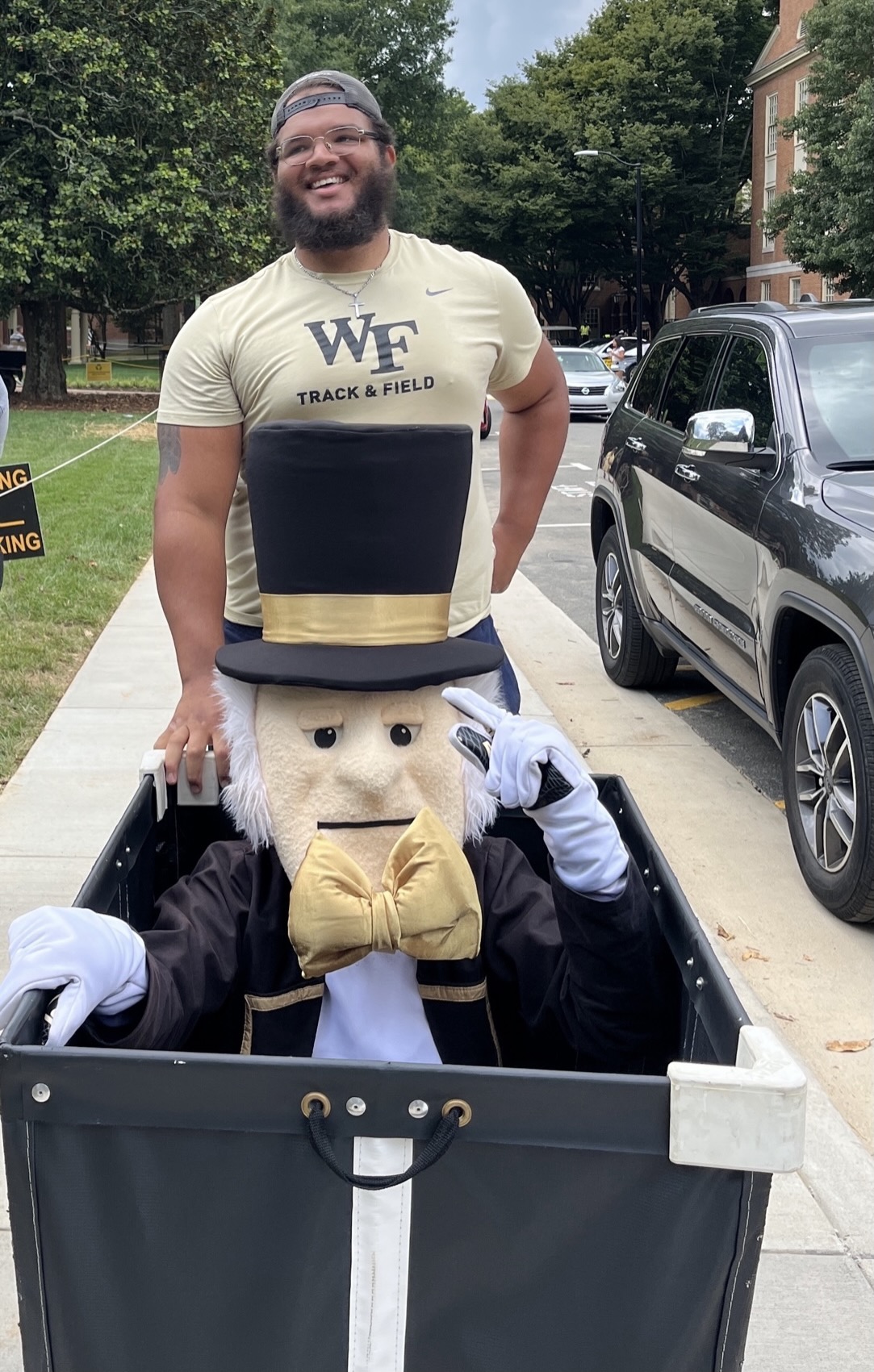 Maggie Glover
Charleston, West Virginia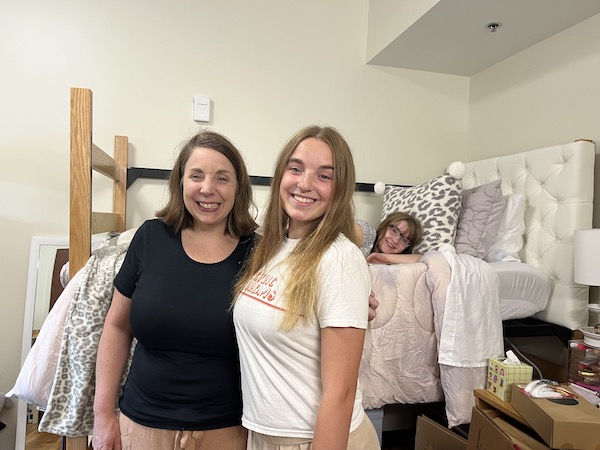 Maggie is the daughter of Rochelle "Rocky" Lantz ('92) and Mark Glover.
Rocky, what advice do you have for Maggie?
No. 1, work hard in class. No. 2, get involved in activities that you love. No. 3, make great friends and have fun. I was better at No. 2 and No. 3 than No. 1, but hopefully Maggie will achieve a good balance.
What's your favorite Wake Forest memory?
One contender for my favorite memory – one that Maggie has had me thinking about a lot lately – is moving into Bostwick Hall as a new Wake student, decorating my room, forming friendships with my hallmates and having more independence and personal responsibility than I'd ever had before. It was scary at times, and I made mistakes, but mostly it was enjoyable and exciting.
Who was your favorite professor?
My favorite professor was Bynum Shaw ('48, P '75), who taught journalism and guided me and other Old Gold & Black staffers as our faculty adviser. I loved being among a group of students invited to his house to watch the fall of the Berlin Wall on television. I'm pretty sure we toasted with German beer.
Maggie, what item did you bring from home that you felt you couldn't live without?
A photo collage I made for my room at home to make it feel more homey.
What class are you excited to take this semester?
I am very excited to take 20th-century Modern Dance History.
What are you most looking forward to at Wake Forest?
Meeting people from all over and to being in a new city.
Rocky, what will you miss most about Maggie?
Our impromptu talks, when we both find ourselves with some free time and spend it really talking to each other.
Luke Berry
Charlotte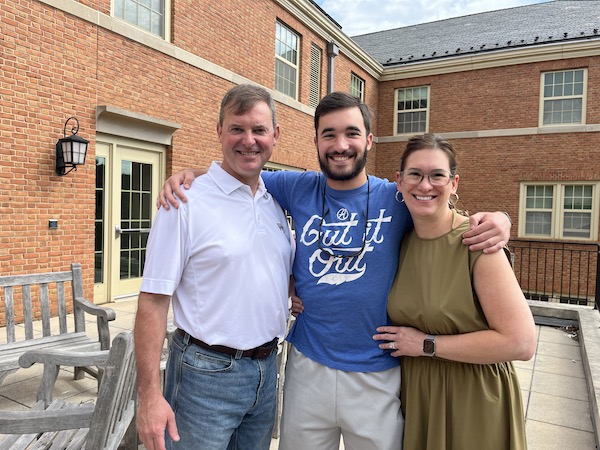 Luke is the latest in a long line of family members, including his older brother, Lance Berry ('18), to attend Wake Forest. He is the son of Chris Berry ('94) and Laura Cline Berry ('94), the grandson of Al Berry (MBA '95) and Dale Cline (MBA '76) and the great-grandson of the late Trustee Petro "Pete" Kulynych (LL.D. '97). His uncles, Luke Kulynych Cline ('99) and Adam Kulynych Cline (MBA '19), his aunt, Lauren Mobley Cline (JD '02), and his great-aunt, Trustee Janice Kulynych Story ('75), are also alumni.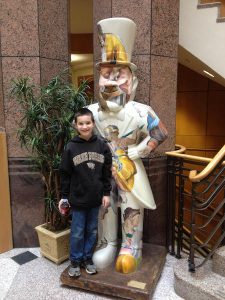 Laura and Chris, what advice do you have for Luke? 
Chris: Trust yourself. You've made a million great decisions for yourself. Keep the streak going. 
Laura: Stay true to yourself. You've got this!
What will you miss most about Luke? 
Laura: I'll miss his huge smile and hearing, "Hey Mom!" every time he comes barreling down the staircase. 
As a student, what were your favorite spots on campus and why? 
Chris: Benson Center was a one-stop-spot for me. There was food, spaces to study and always a friendly face. 
Laura: I didn't have one favorite spot, but I wore out the area between Tribble and Benson. Benson opened my freshman year, and, once I got into my major, all of my classes were in Tribble. I could dash from Tribble into Benson, grab a personal pizza from Pizza Hut, eat it on the run back to Tribble and make it to my next class on time (as long as I didn't get lost in Tribble).
What's your favorite Wake Forest memory? 
Chris: My favorite memory came senior year, second semester when I met my future bride in an elective class. Twenty-seven years later, our oldest son graduated from Wake (2018), and now our youngest son is starting his own Wake Forest University experience. 
Laura: Seeing my future husband walk into my 8 a.m. class in Wingate at the beginning of spring semester senior year. Somehow we had never met before. 
What was your favorite professor or class? 
Chris: Economics. Laura and I graduated in 1994, then were married in 1995. (Professors) Dan ('72, P '08) and Claire Hammond (P '08) attended the wedding. Then, Lance also majored in econ and had Allin Cottrell (P '10) for a class. So did I, and (Cottrell) remembered me after all those years. How cool is that?
Laura: John Litcher  (P '83, '85) (in education). Many might remember him as the teacher who wore jeans and rode his motorcycle to campus every day. He taught several of my education classes. One year he told a few of us that he wanted to pilot a class. It would entail trips into the community so that we could learn and see first hand. One of our trips was about recycling and how it would be "a thing" in the future. He took us to a recycling plant, and we learned all about recycling and why it would be important. I think about that trip almost every time I toss something into a recycling bin.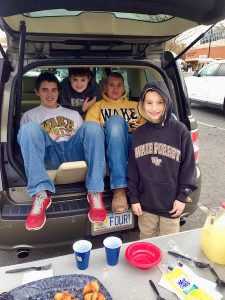 What class are you excited about, Luke? 
I'm excited for my introduction to engineering class.
What are you most looking forward to at Wake Forest?
I'm looking forward to the Wake experience. With academics being good as always – but now with the athletics being as good as ever – it is a perfect time to be at Wake.
Caroline Bumgarner
Winston-Salem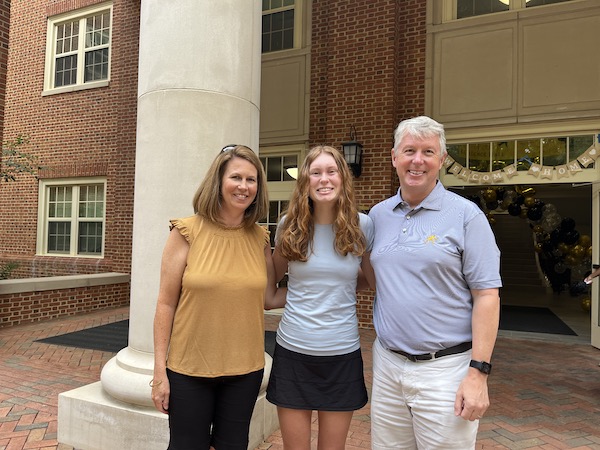 Caroline is the daughter of Steve ('95, MBA '02) and Heather Bumgarner. 
What advice do you have for Caroline? 
Steve: Seize every opportunity and meet lots of people and try new things and leave no stone unturned in terms of experiencing new things.
Did you have a favorite professor or class?
One of my favorite professors was Dr. (Jim) Barefield, who taught history. He was just so iconic (at) Wake Forest. I had Brian Crisp for a politics class, which was really good. It was the first time (for me) where it was a small group environment and just great discussion. Katy Harriger for a politics class as well, (and) Kathy Smith (P '06) for a presidency class. 
Caroline, as someone who grew up near campus in Winston-Salem, what is your favorite Wake Forest memory so far? 
Caroline: Wake beating UNC Chapel Hill (in the) basketball game last year. Heather: We rushed the floor!
What item did you bring from home that you felt you couldn't live without? 
Sunshine energy drinks. (Sunshine Beverages are made in Winston-Salem.) 
What class are you excited to take this semester?
I'm probably most excited for my first year seminar, which is called Thrive. It's about living a life of positive wellbeing. So I feel like that's a good way to start college.
What are you most looking forward to at Wake Forest? 
I'm looking forward to meeting new people and trying new things and being in a new environment. 
What will you miss most about Caroline? 
Heather: She just brings a joy to our household, and I'll definitely miss that. 
Steve: Just her personality and presence and thoughtfulness. 
Abigail Richardson
Allen, Texas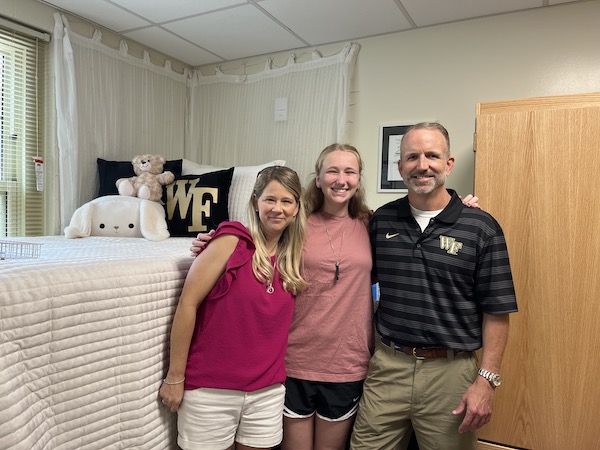 Abigail Richardson is the daughter of Sean Richardson ('95) and Christine Ullom Richardson ('96, MSA '97). 
​​Sean and Christine, what advice do you have for Abigail? 
Our advice would be to study hard, be smart, have fun and don't be afraid to step outside your comfort zone.
What will you miss most about Abigail? 
We will miss her company. She is always willing to hang out or go run errands with us, and the happy noise she adds to our home. 
As a student, what was your favorite spot on campus and why?  
Benson was a favorite (of ours). It had food, places to meet, an exercise facility and a movie theater.  Hanging out and studying in the atrium area of the library was another favorite spot.
What's your favorite Wake Forest memory? 
Christine: Almost being in a class with Tim Duncan ('97). They called his name on the roll, and I was so excited, but he must have dropped it last minute because he wasn't there. 
Sean: Another was winning the 1995 ACC men's basketball tournament and seeing Randolph (Childress '94, P '20) break the tournament scoring record with 107 points in three days. (And I had some freshman classes with him too.)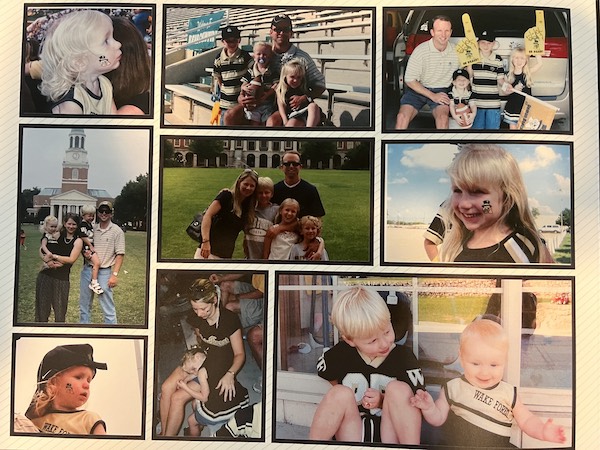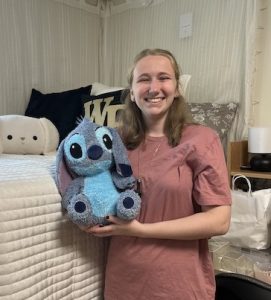 Abigail, what item did you bring from home that you felt you couldn't live without? 
A weighted stuffed Stitch (from the Disney movie "Lilo & Stitch.") He is just my go-to piece of home.
What class are you excited to take this semester? 
German. I took French in high school, but I really want to study abroad in Germany, so I want to learn the language.
What are you most looking forward to at Wake Forest? 
Being in North Carolina, meeting new people and starting this new phase of my life.
AP Rossi
Wilmington, Delaware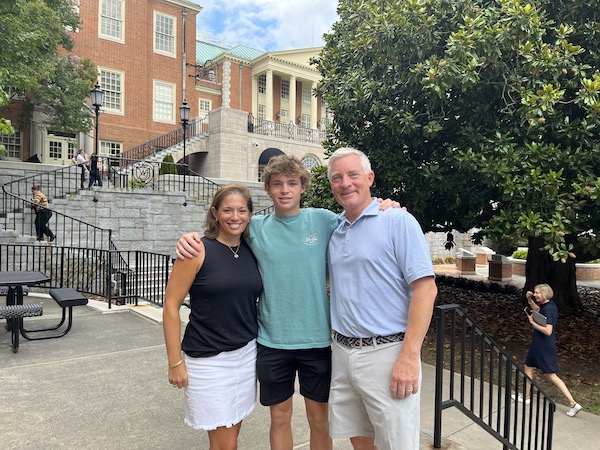 AP Rossi ('26) is the son of Ralph Rossi ('96) and Laura Lubin Rossi ('96). 
Ralph and Laura, how did you meet? 
We were from the same general area. I'm from Wilmington, Delaware, and he's from outside of Philadelphia, and we drove home together for Thanksgiving.
Did you have a favorite professor or class?
Ralph: Gordon McCray ('85) (in business) was my favorite professor. I took three or four different classes with him, like information sciences. There was an organizational theory class that he taught that I enjoyed. 
Laura: I was lucky enough to have Ed Wilson ('43, P '91, '93) for Shakespeare. It's hard to top. He, by the way, never opened a book. He recited every Shakespeare play from memory. 
AP, what class are you most excited to take this semester? 
I think the introduction to religion class seems pretty cool. 
What item did you bring from home that you felt you couldn't live without? 
I did bring a pickle ball set. (My friends and I) play for fun. Spikeball, too.
Laura, do you have a favorite Wake Forest memory?
I loved being part of Chi-O. We were Fideles, and then we went Chi-O sophomore year. I talk to (those friends) every day. Our "Fidele chat" has been going on since everyone got cell phones. We've been through everyone's babies and now college. We saw the Demon Deacon (today), so I had to send them all the pictures. 
What will you miss most about AP?
Just his energy. He fills the house. And we're going to miss him driving his brother around.
What advice do you have for AP?
Laura: It was all very traditional majors when we were here, and now it feels like there's jobs you didn't even know existed, majors you didn't know existed. Be open to anything. And call your mom! 
Ralph: Call your mother, and then make academics a job from 8 to 4, and you'll be able to enjoy anything you want. It's something I didn't learn until my junior year here. If he does that, he'll be just fine.