Artist Meredith Mulhearn ('01) grew up amid tall trees and idyllic lakes in the Garden State of New Jersey, but she never recognized the depth of her relationship to nature until she lost it in the high-rise canyons of New York City.
"The urban jungle just was not cutting it for me. … Everything was gray and concrete. The architecture is beautiful; there was art everywhere and culture everywhere, but just not a whole lot of green."
Saddle River, New Jersey, where she grew up, featured "a whole lot of green," she says, and as an art student at Wake Forest she felt surrounded by nature. She landed in New York after graduation to earn a master's degree in art therapy at New York University and studied and produced botanical illustrations. She also taught kindergarten and second grade at a private school and, during her free periods, volunteered to assist the art teacher. When Mulhearn's daughter was born in 2009, she realized she needed to rejuvenate her visceral love affair with green surroundings.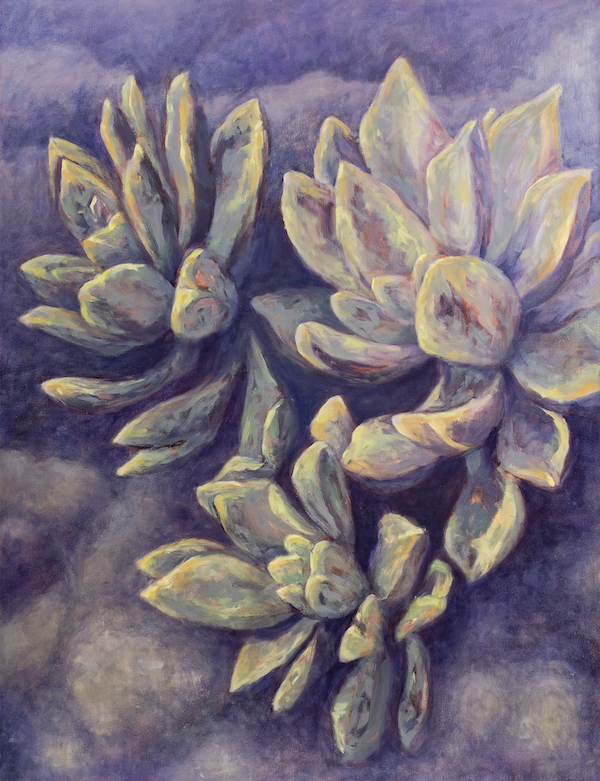 "I did not want to raise her in a place that didn't have a backyard, … where you're standing in line just to be in a park to wait for 10 minutes for a five-minute ride in a swing. I needed that green, and I wanted it for her."
She moved with young Charlotte to the charming town of Ridgefield, Connecticut, among rolling hills and forests a few miles from the New York state border and 90 minutes from Manhattan. Charlotte, now 12, has grown up not just in any backyard — hers is full of roses and a lush lawn behind their home on a quiet cul-de-sac. A large, magical tree shelters a rabbit warren under its roots. Charlotte spent her childhood wandering with her mother through town and in the wetlands adjacent to their property, taking what Mulhearn calls "sensory walks."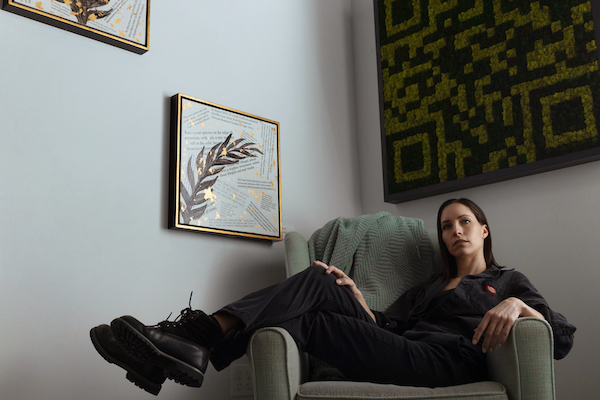 "All we would do was say what we heard, what we smelled, what we saw," Mulhearn says.
When she moved to Ridgefield, Mulhearn opened a nutrition practice and a tea shop. But she craved the artist's path as much as she craved nature, so she closed the shop four years ago to pursue art full time again. An advertisement led her to RPAC Art Center and Academy, where in 2019 she became a resident artist at RPAC Gallery. She paints works inspired by plants and trees and creates multimedia pieces with social messages that merge or contrast the technological age with the endangered ecosystems of the planet.
"The universe was telling me, 'Yes, you're right. This is exactly where you're supposed to be and what you're supposed to be doing. Now go for it,'" she says of finding the artists' program.
"I don't care how many times you scan it. Scan it 50 times. I'll plant 50 trees."
Anne and Tom Geary exhibit Mulhearn's work in their Geary Gallery in Darien, Connecticut. Anne Geary says she was drawn to Mulhearn's art by "her attention to and her depth of love for nature itself that she incorporates so beautifully into her work."
In Ridgefield, Mulhearn often makes the five-minute walk on the serene path through the wetlands to her office and the shared studio space where artists create work and rotate exhibitions in the RPAC Gallery. If rainfall has muddied the woodlands, Mulhearn takes the 13-minute sidewalk route — alongside stone walls and shaded historic homes until she reaches the coffee shops, the organic market and the cafes and galleries of Ridgefield. In 2021, the state of Connecticut declared the 314-year-old town of about 25,000 people as its first cultural district, full of theaters, galleries and performing and visual arts schools and organizations.
One of Mulhearn's most innovative and challenging recent artworks physically blended nature and technology. She made two 40-by-40-inch pieces, Reforestation 1 and Reforestation 2, with working QR codes made of preserved green moss. She has donated one of them to Wake Forest to add to the University's art collection and to display on campus. Every time a viewer takes a photo of the work, Mulhearn sponsors the planting of a tree, and she'll support up to 2,000 clicks/trees. No other action is required of viewers, though they can donate directly to planting more trees through the two nonprofit partners linked to the QR codes.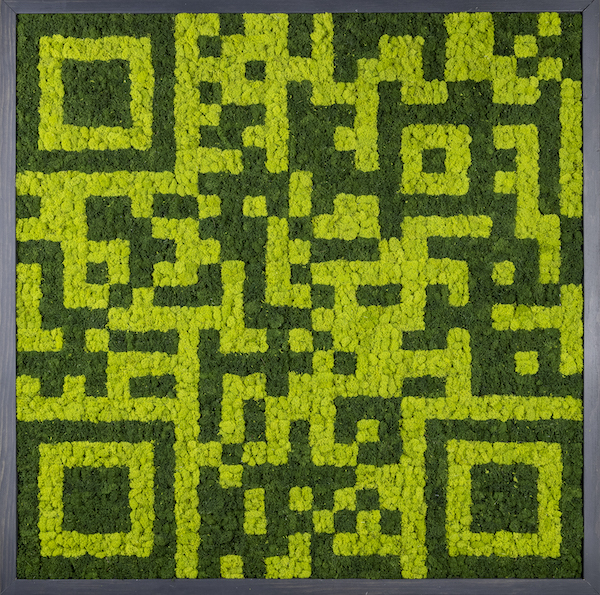 "It wasn't until I ended up in the city that I realized how integral (nature) was to me and how much as human beings we need that connection. And with technology, we seem to be getting further and further away from it," Mulhearn says.
"It is essential for survival, and at a primal level, we cannot exist without nature, … but it's always in the background, on the back burner. My goal as an artist is to bring that back to the foreground and to inspire people to take action and make a difference."
Adventures in making art
The concept of a QR code as art landed easily enough in Mulhearn's mind — dropping in without warning. "It's not like I was walking down the street and there was a QR code, and I was, like, 'I should do something with QR codes.'
No, it literally just popped into my head one day. And I thought, 'What an amazing marriage of technology and harnessing the power of technology to support nature, where technology in many ways is what's creating a problem.'"
The task of turning moss into a QR code was not nearly as simple as the idea had been.
"It was arduous and costly," Mulhearn says.
She wanted to create with live moss, but that wasn't feasible, requiring a system that mists the moss three times a day to keep it alive, experts told her. Watering the moss could create mold or damage in a museum or home and require costly alterations with seasonal weather and humidity fluctuations. Instead, she used dried and preserved moss that she had handpicked, removing every pine needle, piece of pinecone or other debris.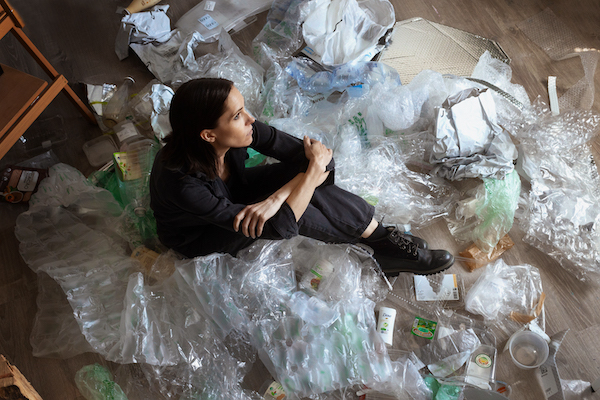 The work required special boating materials, car paint and a specialist to laser-cut the Plexiglass framework that provides the structure for the work. Finally, she could work on the moss, applying it to the plastic with a hot-glue gun. She reworked bald spots and kept shaping and sculpting "kind of like a topiary." Even with gloves, her hands stayed green from constantly tweezing and snipping the moss to make straight lines that a QR scan could read.
The preserved moss is dry and crunchy, so one fingertip on it can leave a hole. Artists generally expect viewers not to touch their work on display, but honoring hands-off is crucial to avoid damage and keep the QR codes readable. While her work was up for months at RPAC, a taped line showed viewers where to stand to scan the code at a distance that would register.
"Sacred Breath" by Mulhearn
"Tulip Tree Blossoms" by Mulhearn
She made two of the works, with the QR code of each linking to a nonprofit. One links to Trees for the Future, which plants trees in nine countries in sub-Saharan Africa, and the other to Eden Reforestation Projects, which plants indigenous trees around the world.
She doesn't plan to replicate the long process. "There are only two, and there will never be more than two," she says. The one donated to Wake Forest comes with a partnership between Mulhearn and the University's Office of Sustainability, and Mulhearn visited in July to deliver and oversee installation of the work. She will return to share with students her knowledge of art and the environment.
The medium is the message
Mulhearn credits Wake Forest's Pro Humanitate values with encouraging her desire to have a social impact with art.
But art was in her future before she could talk, she says. Her parents tell her a pediatrician predicted she would become an artist because of the extraordinary manual dexterity she demonstrated as an infant by sucking her middle and ring fingers instead of her thumb.
She produced art throughout her childhood. In high school, Wake Forest was among 10 schools with art programs where she applied, and she was feeling overwhelmed. "I woke up one morning. I walked downstairs and I said, 'I'm going to Wake Forest.'"
Her parents were surprised.
"I said, 'I just woke up this morning, and I know that's where I'm going. That's where I'm supposed to be.'"
Her early admission offer, the first college acceptance in her high school class, arrived on Halloween. "I bleed gold and black still to this point."
At Wake Forest, with a major in studio art and a minor in art history, she explored every kind of art and every medium. She credits Professor David Finn, chair of the art department, as her mentor then and now.
"He really pushed me to the next level to think outside of the box, and he still does," she says.
"As an artist, I believe in art for art's sake. But as a member of humanity, I believe in art with purpose."
Finn says Mulhearn did wonderful work at Wake Forest and became very engaged with public messaging and how people perceive the landscape. "The most interesting and curious piece of hers still exists on the campus under a tree near Tribble Hall," Finn says of Mulhearn's "Community Stone." "It is a spiral list engraved in granite of events that happened in the world and on campus during her senior year. I think she hoped it would become a model for subsequent markers — an idea to imbue the landscape with memory that still has great merit."
In a recent conversation, Finn reminded her of one of his major lessons, Mulhearn says, "which was when you're creating art that has a message, you have to start with a message and work backward."
She says she's tempted to think about process and the look of the final product, but she often goes to the other artists who share studio space at RPAC to get feedback on the clarity of the message. "(I'll ask), 'What does this say to you when you look at this visually?' And if it's not the message I want, I know I need to adjust it and continue to evolve the concept."
Turning message into action
Her style has gradually evolved to conceptual art. In New York City, she found a nature refuge at the New York Botanical Garden and took courses there in botanical illustration, which focused on realistic detail and accuracy. In Ridgefield, she says, she rebelled against that rigidity and moved toward a more expressive style with her paintings of plants, which have included a series called "plant blindness" about the modern syndrome of plants becoming invisible to many caught up in modern, technological life. Her paintings grew more abstract and tied not just to nature, but to environmental sustainability.
In a project related to pollinators, she made three QR codes with wood blocks that included a message for a call to action. She was disappointed that people scanned the codes but didn't take the next step to donate, and she couldn't track whether they cultivated plants to encourage pollination.
"I came to the realization, which is somewhat disheartening, that if you build it, they will come … but they won't do anything," she says.
The same lack of results was true with a project on orchid trafficking, a little-known practice of poaching extremely rare species of orchids in the wild to ship to collectors, leading to elimination of species entirely. "It's kind of ironic that the people who have this profound appreciation for these plants and their beauty are the ones who are bringing about (their) demise," she says.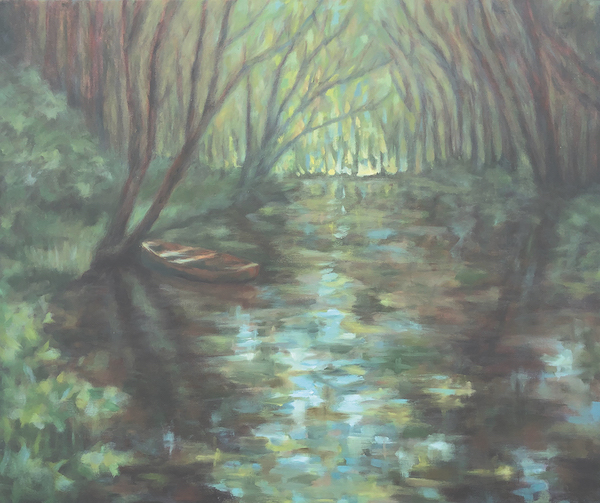 She was determined to produce action with her art, so the QR code project made it even easier for viewers — no follow-up required. If they click and scan the work, Trees for the Future automatically plants a tree at Mulhearn's expense, up to 2,000 trees at a total cost of $500. "I don't care how many times you scan it. Scan it 50 times. I'll plant 50 trees," she says.
She hopes another sponsor will keep the response going by paying for more trees once the first 2,000 are planted. (The click tally is in the hundreds so far.)
She also sees the value of a message that resonates with many viewers. "Deforestation is probably one of the most widely discussed climate issues," she says. She notes that planting trees also provides jobs in impoverished areas.
From garbage to art
Her latest focus is on plastics that are overwhelming the oceans and causing other damage, including toxicity in our bodies. The average American ingests an amount of plastic the size of a credit card every week, she says, which is known to disrupt hormones, at the least. "My goal is to get people to understand that every time you sip through a straw, every time you brush your teeth (or drink from a plastic water bottle that has gotten hot in your car), some of it ends up in your organs and your bloodstream."
She is making textured weavings out of garbage. "The tapestries from a distance will look somewhat beautiful, but then when you approach it, you realize it's all garbage," she says.
Two pieces called "One Week" contain only the plastics she accumulated in her own household in seven days, even though she is meticulous in reducing her plastic use. She also created one with food packaging and another with shipping materials.
Mulhearn knows that her work will remain rooted in nature, however her forms change.
"As an artist, I believe in art for art's sake. But as a member of humanity, I believe in art with purpose," she says on her artist's statement at RPAC and at Artists for Conservation, where she is an associate member.
"Nature has always spoken to me in quiet ways, but now I find there's an inextricable link between me and the natural world that finds its voice in all my work."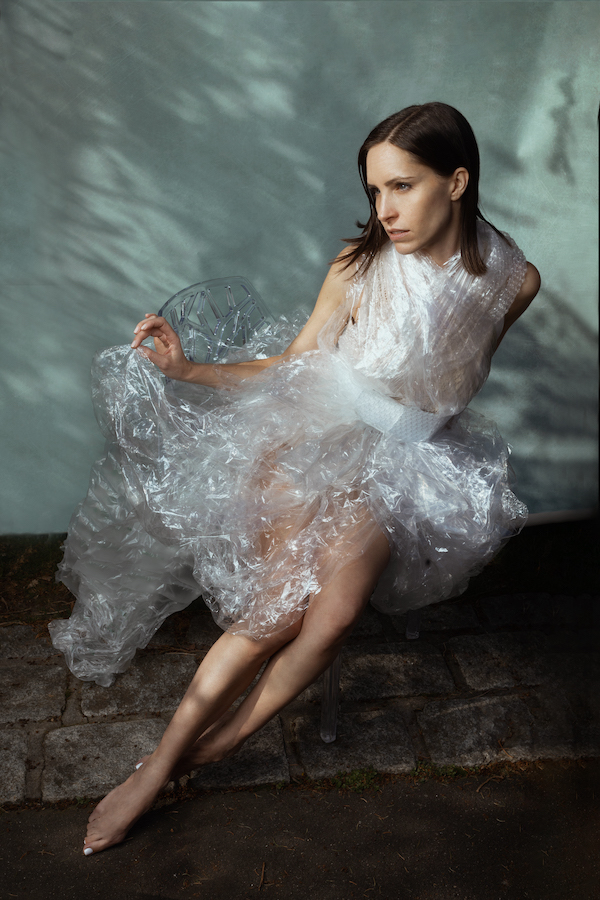 About Meredith Mulhearn:
Mulhearn's art is part of multiple private collections, including the Philoche Collection in New York City. She is an active member of the New Canaan Society for the Arts Inc. and the Rowayton Arts Center, both in Connecticut. Her work has been selected for numerous juried shows. With a focus on philanthropy, she has participated in collaborative projects, such as the Bow WOW Art Dogs initiative in Ridgefield to support dog rescue and the arts.