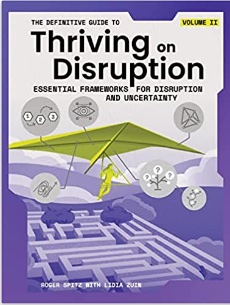 Since COVID-19's arrival, David Styers ('92) has held this mantra front and center: "The true wisdom that 'the only constant in life is change' is now truer than ever."
Styers, director of learning and leadership programs at the League of American Orchestras, has trained business and nonprofit leaders for nearly three decades. He was well prepared to seize what he calls "the bronze linings" in the disruption generated by the pandemic.
For example, disruption can show us that things we thought were impossible to change — working only in offices, learning new technology, pushing more musical performances online — actually can transform in a hurry when the need arises.
Broadening Styers' perspective even more was a post-pandemic collaboration with Roger Spitz, a former investment banker who is co-author of "The Definitive Guide to Thriving on Disruption" The book's second volume came out in December, with the third volume out now and a fourth to come in March.
Styers was managing director of strategy and planning at Ascent Leadership Networks LLC in New York City when he met Spitz, the founder and president of San Francisco-based Techistential. Spitz's company focuses on "global foresight strategy and futures intelligence." Spitz  is also chair of the Disruptive Futures Institute.
They got to know each other during a leadership retreat five years ago. In 2021 Spitz asked Styers to create checklists for the series' guidebooks and online quizzes to help potential readers gauge their knowledge of disruption in a fun way. The quizzes also gave Spitz a different perspective to evaluate certain aspects of  the books, which he wrote with Lidia Zuin, a journalist, science fiction writer and professional futurist. Styers is noted in the series' acknowledgements.
The series title sums up the philosophy of both Spitz and Styers: thriving on disruption means accepting it as ubiquitous and exploiting opportunities in the neverending waves of change rather than fighting them constantly in hopes of thriving despite disruption.
"The pandemic certainly showed that even if you desire the status quo, that status quo really does not exist," Styers says. "It certainly does not exist in nature, and no status quo existed after March 2020."
No one looks forward to disruption, Styers says. The question is what you do with it to advance or enhance what you're doing, seeing it as a positive or even a gift.
As tragic as the millions of worldwide deaths from COVID were, he says, "one maybe bronze lining is the fact that things have changed, maybe slightly for the better in some aspects because people saw this time as an opportunity to do things differently."
Styers' work with the League of American Orchestras exemplifies those principles.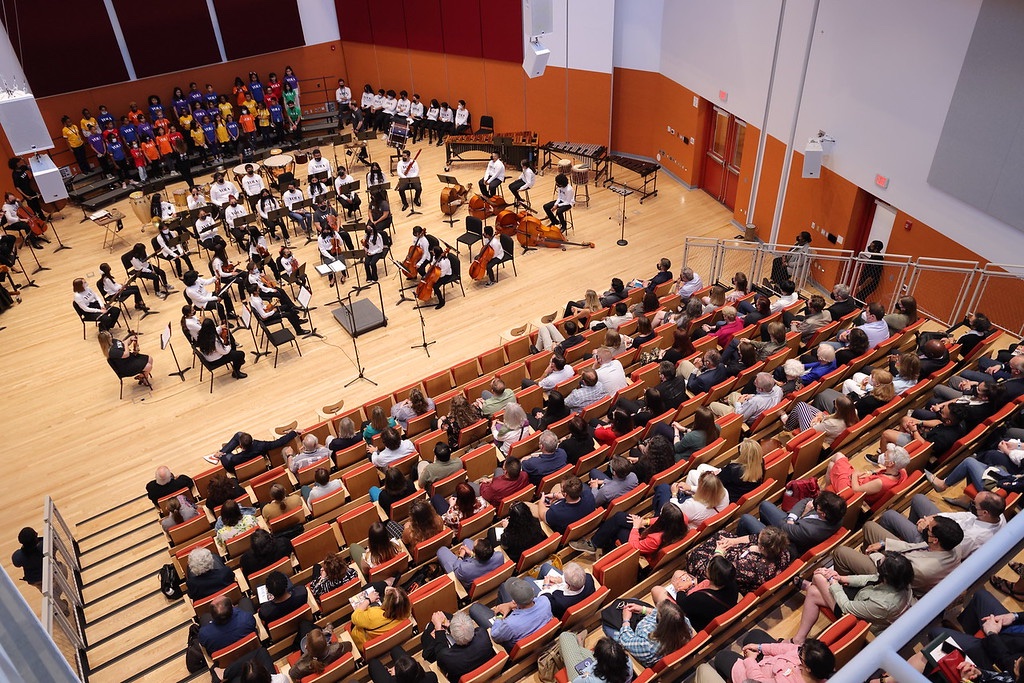 'A LOVE THAT NEVER WENT AWAY'
Styers, who grew up in Hickory, North Carolina, knew he wanted to major in English at Wake Forest, but he didn't know what he wanted to do with it. He considered teaching, public relations or journalism — he wrote for the Old Gold & Black.
His passion popped up during a public relations internship with the North Carolina Symphony. He discovered orchestra management. "I don't play an instrument. I love going to the concerts. I never thought about all the people that were employed behind the scenes to make that concert happen."
He spent the 1990s in Washington, D.C., with the American Symphony Orchestras League, as it was known then, focused on training and development, board governance, communications and creation of a showcase for conductors. He loved it, but he didn't want to live in New York City when the league moved its headquarters there in 1999. 
"Fast forward 20 years almost; I end up moving to New York for the Ascent Leadership Networks job in 2018," he says. The orchestra league's vice president recruited him, and Styers returned as a "boomerang" employee because "it was a love that never went away."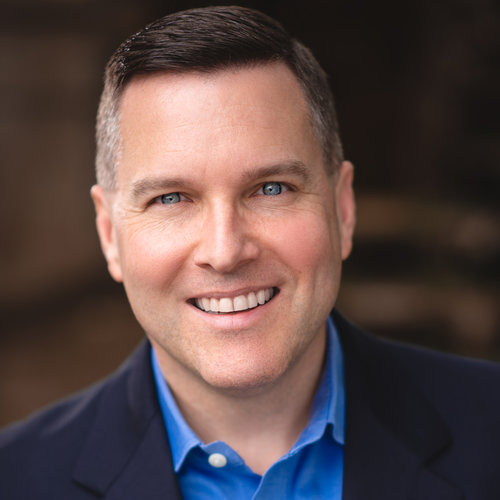 SNATCHING VICTORY FROM THE JAWS OF COVID-19
Among Styers' many positions in leadership development, he worked at the Presidio Trust in San Francisco; BoardSource, working with 125 nonprofits; the Points of Light Foundation & Volunteer Center National Network; and the United Nations' Volunteer Groups Alliance, serving 150 countries.
When he arrived in January 2020 for his second stint at the orchestra league, the mother of disruption was lurking. It pounced nine weeks into his job.
"We were about three months out from our national conference when the pandemic hit," he says. 
The league canceled its in-person conference in Minneapolis but didn't want to lose the concept entirely "because we knew the field needed more information from us now than ever," Styers says. "I spent about two or three days … prototyping 'what would an online virtual conference look like?'"
What existing content could they reconfigure online, and what online content could they create? "Once I sketched it out, I realized we shouldn't wait three months to start providing this information since we don't have to worry about people traveling or showing up at one place at one time," he says.
They started the conference six weeks earlier than planned, turning three days of events into six weeks online, "which, in retrospect was absolutely insane, but we had an incredible team, and the staff, we all just rolled up our sleeves, and we knew what we didn't know how to do, and we hired experts to advise us how to do it." 
They had to learn how to use Zoom and train others. They hired a producer to help people understand how to speak in front of a camera and arrange lighting and presentation.They pulled in speakers virtually who would have been unavailable in person before lockdowns. They announced the conference before they had planned it to the end. They rehearsed, just as an orchestra would. 
Each person had small, specific tasks, modeled after the early days of NASA when "one person would be responsible for looking at one gauge, another person responsible for pushing one button. And that was the only job that person was supposed to do." 
They needed enough bandwidth for live streaming, and they recorded everything for later viewing, with no mishaps during 30-some live webinars. 
They knew the conference wouldn't be perfect, so they offered it for free, and 4,000 people registered. The 2021 conference also was online and successful before returning in person in 2022. 
"We could have just thrown up our hands and said, 'Oh, well, woe is me. We just have to cancel it.' But we also felt the need of our members was too great," he says.
"The prize is not to answer very well the question to which there is a known answer. The prize is to prove that something we thought was impossible is possible."
EXPANDING THE LEARNING
The conference taught Styers and the staff a new paradigm immediately, and the pandemic's long-term impact has produced more problems/opportunities. With remote work, hiring people with the best skills no longer required them to move to New York. In fact, Styers now lives in Ft. Lauderdale, Florida, with his partner, Chong Ee, and travels to New York a few days every other month.
He and others have had to adapt, balancing the work-at-home needs of employees with caretaking or commuting obstacles while also fostering in-person relationships beyond Zoom for those who crave social interaction. Flexibility is key, he says.
Styers says government support kept the arts alive, and the league helped orchestras navigate the complex bureaucracy to keep food on employees' tables. Managers brainstormed new ways to bring orchestral delights online. "All of a sudden we had orchestra managers becoming television producers," Styers says. "They were broadcasting concerts for the first time ever."
The new challenge, he says, is building a sustainable paradigm for live performances without that financial support.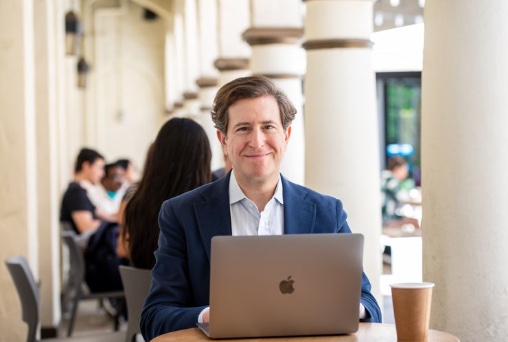 HOW TO SEE DISRUPTION
When Roger Spitz asked for his help creating material to complement  the books, Styers "was very thrilled that he remembered me and reached out to me," Styers says. He worked with drafts of the book to craft checklists and online quizzes that would ground people in the topic and entice them to learn more.
Spitz says Styers has a wealth of experience and a pragmatic approach. "He would help me brainstorm to reach something that we both thought made sense," Spitz says. Styers also brings "a human-centric perspective on the world" and great personal character, Spitz says.
Spitz is publishing four volumes on how to deal with disruption, so suffice it to say there's a lot to talk about within this topic. Spitz outlined some of the concepts and tips in a conversation on Michael Palmer's Education Trending podcast. (More below this story.)
Spitz says change is continuous, rather than confined to single events. This means a skyrocketing cost in consequences and lost opportunities for those who assume the world is stable, predictable and controllable, whether in business or climate change.
Spitz says education is a major factor in teaching new ways to handle disruption, by helping to develop and understand different worldviews and mindsets.
"The prize is not to answer very well the question to which there is a known answer," Spitz says. "The prize is to prove that something we thought was impossible is possible."
"I wanted to go to Wake Forest because I wanted a liberal arts education. I think that well-rounded grounding is what helps people pivot, deal with disruption."
Styers says Wake Forest opened his mindset to greater possibilities than a boy from Hickory might have envisioned.
"I wanted to go to Wake Forest because I wanted a liberal arts education," Styers says. "I think that well-rounded grounding is what helps people pivot, deal with disruption, work through challenges because of the broad aspect of learning as opposed to a very narrow technical field," he says. "I have nothing negative to say about those who have technical training, but I have always prided myself as being somewhat of a generalist, that I know a lot about a lot of things as opposed to being an expert in one thing."
He says the pandemic, as well as the social unrest after the murder of George Floyd by police in Minneapolis, showed him the benefits that can follow the shock of pain and upset.
"Again, if there's any bronze lining out of that tragedy (of Floyd's death), it's greater awareness and people realizing, 'Oh, we need to step on the accelerator around our equity, diversity, inclusion efforts or recognize that there are more communities that we need to be engaging with authentically than we have in the past,'" says Styers, who some may recall was a panelist at Wake Forest's first LGBTQ alumni conference in 2015, sharing stories of their challenges and successes in a diverse community.
The past three years have given the lie to believing that some things that appear inflexible require years to evolve. "Really, none of that was true. … Disruption can give you that opportunity to rise to an occasion." 
---
MORE ON DISRUPTION FROM ROGER SPITZ
 Spitz outlines three versions of disruption: 1.0 is the "creative disruption" and and rebuilding such as that which followed World War II on the  industrial and institutional level;

2.0 is specific disruption innovation, the technological developments or discrete innovations such as in Silicon Valley, which has resonated in the last few decades; and 3.0 is the current "systemic disruption," a new paradigm that is omnipresent, multidimensional and bringing fundamental changes.

"There is no playbook" for 3.0, Spitz says.

To stay relevant and deal with constant volatility requires operating from a foundation of "anti-fragility," focused on seeing success in chaos, he says. The issues are complex, involving interconnectedness, systemic solutions and seeing the signals of change before hearing the noise of disruption roaring. It means reframing success to include trial and error, failure, thinking on your feet and adopting a broader worldview, Spitz says.

The third volume of the disruptions books focuses on creating personal and professional futures that stay relevant despite constant change. It's important to constantly learn, unlearn and relearn as the complexity of technology deepens. Anything that can be automated, decentralized, digitized or virtualized will be. At the same time, the "creator economy" of today means that monetizing a creative idea has never been easier, Spitz says.

Two workbooks in the third volume lay out how to create a personal future and how to prepare educators and learners for disruptive futures.

"Staying relevant is not a linear process, but a jumbled loop which you can untangle," Spitz says. "Are you ready to learn the moves to becoming and remaining relevant?"