Erin Regan ('02) had just started her shift as a Los Angeles County firefighter-paramedic when the emergency call came in early on the morning of Feb. 23, 2021: traffic crash, person trapped.
It was the type of accident Regan has responded to hundreds of times in her 15 years in the Los Angeles County Fire Department. It was only after she got to the scene that she realized the one-car rollover accident would attract worldwide attention. As she climbed down from her jump seat in a ladder truck, someone told her, "It's Tiger Woods."
But the response was no different from any other traffic accident or helping any other victim, Regan said. Her job that day was to lay out extrication tools, including the Jaws of Life, in case those were needed to free Woods from his mangled Genesis SUV. Instead, firefighters used an ax to smash the SUV's windshield to remove Woods, and he was transported to the hospital. Everyone had a job to do that day, and they worked together as a team, she said.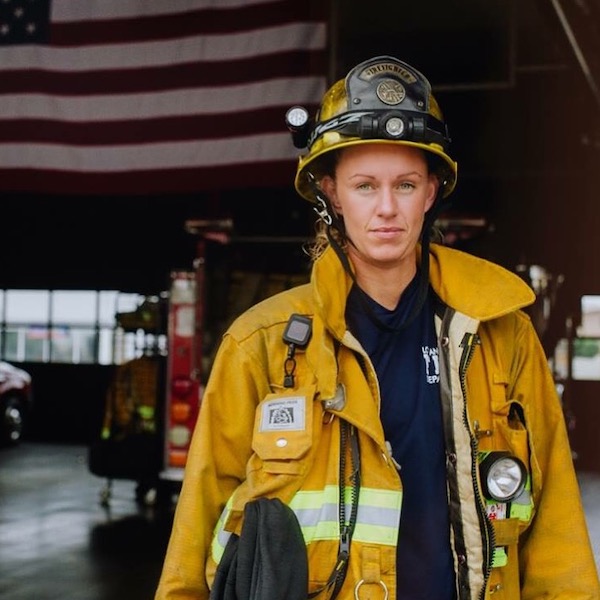 Firefighting, like soccer, is a team effort, says Regan, a former first-team All ACC goalkeeper on the women's soccer team who still holds several school goalkeeping records. It was the appeal of being back on a team — and helping other people — that attracted Regan to the fire department.
For several years, she's been on a mission to encourage more women to consider joining the firefighting team. She is one of only three females in her fire station and one of just 79 females among the 3,400 firefighters in the department.
"It's not really about changing the statistics," she said in a Zoom conversation from her home in San Clemente, California, a short walk from the Pacific Ocean. "It's about providing that visual (of a female firefighter) that this is an opportunity for women and girls, who aren't encouraged to do that type of job. It's about encouraging women to find what they're interested in, even if that isn't firefighting. But don't exclude that, it could be right up your alley."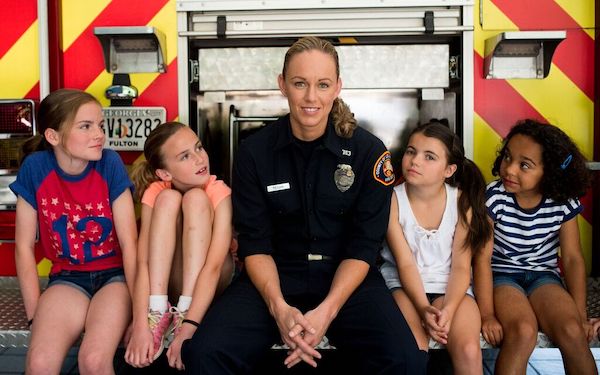 Regan joined the county fire department in 2008 and became a paramedic in 2011. She works out of Rolling Hills Estates Fire Station 106 after rotating through different stations in LA County. (There's also a separate Los Angeles Fire Department that covers the city.) She's fought wildfires, high-rise apartment fires and sprawling ranch fires and responded to car accidents and industrial accidents — including a cringe-worthy incident in which a young man lost an arm — but mostly runs medical calls today in Rolling Hills and Palos Verdes.
Regan grew up in Rancho Santa Margarita, California. She was one of the standout recruits — along with Tracy Chao ('03), Sarah Kate Noftsinger ('03), Rachel Parri ('02), Stacy Roeck ('02) and Emily Taggart ('03) — in the first recruiting classes put together by Tony da Luz (P '10) after he was named women's soccer coach at Wake Forest. (Regan's niece has signed to play on the women's soccer team at Army, coached by Chao.)
"I was mesmerized by being able to play in the ACC and play against the then-dynasty of UNC women's soccer," recalls Regan, who also considered attending the U.S. Naval Academy. "Once I went on my official recruiting trip to Wake, I just fell in love with it and wanted to be part of the program."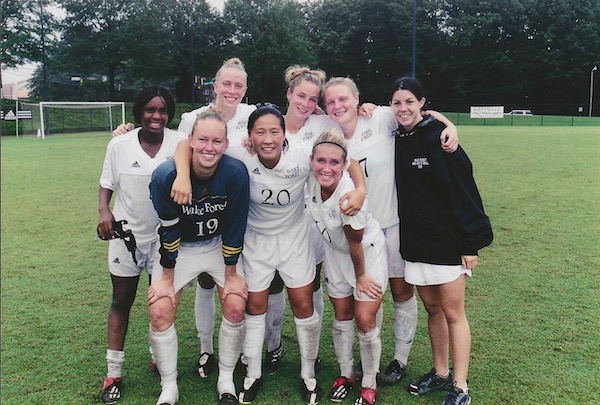 Older players Rachael Lewis Anna ('01, JD '07), Stefanie Mathews Fernandez ('99), Karli Schilling ('00), Anne Shropshire Shoemaker ('00) and Meghan Suddes Cox ('99) helped Regan balance the rigors of ACC soccer and Wake Forest academics. "Reegs," or "Big Bird" as she was called because of her 6-foot height, made an immediate impact in goal as a freshman and was described as a "tall, swift, shot-stopping sensation." The women's team made the NCAA tournament every year she was in school and peaked during her time at No. 6 in the nation.
As sophomores, Regan and Taggart became the first women's soccer players at Wake Forest to be named to the All-ACC first team. ­(Last year, Taggart became the first women's soccer player inducted into the Wake Forest Sports Hall of Fame.) Regan tore her ACL before her junior year and sat out the year while recovering, but she returned to the field and was a team captain her senior year. "She was my first bigtime goalkeeper," da Luz said recently. "She was a dominant presence in the goal with a strong personality."
Away from Spry Soccer Stadium, Regan majored in studio art — she started painting in high school — and communication. In the Scales Fine Arts Center painting studio, professor Page Laughlin pushed her to be better. "For whatever reason, she 'got me.' She knew how I needed to be pushed, and she would get under my skin on things that I needed to work on," Regan said. "I think I'm a big personality and kind of defiant, and she was able to wrangle that, and I learned a lot from her."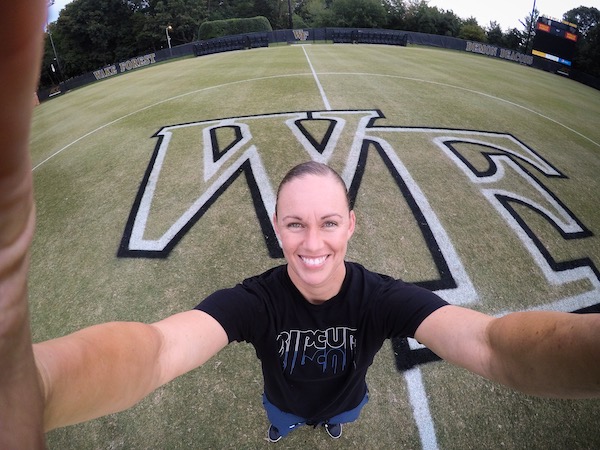 After graduating, Regan played professional soccer for a year with the Washington Freedom team in the Women's United Soccer Association until the league folded. Needing a "regular job," she became a claims adjuster for the state of California workers' compensation insurance fund, but quickly knew that wasn't what she really wanted to do.
"I was sitting in my cubicle and thinking, 'This cannot be the way that I'm going to die, not living out my passion,' " she said. "Soccer made me feel like I had to be outdoors doing something active, using my body and the skills that I had built up my whole life toward something greater. I know it sounds lame, but that lit a fire under me."
Several members of her family had been in law enforcement, including her mother, a one-time police dispatcher, and her grandmother, one of the first female officers in LaPalma, California. Other family members had been firefighters, so she applied to the LA police and county fire departments before deciding that the fire department was a better fit.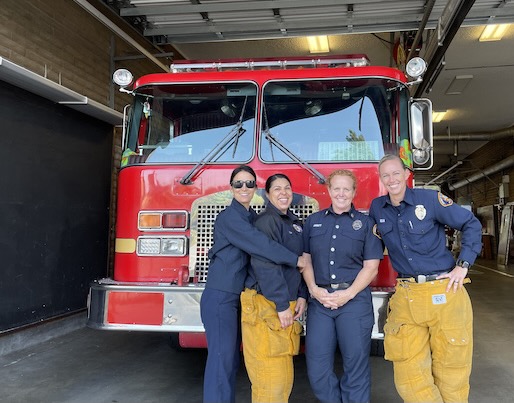 She spent four months at the fire academy "pulling hose, driving engines, things like that to get us ready to hit the floor for our probationary year," she said. "It wasn't the hardest thing I've ever done in my life, but it was up there."
She was one of only four women in her training class of 44. That was never an issue because everyone was going through the same training, she said. But that changed when she was assigned to her first firehouse and faced skepticism that she could do the job. "You're thrown into a station with people you've never met before, who don't know how hard you work, who don't know how good you are," she says. "It's like being thrown into the shark tank. Nobody wants you there."
As society has changed and more women have joined the department, the atmosphere has gradually, but slowly, improved, she said. She's been outspoken and out front in advocating for more female firefighters.
She and female colleagues created the Girls' Fire Camp and the Women's Fire Prep Academy several years ago to encourage girls and young women to consider firefighting as a career. The Girls' Fire Camp allows girls to meet female firefighters, tour a firehouse, learn the basics of firefighting and even try out some of the equipment. The Fire Prep Academy is an intensive, grueling program to prepare women for the fire academy.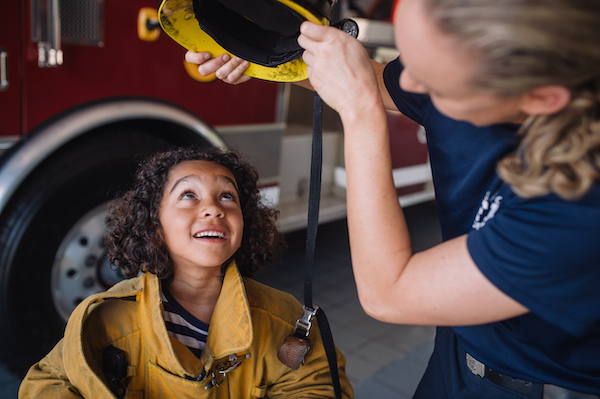 She hopes the programs provide a "safe space" to explore firefighting. "It's pretty daunting to be a female and walk into a fire station that's all men and say, 'I might want to do this.' You're going to get some weird looks," she said.
The percentage of female firefighters has increased from about 1% when she joined the department to 2% today, she said. "It's a slow process, but we're chipping away. We like to show that this is a career for any girl, but not for every girl," she said. "A lot of the women who are getting hired have been through one or more of our programs. It's my favorite thing I do with the fire department."
Regan's schedule — typically she works three or four 24-hour shifts at a time — can be tough on a family. She and her wife, Kelly, an artist, have an 11-year-old son, Sam, who's used to spending Christmases and Thanksgivings at the fire station. Her parents and two sisters and brother all live close by.
While Regan didn't learn how to fight fires or respond to medical emergencies when she was at Wake Forest, she still calls her college days "a formative experience. I've drawn on that experience every day." And one that eventually led her to live out Pro Humanitate every day. "Until I got older, and hopefully a little bit wiser, I didn't realize how much that applied and how much it affects where you go in life."
Photographer Kate Parker ('98) was a member of the first women's soccer team at Wake Forest and is the author of four books, including "Strong Is the New Pretty: A Celebration of Girls Being Themselves," "The Heart of a Boy" and "Play Like a Girl."