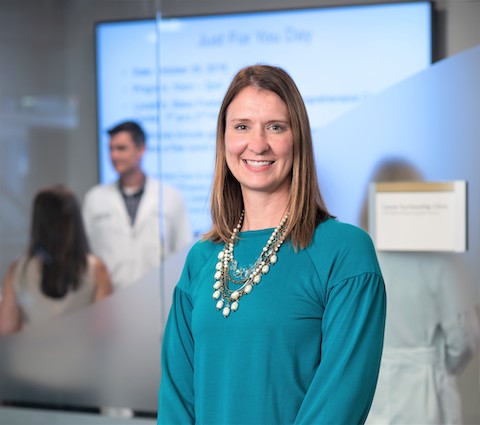 You may be familiar with Bloomington-Normal, Illinois, as the location of State Farm Insurance's corporate headquarters. Or perhaps as the birthplace of Beer Nuts. Or maybe as the home of Steak 'n Shake, known for its famous steakburgers and delicious milkshakes. As a Central Illinois native craving a taste of home, I would often round up a group of Wake Forest friends (via WinPop!) for a late-night run to the closest Steak 'n Shake in Greensboro, North Carolina. Leaving our books behind, we piled into someone's car, singing along to Dave Matthews Band as we barreled down I-40. Once inside the restaurant, we crammed into a booth, giggling over some crazy tale I've now forgotten.
I thought back to those late nights — plastic seats sticking to the back of my legs, the smell of hamburger grease in my hair and wild, side-splitting laughter — when I was asked to reflect on this year's Wake 'N Shake. Scrolling through pictures on my cell phone, I see many of the same faces that filled those Steak 'n Shake booths: from a Kappa Delta sister's book reading, the daughters of Davis Hall friends as flower girls at my wedding, a field hockey hopeful and her mom on a college tour. We remain in touch through text messages, phone calls and cherished in-person visits, sharing the disappointments and celebrations of our adult lives.
---
Learn how cancer diagnoses for First Ladies Betty Ford and Nancy Reagan when they were in the White House affected the nation during a free, virtual panel discussion at 6 pm EST on March 7. The event by the Cancer History Project features Dr. Stacy Wentworth ('00, MD '04), Karen Tumulty ( P '14, '19), deputy editorial page editor and columnist at The Washington Post, and Mirelle Luecke, supervisory museum curator at the Gerald R. Ford Presidential Library & Museum. Register here.
---
As a new faculty member at Wake Forest School of Medicine, I landed my dream job of building the first cancer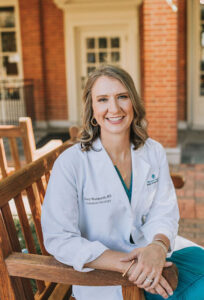 survivorship clinic at the Atrium Health Wake Forest Baptist Comprehensive Cancer Center. I was given an old retail space, a barebones budget and a six-month timeline. Yikes! When a state inspection revealed the need for a mandatory air handling system upgrade to the tune of $100,000 (NOT in our budget), I thought my clinic dream was surely dead. The Brian Piccolo Cancer Research Fund stepped up with the needed funds to cover the cost, and our clinic opened on schedule in 2019.
On a beautiful fall day last year, I attended the Hit the Bricks kickoff. I thanked the students on behalf of the Comprehensive Cancer Center and shared the impact of their fundraising for the Piccolo Fund on the patients I serve. After the official start, President Susan R. Wente and I walked a lap around the Quad listening to the student organizers share their plans and dreams (including one student interested in medicine. Yay!). I was struck by the intersection of so many lives — the students and my patients, their futures and my past. It was an inspiring moment that reminded me of the strength and depth of the Wake Forest community.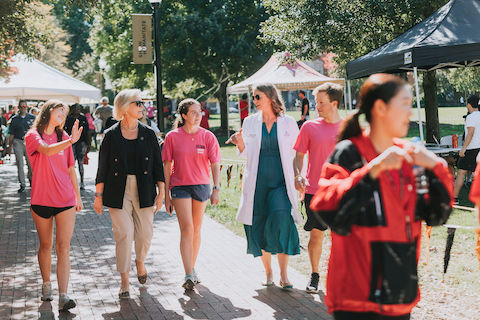 To date, thousands of patients and caregivers have passed through the survivorship clinic doors. We see everyone from young adults to grandparents, providing them with the tools to process and heal. New patients attend a "survivorship orientation visit" where a member of their team reviews their cancer treatment, provides a roadmap for future care and shares resources to address any symptoms or concerns they have. Each patient leaves with a personalized plan to not just live after cancer treatment but thrive. We also conduct clinical trials looking at best practices on ways to support the growing number of cancer survivors. Our care and research are only possible with the support of Wake 'N Shake and the Piccolo Fund.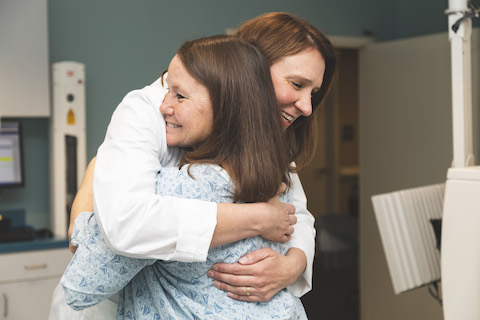 My time at Wake Forest was filled with many lessons learned inside the classroom (I, for one, will never forget Maxwell's equations, which I believe was physics professor Bill  Kerr's intention as he busted open his button-down shirt to reveal a t-shirt with the equations written on it.)  and many memories made through late nights with friends. During this year's Wake 'N Shake on March 25, I invite you to grab some of your friends, turn up the Dave Matthews Band and join us for a great night of laughter and dancing, or donate here. 
---
Dr. Stacy Wentworth ('00, MD '04) is a board-certified radiation oncologist and medical director of Cancer Survivorship at the Atrium Health Wake Forest Baptist Comprehensive Cancer Center. She lives on a farm near Greensboro with her husband and a menagerie of rescue animals.