The one-room schoolhouse sits high upon red brick stilts atop a grassy hill in northeastern Mecklenburg County. The building is tucked within a grove of trees, reached by driving through an apartment complex. Weathered wood siding buckles from age, and the windows are boarded up, holding in the memories of the structure's century-old history. The Siloam School is one of 5,000 Rosenwald Schools built across the South to educate Black children in the early 20th century. 
The school is a living piece of history that Nolan Dahm ('19, MAEd '20) is helping to bring back to life as the programs and exhibits manager at the Charlotte Museum of History. 
"It's a microcosm of the whole story of Charlotte," says Dahm, "starting in slavery through the modern day where we see massive growth of apartment complexes and the expansion of (the city)." For him, it prompts a question that he says he and his colleagues are still trying to answer: How can a community save local history amid a rush for development?
Dahm is leading the long-range planning for turning the structure into an educational space in which the Greater Charlotte community can interact — but not before the dilapidated building is relocated to the museum's property and fully restored, down to its original Rosenwald-era paint colors. The school is on the National Register of Historic Places but endangered because of its deterioration. Saving it has become a $1.2 million effort.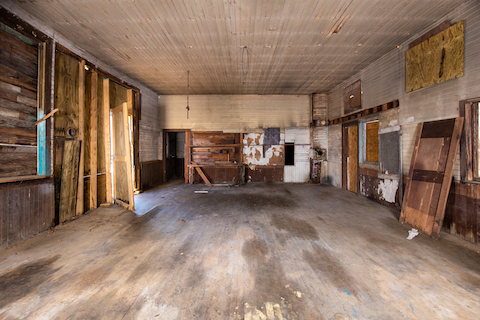 A Wake Forest path to history
Dahm, originally from Des Moines, Iowa, was initially attracted to Wake Forest because of its highly successful debate team. A former Wake Forest debate coach was an assistant coach for Dahm's high school team. When Dahm's team attended a tournament at Wake Forest, Dahm fell in love with the campus and the people, and he joined the University's debate team immediately in his first year.
Beginning in high school, debate opened his perspective. "Being from Iowa, it was a very white, sort of upper middle class suburb that I was in," he says. "Debate was an opportunity for me to meet, interact, talk about the world with all sorts of people from around the country."
On Wake Forest's diverse team, debate challenged him "to think more critically, think more about my history and about the history of everything. So, yeah, I would definitely credit debate with that early interest in Black history."
He likes to tell the story of accidentally finding his first history class with associate professor Mir Yarfitz. "I signed up for a Spanish class, but the class didn't have enough people signed up and got canceled. I had to fill my schedule with something, and I was like, 'Oh, let's take Latin American history,'" Dahm says.
He double-majored in history and politics and international affairs. His senior thesis in history examined how the media in a small town in California dealt with coverage of the Ku Klux Klan.
Dahm received a master's in education from Wake Forest, then moved to Colorado, where he got a master's of history at Colorado State University in Fort Collins in 2022. In May he joined the Charlotte Museum of History as an adult education specialist. He was promoted to his current role less than a year later. 
"My thought was, "How can I best prepare myself to communicate historical ideas with the public?'" says Dahm. He considers it a privilege to work at the museum in his first full-time job.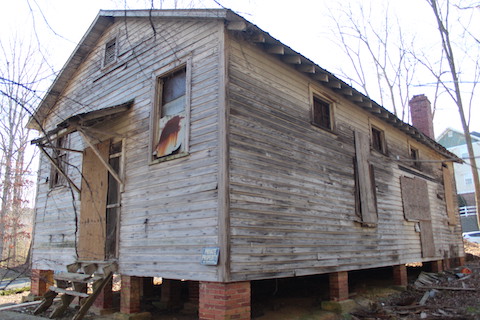 Sharing a community story
Saving the Siloam School has been an almost decade-long effort shepherded by Fannie Flono, the chair of the Save Siloam School Project, which was commissioned by the history museum. Flono led fundraising and awareness efforts to relocate and restore the school. She also worked to share the history of the school that had remained for a long time unknown to many in the area. 
"We're in a phase in this country in which people are really torn by a discussion of the difficulties from our pasts," says Flono, an award-winning journalist who retired as associate editor of The Charlotte Observer. She is the author of "Thriving in the Shadows: The Black Experience in Charlotte and Mecklenburg County" (2007). "The whole issue of how African Americans were treated back in those days — it's one that not a lot of people have wanted to discuss openly." 
She shares that getting people to attend events to discuss why the school needed to be saved proved difficult at the beginning of her tenure leading the project. Nonetheless, she and the team at the history museum bore down to educate the public about the school's importance. 
The Rosenwald Fund was created in 1917 as a partnership between Booker T. Washington, founder and president of the Tuskegee Institute, and Julius Rosenwald, president of Sears, Roebuck and Co., to provide an education for African American children in the time of segregation and extreme hostility.
Some of the most prominent Black leaders attended Rosenwald Schools, including Maya Angelou (L.H.D. '77) and civil rights leader U.S. Rep. John Lewis. North Carolina was home to 813 Rosenwald Schools, with 26 in Charlotte/Mecklenburg County, Flono says — by far the highest number in a single county. Most were lost to development or neglect, but five others besides Siloam still stand, modified for community or other uses or under repair. The Siloam School is technically considered a Rosenwald-designed school since it was funded by local residents rather than by the Rosenwald Fund, though the school was built following Rosenwald's architectural plans, Flono says.
For many African Americans throughout the South, the education provided via the schools signified freedom and independence, even more so than potential economic gain, says Arthur Griffin, a Mecklenburg County commissioner and a Save Siloam School Project champion. 
"For a Black family to send their kid to school rather than work on the farm was a sacrifice," says Griffin. "But education was important in the Black community and was so important that those sacrifices and sweat equity was something that the community felt they had to do."
The Siloam School was a beacon of community resilience. It was built in the early 1920s, when the Ku Klux Klan was highly visible in the area, says Dahm. The school remained active until around World War II, when it became an auto body shop and later a family home. 
"It is very important for people to understand why we need to preserve these spaces where we can have honest and enlightening conversations about what happened in the past and how we can use that as a way to have a better time in the future," says Flono. She's now one step closer to making this a reality. The Save Siloam School Project met its fundraising goal in 2022, and the building will be relocated this fall.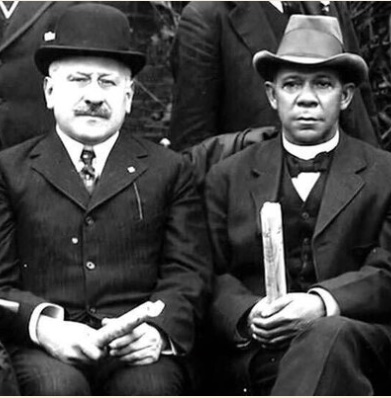 More than a building
For Dahm, the most exciting part of his role can finally begin: envisioning a new future and function for the Siloam School. He wants it to be an interactive space for people to better understand the story of education and racial inequity in Charlotte. It's a larger purpose that's become personal for him. 
"My work at the museum, as much as it's a job, it's also a personal growth opportunity," says Dahm. "It's a way for me, every single day, to literally learn about and honor the people who were here before me. That's where I see my role as a white guy doing work about the history of racism and racial inequity in this city."
"Nolan's trajectory at the museum is unusual in the museum industry, but a strong indicator of the direction museums are headed and a nod to his hard work and creative problem solving," says Terri L. White, Charlotte Museum of History's president and CEO. "Traditionally, change within the field has been slow both in the front of house functions the public sees and behind the scenes where the business of museum work happens. What is happening now is that organizations are recognizing that people want their museum experiences to match the agility technology has made standard in other areas of their lives."
Besides hosting interactive space, Dahm says the renovated structure will feature oral histories from people who attended the school and programming such as summer camps. He's also noodling on the idea of inserting a Little Free Library. 
"It's not just there was a school that existed for 20 years where people learned, but it's the story of what the school represents, what happened before it and what's happening now as well," he says. 
---
Amber Burton ('15) is a senior writer at Fortune. She was part of a team at the Wall Street Journal that was named a 2022 Pulitzer Prize finalist in explanatory reporting for stories about the 1921 Tulsa, Oklahoma, race massacre. Burton's story, "When Tulsa's Black Wall Street Went Up in Flames, So Did Potential Inheritance," was published in May 2021.