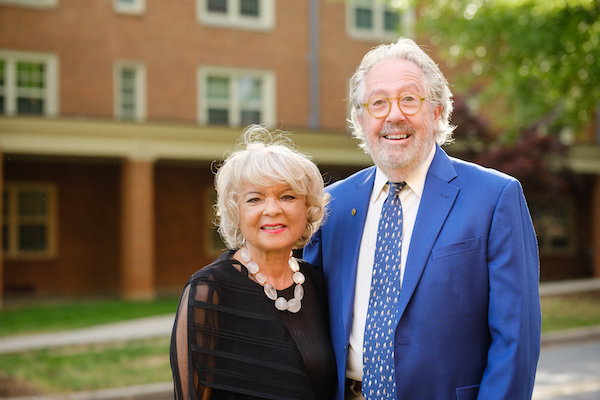 Wake Forest and the Alumni Council named trailblazer Beth Norbrey Hopkins ('73, P '12) and arts champion J.D. Wilson ('69, P '01), both of Winston-Salem, to receive the 2023 Distinguished Alumni Awards. They were recognized at a gala in the Sutton Center on campus on April 21 to honor them for their service to the University and for exemplifying Pro Humanitate.
---
Beth Norbrey Hopkins ('73, P '12)
The seeds of Beth Norbrey Hopkins' career in law, education and community outreach were planted as she grew up in Petersburg, Virginia, during the civil rights movement. "I participated in a lot of marches. … We were trying to orchestrate change, and I guess that's why I went into the practice of law, because I wanted to be a change agent," she said.
After a career spent in private and public practice and three decades at Wake Forest, Hopkins retired in 2016 as director of the Smith Anderson Center for Community Outreach at the Wake Forest School of Law. She left behind a legacy of service and a more diverse Wake Forest.
When Hopkins enrolled at Wake Forest in 1969, she was one of about 20 Black students and one of only four Black women. She was one of the first two Black women to integrate the dormitories when she moved into Bostwick Residence Hall, and students elected her as the first Black Homecoming queen in 1971.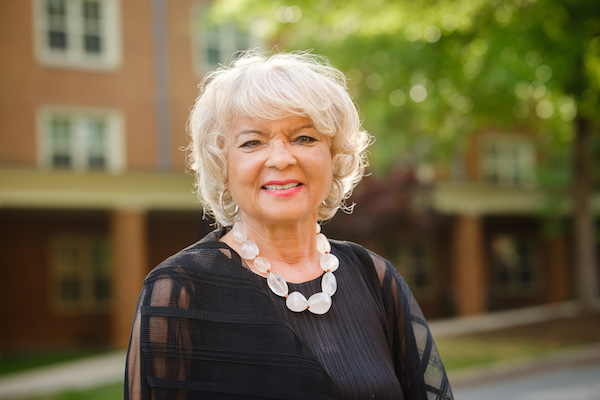 Hopkins and other students were labeled "rabble-rousers" when they staged a sit-in outside then-President James Ralph Scales' office to protest the treatment of Black students. "We weren't really rabble-rousers," she said recently. "We were just trying to make the University more conscious of how we were being treated."
After a standout undergraduate academic career, she applied to the Wake Forest law school but was told that the school already had "two of them," meaning Black students. She went instead to William & Mary and vowed never to return to Wake Forest.
Hopkins worked at a law firm in Richmond, Virginia, the Attorney General's office in Virginia and the U.S. Attorney's offices in Richmond and then in Shreveport, Louisiana, before breaking that vow. She returned to Wake Forest in the 1980s to work in the legal department and teach an undergraduate history course on race and the courts.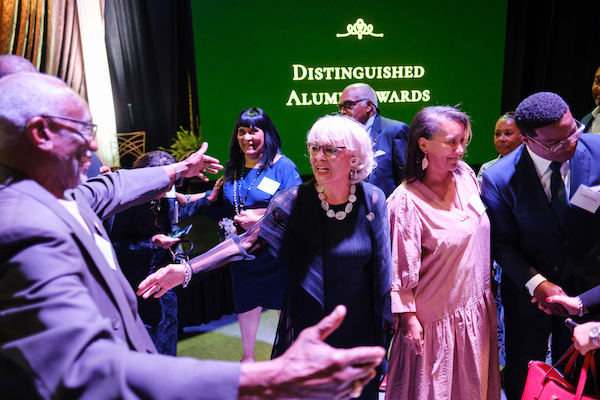 In 2010, she joined the law school that had once spurned her. Then-dean Blake Morant asked her to lead the pro bono and public interest programs. There was no sense of vindication or bitterness, said Hopkins, who also taught business drafting courses."I really did not think about what had not happened. I looked forward to what could happen."
Hopkins' tireless efforts grew the pro bono program by connecting students with community organizations and law firms to provide legal services to the underprivileged. Under her leadership, the law school's Veteran Advocacy Law Organization (VALOR) received the 2012 Judy M. Weightman Memorial Public Interest Award from the American Bar Association Law Student Division.
Her passion for helping others firmly planted the tradition of Pro Humanitate into the law school culture. When she retired in 2016, the school's public interest scholarship was renamed the Beth Hopkins Pro Humanitate Grants. In 2018, the William & Mary Law School Alumni Association honored Hopkins with its highest recognition, the Citizen-Lawyer Award, for her lifetime commitment to citizenship and leadership.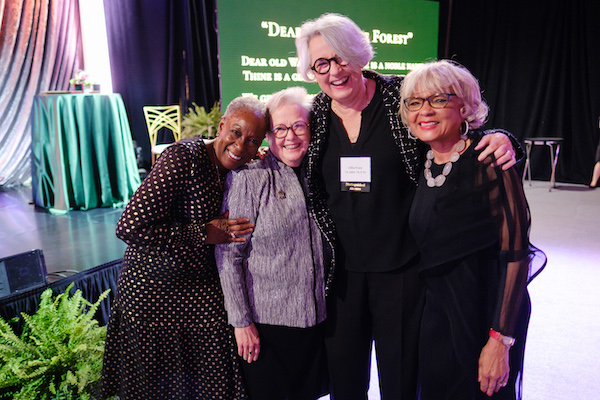 Hopkins, a Life Trustee of the University, was married to the late Dr. Larry Hopkins ('72, MD '77, P '12), a prominent OB/GYN in Winston-Salem, a former Wake Forest football star and a University trustee. They have two children, David Elijah Hopkins ('12, MA '15) and Michelle Hopkins Kyles, and two granddaughters, Alana and Courtney Kyles.
Her passion for service remains strong. "I want others to have a better chance. … To push for progress is not something that I think about. I just do it."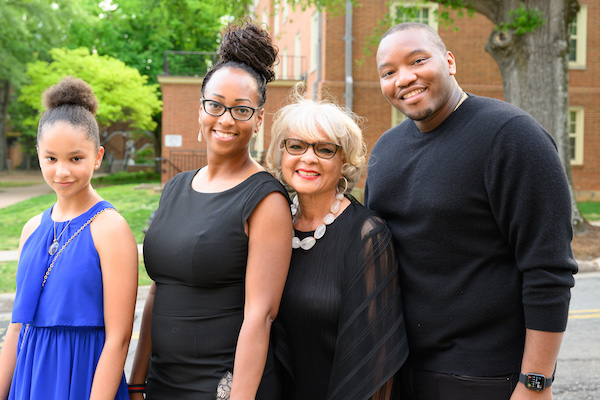 ---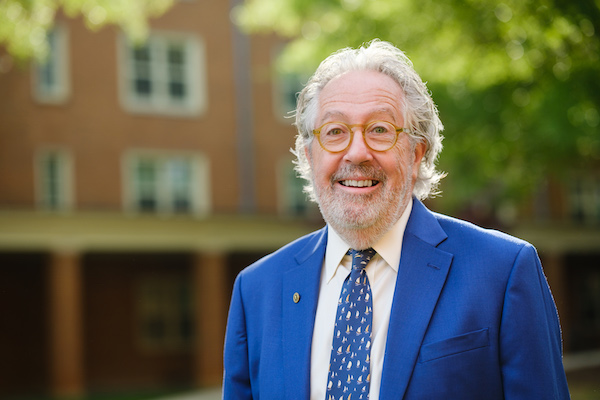 J.D. Wilson ('69, P '01)
J.D. Wilson grew up in the small town of Mount Sterling, Kentucky, before crossing the Appalachian Mountains to Wake Forest. "Those big doors at Wake Forest opened and pulled me over the mountains and have been opening doors for me ever since," he said recently.
Wilson has spent much of his life opening doors to promote the arts at Wake Forest and in Winston-Salem. His unwavering dedication to Wake Forest began when he was a student leader. The Old Gold & Black named him one of the Students of the Year in 1969 and praised his "great interest in and love for the school."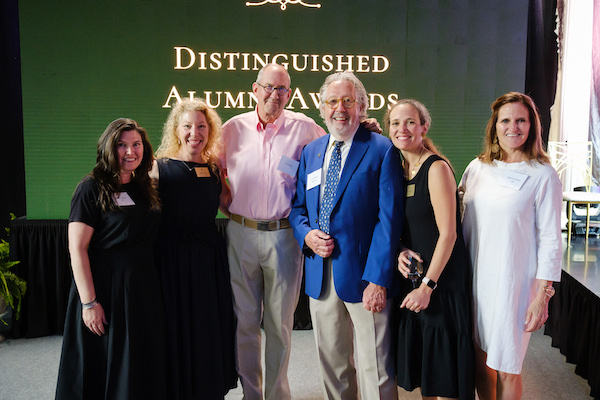 His commitment to the arts began in 1969 when he was College Union president and one of four students to travel to New York to buy art for what was then the College Union Collection of Contemporary Art. He was an English major and had never taken an art course before that trip changed his life.
"I learned about creativity and art and the power of art," said Wilson, who bought his first piece of art on that trip. "It kind of put me on my path of being intimately involved in the arts now for 50 years."
After graduating, Wilson stayed at Wake Forest for a year as director of the College Fund and associate director of Alumni Affairs. He was drafted into the U.S. Army and sent to West Berlin for two years as a photojournalist. When he returned to Winston-Salem, he co-founded Excalibur Direct Marketing, with Wake Forest as his first client.
Wilson's leadership has transformed Winston-Salem, which he helped to rebrand as a City of Arts & Innovation. He co-founded and chaired The Creative Center of North Carolina and also has chaired the boards of Reynolda House Museum of American Art and the Winston-Salem Symphony.
He has also served on the board of trustees at the University of North Carolina School of the Arts. He received an honorary doctorate of performing arts from the school, and he and his wife, Janie (P '01), received the school's Giannini Society Award for meritorious service.
At Wake Forest, Wilson received the Distinguished Arts Ambassador Award in 2022 for his leadership of Wake the Arts, an initiative to infuse the arts into all aspects of campus life. He has created funds to support transformative art projects and student travel to New York for the art-buying trip, and he co-chaired the effort to endow the renamed Mark H. Reece Collection of Student-Acquired Contemporary Art.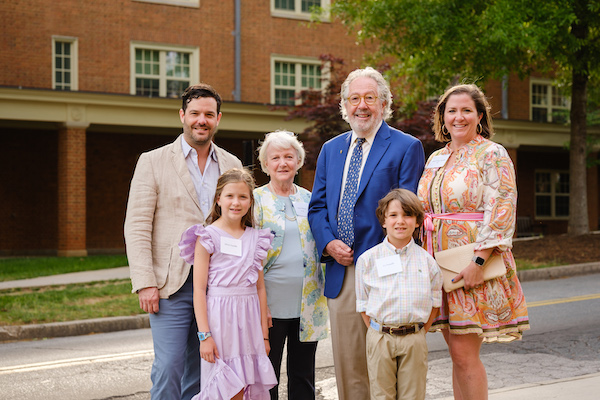 Wilson, who remains chair and CEO of Excalibur, co-founded Stepstone Strategic Partners in Winston-Salem several years ago. He and his wife have one daughter, Mary Craig Wilson Tennille ('01), and son-in-law, Andy Tennille ('00), and two grandchildren, Cy and Olivia Tennille.
The arts bring us together and enrich our lives, said Wilson, who believes strongly in mentoring young people and supporting young artists. "Our job in life, whether that's at Wake Forest or for me as a person, is to help open doors for others."