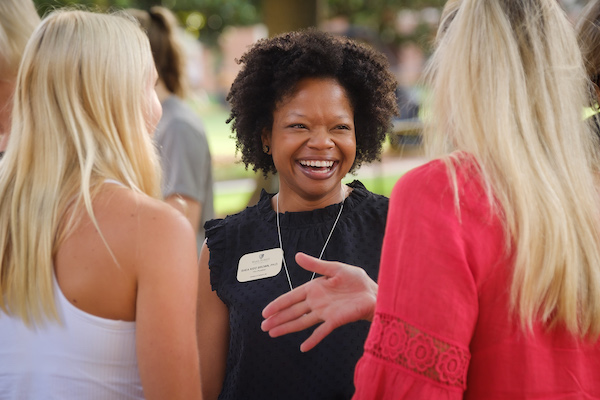 "Hey, I'm Dr. Shea.
Where's home for you?"
For students, that's a familiar greeting from Vice President for Campus Life Shea Kidd Brown, whether they cross paths with her in the Z. Smith Reynolds Library or in the bustle of the Magnolia Room. Her question means more than pinpointing a hometown. She defines it as a way for people to say, "'Wait. What's my story? Where is home?' Home may be where you're from. Home may be where you feel safe and where you feel comfort."
Since Kidd Brown made her professional home at Wake Forest in 2022, she has sought ways to interact with students during their everyday moments to help them feel connected with their community. Her reputation among students is one of warmth and friendliness.
"Belonging can happen one touch at a time," she says, "and it can happen through transformative programming and experiences."
During her first year as vice president, Kidd Brown established Wake Up Wednesdays, where University leadership offers free coffee and treats to students, and she co-leads with President Susan R. Wente monthly Gold & Black roundtable chats. She serves as a member of the Reynolda Cabinet and leads the Division of Campus Life, with more than 250 employees and responsibility for nearly 8,000 undergraduate and graduate students. The Division of Campus Life oversees a broad range of offices, including Campus Recreation, Fraternity & Sorority Life, CARE Team & Case Management, Office of the Chaplain, Title IX, University Police, University Counseling Center, Residence Life & Housing, Student Engagement and Student Health Service. 
Kidd Brown worked in sales after completing her undergraduate degree in speech communication at the University of Southern Mississippi in her hometown of Hattiesburg in 2002. When she realized working in sales wasn't "filling my cup," she reflected on her college experiences and mentors' advice. Higher education? "It found me," she says.    
She received her Master of Education in college student affairs administration from the University of Georgia and a doctorate from the University of Memphis, where her scholarship focused on racial identity development in African American college students. Her most recent job was associate vice chancellor for student life and dean of students at the University of Tennessee, Knoxville.
Deputy Editor Katherine Laws Waters ('20) talked with her about her background and her insights into campus life. These excerpts have been edited for brevity and clarity. 
---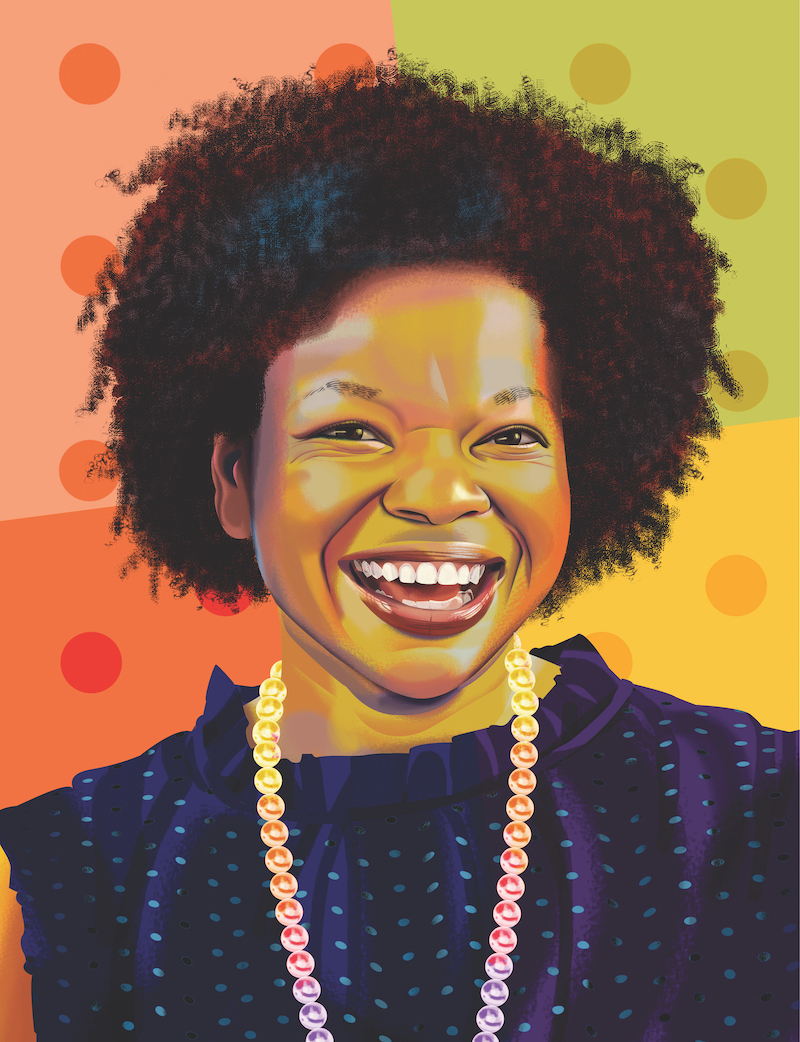 KW: I remember seeing you at an event in Wait Chapel. Instead of sitting to take a breath before the event, you put your things down and went over to talk with young people. I wonder what was going through your mind.
SKB: It's noticing. Every moment we have a chance to connect with someone, and you never know what that person might be going through, what they're navigating and what connection you might miss by not engaging. And so it lifts their spirit, but it lifts my spirit. Selfishly, it feels good to be part of that. I try to sprinkle that positivity as much as I can all over campus.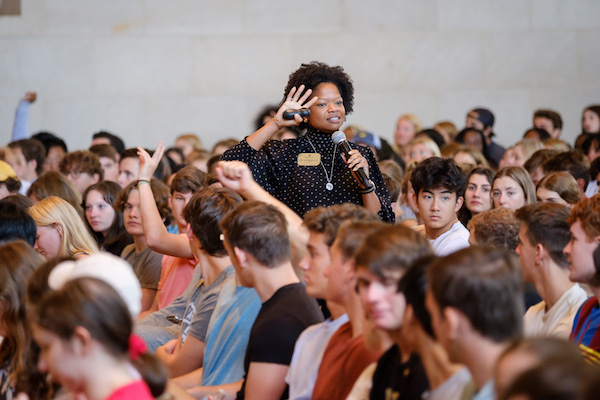 KW: I love the phrase in your Twitter bio, "Hard work and heart work." Tell me about it.
SKB: Two years into my tenure at the University of Tennessee, COVID hit. While I was espousing those values (of hard work and heart work), I think it became even more important because it felt like we were in crisis mode for so long. Adrenaline is only meant to last for a short period of time, … and we were in this adrenaline mode for months and months at a time. … What we were doing was hard.



The heart part … is I love what I do. I love students. I love working with staff. I love working with colleagues. It's not transactional. What I do, what I try to create, is really about that connection I make with people. That's where the heart comes in — as both the passion and the North Star of always thinking about remembering where I started. But it's also the connection that happens that can't happen in the head. It has to happen in the heart.
It's such a trajectory-builder when you think about what life-changing, transformative experiences can happen on a college campus.
KW: What advice would you give to your younger self as a student?
SKB: The first is: I am enough. I think our families, our friends, our culture sort of try to tell us what enough looks like, and enough can look like a lot of different things. It means that I have something unique to give to the world, and instead of trying to be or fit into some other box that I am the box. I could create the box. I think that's what I was navigating (as a student), truly, was trying to be enough. My identities come into play there. I grew up in a space that didn't always look like me, that didn't always understand. … I was sort of trying to compensate. That's a piece that I continue to try to instill in students, but I also still tell myself that today.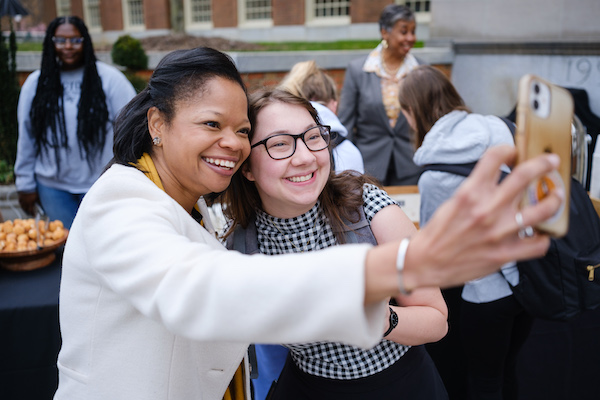 The other one is: Do good work. Often we want a five-year plan, a 10-year plan, a 15-year plan because that helps us feel assured that it's all going to be OK and that we are going to be successful if we're goal oriented. And I am all for being goal oriented because I still am. But I think learning the value of working hard and creating sustainable structures — the opportunities are going to come your way as long as you build quality relationships with people and you invest in a place.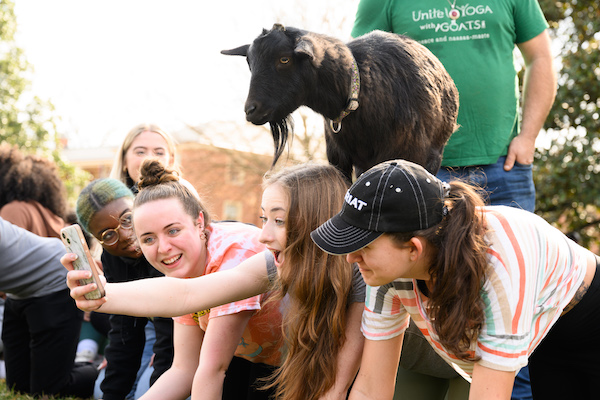 KW: Tell me about your own undergraduate experience at the University of Southern Mississippi.
SKB:I grew up attending community events and football games, but I didn't see myself actually there as a college student because I was a hometown kid. … Quite honestly, I did not know if I was four-year university material. One night I was at a high school gym college fair, and a woman (from Southern Mississippi) said, "We have this leadership scholarship, and you should consider applying." … I think I needed that confidence boost of someone to say, "You should think about this."
I received that scholarship, and (it) set me on this journey of exploration and curiosity and figuring out who I was. … The scholarship required me to live on campus for four years and to be involved.
I was a recruitment ambassador my first year, … and that gave me the inside scoop on the history, the traditions and the spirit. As part of that experience, I also was connected to the university ambassadors who were also orientation leaders. They wear these gold blazers. And I remember saying, "I want to wear a gold blazer at some point." (She shares that she joined student government, went overseas for missions work, got a job in admissions and became an official tour guide. By senior year, she wore the gold blazer.) My salient experiences were about creating experiences for other people.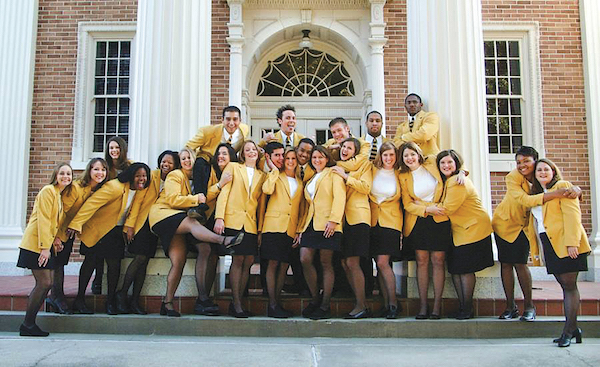 Then one day, I was outside "The Hub," the university center. The vice president for student affairs came up to me, and he was, like, "Hey, what's your name? What's your story?" His name is Dr. Joe Paul. I became his student assistant, so I got to see the day-to-day functioning of a vice president for student affairs. (He also encouraged her to leave sales for higher education.)
KW: Why did you pursue higher education?
SKB: I wear a bracelet that says, "Remember why you started." (As an undergraduate student), I was thinking about the difference I could make in students who might have been like me. And today I think about who I might meet at the stairs or at the Mag Room or in ZSR who just needs connection. I chose higher ed to make a difference and to really help students find their place in the world — not only on their college campus — but in the world. It's such a trajectory-builder when you think about what life-changing, transformative experiences can happen on a college campus.
KW: When you gather with campus life leaders at other universities, what are the issues the group discusses?
SKB: Mental health is at the top of our concern. Our students have been through a lot (during the pandemic). We want to support and care for students and build long-term structures. But we're also curious about the next generation of students. My son was in fifth grade when COVID began. Eighth grade was his very first routine school year because we moved. That's a significant number of potential deficits that might exist socially and otherwise in the generations to come.



My hope is that we elevate the consciousness of care on campus. Wake Forest is a deeply relational place. … I want to elevate that. I want every student to feel that and for us to create structures where, if I'm concerned about my roommate, I know what to do other than call the counseling center. While that's a great option, there are a lot of things you can do before that. (Examples include inviting students to a meal or event or walking with them to the counseling center.) I'm really excited about building our capacity across campus as we think about student-to-student interactions and how staff and faculty care for students.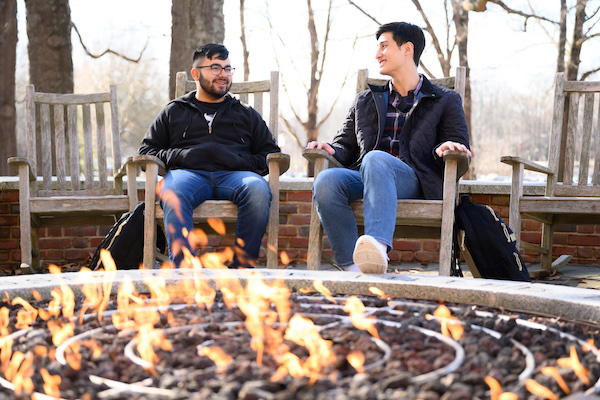 KW: What goals do you have for the Division of Campus Life?
SKB: Diversity, inclusion, equity, belonging — all of those are important to me personally. … How do we create those spaces where people feel like, not "I fit in," but, "I belong; my uniqueness, the texture of my story, my background make Wake Forest better?" We're helping our students understand their identities — and I use identities with an "s" because we're all multifaceted people. … Our students come from all over the world. When they come here, now it's many voices, many perspectives, but one Wake Forest. My vision would be "one Wake Forest," where we are all making sure everyone feels like they matter and belong, and they can thrive. … It's not to say that we all have this singular experience but that we are valuing the story of the person next to us.
I've seen (belonging) be really successful through dialogue. I'm from 60 miles from the Gulf Coast. I grew up eating crawfish. The ways in which I see and understand the world are likely going to be different from someone who grew up in Portland, Oregon. Let's sit down and talk about that. What have you learned? What are the things that have shaped you? Then we think about that through our programming (and) through our curriculum.



(Diversity, equity, inclusion and belonging) also need to happen in our policies and structures. How do we unintentionally create barriers for our students? Part of (my) first year (has been) making sure our policies and procedures are equitable and making sure fundamentally that (students are) set up for opportunities for belonging and connection.



In conversations around diversity, equity, inclusion, I think people are accustomed to being shamed or to feeling like they don't fit in the conversation if they don't belong to a marginalized group. My thought is that everybody fits into that (conversation), because a world that fosters belonging is a better world for all of us.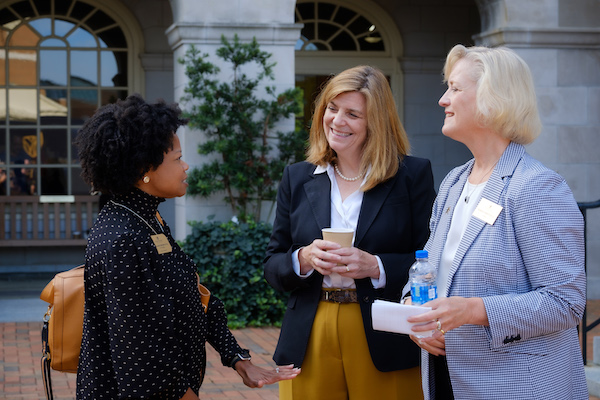 KW: Your maternal grandmother was secretary to civil rights activist Medgar Evers when he was assassinated in 1963 in Jackson, Mississippi. How did she influence you?
SKB: I grew up spending summers walking the halls of the NAACP in Jackson where Medgar Evers also walked. That was long after his assassination, but I was exposed to conversations around justice and racial equity and equality. My grandmother (called Granni, who died shortly after this interview) was born on the Fourth of July and is absolutely a firecracker. She taught me, even if you're afraid, you have to stand up for what's right and you have to be an advocate.

The life that I get to live now, while it isn't perfect, it is so much different than the life she lived. So now I look at what's covert. What are those things we don't necessarily see overtly but that need to also be interrupted? Do that with love and do it with care — but do it. … I feel like I won the granddaughter lottery by being connected to her.
"How do we create those spaces where people feel like, not 'I fit in,' but, 'I belong; my uniqueness, the texture of my story, my background make Wake Forest better?'"
KW: You have a job that I imagine can be very taxing and perhaps even heavy at times. What is well-being to you? How do you incorporate well-being into your daily life, even if imperfectly, to carry your load?
SKB: Well-being is this ability to feel grounded. That can be mentally, financially, physically, relationally, but I know when my well-being is off I feel a sense of groundlessness. I feel like I'm not rooted in something. When you're planted in the ground, you're also flourishing and you're also thriving. You're able to reach your full potential when your well-being is fully intact.
You're right; every day is not perfect. There's a level of emotional intelligence and self-awareness that has to exist so I know when I am doing well and when I'm not. I'd say first just really knowing myself, and that comes from being deeply reflective each day. I practice gratitude. I say "practicing" because you have to be thoughtful about: What is going right today? What did I learn? What am I challenged by?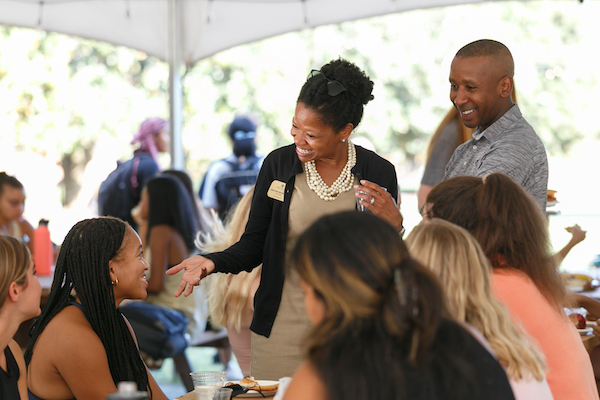 A huge part of being able to be self-aware is having people around you. …The way I have structured that in my life is I have what I call a "personal board of directors." I have people that I can call on who give me advice and who help me to say, "Yeah, that's off base," or "great job." They're my cheerleaders affirming me, but they're also keeping me grounded. That's come in the form of people who have become on-campus mentors …being able to check in with people who are familiar with Wake Forest. My husband, Ryan, is also in higher education (as general counsel at Lincoln Memorial University.)
As I think about well-being in my own life, it's a lot of different things that keep me grounded. I think parenting keeps me going. I have a middle schooler (Jack) who also keeps me on my toes, and perhaps I need to let something go or close the laptop.
KW: I like how you call Jack your "junior vice president."
SKB: JVP! He has always been by my side in higher ed. … I spend a lot of time here, and I want him to always feel like he's a part of it.
KW: Is there anything you would like to add?
SKB: I like to end with gratitude. It is really heartening and humbling to come to an office every day that was the place that I wanted to be when I grew up. This first year, I have felt so welcomed, and I have been able to build really strong relationships with students and colleagues. That's really, I think, what it takes for us to work together in partnership to navigate these complex challenges and opportunities. I have felt that support and spirit of Pro Humanitate we talk about as a new person coming here.