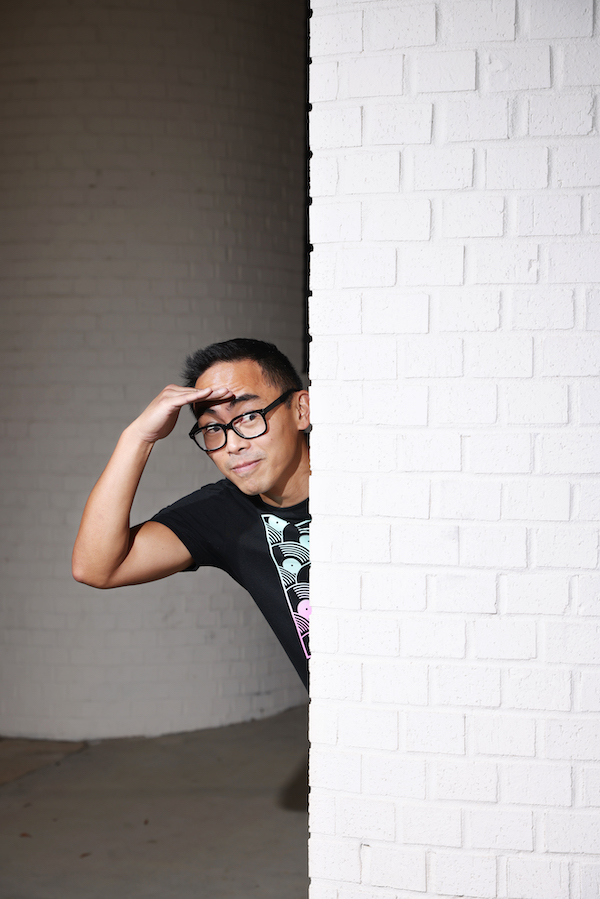 STEP INTO the Greene Hall office of E.J. Masicampo, and you will find what you might expect: bookshelves, art on the wall, a comfy chair and a bespectacled young professor with his back to the door working at his computer. What you don't see are the computer files containing two Excel spreadsheets. One is for academic projects. The other is for comedy.
What is the burden of secrecy? How does self-control depletion work? Does conscious thought guide moment-to-moment actions? How does one attain multiple and sometimes competing goals? These are the kinds of questions the professor has pondered in his research as a teacher-scholar.
Will I be driving to Raleigh to do a show next month? Will my set be 10 minutes, 15 or 20 at The Auto Pour in Charlotte? Who will join me for standup comedy night at Winston-Salem's ghoulishly festooned Monstercade, the self-proclaimed "strangest bar in North Carolina?" Such are the considerations of the professor after hours.
"My days are working. My nights are comedy," he says.
Publish or perish. Punchlines or perish. Where does one quest end and the other begin, especially now that the 41-year-old Masicampo, associate professor of psychology, reigns as the winner of the 2022 North Carolina's Funniest Person contest? No pressure or anything.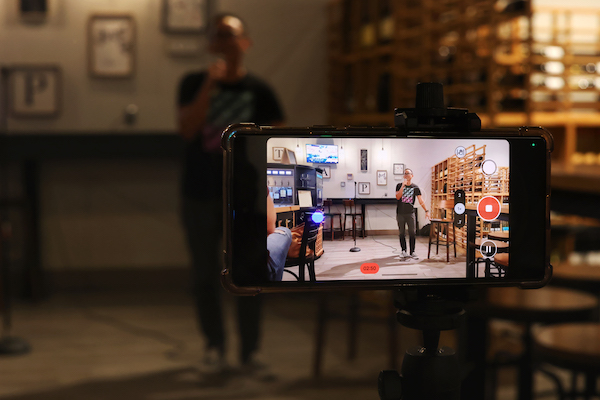 Last summer in a competition that spanned multiple evenings over multiple weeks, he went through three rounds of standup performances at Goodnights Comedy Club in Raleigh. The audience judged the first round of sets, which promoters said drew more than 100 aspiring comics to the mic. Despite having brought "zero people" to the show, Masicampo won audience approval and moved on to the final rounds, during which a panel of judges assessed the comics' talent. Eventually, the panel bestowed on Masicampo the "Funniest" title along with a certificate and a $1,200 prize. Helium Comedy clubs, of which Goodnights is one, present their homegrown "Funniest" versions around the country, but that's where it ends.
There is no moving up, Miss America style, for winners. For Masicampo, the North Carolina designation will have to do, and that's fine with him. The "insane credit, the over-the-top label," as he calls it, makes it easier to score bookings in clubs, an obvious step up from open-mic nights.
---
---

There was no comedy school or how-to book that launched the professor. Masicampo found inspiration from comedian Judd Apatow's book "Sick in the Head: Conversations about Life and Comedy." An old YouTube video of the late Ralphie May at The Comedy Store in Los Angeles delivered the ironclad advice to do three shows a week.
Podcasts have been gold, particularly "Let's Talk About Sets," about the science and craft of standup comedy. Another favorite: "WTF with Marc Maron." The host has been writing comedy for more than 30 years and appeared often on late-night television shows starring David Letterman and Conan O'Brien.
"Part of our jobs as … comics is to frame things that are terrifying or menacing in a way that makes them palatable or at least gives you some control over it," Maron said on his podcast in April 2022. "It's a skill set that enables you to present things to people that can be anything or can be truly horrible in a way that they can process and laugh even. That's the whole agenda."
---
Masicampo arrived at Wake Forest in 2011, fresh off his master's and doctorate in social psychology at Florida State University in Tallahassee and a postdoctoral fellowship at Tufts University in Massachusetts. His undergraduate degree is from the University of California, Santa Barbara. He was a California kid, born in Oxnard to parents who emigrated from the Philippines. His dad was in the U.S. Navy. The family moved a lot. Their food was different. Their language was different. It was sometimes hard for Masicampo to fit in because of his appearance.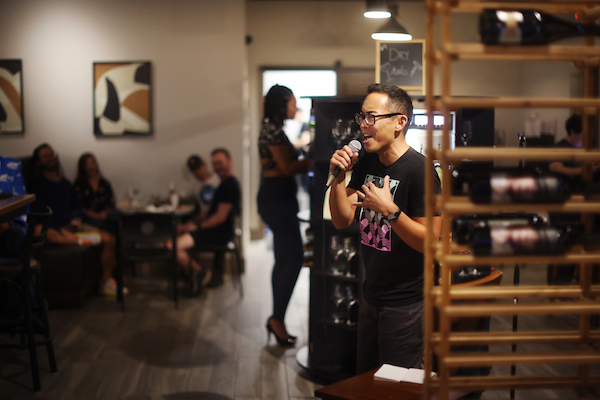 ---
---

For his joke crafting, Masicampo looks for something "weird or interesting or frustrating." What makes something funny is a contradiction, two things in conflict with one another — "like someone being silly in a serious situation or being serious in a silly situation." He uses the example of a UPS woman delivering a heavy package to his house, but Masicampo is too weak to hoist it easily in front of his daughter. The contrast is that he's "not manly enough — a huge asset for raising a daughter. … I'm so incapable, it's coming off as feminism," he says, recalling the crux of a joke he is working to perfect. "There's always, I think, a good point and a twist. It has to be unexpected. They can't see it coming."
---
---
"I remember white kids talking to me like I knew nothing about the culture and trying to trick me into thinking that, like, 'Oh, yeah, tomorrow's a holiday where everyone has to come to school with their head shaved. You better shave your head.' (He didn't.)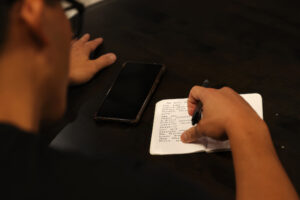 "There were a lot of little things that stood out to me that definitely made me feel different and unwelcome in ways that I think I'm still sometimes coping with. I think that's where a lot of comedy comes from."
He has talked often about growing up in a culture that treated Asian folks differently and finds it fodder for his comedy. In his experience, things that arouse the strongest feelings birth the strongest material. "People can see the humanity in what you're saying. It feels more like you're sharing something about yourself than just telling jokes."
---
---

Masicampo standup joke 1: "Ever since having my two kids I feel so much less alone.
Because now there are two other Asians in town."
Joke 2: "You know the world is mostly Asian people.
Soooooo, you're the weird ones. Yeah, your houses smell funny.
People will talk about the Asian community.
Yeah. That's Earth."
Joke 3: "Racist people want to send me back to China.
If that ever did happen, my family in the Philippines would be so impressed by how well traveled I am.
"This is true also, white people who are learning Chinese love to practice it on me. And it's happening so often, they actually are teaching me Chinese. They're like, 'E.J., your Mandarin is impeccable. Are you being tutored?'
Actually, I'm being stereotyped."
---
---
He has written about race from the beginning. It was 2019. His marriage was ending. He started listening to podcasts about standup comedy — the science of it — and comedic writing. He ventured first to an open-mic night in High Point, North Carolina, to watch and listen. A few nights later, he went to another one, at Monstercade. At the third stop, in May 2019, at The Idiot Box Comedy Club in Greensboro, he performed. He had put a lot of thought into the material, and the performance went well. Even the bartender was impressed. "Stick with it a year," Masicampo recalls his advice. Challenge accepted.
"When I do something, I want to be good at it," Masicampo says. "I like a challenge."
Ever the good scholar who studies goals, he aimed to perform at least three times a week and write regularly. He carried a notebook to jot down his set list and sharpen his lines. He did open-mic nights but also had bookings at comedy clubs in and out of state. He was no longer married. He was, as he calls himself at shows, the "divorced dad" with two young children, ages 9 and 6, who live with him every other week and an ex-wife who works in, of all places, Greene Hall. No pressure or anything.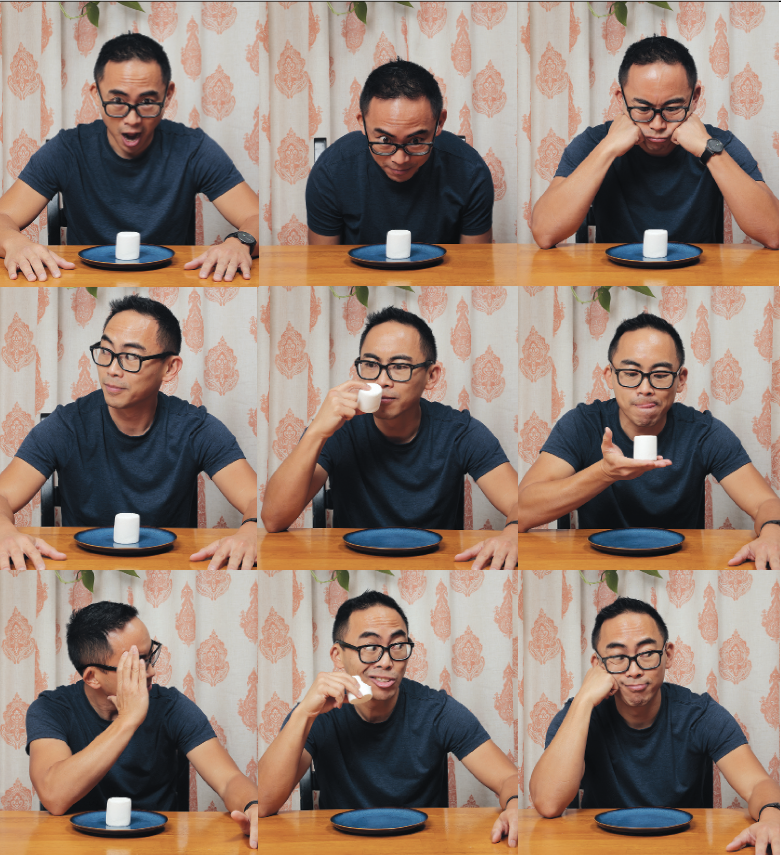 Masicampo wrote a joke about his ex-wife and shared it on Instagram: "She was so meticulous about planning our marriage she even picked when it ended."
The ex-wife — Masicampo refers to her as his "co-parent" — is OK with that. "I think E.J. is doing something amazing that brings him joy. And I think the comedy is hilarious!" wrote Associate Teaching Professor of Psychology Melissa Maffeo in an email when asked about her ex-husband's after-hours life.
---
---

The professor recalls performing as the surprise act at an Indian man's 80th birthday party. He wasn't allowed to bring an amp or mic, and it was a windy day. He was off to the side of the tent delivering jokes.
"Nothing about this is good for comedy," Masicampo says. "Half of them were facing away from me, and they all tell me they are hard of hearing." It was a 30-minute set with children running everywhere. While any set might have one obstacle or challenge, this one had a dozen. How did he overcome the situation? "That one was potentially a complete nightmare but saved by the fact the people were just so nice (he adds, when they could hear him), and the food was amazing." In a word: eat.
---
---
In the fall Masicampo was performing standup 12 to 16 times a month, and, yes, he was keeping up to date on his spreadsheets, which track all the shows he attends or doesn't and all the jokes he tells. He walks his academic talk by monitoring his behavior "in a way that helps me pursue my goals and see my progress."
At Wake Forest, in the fall, he was teaching social psychology and a research methods class. He teaches specialty courses on motivation and self-regulation, which examine how people manage multiple goals and how they resist temptations. He sometimes teaches a moral psychology class, discussing how people make judgments about what kinds of behaviors are morally good or bad.
At times, work life and comedy life merge. The professor has taken his offhand comments that got laughs in the classroom to the stage. Likewise, in the classroom, he says, "Doing comedy has made me looser and more present. Teaching feels more like a conversation now than it did before."
He has more goals for his comedy and, by extension, opportunities for observations about his own self-regulation. Will he or won't he attain multiple goals? He doesn't want to jinx them, but let's just say they are big — the star-studded kind of goals that if he succeeds will have him laughing all the way to the studio and back to his computer. The spreadsheet, after all, awaits.