Katherine "Kate" Maloney ('97) remembers that late in her Wake Forest study-abroad spring semester in 1996 she found herself standing in a phone booth in Salamanca, Spain. Her father was encouraging her to stay in Spain for the summer. He had suggested she make a call to family friends in Madrid about a potential summer internship. It was her only lead — she made the call — but it didn't work out.
These days, Maloney lives in Greenwich, Connecticut, and is associate vice president at multinational IT consulting company Infosys and executive director of Infosys Foundation USA. She says some part of her probably wasn't ready for an internship. She ended up backpacking around Europe with a friend instead.
Years later, that moment in the phone booth influenced her thinking about how she could connect her background in international affairs, her penchant for leadership roles and her connection to Wake Forest into something meaningful.
"There might be other Wake Forest students who are finishing study abroad, and they want to stay and have an immersive internship experience," says Maloney, describing her motivation. "I wanted them to know (that) there was this network of alumni around the world, and they should never be without someone to call, someone to connect with."
The question was how to formally link the alumni to make it happen. That question drove Maloney, Kezia McKeague ('05) and Nico Gabrielli ('11) to create an affinity group focused on international affairs: Global Deacs. The group turns 10 this year, making it one of the oldest continuously active alumni affinity groups, according to Gray Allen Godwin ('09), associate director of affinity and identity engagement programs at Wake Forest. (The Office of Alumni Engagement at Wake Forest offers logistical support to alumni affinity groups.) 
The group hosts panels, conversations and happy hours with alumni interested in international affairs and has a LinkedIn group to connect people online. The goal, says McKeague, is to be a network for fellow alumni who are working in international affairs and a resource for current students. The group defines international affairs broadly, she says, including the U.S. State Department and traditional diplomacy, the world of think tanks, other parts of the U.S. government and international organizations. 
"I wanted them to know (that) there was this network of alumni around the world, and they should never be without someone to call, someone to connect with."
In the early years of her career, Maloney says when she read class notes in Wake Forest Magazine she did not see enough people landing jobs "with a global angle in them. … We have this amazing motto of our school (Pro Humanitate) and such diverse talent and organizations like the ones I was working with at the time. … They need Wake Forest grads. We need to bring Wake out into the world."
In 2013, that's just what she, Gabrielli and McKeague did as volunteers creating and leading the group.
McKeague is a self-proclaimed "queen of study abroad" who moved to Washington, D.C., after finishing graduate school in Buenos Aires and Paris in 2008. As is typical of Wake Foresters in new cities, she scheduled informational interviews. One was with Maloney. "We hit it off," she says.
Maloney shared her contacts with McKeague, which catapulted McKeague into a job on the U.S. Senate Committee on Foreign Relations — a job on Capitol Hill that Maloney used to have.
Eventually the women ended up talking about what they felt was a lack of resources available for Wake Forest students and alumni interested in international affairs. They also wanted to see more alumni going into the field.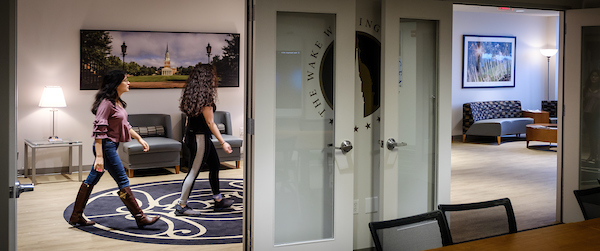 While Gabrielli helped them in its early years, co-founders Maloney and McKeague are still at the helm of Global Deacs. In her full-time job in D.C. as a regional director at McLarty Associates, an international strategic advisory firm, McKeague advises clients on Latin American issues. Over the decade, she and Maloney — and now their executive committee of Maria Antonia "Tonis" Montes ('11), Francisco Bencosme ('12), Andrew Holland ('01), Emily Manning ('12)  — have hosted events to connect socially and to learn about foreign affairs and the career paths of fellow Demon Deacons. The group has held events in person and virtually (first there were conference calls and then Zoom) with other alumni affinity groups and in New York City. The group remains centered in D.C., and collaborations with the Wake Washington Center and its executive director, Jennifer Richwine ('93), have been especially fruitful, Maloney says.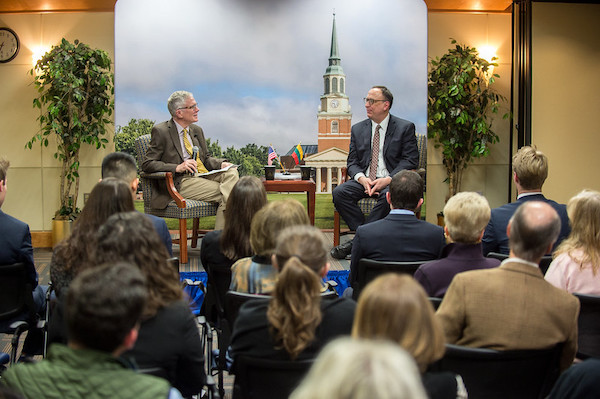 One committee member, Montes, a senior program officer at the Gandhi-King Global Academy at the U.S. Institute of Peace, spearheaded a fundraising drive in 2021, after Kabul fell to the Taliban in Afghanistan. Global Deacs, Decorated Deacs, WAKEWashingtonDC and the D.C.-area Pro Humanitate Committee raised more than $4,000 in a couple of weeks for Afghan refugees coming to the greater D.C. area, Montes says.
William Roebuck ('78, MA '82), former U.S. Ambassador to Bahrain, was the headliner of the group's most recent event in March at the Wake Washington Center. He was "so impressed" with Global Deacs, calling it a "landing place" for people interested in international affairs. He got his start in a similar way, he says, learning about a career in international affairs after talking to a classmate about career paths at the U.S. State Department. (See Wake Forest Magazine's profile of Roebuck).
The importance of connections is as vital today as it was in Roebuck's Wake Forest experience.
"You don't just plug in, get your advice, and that's it," says Tiffany Virgin Perry ('15), a senior officer for incubating initiatives and special projects at the United Nations Foundation.
In 2021, she was on a Global Deacs panel about careers in international affairs. Before that, though, when she was still at Wake Forest, she tapped into the group to learn about working in global affairs.
"It's a welcomed, ongoing conversation, and I think that … makes it unique to other spaces," she says. "There's always this encouragement of, 'Let me know how it goes. Let me know if you have questions.'"
"I like building bridges and making those connections," says McKeague. "Without the programming we've done and the research we've done to find these speakers, I don't think a lot of these people would really know each other."
"The Wake Forest community is much more global than we might think. Global Deacs helped create a platform to connect."
Stephanie Bandyk ('14) was at one of the group's early events on campus that featured a panel of alumni working in international affairs. She was fresh from a semester in London and "felt a little bit lost about what to do next" after an internship in the British Parliament.
Listening to the panelists excited her. "It opened my eyes to the possibilities — international law, private sector development, diplomacy, etcetera."
After the event, Bandyk met Maloney, who had advice on how Bandyk might approach her next professional move. They've stayed in touch.
In 2017, Bandyk was living in Nairobi, Kenya, and served on a panel for a virtual Global Deacs event about careers in Africa. Students tuned in from campus and asked questions, and others could join from around the world.
Today Bandyk is doing a post-MBA management associate program at Mastercard in London and remains involved in Global Deacs.
"The Wake Forest community is much more global than we might think," she says. "Global Deacs helped create a platform to connect."
Looking back, thinking about that phone booth in Spain, Maloney says she feels gratified to have created something that didn't exist: "I feel proud to be a part of that (Global Deacs) story and in some small way just continue to catalyze greater engagement and bring Pro Humanitate seriously out into the world."
To join Global Deacs, search for Wake Forest Global Deacs on LinkedIn.
---
Natalie Alms ('20) is a staff reporter at trade publication Nextgov/FCW, where she covers government technology. She previously reported on stories as varied as Division I men's basketball and the shortage of foster homes in North Carolina.