Stephanie Dishart Kramer ('04) never foresaw herself working with people. At least, not in the way she does now — overseeing the careers of more than 12,000 employees at L'Oréal USA, one of the largest beauty companies in the world.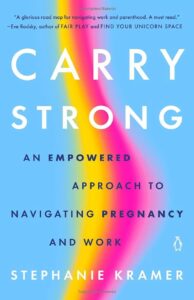 A younger Kramer envisioned herself working head down as a chemist in a lab or as a doctor. But nearly 20 years after graduating from Wake Forest, Kramer has been named the chief human resources officer at L'Oréal USA and recently added writer to her repertoire, publishing her debut book this year about navigating pregnancy in the workplace.
It's poles apart from her start in the sciences, though she's employed the methodical nature of her background to build out every facet of her career.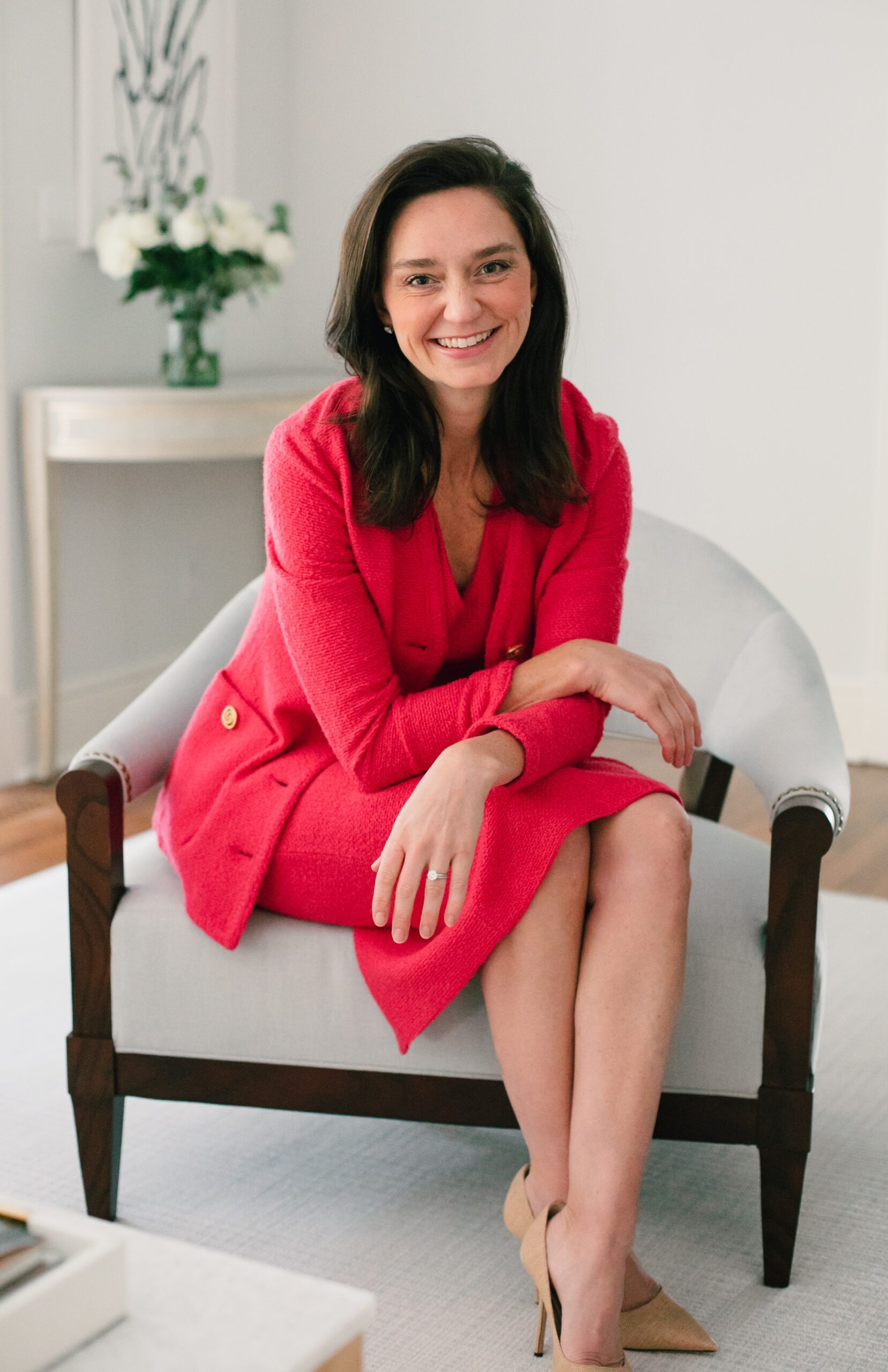 Kramer can remember walking onto Wake Forest's campus for the first time. It was exactly six hours away from her hometown just outside of Pittsburgh. "My mom had put a glass on Pittsburgh from where we lived and said, 'This is six hours away. You can go anywhere here.' And I was like, 'OK, let's go to the furthest of that line.'"
Kramer was beguiled by the picturesque setting of Wake Forest. "You walk onto the campus, and it's the most beautiful place you've ever been," she says. "It was magical. I remember seeing students walking around on the Quad and the beautiful blooming magnolia trees. …"
After enrolling early decision, Kramer had every intention of being pre-med.
"I knew I wanted to do the sciences from the beginning, even when I was in high school and volunteering. I just had an interest in medicine in general." She characterizes herself as one of the few people who willingly admits loving P-chem (physical chemistry). She recalls classes with chemistry professors Bradley Jones ('84, P '14, '19, '21) and Dilip Kondepudi as some of her favorites, and she is proud of her service as president of the campus chapter of the American Chemical Society. Kramer was part of the group that collaborated with the art department to create a popular campus picnic table whose surface is the periodic table.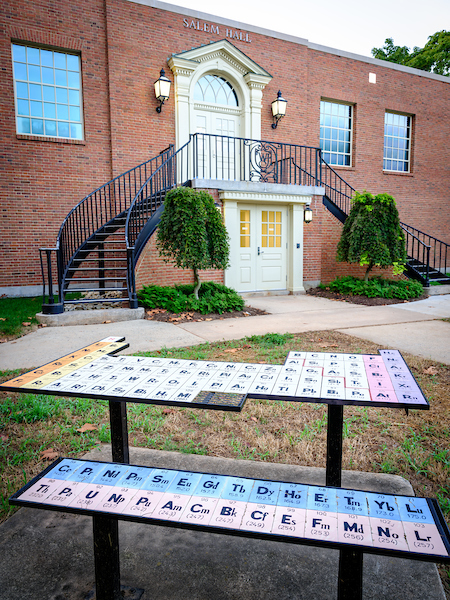 She attributes her curiosity about chemistry to her grandparents. "I'm not sure I know of many people whose grandfather would come home and put a bag of corroded pipes on a table and ask what happened to the pipe, but I loved it," says Kramer. She describes her grandmother as a person who had a love for "precious creams" and a fascination with beauty products that would inspire Kramer's life in more ways than one.
Kramer would go on to intern at Quest International (later acquired by Givaudan), where she eventually landed her first role. The company, known for creating flavors and fragrances, thrust Kramer into the world of beauty. She worked on scents such as Britney Spears' Curious, Axe body spray and Dove (popular scents of the early 2000s). She quickly found that working with perfumers and creatives melded all her passions. "For me, beauty is the combination of science with art," says Kramer.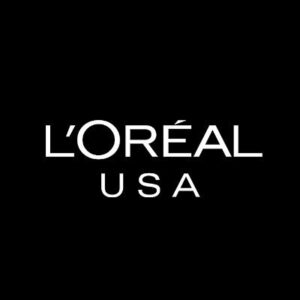 A graduate trainee program at the company allowed her to rotate through roles that ranged from marketing in New York City to working at the company's factories in New Jersey. She was later hired in-house at L'Oréal to serve as the global marketing director for Ralph Lauren fragrances, leaving the company once for a four-year stint leading fragrance and later skincare marketing at Chanel. Since that time, Kramer has also worked as the U.S. and global general manager of SkinCeuticals at L'Oréal. On Feb. 7, L'Oréal USA announced Kramer's promotion to chief human resources officer.
"For me, beauty is the combination of science with art."
"My purpose, especially in the past three to four years, has been to unconstrain the potential of others," says Kramer. "With all of our employees, we don't want to create robots. We want to have people be the best versions of themselves and bring their whole selves to work."
It's this purpose that helped inspire Kramer to write her book, "Carry Strong: An Empowered Approach to Navigating Pregnancy and Work." While the book took her three years to write, the topic of pregnancy and work has been on her mind for the last decade. In 2013, Kramer became pregnant but experienced a miscarriage, all while meeting the demands of her job. Soon after, she became pregnant with her first son. She characterizes the period as the first time she ever questioned whether she could be both a mom and a leader in the workplace.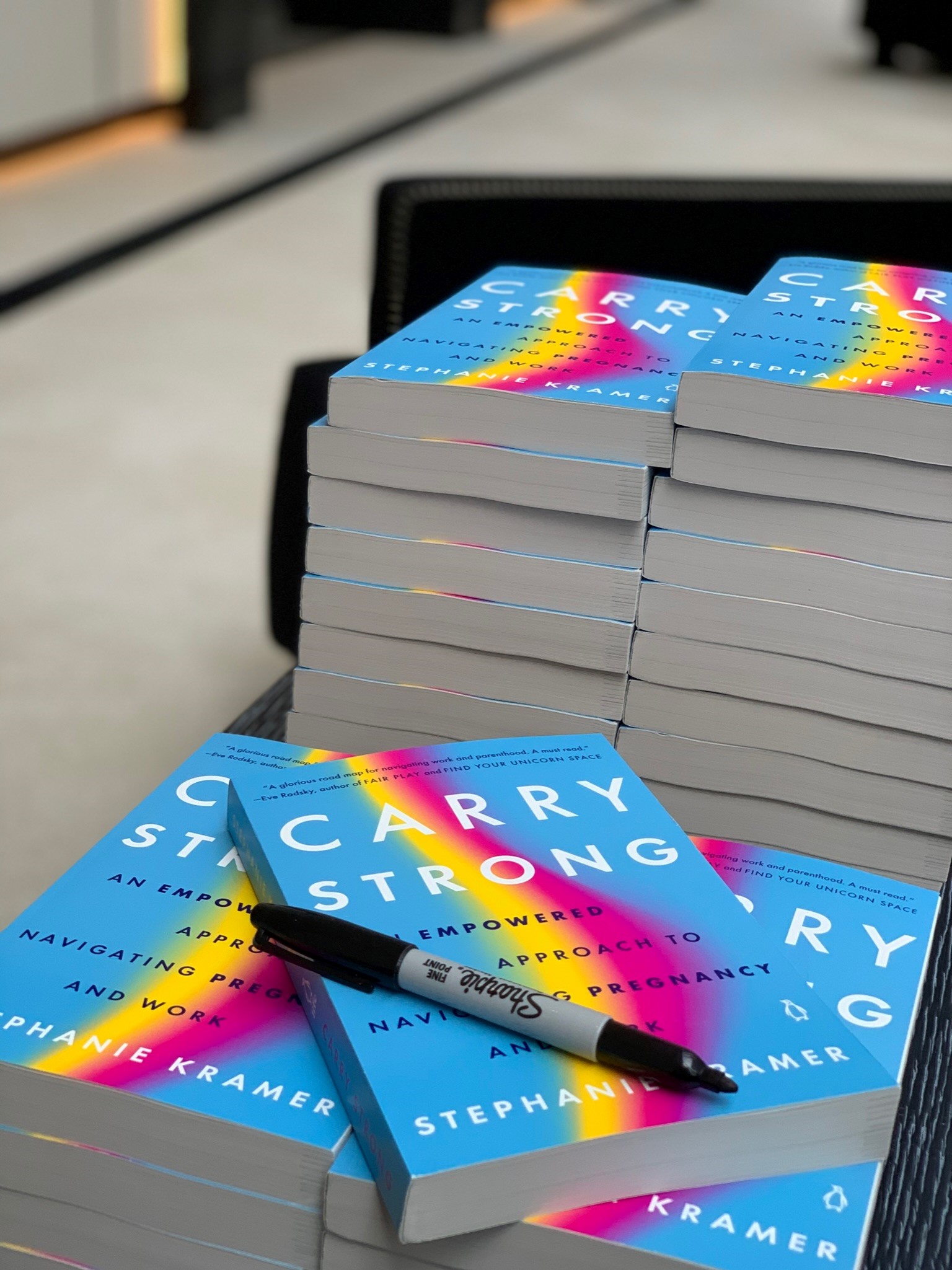 She went on to quietly mentor other women who were struggling with entering parenthood while balancing their jobs. It was no surprise to her peers and friends when she shared that she'd decided to write a book. Erin Miller Weibel ('06) remembers Kramer telling her about the idea when they walked through Central Park early in the pandemic. The former Pi Beta Phi sorority sisters remained close when they moved to New York but became even closer when they found out they were both pregnant. Kramer was having her second child and helped Weibel navigate everything from pregnancy in the workplace to preschool applications.
"She was a really big mentor to me and helped me with a lot of 'mom' things that I was going through with my first," says Weibel.
Kramer says she wrote the book sitting at an ironing board, which became her makeshift desk while her son used her desk for Zoom school. She went about the process as any scientist would: by writing up the research. Kramer conducted four quantitative studies that surveyed more than 1,300 men and women investigating sentiments toward pregnancy and parenting in the workplace. One of her studies — of 150 college-aged women without children — revealed that one in two say potential motherhood would have an impact on how they choose their majors.
[Kramer] calls it "imperative to have engaged pregnant women and returning mothers" in the workforce.
Through countless rounds of interviews, Kramer carved out stories to depict the findings for her book. She calls it "imperative to have engaged pregnant women and returning mothers" in the workforce. She encourages her readers to rethink the intersection of pregnancy and career through five principles: perspective, balance, community, communication, and identity.
She writes, "If a woman works full time during pregnancy, there is an increased likelihood of her returning to work after birth, and of that return being sooner than if she did not work full time throughout her entire pregnancy. Working mothers are more productive than nonmothers who work, and over the course of their career, outperform their counterparts."
While she discusses society's collective responsibility for policy changes at the highest levels, she also urges readers to have "awareness with optimism." She writes, "We can normalize and celebrate becoming a working mother. …"
Her friend Wiebel was one of the many who contributed a story to the book about navigating work during her second pregnancy while having COVID-19 in the early days of the pandemic.
"I wish I had taken the time I needed and put my health and my daughter and everything first instead of pushing myself through working through it and been more open with my colleagues," says Wiebel. "I hope that other people read it and recognize it's OK to be transparent with everybody about what you're going through."
For Kramer, the journey of her career and writing the book has been about showing others how they can have "career agility" and the varying paths they can take to achieve their own versions of success. For her, that looks like combining her interests in both people and chemistry.
"There's this beautiful balance for me between science, data, rigor, but also curiosity about others' cultural influences and expertise that comes together," says Kramer. "For me, it's been pretty cool to have the combination of the science and the art, but also this ability to create community in a different way, too."
---
Amber Burton ('15) became the manager of research and education at Lean In, a nonprofit research organization helping women achieve their career ambitions, in August. Previously, she was a writer at Fortune, Protocol and The Wall Street Journal.